Northwest control-line model airplane fliers are invited to submit photos and information about their planes for posting on the Flying Lines Favorite Planes page.
---
Mike Hazel's 1/2-A Profile Nobler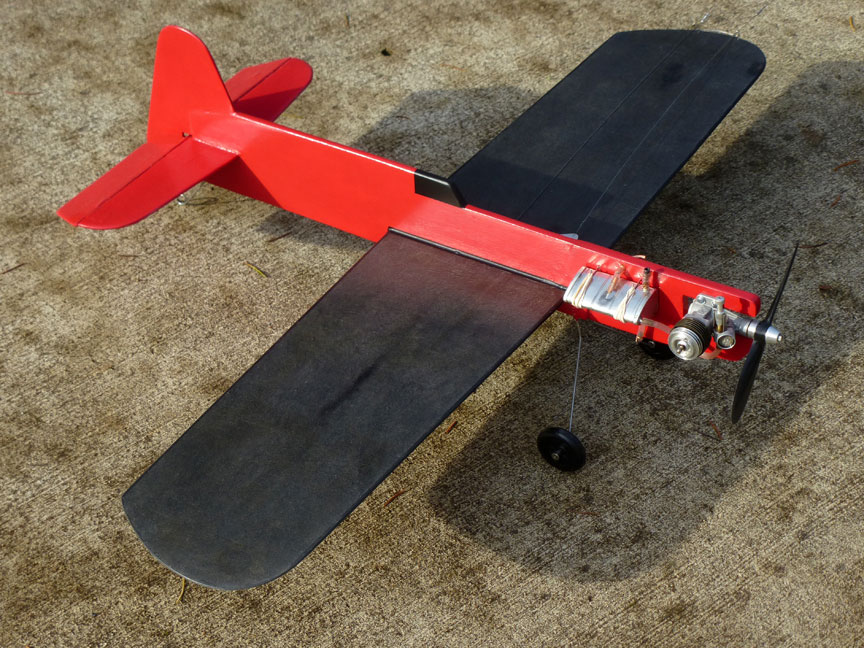 A year of pandemic in 2020 allowed some time for "just-for-fun" control-line modeling projects. Mike Hazel of Mehama, Ore., built this 1/2-A Profile Nobler from a Blackhawk kit. Power is a Norvel .049. The black color on the wing is lightweight carbon tissue with clear dope. Mike Hazel photo.
The Underwoods' Jamison Specials
These two beautiful Jamison Specials were built by Paul and David Underwood of Nuneaton, England. David reports: "These are two of a number of models built or finished during lockdowns in 2020. Tissue over Mylar covered and to be powered by O.S. .40/.46 LA. The transfers (water slide) are all homemade including checker patterns which we made using Excel spread sheet." The Underwoods are members of the Nuneaton Model Airplane Society. Underwood photos.
Steve Lindstedt's F-Too-Dee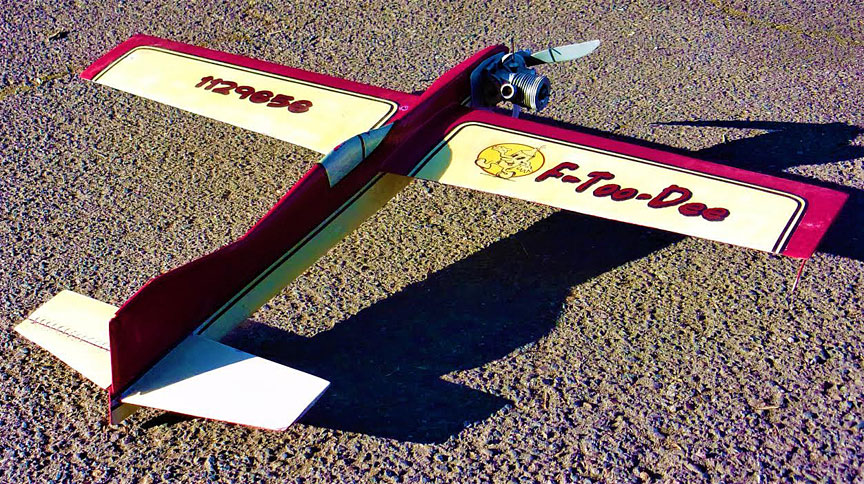 Planes built for Speed competition tend to be "all business" in their appearance, but the Northwest's F2D Proto Speed class has produced some nice-looking planes, such as this one by Steve Lindstedt of Silverton, Ore. It's seen here at the Northwest CL Speed Championships in Salem, Ore., in 2019. F2D Proto planes are powered by the engines used in international F2D Combat -- in this case a Profi .15. This plane, an original design by Steve Lindstedt, made it to 97.6 mph at the 2019 event, its first outing. Class record is 105.84. Steve Lindstedt photo.
Randy Powell's Avenger 35
Randy Powell of Port Orchard, Wash., finished a long-term project, the rebuild of a crashed Avenger 35, designed by the late Don Shultz, in the fall of 2020. Randy explains the project: "Plane was originally built about seven years ago and powered by a PA.40. Crashed it badly. Fuselage broke in three places and outboard wing torn off. Other damage. Sat for a long while. I salvaged and rebuilt fuse, built the wing and stabilizer from scratch, stripped the rest down to bare wood and converted it to electric. Would have been easier to build it from scratch. I did it because Don flew the original and liked it, so I wanted preserve it ... Power is a Cobra 2826-10, 4s battery with Talon 60 ESC and Hubin timer. Weight is 58.5 ounces. 715 square inches." Randy Powell photo.
Mike Hazel's Sneeker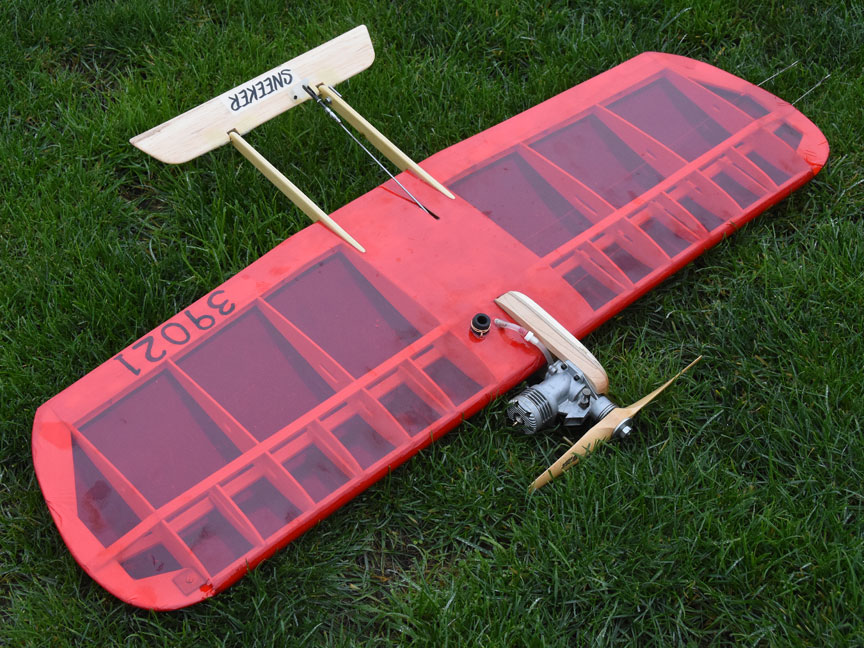 Mike Hazel of Mehama, Ore., was been busy building in 2020. Below is featured his B Speed plane. Above is his Sneeker. With vintage Combat planes a favorite building subject lately, the Sneeker emerged as one of the favorites because it is fairly easy to build and is a great flier. Mike's is powered by a vintage Fox .36X, and has extended tailbooms for better performance. An unusual feature is the racing-style fast-fill plug on the hard fuel tank. "I had one in the stash and that was easier than modifying the plumbing on a stock style tank," Mike explains. Flying Lines photo.
Mike Hazel's B Speed plane
Mike Hazel of Mehama, Ore., built this plane for the B Speed competition class, which is limited to .29 size engines. Power is a K&B 4.9cc fed with a pressure tank. Mike says the plane is a "fairly generic old-school style." Building materials are a full-length magnesium pan, basswood, balsa and maple. Finish is two-part epoxy paint. Monoline control. Note the matching blue ZZ Prop. Flying Lines photo.
Ken Bird's D'Arcside
Ken Bird of Edmonton, Alberta, recently finished this new Precision Aerobatics plane called D'Arcside. The original design is powered by a Plettenberg 15-22 electric motor with Thunder Power 2800mAh 6S 22.2V 25C LiPo battery, swinging an Igor 12x5 three-blade narrow prop. The wing is built up and the finish is dope, resulting in a flying weight of 66 oz. Ken Bird photos.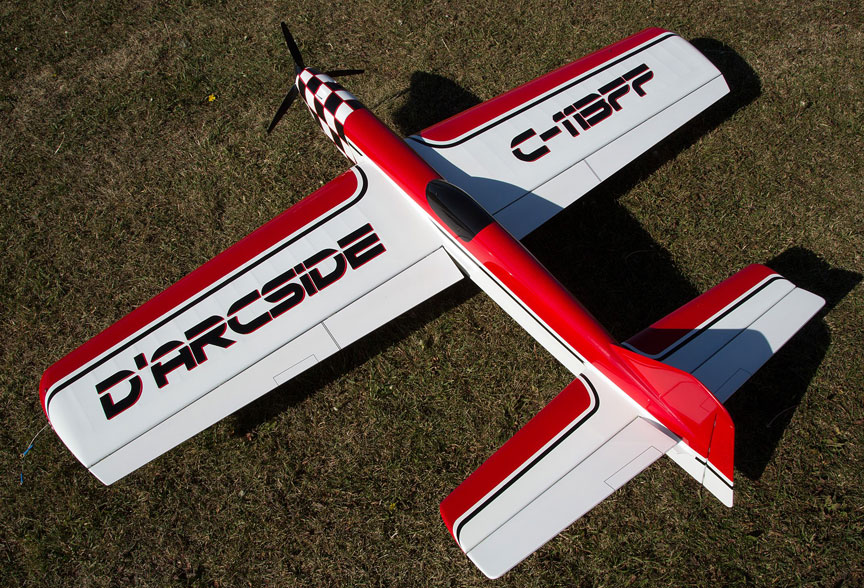 Dennis Nunes' Circulas 46IIe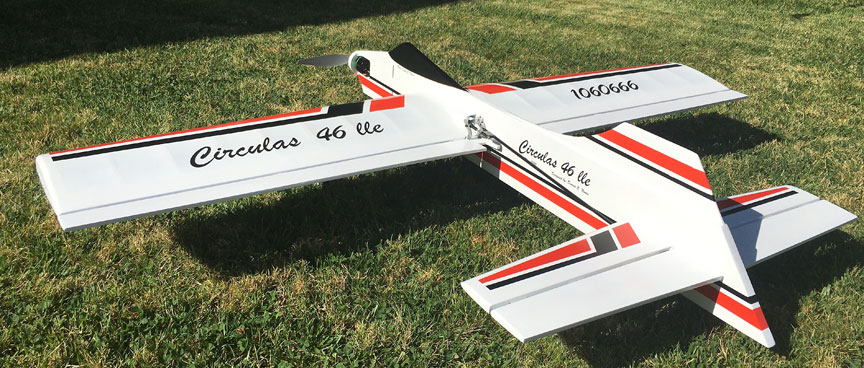 Dennis Nunes of Stockton, Calif., designed and built this original Profile Stunt airplane called the Circulas 46IIe. He documents the design and construction in an extensive article that any Stunt enthusiast will find interesting. Dennis Nunes photo.
Fred Cesquim's Ebreed
Regular FL reader Frederico Cesquim of São Paulo, Brazil, built this electric take-apart Precision Aerobatics airplane of his own design (with the help of his friend Luis Struffaldi). The plane is all balsa except for the fiberglass cowl, wheel pants and cheeks. Finish is Monokote on the flying surfaces, withh paint trim. Fred Cesquim photo.
Mike Haverly's Kaizen
Mike Haverly of Auburn, Wash., completed this electric Profile Stunt plane in 2020. It weighs about 60 oz. ready to fly. Wing area is about 670 square inches. Finish is Ultrakote orange, with automotive paint on the fuselage.Vinyl graphics were used for trim. The base coat is Minwax Polycrylic and epoxy. Mike says his goal was to use no dope in the finish. Mike Haverly photo.
Dave Shrum's DeHavilland Comet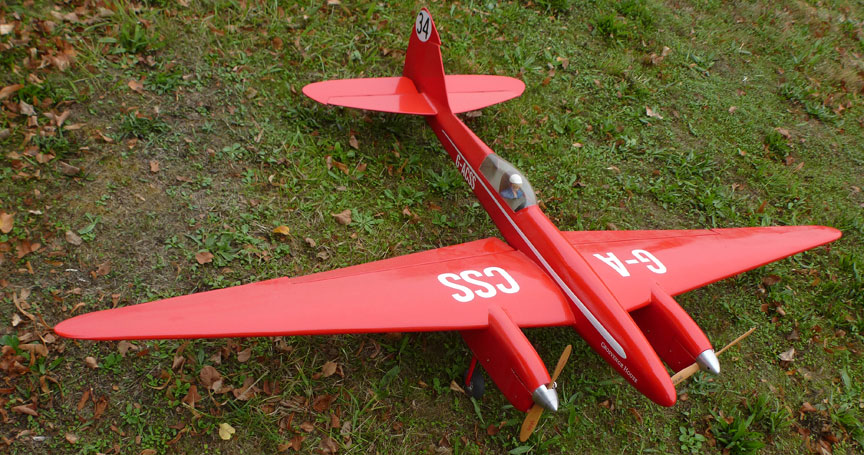 Dave Shrum of Roseburg, Ore., built this DeHavilland Comet racer, powered by two O.S. .25 engines. Plans were drawn by Matthew Spencer of New Zealand. The plane has a 72-inch wingspan and weighs 68 oz. Dave says it took 14 years to get this plane from concept to flying. Mike Hazel photo.
Tom Hackett's Nobler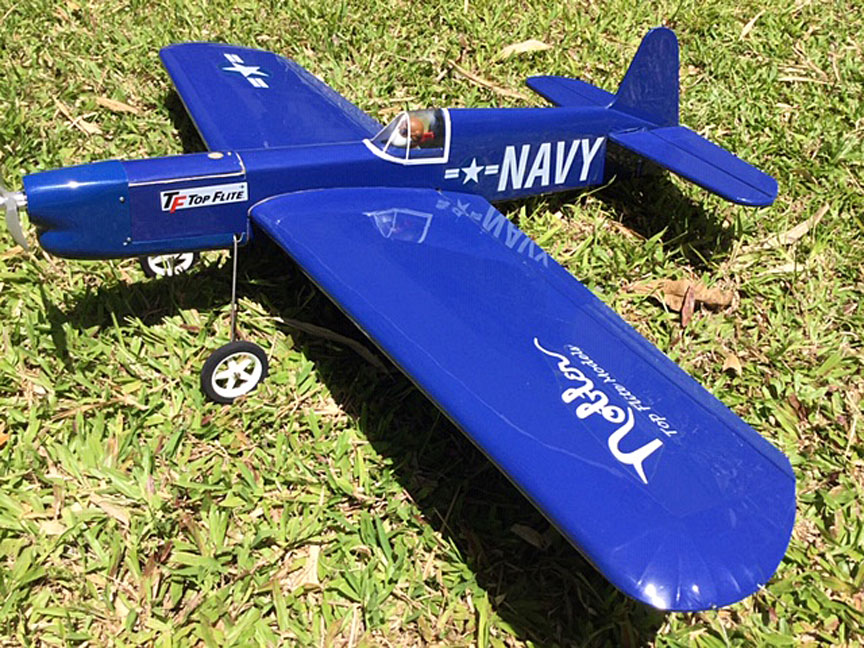 Tom Hackett of Oahu, Hawaii, enjoys flying this electric ARF Nobler, with Snoopy as a pilot. "He's good on stunts," Tom says. Tom Hackett photo.
Jan Novak's Banshee
Regular FL reader Jan Novak of Prague, Czech Republic, built this Banshee. He says it flies well with its ASP .32 engine.
Dane Covey's Profile Impact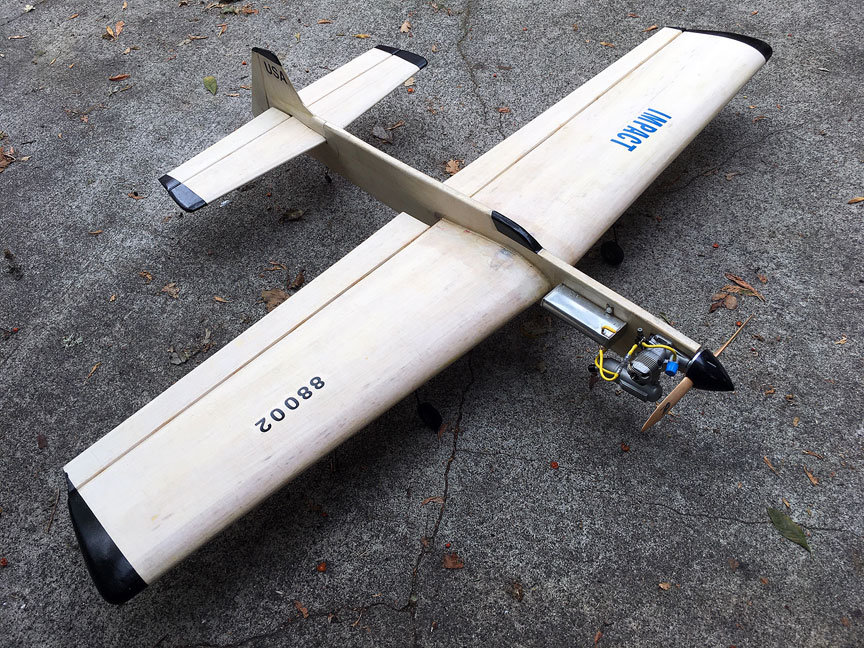 Dane Covey of Tacoma, Wash., built this Profile Impact powered by an O.S. .46LA, for use in Profile Stunt competition. Weight is 56 oz. dry. Dane Covey photo.
Jim Hoffman's Galloping Comedian
Jim Hoffman of Chandler, Ariz., built this Galloping Comedian for Old-Time Stunt. It was built from a Walter Umland kit and is powered by a McGas .40 with a Widener tongue muffler. Finished weight is 34 oz. Jim offers some interesting details: This model was built as a replacement for the one stolen at the Golden State Stunt Championships in Madera, Calif., in Oct 2019. The kit was incredibly well engineered; it had a beautiful pre-bent 1/8" music wire landing gear and the spun aluminum cowl. They did not waste $ by including junk control system hardware. Also decent instructions with lots of useful photos downloaded from the Internet. The kit included a very useful fuse assembly jig which made the 10-sided fuse very doable. The biggest complaint is that the kit wood was heavy, and I replaced nearly all of it with my best contest wood. I used the kit wing ribs and the fuse formers. I modified most parts to add lightening holes (wing tips, landing gear mounts).
Wing and rudder are covered with Polyspan. Fuse, stab, elevator, and the stationary flaps are covered w/ 0.2 oz/ft carbon matt. Double covered nose
from the LE forward. Raw wood sealed with Z-Poxy before dope. Z-Poxy is covered with 2 coats nitrate dope. Entire plane is then finished in
Randolph butyrate dope and an auto urethane clear topcoat. Filets are blue SuperFil putty from Aircraft Spruce. The kit had simple and clever flap
alignment jigs keyed to the wing root aft 2 inches of the airfoil to keep the flap deflection 0-0. Paint scheme is identical to the first Galloping Comedian; it was taken from Robert Odegaard's Orange Race 57 Goodyear Corsair. Jim Hoffman photo.
Mark McRiley's Wildcat
Mark McRiley of Beaverton, Ore. turned a Baby Ringmaster wing into a beautiful small model of a Grumman F4F Wildcat. "Covering scheme is what I believe would be the airframe markings of Lt. John S. Thatch of the USS Wasp on Dec. 7th, 1941," Mark says. Power is a Cox Medallion .049 turning a Cox three-blade prop. Mark McRiley photo.
Alan Miller's Stuka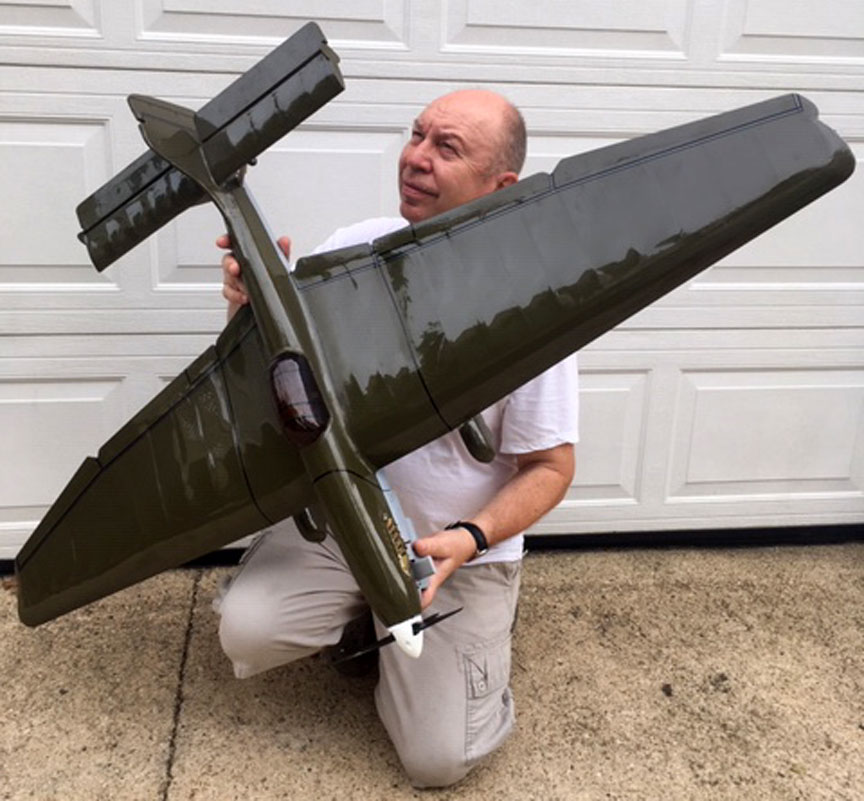 FL reader Alan Miller of Brooklyn, N.Y., built this Stuka, designed by Hi Johnson, as his first control-line airplane. The plane is built from scratch using plans from the 1960 Model Aerplane News Annual. Power is a Fox .35 Stunt. "Fantastic experience of flying," Alan says. "Not such a great acrobatic performance, but flying very slowly and stable in morning air."
Ken Burdick's Nieuport 28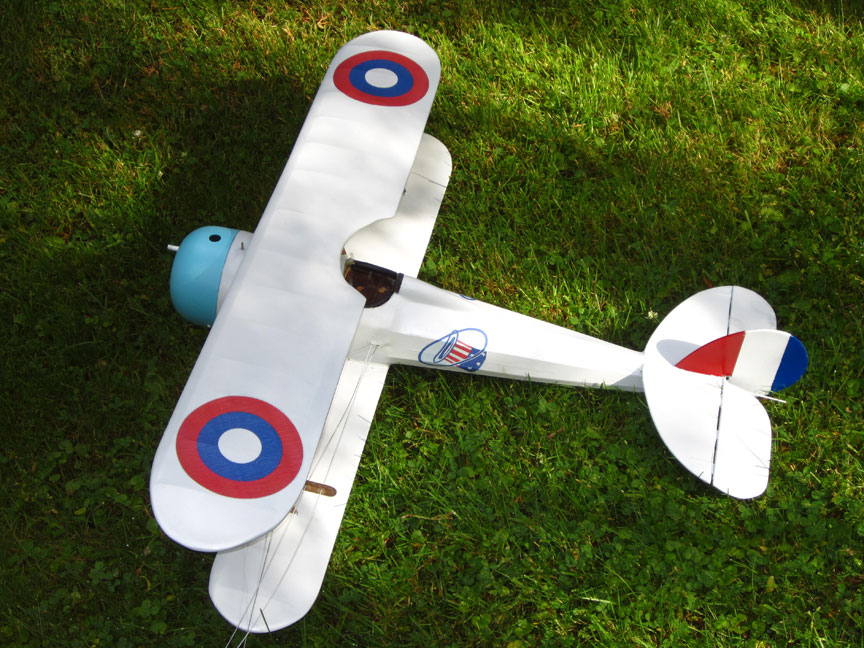 "What do you do when you can't cross the border and all your go-fast stuff is built?" asks Ken Burdick of Kamloops, B.C., who is usually noted for Speed and Combat building and flying. "Drag out the stupid scale project you've been saving ..." So Ken built this Nieuport 28 from a Sterling kit; it's covered in Sig nylon and finished with Rustoleum white semi-gloss. Power is a Fora Jr. diesel. Ken is still working out how to put in the guy wires. Ken Burdick photo.
Floyd Carter's Barnstormer
Floyd Carter of Eugene, Ore., has noticed that the Old-Time Stunt design called the Barnstormer has been gaining in popularity, so he offered this picture of his Barnstormer. "Mine isn't new, but hardly ever flown," Floyd writes. "Covered in dyed Polyspan, butyrate dope. Has authentic "stitched" canopy and powered by a 1950's Orwick 29." Floyd Carter photo.
Pat Chewning's Super Fly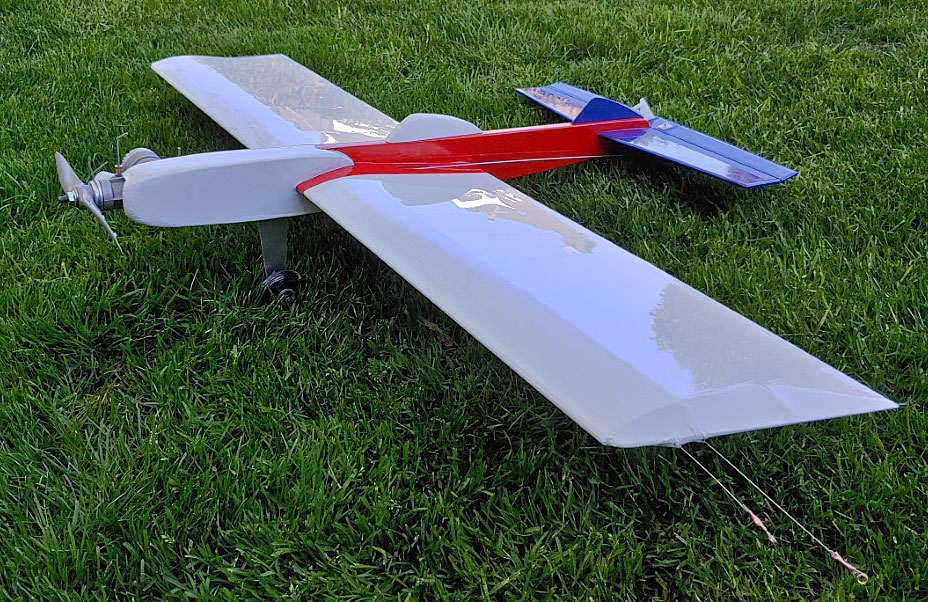 Pat Chewning of Beaverton, Ore., built this Brodak Superfly for Northwest Super Sport Race. It is powered by a K&B .40, and has a fuel shutoff and on-board starting battery. Virus-related contest shutdowns have prevented it from making its racing debut. Pat Chewning photo
Ken Burdick's Sneeker
Here's another entry in the growing fleet of vintage Combat planes in the Northwest. Ken Burdick of Kamloops, B.C., built this Sneeker, a 1962 plane designed by Riley Wooten. The plane is scratch-built from plans from the Baxter/Mears Control-Line Plans site. Power is a Johnson ss 35 from 1964. The plane is covered with Silron and finished with nitrate dope and Rustoleum with auto clear coat on the top. An oversize 10x6 prop keeps the speed down to 75 mph. Ken Burdick photo
Gary Weems' Peacemaker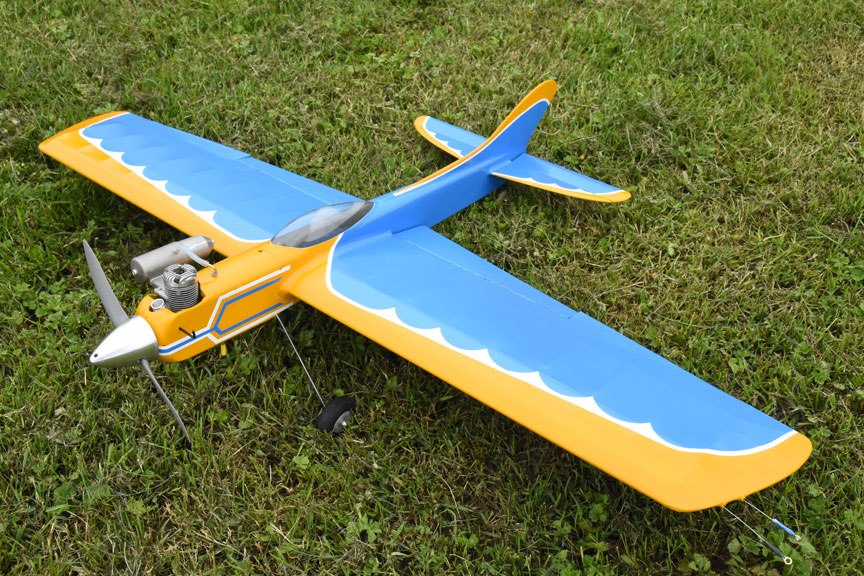 Gary Weems of Monroe, Ore., built this Peacemaker, a George Aldrich design. It is powered by a Brodak .25, and is seen here at the Eugene Prop Spinners flying session on May 16, 2020. Flying Lines photo
Alan Resinger's 2020 Rare Bear
This is Alan Resinger's electric-powered 2020 Rare Bear for Precision Aerobatics. Power is a Plettenberg 15-22 with Igor Berger active controls, Jetti ESC and Thunder Power 6S 2800 battery Prop is Igor's 12x 5 hollow-blade flat back. Flying weight is 66oz. Alan is from Delta, B.C. Alan Resinger photo
Chris Cox's Mig
This is Chris Cox's 2020 Precision Aerobatics airplane, an electric semi-scale Mig, seen at a practice session in Richmond, B.C. That's Chris in the background. Arkady Gorodetsky photo
Ken Burdick's T-Square
Ken Burdick of Kamloops, B.C., added this airplane to the growing fleet of vintage Combat planes in the Northwest, which are showcased in the annual Graffiti Combat events. This is a Sterling T-Square, finished in clear dope with a laser decal. Power is a 1959 Fox Rocket. Ken Burdick photo
John Leidle's Bluebird
John Leidle of Kirkland, Wash., has built this plane, called a Bluebird, for Precision Aerobatics in 2020. The plane has a 640-square inch SV wing, a semi-Impact stab, and a Stalker .81 for power. John Leidle photo
Paul Walker's Dream On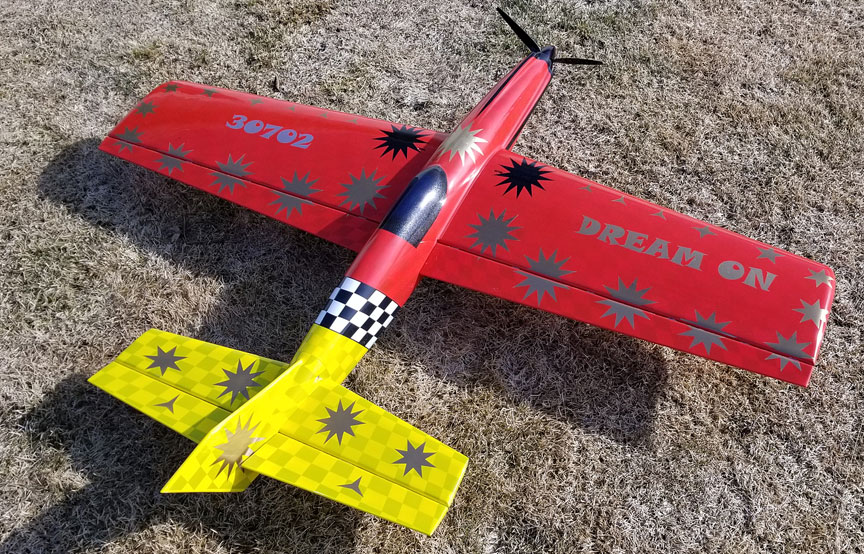 Paul Walker of Deer Park, Wash., calls his 2020 Precision Aerobatics airplane Dream On. Specs: The wing is 700 square inches, and the plane flies on 70-foot lines. Power is a Plettenberg 15-22 electric motor and Thunderpower 6S2800 battery, controlled by a Jet Spin 66 ESC and an Igor Burger active motor control timer. Prop is an Igor 12x5 narrow hollow. Flying weight is 66 oz. Photo below gives a closer look at the finish. Paul Walker photos
Ken Burdick's F2A Speed plane
Control-line model model building is not just about the airplanes. It can also be about support equipment, such as this elegant box made by Ken Burdick of Kamloops, B.C., to transport his A. Valishev F2A Speed plane. The plane is a 2011 model powerd by a 2004 Profi engine. F2A Speed is the international (FAI) class of Speed flown at the world championships and other prestige model airplane contests. See Part 2 of Ken's article about entering into the complex world of F2A Speed. Ken Burdick photo
Fred Cesquim's Falcao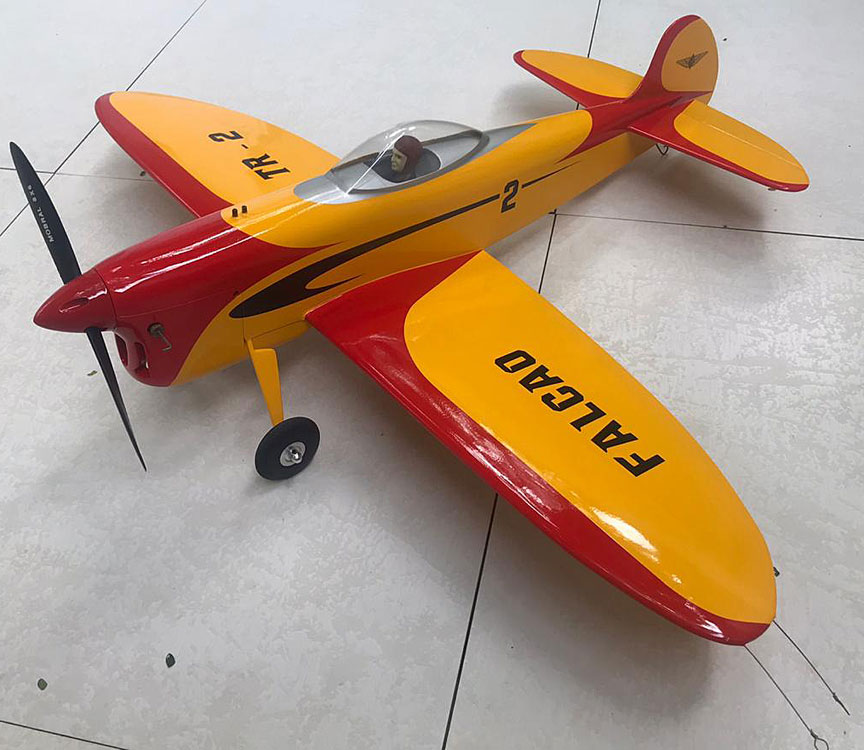 Regular FL reader Fred Cesquim of São Paulo, Brazil, was commissioned to build this Falcao from a very rare kit produced in the 1950s by Casa Aerobras, a prominent Brazilian model airplane kit maker. Finish is automotive lacquer and clear coat over doped polyspan. Fred Cesquim photo
'Bob Welch's Oriental
Bob Welch of Federal Way, Wash., built this Oriental, powered by an E-Flite 25, using a 4-cell battery, 11x5.5 prop, and .015"x60' lines. It is used in the Classic Stunt event. Bob Welch photo
Jim Hoffman's Predator
Jim Hoffman of Chandler, Ariz., built this electric-powered Predator with foam flying surfaces for Precision Aerobatics in 2019. Jim provides the details: "Removable flaps and elevators. Molded fuse top and bottom. Finish is Randolph dope over a carbon mat base. Automotive urethane top clear coat. Fuse construction and aerodynamics stayed true to Paul Walker's design. All the standard adjustables. Power train uses a Cobra C-2826/12 Brushless Motor, Castle Creations Phoenix Edge Lite 50 Amp ESC, Hubin Timer, and a Thunderpower ProLite X 2800mAh 6S battery. Hobby King arming plug and Tru Turn spinner. Using a variety of props 11-12 inch diameter, 2 and 3 blades, Carbon Fiber and APC plastic. Ready-to-fly weight is 68 oz. includes 2.5 oz. nose weight + 13 oz. battery. Uses 63' x 018" lines (66' center to center)." Jim Hoffman photo.
Bob Welch's Barnstormer
Bob Welch of Federal Way, Wash., scratch-built this Barnstormer from Mike Haverly plans and powered it with an E-Flite 15 with a three-cell battery, 11x5.5 prop, and flown on 57-foot .012" lines. Bob Welch photo.
Mike Haverly's Barnstormer
Mike Haverly of Auburn, Wash., built this Barnstormer to be flown in Old-Time Stunt in 2020. Power is an O.S. .25FP; finish is Ultracote on the wings and automotive paint on the fuselage, with vinyl trim. Flying weight is 33 oz. Mike Haverly photo.
Jim Morton's United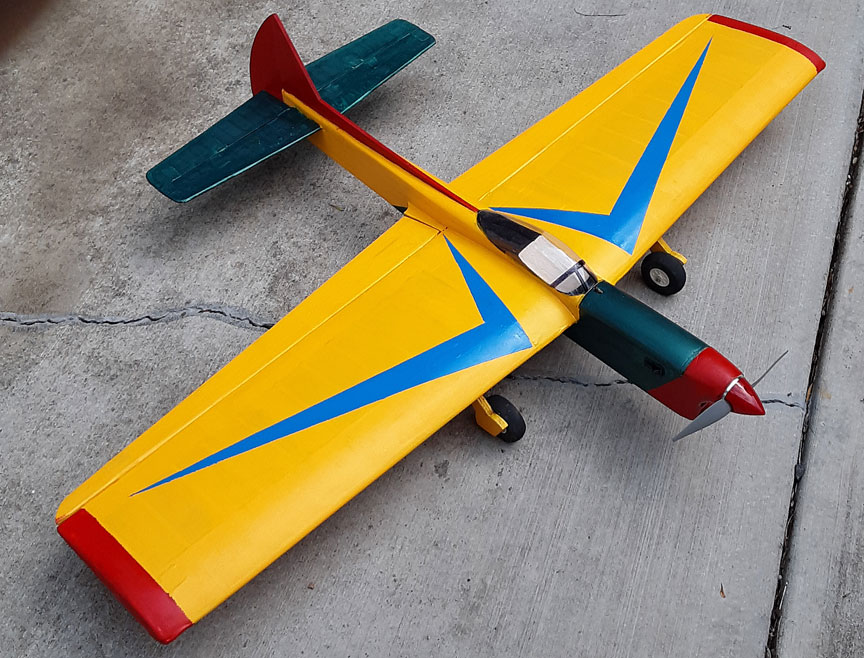 Jim Morton of Sweet Home, Ore., recently finished this electric-powered United, built from a Brodak kit. It hasn't been flown yet. Jim is a member of the Eugene Prop Spinners. Jim Morton photo.
Mike Hazel's Tamigo Trainer
This is a Mike Hoyt Tamigo Trainer, which was a kit that he sold in the 1960s and 70s. Mike Hazel built the plane to about 90% completion many years ago and finished it in early 2020. This jet plane is just for fun. Power is an early 1950s DynaJet engine. Mike Hazel photo.
Ken Burdick's Combat Streak
Ken Burdick of Kamloops, B.C., built this Combat Streak for use in the Graffiti Combat event that has been held in British Columbia several times in recent years. The Streak is powered by a 1958 Fox "combat special" Black Head. Ken Burdick photo.