Northwest control-line model airplane fliers are invited to submit photos and information about their favorite planes, for posting on this Flying Lines page.
---
Fred Cesquim's Paulistinha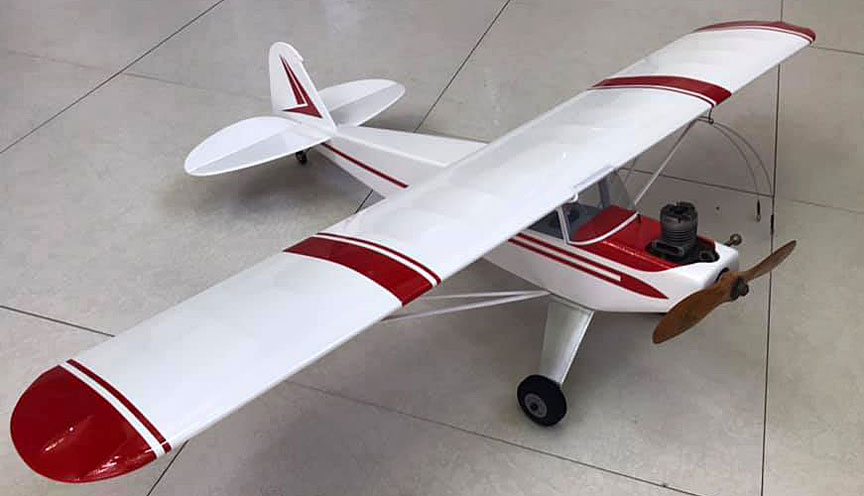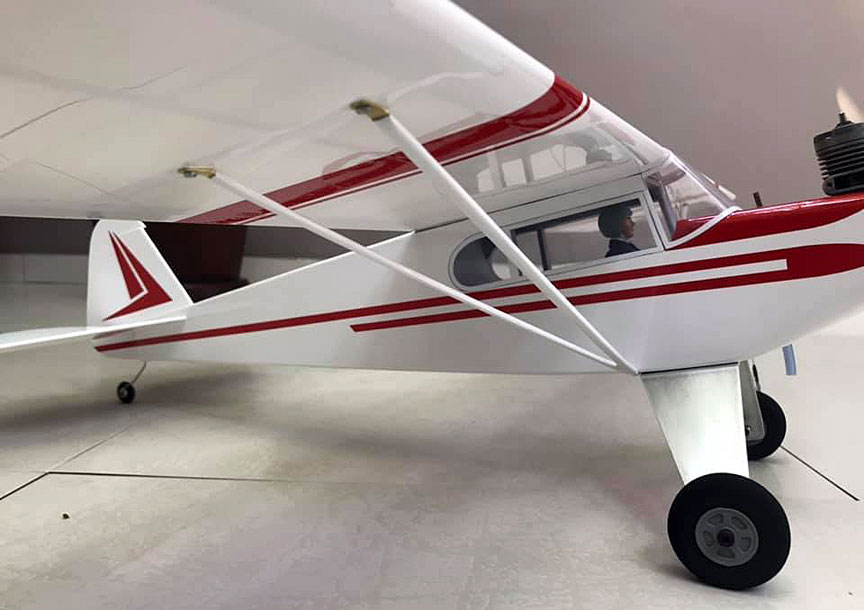 Regular FL reader Fred Cesquim of São Paulo, Brazil, recently completed this semi-scale model Paulistinha. He explains, "The Paulistinha is a scale model kit sold by Casa Aerobras in the 1960s for 1.5cc diesel engines and after the 1980s they scaled up a bit for a .15 engine, and is it still on sale nowadays!"
The side view shows the nice detail, including a pilot in the cockpit.
This model is all balsa, powered by an Enya .19, and finished completely in Monokote The colors are almost scale and loosely represent a full-scale plane. Fred Cesquim photo.
Schamp/Mackin Nobler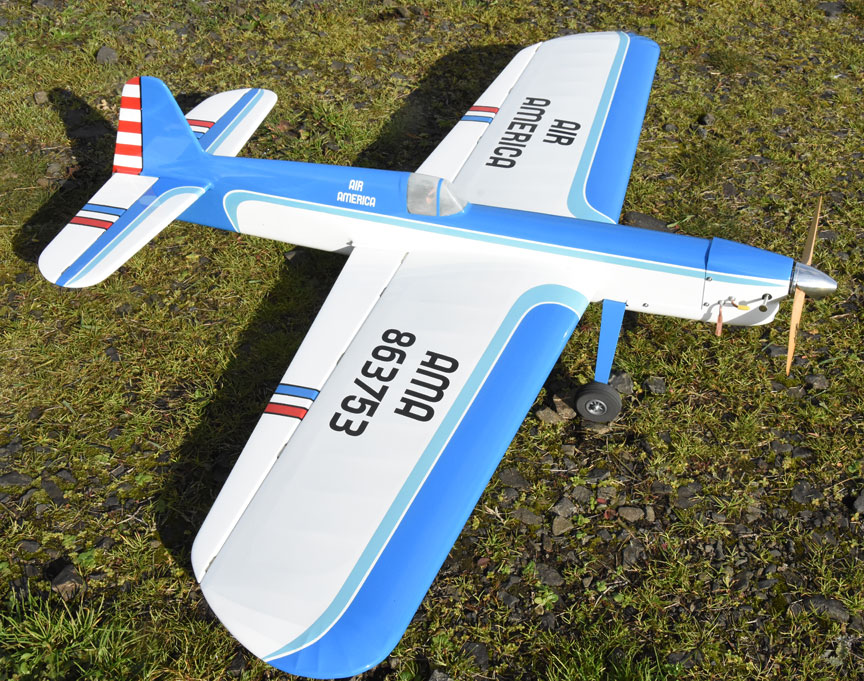 Gerald Schamp of Albany, Ore., recently turned this generic blue ARF Nobler into a work of art. He stripped off the factory covering down to bare wood and refinished the plane in Brodak dope and silkspan. Power is an O.S. .35S. An aluminum landing gear from a Vector 40 completed the package at a weight of 40 oz. Gerald did the work for the plane's owner, Jim Mackin of Eugene, Ore. Flying Lines photo.
Luiz Rossi's Antares
Luiz Eduardo Rossi of São Paulo, Brazil, sent this photo of his Antares, designed, built and finished by Daniel Bento, also of São Paulo. Motor is a Cobra 3520/14; ESC is a Spin 66 with a Fiorotti Active Timer. Weight in flight order with 6S Battery is 1,770 Grams; it is 1,700 Grams with 5S Battery. The plane has a detachable wing and a detachable titanium landing gear. Luiz Rossi photo.
Floyd Carter's Taurus
"This model would only be of interest to those demented souls looking for a challenge," writes builder Floyd Carter of Eugene, Ore. "It's a 1949 British stunter called "Taurus." With a wingspan of 68 inches, it has a wing loading of just 9 oz. per square foot, making it a real chore to fly on windy days. It's powered by a spark ignition Anderson Spitfire 65." Floyd Carter photo.
Gene Pape's Janco Underdog
Gene Pape of Eugene, Ore., builds a lot of Combat planes. This one is a slight modification of his Underdog Fast Combat design, with Nelson .36 power. There's a story behind it. Gene reports: "When I started flying again in 2008, I really liked the looks of the Fast Combat models pictured in the Eugene Toy and Hobby ad on the back of the Regionals T-Shirts. One of them says "It's a Janco" on it. I speculated for years what exactly they were, and finally asked John Thompson. It turns out the T-Shirt graphics were created by a company called Janco and they tried to fit their company logo into the graphics somewhere. There are several details of the graphics models that are different from the Underdog models I fly, but I decided it would be fun to modify an Underdog to look similar to the T-Shirt models. This is the result." Gene Pape photo.
Dane Covey's Nobler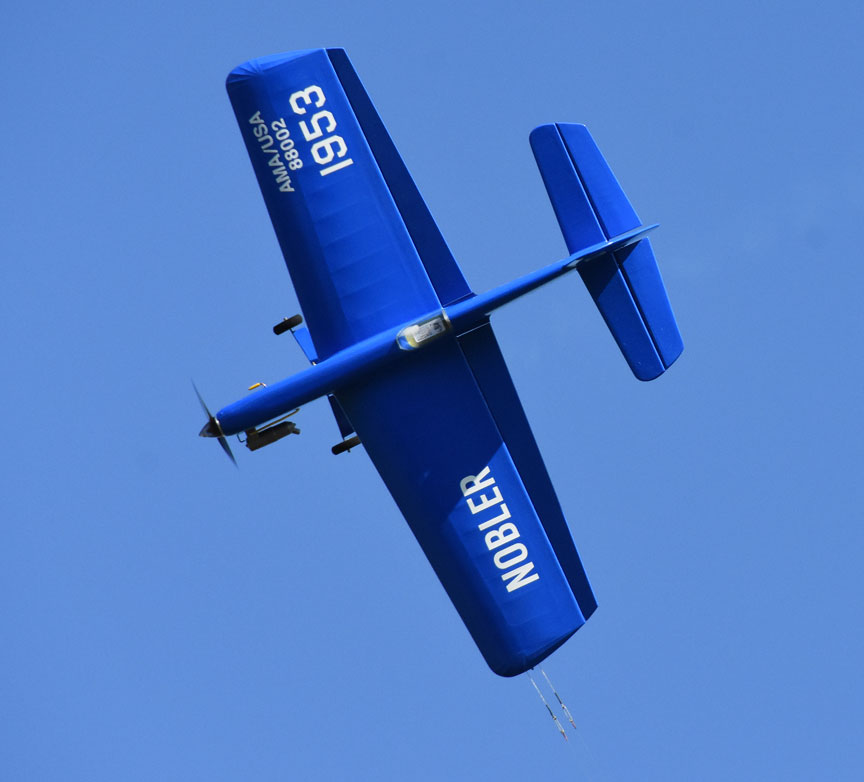 Dane Covey's Nobler makes a flight in Classic Stunt at the 2019 Fall Follies in Salem, Ore. The plane is powered by a Brodak .40. Dane is from Tacoma, Wash. Flying Lines photo.
Darrin Bishop's Ringmaster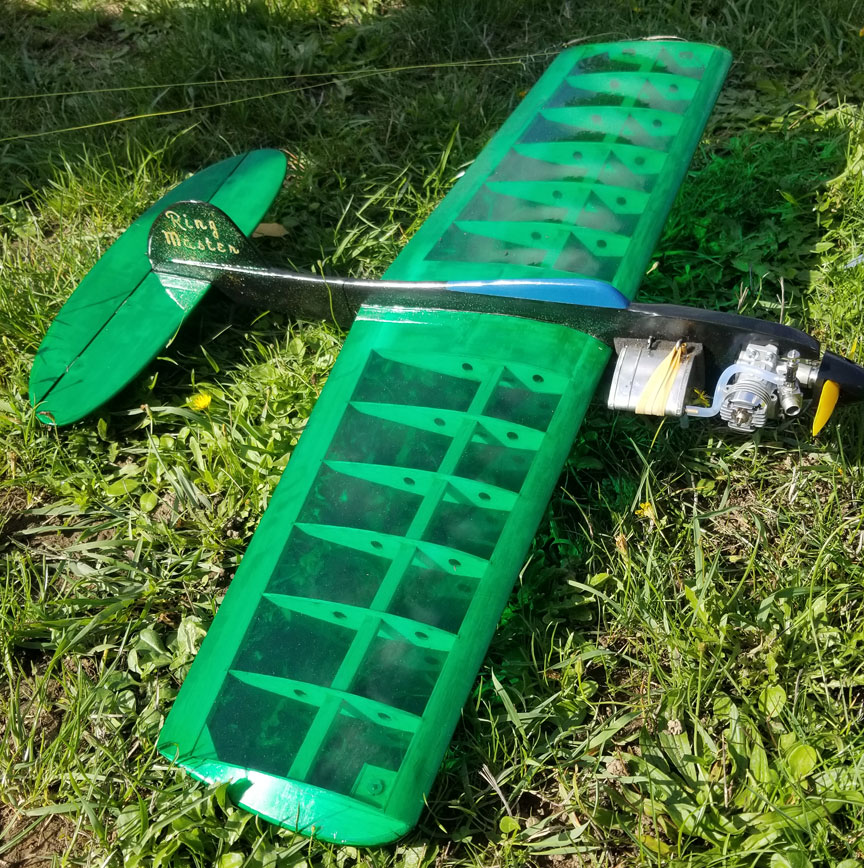 Darrin Bishop of Castle Rock, Wash., built this Ringmaster, powered by an O.S. .10FP, just in time for the 2019 global Ringmaster fly-a-thon. He flies in Portland, Ore., with the Northwest Fireballs. See the Brotherhood of the Ring website for more info on the fly-a-thon. Bill Lee photo.
Floyd Carter's GeeBee
Floyd Carter of Eugene, Ore., often builds his stunters as semi-scale planes. This is his GeeBee, seen at the 2019 Lucky Hand Fun Fly in Salem, Ore. It is powered by a Stalker .51 rear-exhaust. Steve Lindstedt photo.
Mike Denlis' AMF Trainer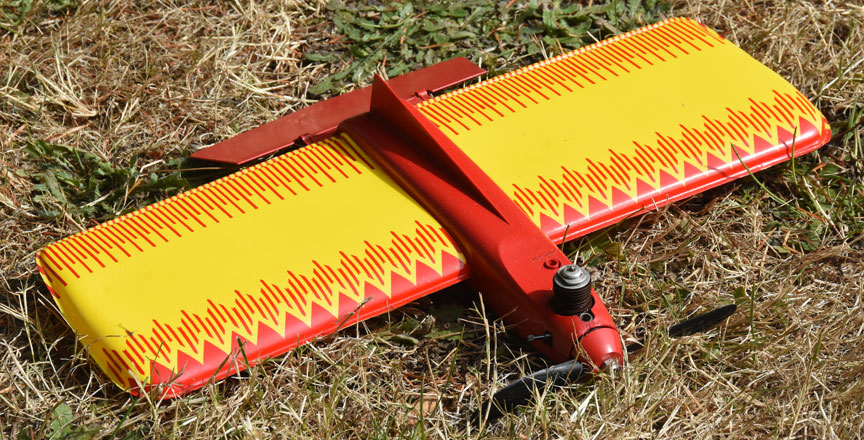 Mike Denlis of Springfield, Ore., president of the Eugene Prop Spinners control-line club, enjoys collecting (and flying!) vintage ready-to-fly control-line model airplanes. This one is an AMF Stunt Trainer, powered by a Wen Mac .04, manufactured in the early 1960. It is seen at the 2019 Zoot Ranch Fun Fly. Flying Lines photo.
Mike Hazel's Coon Dog
A vintage control-line airplane called the Coon Dog (see the pilot) glides in for a landing at the Can Do Ranch, home field of the Eugene Prop Spinners. The Coon Dog is one of two built by Dave Shrum of Roseburg, Ore., now owned and flown by Mike Hazel of Mehama, Ore. It is powered by a vintage K&B Stallion .35. Flying Lines photo.