August-October 2015 Favorite Planes Gallery
---
Gene Pape's Yegad

Gene Pape of Eugene, Ore., built this 50th anniversary copy of the classic combat plane, the Yegad, during the summer of 2015. The Yegad was designed by Ed Portz, then of Los Angeles, and was flown by Gene -- and other combat fliers -- from about 1965 to about 1976. The plane above is powered by a Fox .36BB. Flying Lines photo.
Pat Chewning's Ringmaster

Pat Chewning of Beaverton, Ore., entered his first contest at the 2015 Fall Follies, flying this nice Ringmaster in Old-Time Stunt. Pat also flew Beginner Precision Aerobatics, using an Akromaster. Flying Lines photo.
Gene Iannucci's Smoothie

Gene Iannucci of Cherry Hill, N.J., sent in this photo of his 55-year-old Smoothie. The plane, which Gene built as a boy, has never been flown. It is powered by a Torpedo .35 and is still covered by the original silkspan and dope. Gene Iannucci photo.
Jan Novak's Twister

Jan Novak of Prague, Czech Republic, sent in this photo of his very nice Sig Twister, powered by an Evolution .36. The plane is finished in silkspan and dope.
Ken Burdick's fleet

Below is featured a photo of a couple of vintage combat planes built by Ken Burdick of Kamloops, B.C. Above, more of Ken's fleet. Ken is an active speed, racing and carrier flier, so thoese planes reflect his interests in 2015. Ken Burdick photo.
Ken Burdick's vintage combat planes

Ken Burdick of Kamloops, B.C., is an enthusiast for the Grafitti Combat movement. These are two planes he built from the old days of combat. At left is a Missorian powered by an Enya .29 redhead and at right is a Super Whipsaw powered by a Torpedo .23. Ken Burdick photo.
Floyd Carter's Pied Piper

Floyd Carter of Eugene, Ore., likes the look of the RO-Jett engine so much that he made it a prominent feature of this 2015 plane. Here's what he says: "The RO-Jett 61 engine is milled from a solid block of aluminum. It is so pretty, I didn't want to hide it inside a cowl. So I designed this plane for an upright engine, with a tuned pipe on top. Hence the name "Pied Piper." The pipe idea didn't work out, so this has the stock muffler. It still looks nice on top. The image of Kokopelli playing on his flute echoes the "Pied Piper" theme. Maybe this character will bring the plane good luck, as it is supposed to do for the Southwest Indians. My latest theory on stunters involves very thick airfoils. So this one has a 25% airfoil." Flying Lines photo.
Floyd Carter's P-40

Floyd Carter of Eugene, Ore., produced this electric P-40 is built from Pat Johnston plans. It's seen here in Eugene at a Prop Spinners flying session in August 2015. Flying Lines photo.
Gordon Van Tighem's Shoestring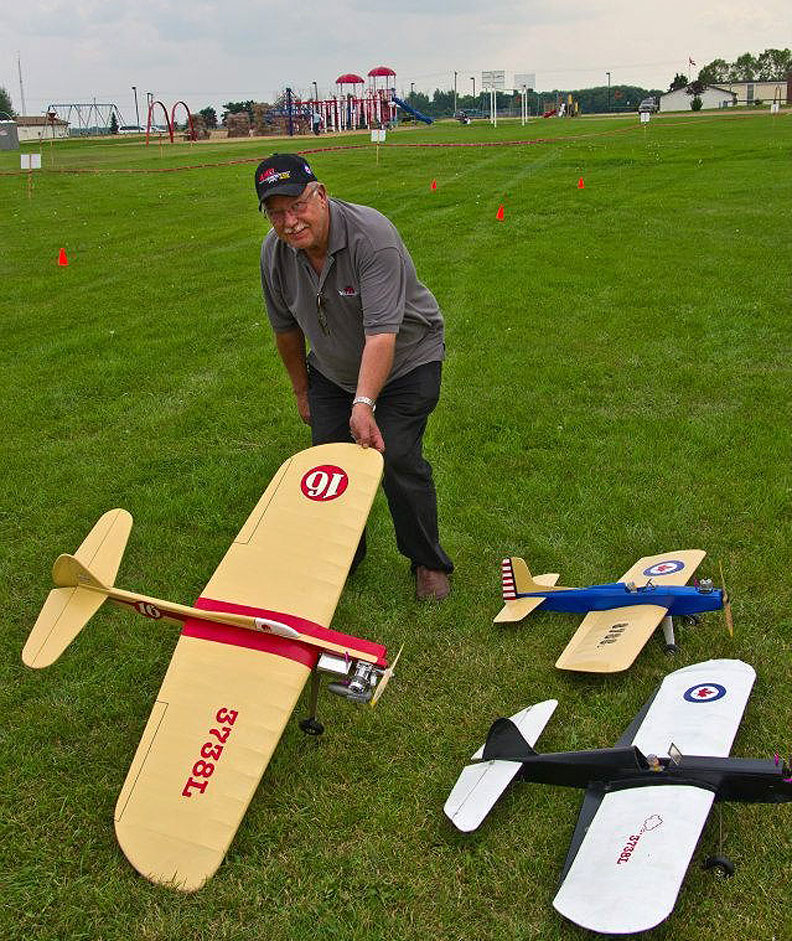 Gordon Van Tighem is a control-line flier in the far north of Canada. He lives and flies in Yellowknife, Northwest Territories, about 700 miles north of Edmonton, Alberta. The photo of Gordon and his PDK Shoestring was taken at 2014's Prairie Fire stunt contest in Edmonton. The plane has a 53-inch wingspan and 630 square inches of wing; it's powered by an Enya .45 pro stunt engine. Photo contributed by Gordon Van Tighem.
This page was upated Nov. 9, 2015