January-April 2015 Favorite Planes Gallery
---
Samuel Medina's DQ Master

Samuel Medina of Mexico flies this Kaz Minato-designed DQ Master heand his father, Jorge, built. Power is O.S. LA .46. Samuel Medina photo.
Jorge Medina's Stilettos

Samuel Medina sent in some photos of the planes and fliers in his control-line group in Mexico. The photos above are of Jorge Medina with two versions of the Les McDonald-designed Stiletto, both powered by O.S. LA .46 engines. Samuel Medina photos.
Dave Royer's Magnum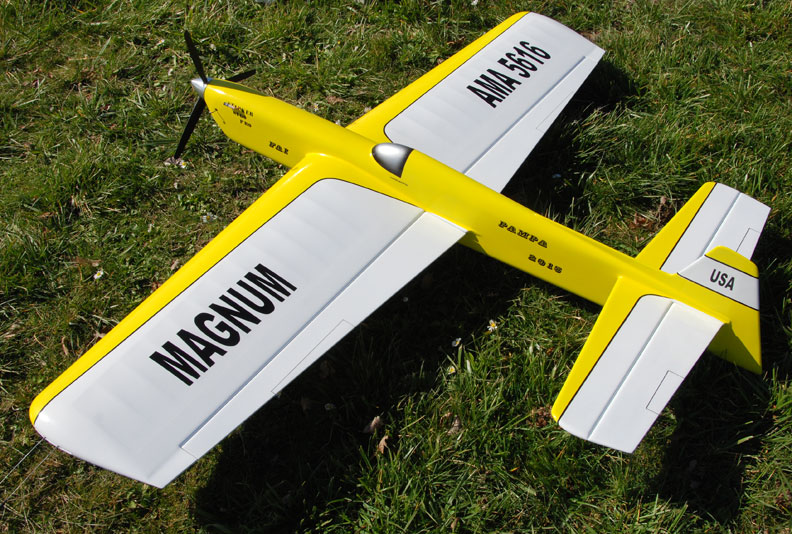 Dave Royer of Portland, Ore., flew his new Magnum, powered by Stalker .61, at the 2015 Oregon Flying Fun No. 3. Band-new plane looks great on the ground and in the air. Flying Lines photo.
Rex Abbott's Adams' Special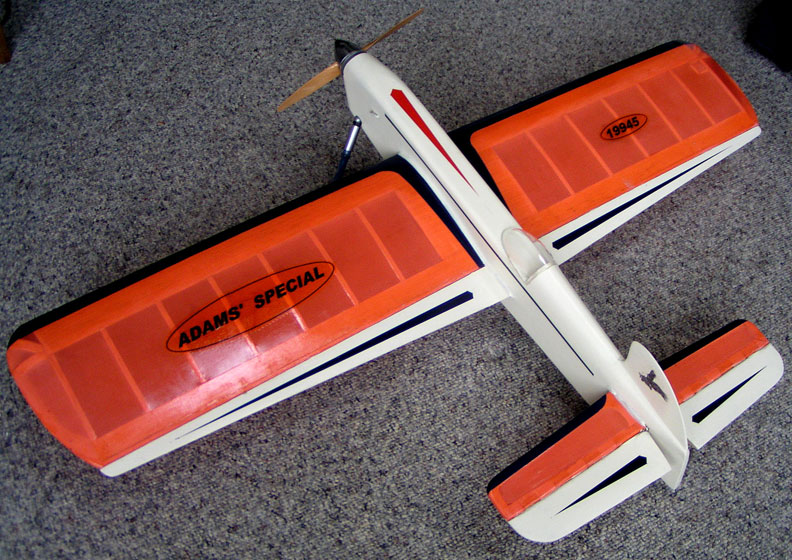 Rex Abbott of Sequim, Wash., built this Adams' Special to fly in this year's Vintage Stunt Championships. The plane is scratch built with silk on the wings and geodetic bulkheads in the fuselage. Four-stroke power. Rex Abbott photo.
Javier Fernandez' Vuelocircular
Regular Flying Lines contributor Javier Fernandez of Cordoba, Spain, sent in a photo of his new airplane for 2015. The engine is an MVVS .19. Javier runs an excellent website for control-line in Spain, as his outboard wing advertises! Javier Fernandez photo.
Alan Resinger's 2015 Crossfire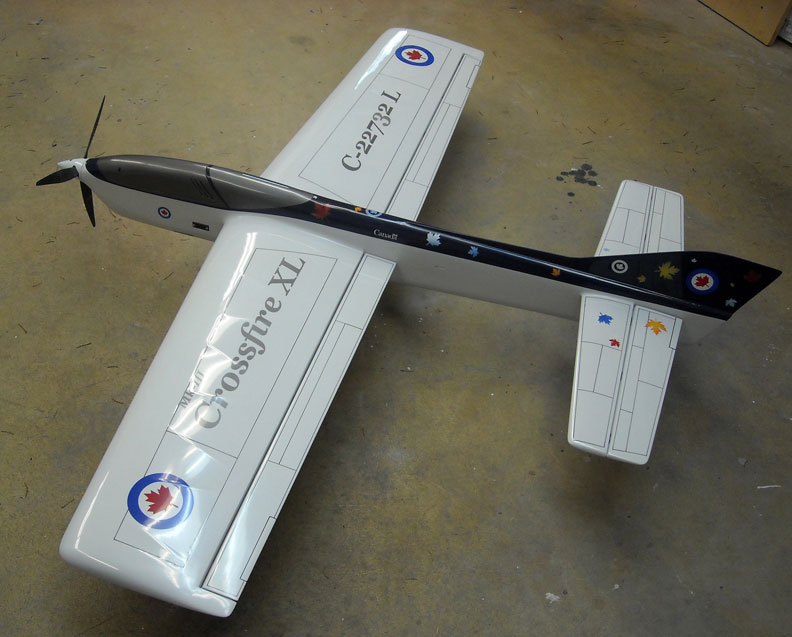 This is the 2015 Crossfire built by Alan Resinger of Delta, B.C. It is Alan's fourth Crossfire, which is designed for electric power by Bob Hunt. Power is a Cobra 3520, ESC is a Jeti 66 and it uses Igor Burger's active timer with accelerometer. Batteries are Thunder Power 5S or 6S 2700mAh. Weight with 5S is 62.5 oz. Alan Resinger photo.
Mike Haverly's 2015 Fifth Element
Mike Haverly of Auburn, Wash., has done it again with a beautiful new electric stunter called the Fifth Element. It is almost the same as the 2014 version of this design but not exactly. Power is by an E-Flite Power 32, using a Phoenix Ice Lite 75 ESC and a Hubin FM-9 timer. Colors are a mix of automotive toners mixed with Randolph clear dope and covered by polyurethane clear coat. Mike Haverly photo.
Douglas Marra's Spitfire
This nice semi-scale Spitfire was built by Douglas Marra of Sao Paulo, Brazil. It is powered by a Fox .35 engine. Douglas is a regular Flying Lines reader. Douglas Marra photo.
Tom Brightbill's Knobler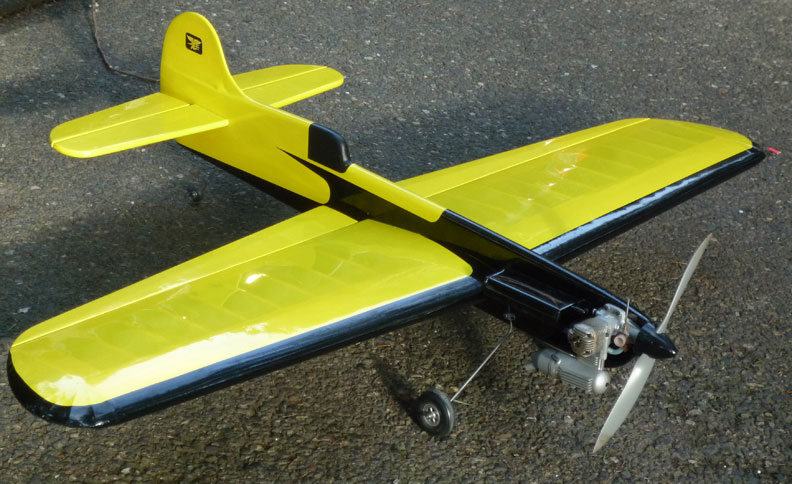 Tom Brightbill of Oregon City, Ore., built this profile stunter that he calls a Knobler in 2015. It's a left-over ARF Nobler wing and stab, and built-up but profile fuselage. Power is an OS LA .46 and finish is Ultrakote. Tom Brightbill photo.
Russell Shaffer's Teosawki

Russell Shaffer of Klamath Falls, Ore., built this TEOSAWKI with a built-up leading edge. Clayton Smith's simple stunt trainer design, whose name stands for The End of Stunt as We Know It, normally has a foam leading edge. "I don't have a foam cutter so I did a built-up leading edge," Russell says. The plane weighs 38 ounces and Russell says that it flies very well. Russell Shaffer photo.
John Leidle's Olympus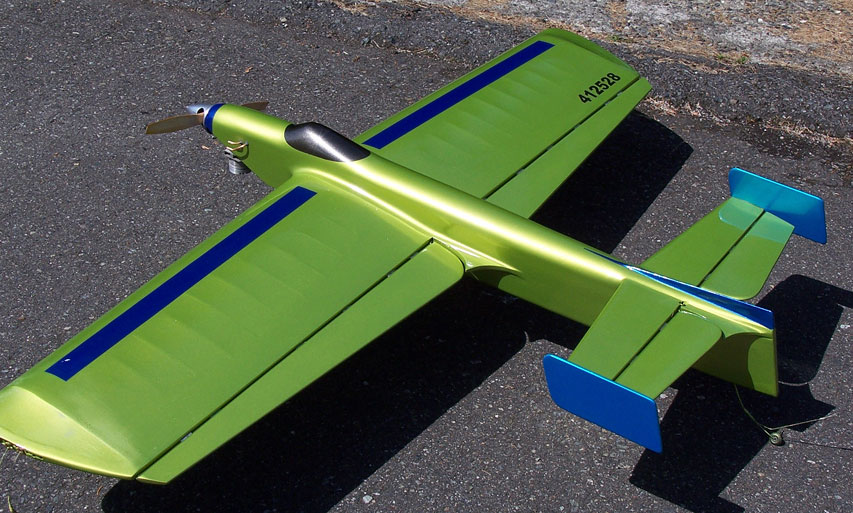 John Leidle of Kirkland, Wash., built this nice Olympus for Classic Stunt. It's powered by a Merco .61 and weighs 64 ounces. A cowl has been added since the photo was taken. John Leidle photo.
Gordon Rea's Shark 35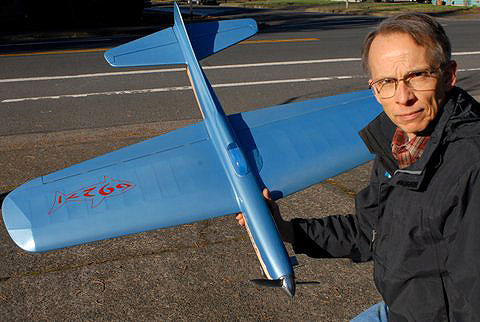 Gordon Rea of Eugene, Ore., shows off his Shark 35. The plane was built by Gordon's dad, Dean Rea, with final sanding and finish by Gordon. It is a kit prepared by Pat Johnston. Engine is an O.S. .46 in it and will start with an 11x4 APC prop. Dean Rea photos.
This page was upated May 4, 2015