The Northwest's Favorite Planes
Northwest control-line model airplane fliers are invited to submit photos and information about their favorite planes, for posting on this Flying Lines page.
June-August 2008 Favorite Planes Gallery
Floyd Carter's Grand Poo-Bah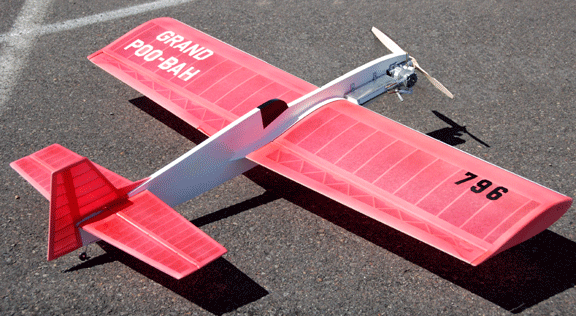 Prolific Builder Floyd Carter of Eugene produced his Grand Poo-Bah profile stunter this spring. He has been trying different engines on it, searching for the right combination. Looks good in the air. Flying Lines photo.
Jerry and Tori Eichten's U-Key
Jerry Eichten of Newberg, Ore., put together this U-Key 35 with to teach maneuvers to his daughter, Tori. It's powered by an O.S. .20 FP. Jerry modified it from the stock kit as sold by J&J Sales. He put the bellcrank on the bottom and added a canopy and two-wheeled landing gear. He also added fuselage doublers and some fiberglass reinforcement. Jerry Eichten photo.
Bruce Perry's Jester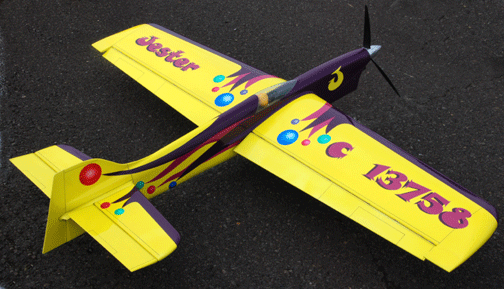 One of our favorite stunt planes, seen above at the Northwest Regionals in 2008, is Bruce Perry's Jester. Bruce is from Edmonton, Alberta. The plane is fully take-apart construction. It has a foam wing, Rush carbon landing gear and carved balsa wheel pants. There are several molded balsa parts Engine is a PA .75 with Bolly 14x4.5 3-blade prop, Randy Smith pipe and Georgia Tuneup. Tank is an 8-oz, Sullivan RST. The wing is 715 square inches, 20 inches betwen the flap and elevator hinge lines.
The Jester is finished in acrylic laquer and Global Systems clear coat. The design is by Bruce Perry, with CAD plans by Jack Pitcher.
Photos: Flying Lines (top) and Howard Rush (right).


Mike Potter's Myrt
Mike Potter of Auburn, Wash., produces beautiful Scale and Navy Carrier planes. This is his Nakajima C-6 N5 Myrt, powered by an O.S. .61RI, used in Class II Navy Carrier. Seen here at the 2008 Northwest Regionals Flying Lines photos.
Randy Powell's Shoestring
Another masterpiece from Randy Powell of Port Orchard, Wash., is his Shoestring, for Classic Stunt, seen at the 2008 Northwest Regionals. The original plane was designed by Bill Simons in 1968 and flown at the 1969 Nationals. It was published in Flying Models in the early 1970s. It has 590 square inches of wing. Randy's weighs 50 oz., powered with a PA .40UL Merlin and finished in dope with catalyzed polyurethane topcoat. Photos below show a closer look at some of the details. Flying Lines photos.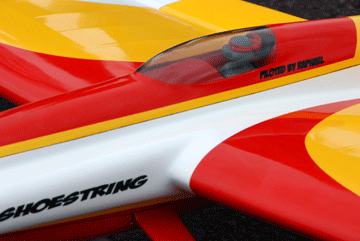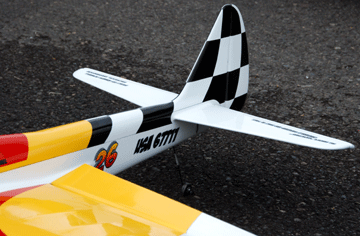 Mike Haverly's Shrike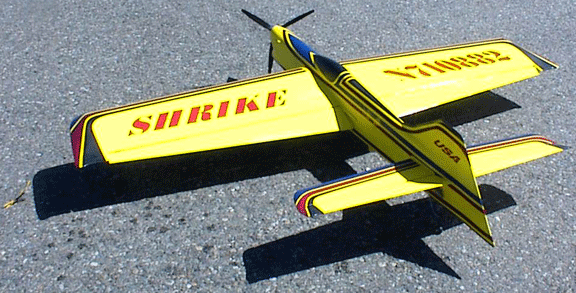 Mike Haverly of Auburn, Wash., has completed another very nice plane for precision aerobatics. It's a Randy Smith design Shrike, powered by a piped PA .40, 640 square inches of wing. Finish is Randolph yellow, Auto-Air color (water base polyurethane) and automotive clear coat. Mike Haverly photo.
Pete Cunha's Vector Sport
Pete Cunha of Sacramento, Calif., sent in this photo of his open-cockpit Vector "Sport." Pete Cunha photo.
---
This page was upated Sept. 2, 2008