The Northwest's Favorite Planes
Here are some of the favorite control-line model airplanes of Pacific Northwest. For the latest additions to the galleries, see the Favorite Planes main page.
September-December 2009 Favorite Planes Gallery
---
Joe Dill's Chipmunk
Joe Dill of Spokane, Wash., finished this Chipmunk in late 2009. The wing is designed by Gary Letsinger and the rest of the plane is Dill's design. Photo provided by Don Shultz
James Holmack, a former Northwest flier who now lives in California, built this SV-11 stunter. It's powered by a piped PA .51, with a 6-oz. tank, a Majik 12z4.33 prop, covered in polyspan with Brodak/Randolph dope. Plane is built from a Randy Smith kit and features a Warren truss wing built in a Bob Hunt lost foam jig. James Holmack photo.
Keith Varley's Continental
Another beauty by Keith Varley of Vancouver, B.C. This is the Tom Warden Continental, built from a Bill Sawyer kit and powered by a Stalker .51 RE. Span is 55 inches. It weighs 52 ounces and is covered with silkspan, polyspan and dope. Keith Varley photo.
McClave/Riese Stuntwagon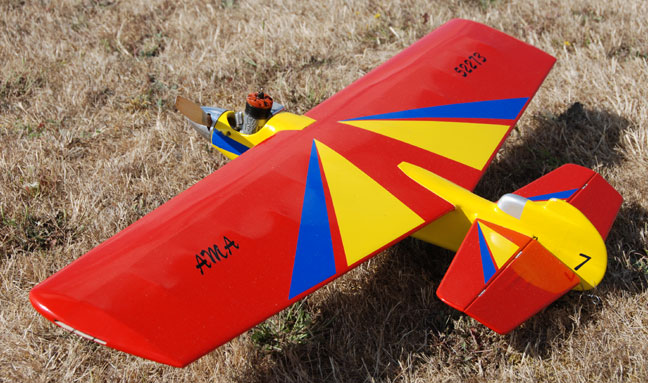 DeBolt Stuntwagon, built by Don McClave and flown by Scott Riese in Old-Time Stunt at the 2009 Oregon Blue Sky Stunt Classic. Powered by Tom Lay-reworked McCoy .40. Flying Lines photo.
Bob Emmett of Sequim, Wash., used this handsome Barnstormer in Old-Time Stunt competition at the Raider Roundup in September 2009 in Chehalis, Wash. Flying Lines photo.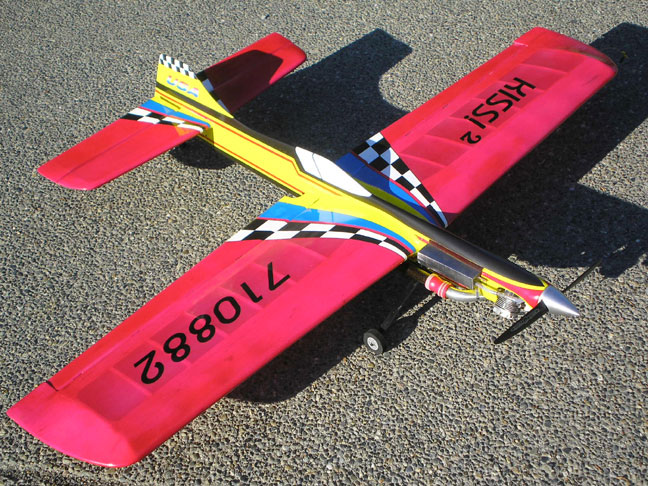 Mike Haverly's new profile, KISS!2, from Mike Haverly made its competition debut at the 2009 Fall Follies in Salem. It's powered by a piped Magnum .36. Mike Haverly photo.
Dane Covey's profile Nobler
Dane Covey put this profile Nobler together for the 2009 Fall Follies. It has a scratch-built fuselage and the rest are parts from a ARF. Dane calls it a Built up Almost Ready to Fly profile (BARF). It has a 3" Tom Morris bellcrank and is powered by a Brodak 40 with a .290 venturi and is spinning a 11-4 APC prop. Dane Covey photo.
Wayne Spears' airplanes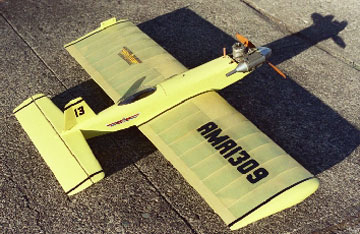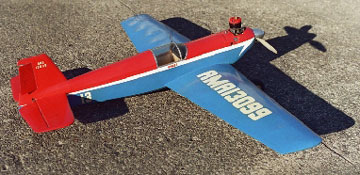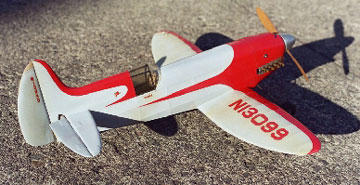 The late Wayne Spears was a fine craftsman who built many very nice looking airplanes, including those above. See obituary. Jim Cameron photos.
Floyd Carter's electric

Floyd Carter of Eugene, Ore., built this electric original, with 55-inch span and 45-oz. weight. Power is a 600 watt Hacker A30-X, with a battery of 14 volts at 3,200 mAh. Flight timer is from W. Hubin. Finish is silkspan and Brodak paint. Flying Lines photo.
Pete Peterson's Jamison Special

Pete Peterson of Tacoma, Wash., flew this gorgeous Jamison Special at the 2009 R.F. Stevenson Memorial Raider Roundup in Chehalis, Wash., on Sept. 12. The photo doesn't do it justice! Flying Lines photo.
Two small ones by Floyd Carter

Floyd Carter builds CL planes large and small. Here are two small ones produced in summer 2009. At top is a Dick Mathis Pinto, powered by Brodak .061, weighing 9.4 oz. In foreground is a Joe Wagner Veco Scout, powered by TeeDee .049 and weighing 5.6 oz. Floyd Carter photo.
John Witt's Panther

John Witt of Edmonds, Wash., flew this Panther in Beginner Precision Aerobatics at the first Oregon Blue Sky Stunt Classic, held Aug. 22-23, 2009, in Eugene, Ore. Plane flies very well with electric power and looks good in all-plastic film covering. Flying Lines photo.
---
This page was upated March 8, 2010