The Northwest's Favorite Planes
Northwest control-line model airplane fliers are invited to submit photos and information about their favorite planes, for posting on this Flying Lines page.
---
April-August 2012 Favorite Planes Gallery
---
Jim Booker's Pod Racer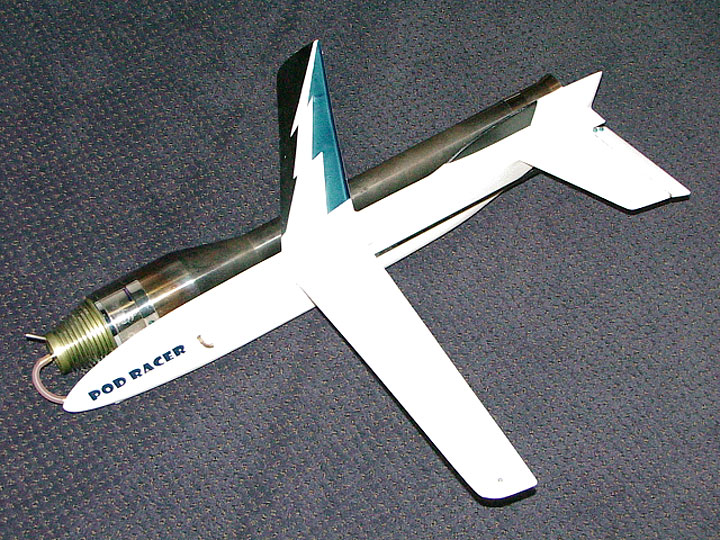 Jim Booker's Northwest Sport Jet Speed plane is called the Pod Racer. It's easy to build, easy to fly, and fast. Jim Booker photo.
Bob Lewis' Super Chip
Bob Lewis of Roseburg, Ore., builds some beatiful profile models. This Super Chip was seen at the 2012 Lucky Hand Fun Fly. Flying Lines photo.
Tom Kopriva's Ringmaster Plus
Tom Kopriva of Eugene, Ore., finished this Ringmaster Plus, built by Gerald Schamp. It's a 600-square inch version of the CL classic, powered by an O.S. LA .46. Flying Lines photo.
Dave Denison's Cardinal
Dave Denison of Salem, Ore., flew this gorgeous electric-powered Cardinal at the Lucky Hand Fun Fly in Salem, Ore., on July 7, 2012. Flying Lines photo.
Walt Russell's F5F Skyrocket
Walt Russell of Auburn, Wash., built this unusual CL subject -- An F5F Skyrocket powered by two O.S. .15 engines. Flying Lines photo.
Don Curry's B Proto
Don Curry of Portland's Northwest Fireballs built this plane in anticipation of the new B Proto Speed event that is being considered. It's powered by an O.S. LA .25. Bill Lee photo.
Dave Shrum's Roadrunner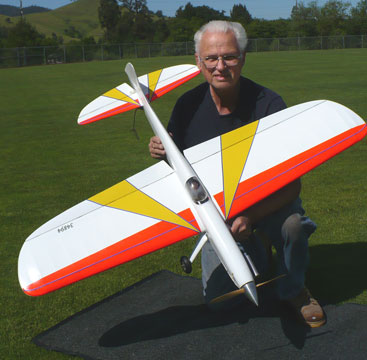 Dave Shrum of Roseburg Oregon, built a Roadrunner in 1971; it was his second stunt plane. The photo at left of the unpainted Roadrunner was taken in Hoquiam, Wash. (Dave's first stunt plane was a Vega .35 which he flew in Spokane, Wash., in 1963.) Now, 42 years after the first, Dave has built another Roadrunner, powered by a SuperTigre .46. Photos provided by Dave Shrum.
Dick Logston's Ruffy
Dick Logston of Aberdeen, Wash., a recent returnee to control-line flying, just finished this Ruffy with a Fox .35 up front. He received the kit and engine from old pal Dave Shrum of Roseburg, Ore. Flying Lines photo.
Grafitti Combat planes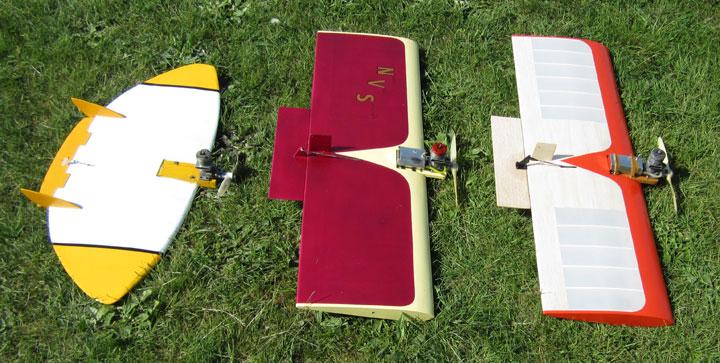 A group of CL fliers in the Vancouver, B.C., area are having fun with vintage combat planes. Here's a lineup seen at a 2012 flying session at the Richmond, B.C. site. Plane at left is Ken Burdick's Missourian, powered by an Enya .29 and covered with Ultracote. Center plane is Greg Davis' T-Square, powered by a Fox redhead Combat Special and covered with Polyspan. At right is Barrie Hobkirk's T-Square, powered by a Fox Combat Special and covered with iron-on fabric and dope. Ken Burdick photo.
Don Curry's twin
Don Curry of Portland, Ore., built this nice-looking twin, powered by K&B .20 engines. It has a 59-inch span with the wing using Tutor ribs. A J-Roberts three-line bellcrank allows throttle control. Geoff Christianson photo.
Dan Banjock's Stuntus Loudus
Here's a kind of stunt plane you don't see very often. Philly Fliers CL club member Ken Cook reports that noted stunt flier Dan Banjock built this jet-powered stunter, "Stuntus Loudus," and has flown it successfully in Reading, Pa. The plane flies a bit over 70mph. It weighs 70 oz. and is runs on 87 octane pump gas. Ken Cook photos.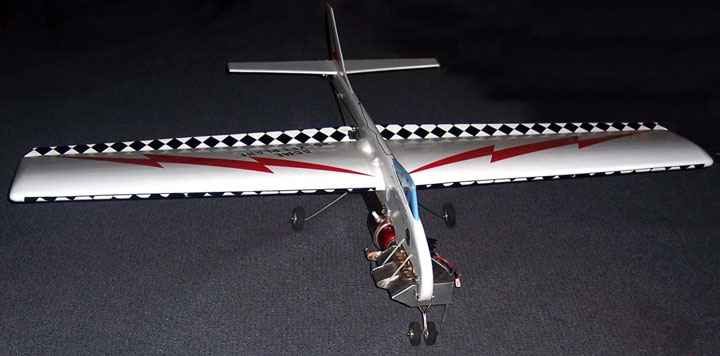 Bob Lewis' Challengers
Bob Lewis of Roseburg, Ore., likes the Challenger design so much he built two of them, one full-size and one scaled down. These were seen at Oregon Flying Fun No. 2 in February. Flying Lines photo.
Leo Mehl's Vector 40
Leo Mehl of Portland, Ore., achieved a nostalgic treatment of the Vector 40, with the open cockpit. Power is by Stalker .40. Leo Mehl photo.
Bill Toschik/Russell Shaffer Twister
Bill Toschik of Klamath Falls, Ore., built this modified Twister, which is flown by Russell Shaffer of Klamath Falls. Silkspan, dope, and Rustoleum finish, O.S. FP.35 power. Russell Shaffer photo.
---
This page was upated Sept. 3, 2012