The Northwest's Favorite Planes
Northwest control-line model airplane fliers are invited to submit photos and information about their favorite planes, for posting on this Flying Lines page.
---
October-December 2011 Favorite Planes Gallery
---
Dane Covey's Profile E-Nobler
Dane Covey of Tacoma, Wash., built this Profile Nobler powered by an E-Flite 25 motor turning an 11x5.5 prop and using a 3300 mha battery pulling 25 amps. The plane is covered in Polyspan and tissue and uses a Tom Morris 3-inch bellcrank with a slider horn on the elevator. Clear finish is to conserve weight. Dane Covey photo.
Don Curry's Tomahawk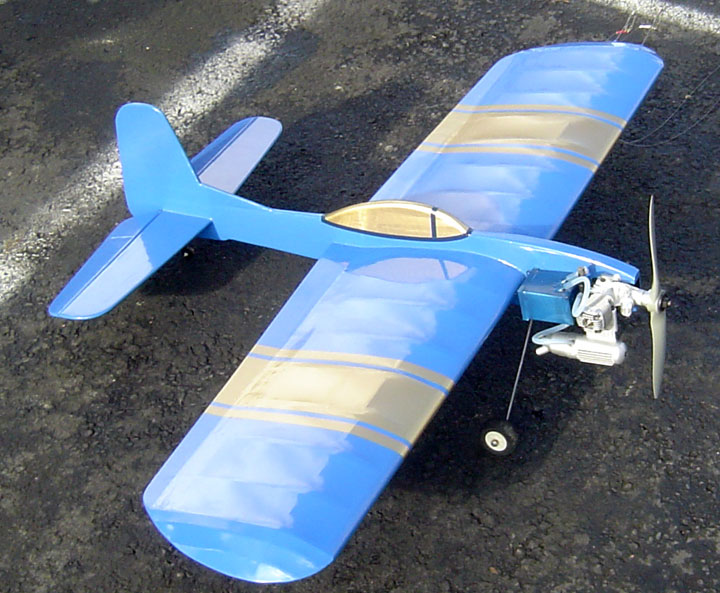 Northwest Fireballs member Don Curry recently started flying this scratch-built Tomahawk, powerd by an O.S. LA .25 and covered with Ultra Cote. Geoff Christianson photo.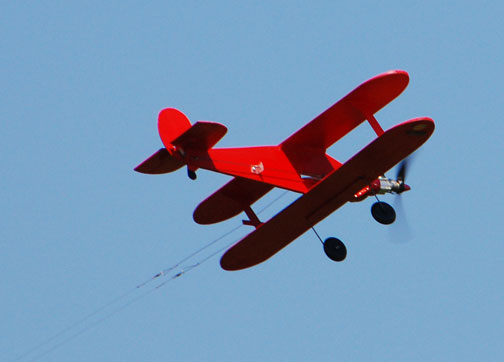 Big fun in a small package: Dave Shrum's Beech Staggerwing bipe, seen on the ground and in flight at the summer 2011. Roseburg fun fly. Flying Lines photos.
Don Curry's Ringmaster
Don Curry of Portland, Ore., scratch-built this four-stroke-powered Ringmaster for the 2011 global Ringmaster flying day. All the Northwest Fireballs members present at East Delta Park flying session on that day got to fly it. Geoff Christianson photo.
Gordon Rea of Eugene, Ore., has been very active since returning to the CL hobby recently after a long layoff. He's been practicing his stunt pattern with this Prowler, among other planes, and is improving rapidly. Gordon says the Prowler was originally built by Mel Marcum., who gave it to Gordon when he returned to CL flying after a 39-year layoff. It has been crashed twice and repaired. After the first repair, it was named "Redeemed," and after the second, "redux" was added to the name. Gordon's dad, Dean, also a modeler, advises Gordon that he should not crash the plane again, because he's running out of room for lettering. Flying Lines photo.
Javier Fernandez's Blue Max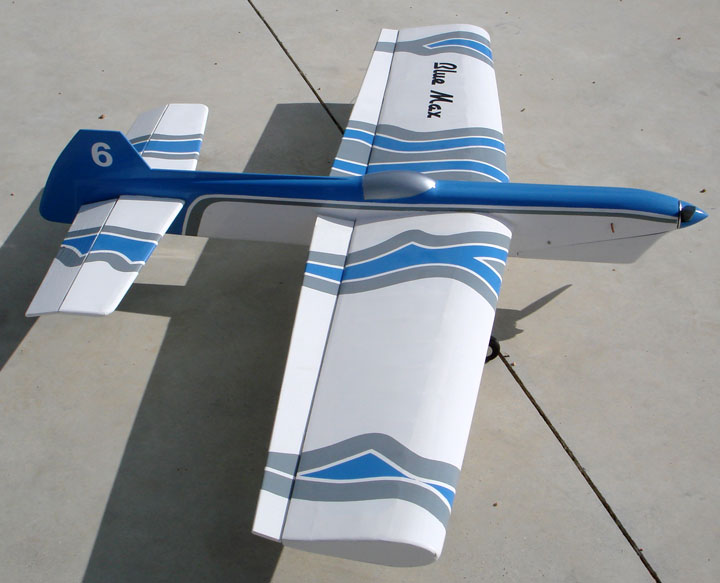 Javier Fernandez of Cordoba, Spain, recently completed this Blue Max. See his very nice web site about CL flying activites in Spain. Javier Fernandez photo.
Floyd Carter of Eugene, Ore., built this Mustang from an RSM kit, borrowing Pat Johnston's paint scheme. It's powered by an O.S. L.A. .46 and features retracting landing gear. Floyd Carter photo.
Dave Royer's Humongus
Dave Royer's Humongus, seen at the 2011 Fall Follies. Flying Lines photo.
Jack Oster's Yak-9
Jack Oster of Surrey, B.C., a Pacific Aeromodellers Club member, built this Brodak Sterling Yak-9, powered by an O.S. LA .25. Jack Oster photo.
Marshall Palmer's Scirocco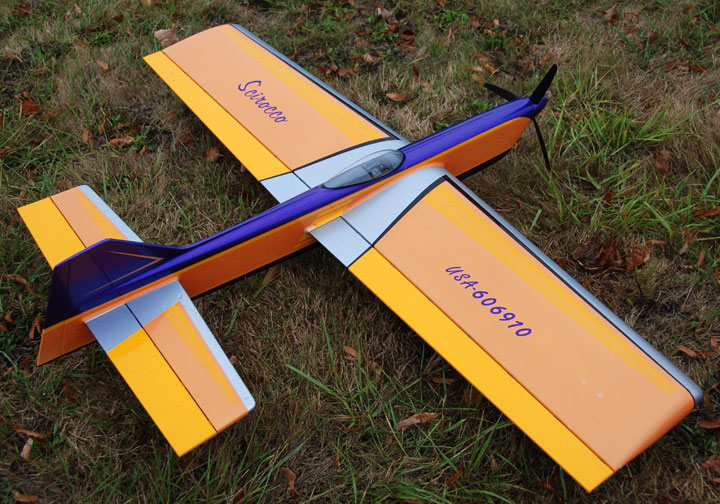 Marshall Palmer, a newly arrived Northwest flier now living in Medford, Ore., took second place in Advanced Precision Aerobatics with this beautiful Scirocco at the 2011 Fall Follies in Salem, Ore.. The plane is based on Randy Smith's SV-11 series with the wing reduced in span to 57 inches (660 square inches). Power is a piped O.S. .46 VF, and prop is a Brian Eather 11.25x4. Weight is 64 ounces. Flying Lines photo.
Larry Lewin's Electro-Ringmasters
Larry Lewin of Abbotsford, B.C., built these two electric-powered Ringmasters. Details: The planes are built exactly as per the S-1 Ringmaster plans except for the battery box in the wings, the addition of a 1/8"x1" spar near the leading edge and extended center sheeting by one panel. Electrics are a Turnagy TR 35-48 A 1100kv outrunner motor, FM-0c timer, Arrowind 35 AMP ESC, Turnagy T3300.3S.30. Larry says he received help with the projects fromjohn Witt, Dennis Adamisin and Will Hubin. Larry Lewin photos.
---
This page was upated Jan. 9, 2012