The Northwest's Favorite Planes
August-October 2007 Flying Lines Favorite Planes Gallery
Leo Mehl's Ruffy
Leo Mehl's latest Classic Stunt plane is a Ruffy, powered by O.S. .40FP.
Greg Hart's Shark
The Shark is a popular Classic Stunt design in the Northwest. Greg Hart's is powered by an Irvine .46, reworked by Byron Barker and including a hemi head.
Greg has built a couple of interesting features into the shark, including the three-function tail wheel attachment shown at right. Under the tail gear is an aluminum tube plugged with a rubber stopper, and held down with a 4-40 bolt, to provide a place for tail weight if needed for trimming purposes. The gear also serves as a tail skid and has a hole for a stooge connection.
The plane came in at 70 ounces. It's finished with Brodak dope.

John Thompson's Twin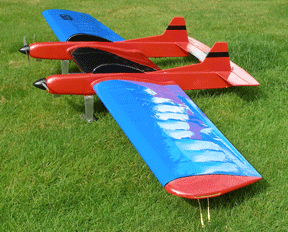 Flying Lines editor John Thompson built this twin-engine plane as a "for fun" and Profile Stunt airplane. The plane was completed during the summer and was still in shakedown when it made its first contest appearance at the TEAM Country Classic in McMinnville, Ore., in August. After only about a dozen flights, the plane suffered a crash during experimentation with shutoff loops (one engine quit in the loop, the other didn't, and slack lines resulted).
Crash repairs were done by Bruce Hunt and John Thompson, and the plane is pictured here as it now looks, with new engines and new tanks installed.
The plane is a slightly modified Twin Flite Streak, built from John Miller plans. It spans 67 inches, weighs 48 ounces and is powered by two O.S. LA .15 engines with tongue mufflers by Scott Riese. Props are Master Airscrew 8x4. The main modification from the original design is that the wingspan has been shortened from the original 73 inches, and the canopy profile is changed slightly. Flying Lines photos.

Rick Cochrun's Pathfinder Mk II
Rick Cochrun of Redmond, Wash., flies this Pathfinder Mk II, powered by O.S. LA .46, in Profile Stunt and Intermediate Precision Aerobatics. Flying Lines photo.
Mark Scarborough's GeeBee
Mark Scarborough of Pullman, Wash., says this profile Gee Bee is a great-flying model, despite having been repaired several times. He has done well with it in Profile Stunt contests in 2007. It's powered by an O.S. .46LA, using an APC 12.25 x 3.75 prop. Mark Scarborough photo.
Bruce Perry's Jester
Expert Precision Aerobatics flier Bruce Perry of Edmonton, Alberta, attends many Northwest CL contests, and also travels around the world as a member of the Canada's world championship team. His Jester travels nicely when broken down into its parts. Seen here at the Western Canada Stunt Championships. Howard Rush photos.
Joe Just's Claude
Joe Just of Waitsburg, Wash., has a special love for the "Claude" airplane. Here is his lastest model, a Profile Carrier plane to be powered by an Irvine .21 RE. Joe Just photo.
This page was upated Nov. 6, 2007