The Northwest's Favorite Planes
May-June 2006 Flying Lines Favorite Planes Gallery
Randy Powell's Dangerous

Randy Powell of Port Orchard, Wash., regularly produces spectacularly finished, innovative designs. Dangerous, shown off at the Stunt-a-Thun in Puyallup on June 17-18, 2006, was no exception. Dangerous is powered by an OS .46 VF on pipe. Flying Lines photo.
Pete Peterson's Sultan
Pete Peterson of Tacoma, Wash., is flying his Sultan, powered by a RO-Jett .65 on pipe, in the precision aerobatics expert class. The plane is seen here at the Stunt-a-Thun in Puyallup, Wash., on June 18, 2006. Flying Lines photo.
Mike Haverly's Oriental Plus

Mike Haverly of Auburn, Wash., flies this very nice Oriental Plus, with Ro-Jett .40BSRE, in Advanced Precision Aerobatics. Steve Helmick photo.
Leo Mehl's new .25-size plane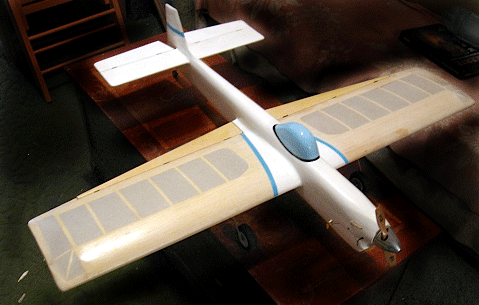 Leo Mehl of Portland, Ore., has named his OS LA .25-powered stunter. OEL-1. The name is a nod to the fact that Leo flies clockwise. Nice job, Oel! Leo Mehl photo.
Jack Pitcher's Centennial
Jack Pitcher of Gresham, Ore., flies his Centennial in the expert class of precision aerobatics. The plane has been around for a number of years and still looks great. Flying Lines photo.
Mike Potter's F4B-4
Mike Potter flies profile Navy Carrier with this F4B-4, built from December 1974 Flying Models plans. It's designed for aerobatics, but Mike has converted it to carrier. It's powered by a Fox .36BB with a reverse crank. Jim Cameron photo.
This page was upated Aug. 13, 2006