October-December 2014 Favorite Planes Gallery
---
Kirk Johnson's Nightingales

What better decoration for the coffee table than a couple of pretty speed planes! These are 1959 Nightingale A and B speed ships Kirk Johnson has just finished building. Further detail from Kirk: "I was very fortunate to acquire the two rare kits from Mike Hazel. Jim Nightingale's old flying partner, Jerry Rocha, served as adviser on the build and Bob Whitney was instrumental in supplying some scarce parts & pieces. The engines are a 1959 K&B Torpedo 29R and a 1960 Super Tigre G20-19 Jubilee with pen bladder fuel tanks and Marty Higgs torque tube controls. As far as Jerry knows, there is only his original Nightingale (right) and these two Nightingales left in existence." Kirk Johnson photo.
Bill Lee/Don Curry Boxcar Chief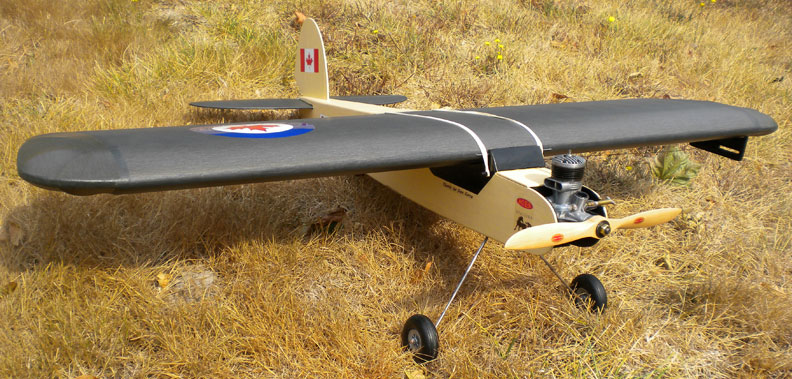 This nice-looking Old-Time Stunt Boxcar Chief was built by Don Curry for Bill Lee of Portland, Ore. The plane, built from plans, included some clever updates, including an internal control rod and hidden wing bolts. The tank is a vintage Acme brand, and the engine is as K&B Stallion .35. The plane is decorated in the colors of the Canadian Air Group. Bill Lee photo.
Tom Brightbill's Shark
Tom Brightbill of Oregon City, Ore.,built this classic Shark in late 2014, with power by a Tom Lay SuperTigre G51. Finish is polyspan and Randolph dope. Tom Brightbill photo.
Robin Mason's Smoothie

Robin Mason of Lebanon, Ore., built this nice-looking Smoothie with O.S. FP .40 power in the fall of 2014. Robin Mason photo.
Floyd Carter's Colibri
"Colibri" is the Spanish word for "hummingbird." Floyd Carter's new electric stunter "hums" around the circle -- hence the name. The plane is covered in Polyspan and dope. Red dye is mixed with clear Brodak dope for the red, and the other colors are standard Brodak dope. The motor is a Hacker A30-10XL, controlled by a Hacker X-5-SB-PRO, with a timer by Will Hubin. Battery is a 5S-2700mAh. Prop is APC 11x5.5 electric. The design started with a Brodak Cardinal wing rib set, but is stretched to a 56-inch span. Floyd has plans available for anyone interested. Floyd Carter photo.
Fred Underwood's Similar 2
Fred Underwood of West Linn, Ore., is a fast-rising aerobatics competitor in the Northwest. His Similar 2 is a very smooth-flying profile stunter with electric power, seen here at the 2014.F. Stevenson Memorial Raider Roundup in September. Flying Lines photo.
---
This page was upated Jan. 12, 2015