October-December 2013 Favorite Planes Gallery
---
Rex Abbott's Second-Hand Rose
Out of catastrophe comes a new plane: Rex Abbott of Sequim, Wash., had the wing fold on his Strathmoor profile. He repaired the wing, cut it down to a smaller size and put it in a fuselage he had started for a Jean Palet Skylark, with a Fancy Pants vertical fin. It now flies with a Saito .30 four-stroke. Rex Abbott photo.
Want about 30 seconds of pure, raw, adrenaline-laced excitement? Hang on to one of these for 14 laps: Including the standing start, the plane will time in at something over 160 mph. Whew! This is a Formula 40 Speed plane being prepared by Marty "Fast Hippy" Higgs of Vancouver, B.C., for Dick Shannon of Phoenix, Ariz.It uses a Nelson long-stroke .40 engine for massive power. Steve Walther photo.
Here's another combat-style airplane built for sport flying by Mark Hansen of Portland, Ore. This is a Spectrum, powered by a Webra Speed 20 helicopter engine, with the head fins cut down and a custom venturi. The plane was built from a Dumas kit Mark received as a flying raffle prize at the 2013 Oregon Flying Fun No. 4. The covering is Micafilm, Monokote and Luster Cote. The plane weighs 20 oz. and flies at 76 mph on 60-foot lines, using a 7x5 prop. Mark Hansen photo.
Jim Harper's Pathfinder
Jim Harper of Portland, Ore., flies this very nice OS-powered Pathfinder, seen here at the 2013 Lucky Hand Fun Fly. The plane was built by Jim's fellow Northwest Fireballs member Don Curry. Flying Lines photo.
Rick Cochrun's Impacts
Rick Cochrun of Marysville, Wash., flew two versions of the Paul Walker-designed Impact at the 2013 R.F. Stevenson Memorial Raider Roundup -- the full-fuselage version (above) and a fourstroke-powered profile (below). Flying Lines photos.
Javier Fernandez' Ice-35
Javier Fernandez of Cordoba, Spain, built stunt plane, called Ice-35. Unusual layout is powered by an O.S. LA .40. Javier Fernandez photo.
Fred Underwood's Genesis
Fred Underwood of Salem, Ore., built this Genesis for Precision Aerobatics. In-flight shots taken at Bill Riegel Model Airpark in Salem on Nov. 9, 2013; inverted shot reveals Fred's very nice detail on the bottom -- the plane is finished entirely in Monokote. Flying Lines photo.
Phil Granderson's Miss Attitude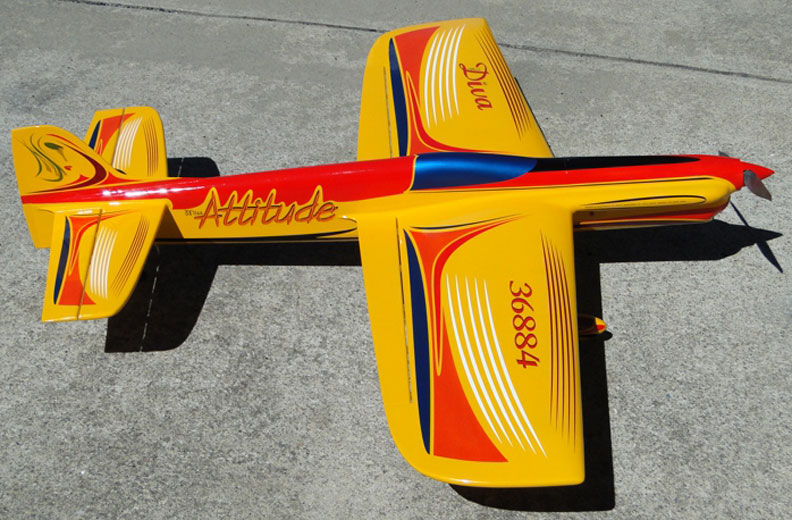 Phil Granderson of Oakland, Calif., produced another masterpiece for Precision Aerobatics in the fall of 2013. This version of his Diva is nicknamed Miss Attitude. Power is by an electric E-Flite 25; it weighs 57 oz. ready to fly. Phil Granderson photo.
Roy DeCamara'a Arctic Fox
Roy DeCamara of Vancouver, Wash., is one of the Northwest's most accomplished builders, particularly in Classic Stunt airplanes. This is his version of the Arctic Fox, designed by Leo Mehl of Portland, Ore. Roy DeCamara photo.
Mark Hansen's Super Satan
Mark Hansen of Portland, Ore., built this combat-style plane for sport flying. It's a Super Satan, a Larry Scarinzi/Carl Goldberg design, originally published in the September 1967 Model Airplane News. The plane was built with a Laser Works short kit and is powered by a Webra Glo-Star 20; covering is Mica-Film with Monokote tips and LustreKote paint on the center section. Motor mounts are made of Micarta, with threaded holes, and no blind nuts. Mark says the Micarta is as hard as aluminum, but about 1/4 the weight, and works like wood. With a 3.5-oz. Veco wedge tank, Mark gets eight or nine minutes of flying time. Mark Hansen photo.
Floyd Carter's Thunder Geezer
Prolific builder Floyd Carter of Eugene, Ore., built this nice aerobatics plane in the summer of 2013. This one is a variation of David Fitzgerald's Thunder Gazer, powered by a Ro-Jett .61 and spinning a three-blade Bolly prop. The "80" refers to Floyd's 2013 birthday. Floyd Carter photo.
---
This page was upated Jan. 6, 2014