The Northwest's Favorite Planes
Northwest control-line model airplane fliers are invited to submit photos and information about their favorite planes, for posting on this Flying Lines page.
May-June 2011 Favorite Planes Gallery
---
This is Randy Powell's 2011 creation for Precision Aerobatics, called the Hooligan. It is 626 square inches, powered by a Ro-Jett .65. Randy Powell photo.
How's this for an unusual approach to Navy Carrier? This is Ken Burdick's GeeBee for the new Northwest Sport 40 Carrier event, seen in the Carrier pits at the 2011 Stunt-a-Thon in Puyallup, Wash. Flying Lines photo.
Phil Granderson's annual Precision Aerobatics masterpiece was a show-stopper at the 2011 Northwest Control-Line Regionals. This one is called American Pi, and is electric-powered. Flying Lines photo.
Bruce Perry of Edmonton, Alberta, captured the Concours d'Elegance award at the 2011 Northwest Control-Line Regionals with this version of his Jester design for Precision Aerobatics. Flying Lines photo.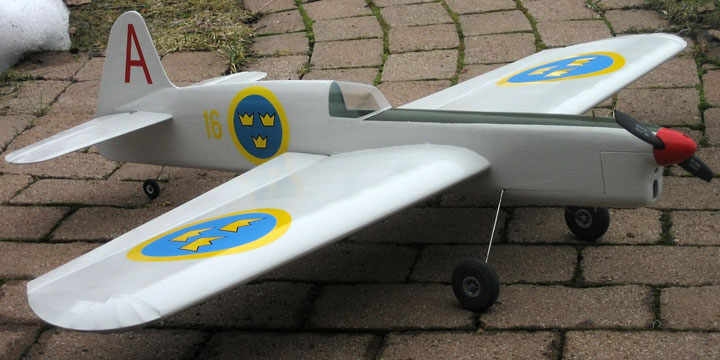 Flying Lines reader Lars Gustafsson of Nykvarn, Sweden, sent in this photo of his Green Box Nobler, built to look like a "Red Adam" P-51 Mustang of the postwar F16 Wing in Uppsala, Sweden. Lars says it flies beautifully with a Fox .35 stunt engine with a hemi kit upgrade. Lars Gustafsson photo.
Floyd Carter of Eugene, Ore., continues to produce interesting stunters. This Spitfire, built from Floyd's own plans, spans 63 inches and is powered by a Ro-Jett .76RE. It features retracting landing gear controlled from the handle using an electronic controller designed by Floyd, with the signal sent through the control lines. Floyd Carter photo.
Louie-Louie D Speed plane
The Louie-Louie D Speed plane, winner of Record Ratio Speed at the Jim Walker Memorial contest in April 2011. The Louie-Louie Speed team is Mike Hazel and Ken Burdick. The airplane was designed and built by Phil McGee and uses a custom-built McGee .65 engine. Bill Lee photo.
Alan Resinger/Gerald Schamp Stiletto
This Beautiful Stiletto, a Nostalgia 30-eligible design, was built by Alan Resinger from a Builtright kit and flown by Gerald Schamp. Power is a Stalker .51 rear exhaust and finish is Brodak dope. Gerald Schamp photos.
---
This page was upated July 12, 2011