Northwest control-line model airplane fliers are invited to submit photos and information about their favorite planes, for posting on this Flying Lines page.
---
June-September 2017 Favorite Planes Gallery
---
Steve Lindstedt's Hell Razor
Steve Lindstedt showed this replica of a vintage Hell Razer at the 2017 Northwest Control-Line Speed Championships in Salem, Ore. Steve Lindstedt photo.
Bob Harness' Stratus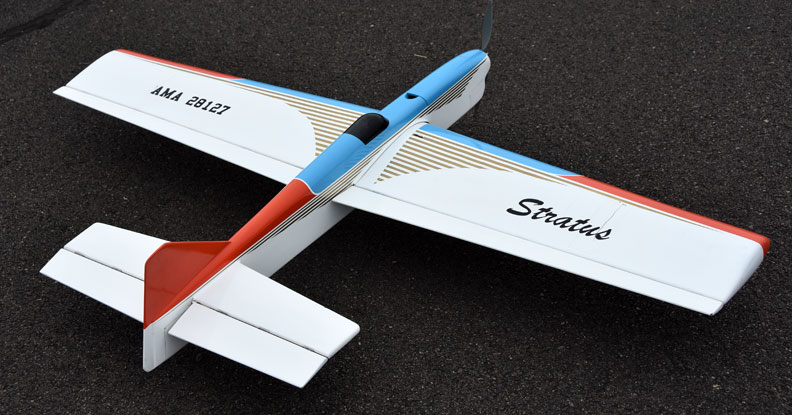 One of the very nice Precision Aerobatics planes seen at the 2017 Northwest Regionals is this Stratus by Bob Harness of Rosamond, Calif. Flying Lines photo.
Dave Shrum's Coon Dog
Dave Shrum's Coon Dog looks great in flight at the 2017 Zoot Ranch Fun Fly. Power of this vintage bipe is a K&B Stallion .35. Flying Lines photo.
Fred Cesquim's Thunder Gazer
Here's another beauty from regular Flying Lines reader Fred Cesquim of São Paulo, Brazil. This is his Thunder Gazer, a Dave Fitzgerald design built from an RSM kit. Finish is Monokote and automotive paint and clear. Fred Cesquim photo.
Doug Moisuk's Fierce Arrow
Doug Moisuk of Regina, Saskatchewan, built this classic Bill Netzeband-designed Fierce Arrow, as beautiful on the bottom as on the top. Power is a SuperTigre .46, and the Sig dope paint scheme is in the colors of the Saskatchewan Roughriders football team.
Gene Pape's Renegades
Earlier in 2017, Gene Pape's vintage combat Renegade (right) was featured in this space. Buzz Wilson of Belfair, Wash., later sent the photo above with the note, "I call Gene's Renegade and raise him three." Many Northwest combat fliers recently have been building vintage planes for the Combat Grafitti event that has been held several times in British Columbia. Buzz Wilson and Gene Pape photos.
Paul Gibeault's sport trainers
Paul Gibeault of Leduc, Alberta, a regular attendee at the Northwest Control-Line Regionals, sent along this photo of two sport-flying projects, with this explanation: "With no speed/race competitions this year, my building has turned to older 'vintage' kit building. Here are two that I've just finished for my wife, Dianne, to train on. I used a 'new' fast method of covering. It's Polyspan (undoped in the bays) covered by Phil Cartier's SLC mylar. Seems really light, really tough, and really quick to do since there's no filling, priming, or sanding required, plus it is 1.4 oz. weight per square meter. Engines are O.S. 25LA's." Paul Gibeault photo.
Fred Cesquim's Starduster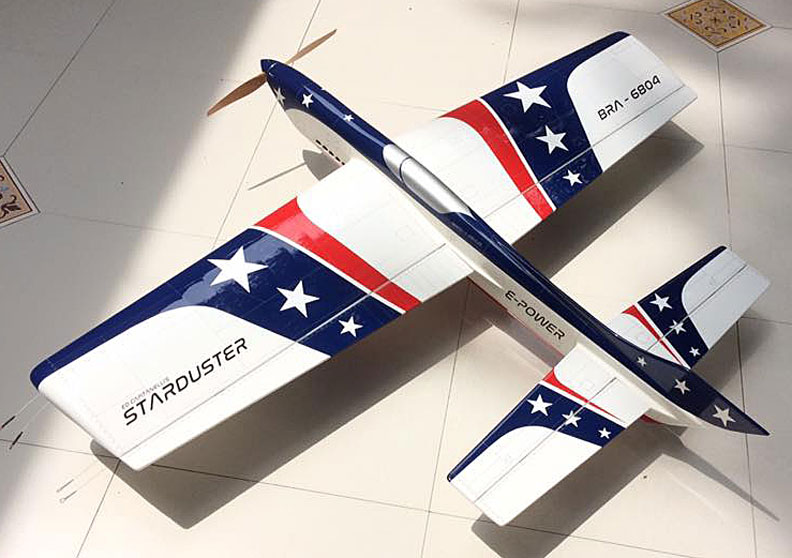 Regular Flying Lines reader Fred Cesquim of São Paulo, Brazil, builds some beautiful Precision Aerobatics airplanes, as seen by the top and side views of his electric-powered Starduster. From the photo below, we can see that his local flying field, Ibirapuera Field, is a beautiful facility! Fred has been building and flying since 1986. Fred Cesquim photos.
Lanny Shorts' Sierra Sun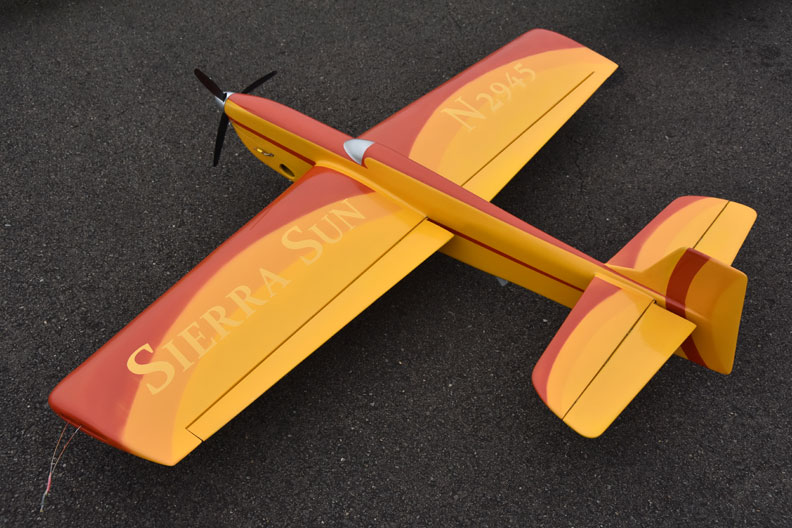 This beautiful Precision Aerobatics plane, Sierra Sun, was flown by Lanny Shorts of Truckee, Calif., at the 2017 Northwest Control-Line Regionals in Roseburg, Ore. Flying Lines photo.
Tim Wescott's Walker Atlantis
Tim Wescott of Oregon City, Ore., is flying the Atlantis, built by Paul Walker, powered by an O.S. .46 L, seen at the 2017 Stunt-a-Thon in Chehalis, Wash. Tim says the LA pulls the 64-oz. plane with authority, and he loves flying it. Tim Wescott photo.
Dick Logston's Monogram Piper Cub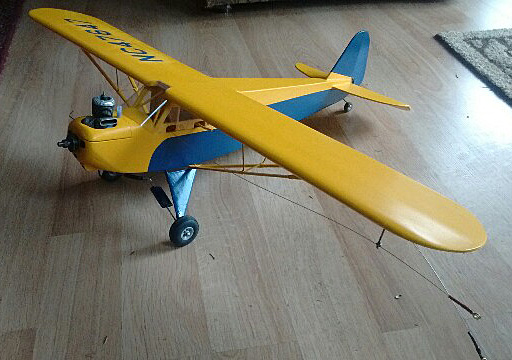 Dick Logston of Aberdeen, Wash., recently built this Monogram Piper Cub Special as a nostalgia project. He explains: "I received this airplane as a childhood Christmas gift. Made my first control-line flight with it lasting about 2 laps. So this last spring I found the revised plans on Outerzone and decided to relive the so-called good old days by building it better than I did a kid. It is powered with a O&R23FR on glow. Randolph dope is CubYellow and Piper Blue. Have not flown it yet, hope to this summer. The original kit had a U-shaped bellcrank mounted under the inboard wing with a 1/16th wire running inside the wing to a 90-deg. bellcrank actuating a pushrod to the elevator. The revised plan shows the typical control-line system. At 82 years old and with AS, a form of arthritis I don't fly much anymore, difficult to fly overhead, but I still love to build. Back in the sixties I was just getting through the stunt pattern when the RC bug took over. Old pal Dave Shrum sent me the O&R 23 FR engine." Dick Logston photo.
Don Curry's Smokin' Joe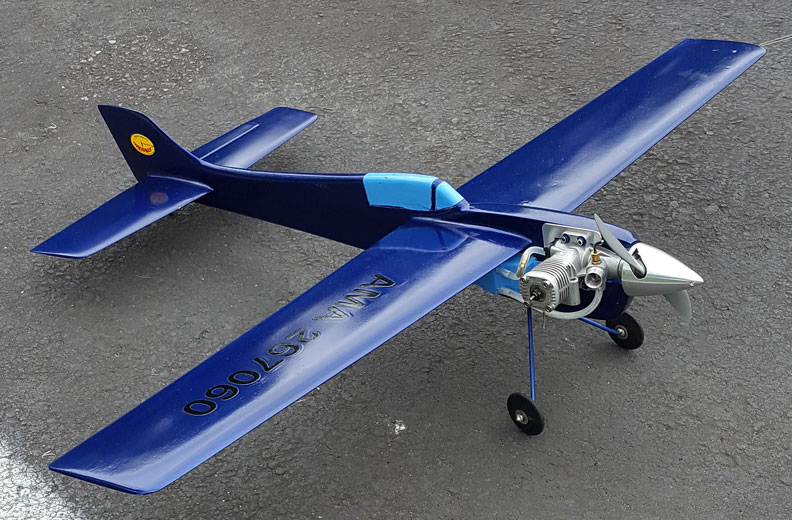 The Northwest B Proto Speed produces some cute airplanes. The B Proto event is a good introduction to speed flying, using a two-line control system and a common O.S. LA .25 engine. This one was built by Don Curry of Portland, Ore., from a Chris Sackett "Smokin' Joe" kit. Bill Lee photo.