The Northwest's Favorite Planes
Here are some of the favorite control-line model airplanes of Pacific Northwest. For the latest additions to the galleries, see the Favorite Planes main page.
January-February 2010 Favorite Planes Gallery
---
Don McClave's 2010 Thunderbird
Don McClave built this classy Classic Thunderbird for the 2010 season. Unfortunately, an engine flameout and a gust of wind combined to bring the plane to an early end at Delta Park in Portland, on approximately flight No. 30. Geoff Christianson photo.
Russell Shaffer's Boxcar Chief
Russell Shaffer of Klamath Falls, Ore., built this Old-Time Stunt plane, a Boxcar Chief, powered by Fox .35 stunt and covered with dress lining. Russell Shaffer photo.
Randy Powell's Slider v4.0
Randy Powell of Port Orchard, Wash., has just finished his Slider v4.0 for 2010 Precision Aerobatics competition. Looks great! The wing is 590 square inches, and the plane weighs 58 oz. It's largely the same plane aerodynamically as Randy's 2009 Ringmaster Deluxe. Power is a RO-Jett .65. Test flights planned within the next couple of weeks. Randy Powell photo.
Dane Covey's Profile Nobler
Dane Covey of Tacoma, Wash., finished this profile Nobler for 2010. It has a scratch-built fuselage; the rest is from an ARC. It has a 3-1/2" Tom Morris bellcrank and is powered by a Brodak .40 with a carbon fiber prop. The plane is covered with Polyspan. Dane Covey photo.
Doug Powers' Skyray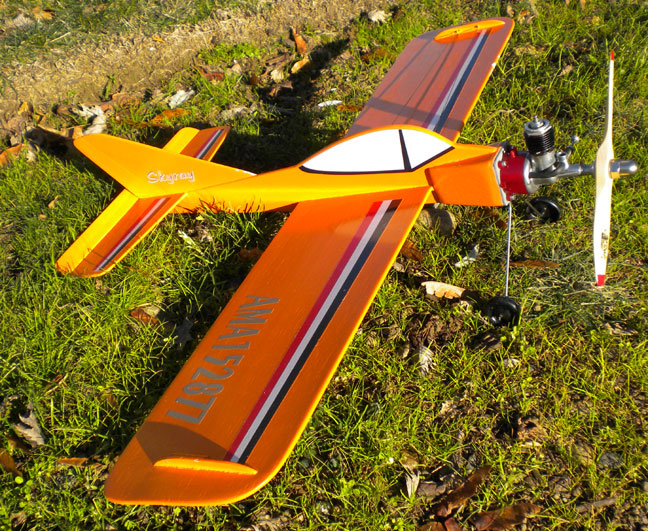 Small planes can be big fun, too. This Sig Skyray was built by Doug Powers of Portland, Ore., and is powered by William Lee's OK Cub. Landing gear is from a Deweybird. Doug Powers photo.
Bill Darkow's Heinkel
Bill Darkow built this 60mm electric ducted fan powered model of a Heinkel 162 "Volksjager" (People's Fighter) sometimes called the "Salamander." It came out in late 1944 - early 1945 - too little and too late to have a significant impact on the air war. The model spans 34 in., about 1/12 scale. It flies in a very scale-like fashion - slow to accelerate and with a lovely turbine whine. Handles easily on 52ft. lines at about 50mph. The nose intake is non-scale but was necessary to get cooing air over the LiPoly battery. Bill Darkow photo.
Keith Varley's Jamison Special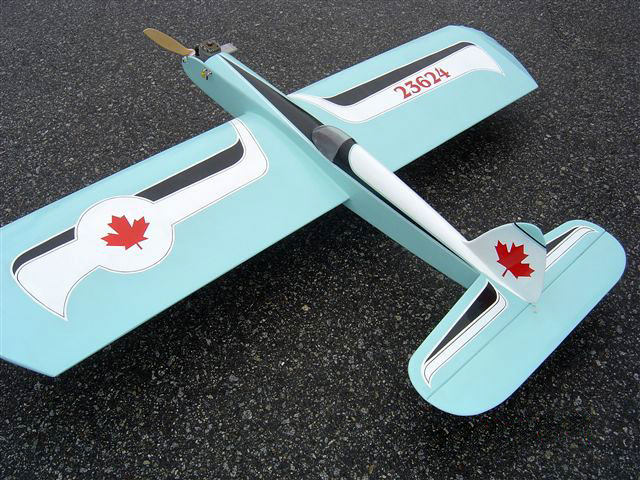 Another beauty from Keith Varley. This is Jamison Special for Old-Time Stunt, powered by a Magnum .36. It weighs 36 ounces and is covered with Lakeland blue dope that Keith won at the 2009 Stuntathon in Puyallup, Wash. Keith Varley photo.
---
This page was upated March 8, 2010