Northwest control-line model airplane fliers are invited to submit photos and information about their favorite planes, for posting on this Flying Lines page.
---
Gordan Delaney's Bellanca
This flawless Bellanca was displayed by Gordan Delaney of Layton, Utah, at the 2018 Northwest Control-Line Regionals in Roseburg, Ore. It's seen here awaiting appearance judging. Flying Lines photo.
Pete Cunha's Lark
This eye-catching Mackey Lark was flown by Pete Cunha of Citrus Heights, Calif., at the 2017 Northwest Control-Line Regionals in Roseburg, Ore. It's seen here awaiting appearance judging. Flying Lines photo.
Ignacio Gil's Hellcat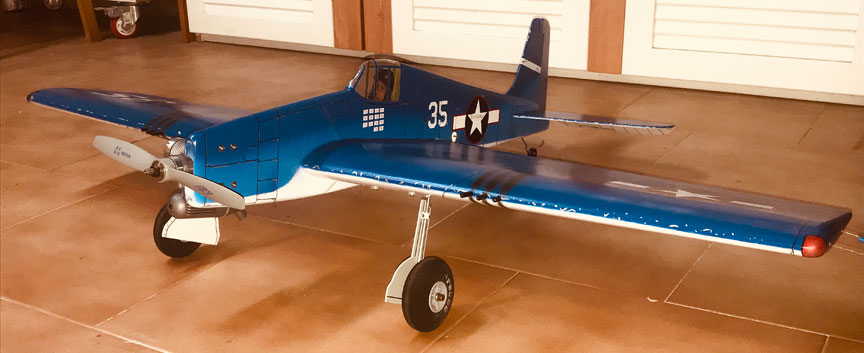 Flying Lines reader Ignacio Gil of Malaga, Spain, added weathering touches to the finish of his new F6F Hellcat, built from a Sterling kit and powered by a Leo .28. Ignacio Gil photo.
Phil Goldberg's Hornet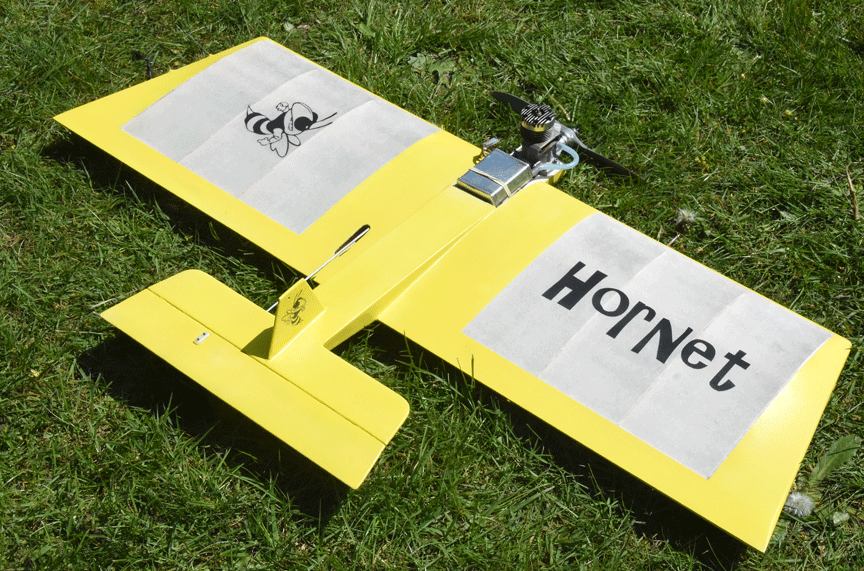 Phil Goldberg of Portland, Ore., likes to build oversize versions of vintage airplanes. This is his Hornet, seen at the 2018 Jim Walker Memorial Spring Tune-Up in Portland. To see his oversize Buster, see the Favorite Planes Gallery for April-September 2018. Flying Lines photo.
Gene Pape's Half Fast III
Building and flying of vintage Combat planes has become increasingly popular of late. This one is a Half Fast III built by Gene Pape of Eugene, Ore. The plane was designed in the 1950s by Bill Netzband. Power of this one is a Fox Rocket .35. Flying Lines photo.
Paul Gibeault's Move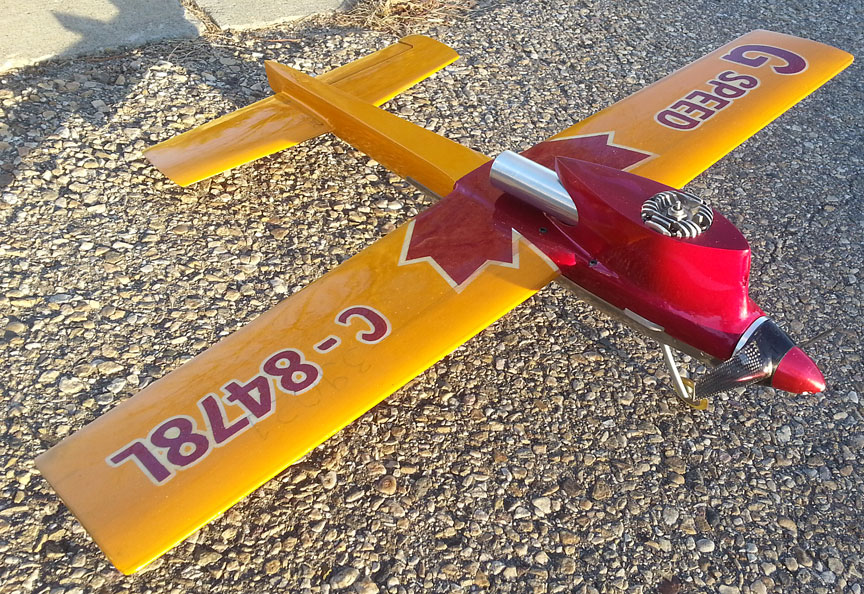 For a retirement project, Paul Gibeault of Leduc, Alberta, refurbished a 30-year-old Formula 40 Speed plane built by Mike Hazel -- then master Stunt builder Bruce Perry volunteered to do the paint work. And here is the result. The engine was upgraded from an old K&B to a Nelson .40RR pylon racing engine, and the prop is an Australian F3D prop. At right, Bruce Perry shows the trick finish on the bottom. Paul Gibeault photos.
Luiz Rossi's Trivial Pursuit
Flying Lines reader Luiz Eduardo Rossi of São Paulo, Brazil, is the owner of this Trivial Pursuit, an electric version of the Ted Fancher design. Daniel Bento did the construction, finish and painting, and Luiz made the electric conversion. Power is a Cobra 3520/14 with an Igor Burger timer and 12x5 prop. The system uses a 5S Thunder Power battery, which brings the weight to 1,730 grams. Luiz Rossi photo.
John Leidle's Songbird
John Leidle's Songbird made an appearance at the 2018 Fall Follies. The Precision Aerobatics plane is powered by a growling PA .65. Steve Lindstedt photo.