October-December 2016 Favorite Planes Gallery
---
Don Curry's PBY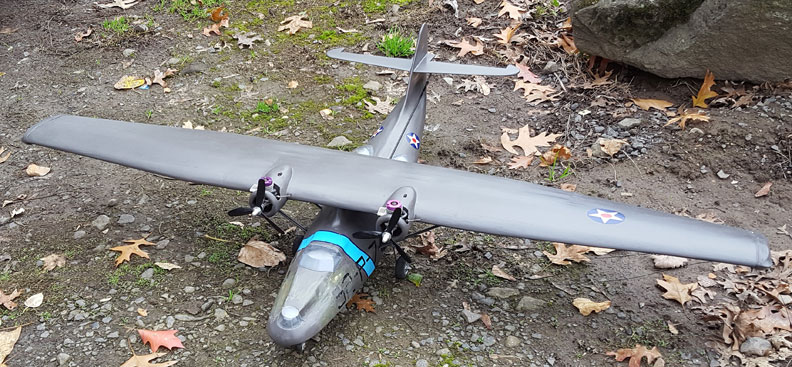 Don Curry of Portland, Ore., buit this scale PBY from an Easy Build kit originally intended for rubber free flight. The engines are Thunder Tiger .07s. The entire plane is covered withm 1/32-inch balsa and painted with Rustoleum. Bill Lee photo.
Gary Harris' Buzzard
Gary Harris' built this vintage combat plane called a Buzzard, which was designed by Neil Blackburn in 1970 for diesel combat. Gary, of Banks, Ore., powers this one with a single-ball-bearing PAW .15 diesel. Doug Powers photo.
Dean Singleton's Ringmaster

Dean Singleton's Ringmaster, powered by a McCoy redhead .35 and flown on a U-Reely handle, is just you might have seen on any flying field in the 1950s. It's seen here at Oregon Flying Fun No. 3 in 2016. Flying Lines photo.
Dave La Fever's B Proto
The Northwest's B Proto Speed event lends itself to some cute airplanes. This is Dave La Fever's B Proto, powered by a muffled O.S. .25LA, seen at Oregon Flying Fun No. 2 in February 2016. Dave is from Corvallis, Ore. See Where the Action Is for details. Flying Lines photo.
Darrin Bishop's Fokker Triplane
The Fokker Triplane has been a popular modeling subject over the years. This one was built from scratch by Darrin Bishop of the Portland, Ore., area, using plans from a Guillows kit. Engine is a Cox .051, and it flies well. Pat Chewning photo.
Gene Pape's Cheap Imitations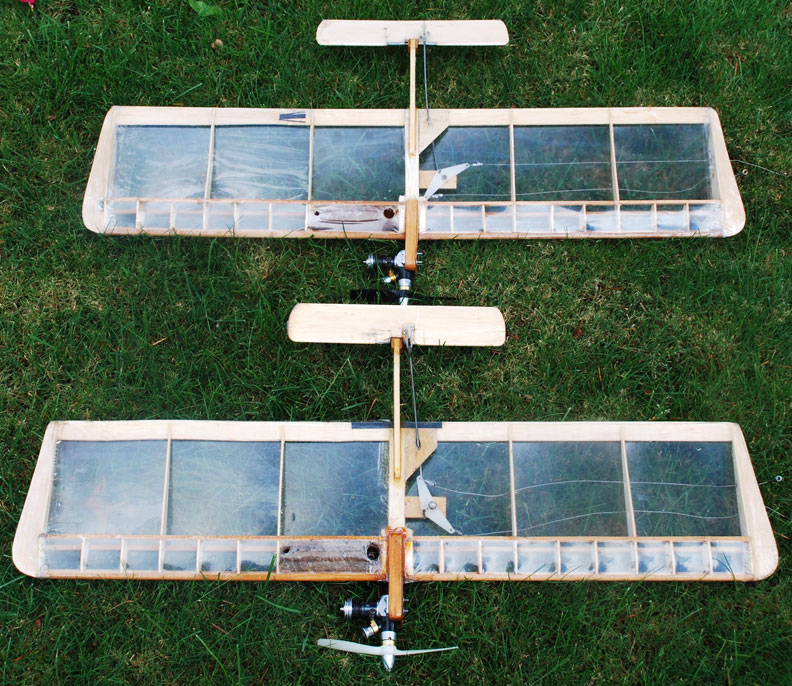 In 1981, Gene Pape and John Thompson designed an airplane for the then-current 1/2-A Combat event, called the Cheap Imitation. The plane's name was a nod to previous airplanes that influenced the Cheap Imitation's design, particularly a couple created by Dan Rutherford in the 1970s. The Cheap Imitation eventually was published in the Flying Lines newsletter and at least twice in Model Builder magazine. An unknown number were built both in the Nothwest and around the country. See Flying Lines Back Issues in PDF and look at the June 1981 issue of FL for the original article. Interestingly, the two original prototypes have survived, as shown above. Despite numerous repairs from Combat damage, both were still flyable in 2016. The CI was notable as a stable, "pointable" small Combat plane with excellent Combat control response -- and it's still fun to fly today. Gene Pape photo.
Mark McRiley's TD-4s
Mark McRiley of Beaverton, Ore., offers this photo that may provoke some nostalgia among long-time control-line fliers. Mark explains: "If you're old enough, you might remember the Cox TD-4, powered by a Babe Bee .049 engine, produced from 1956 to 1959. I acquired an original two years ago, but couldn't bring myself to fly it. After 60 years, it has earned its retirement. After looking at it for a couple of years, I decided to build a balsa and ply replica of the TD-4 to fly. Here's a photo of the replica in the foreground with the original behind it." Flying Lines photo.
Barry Baxter's Melamij
Over the past few years there has been a renewed interest in the airplane designs of the early years of Combat. This is Barry Baxter's Melamij, which won the 1960 Wyoming State Combat Championship. The 1960s Melamijs were powered by Johnson engines; the example aboe has a .15 diesel engine and was used for sport and 80mph Combat flying. This model has now been donated to Bob Mears' Combat Museum. Barry Baxter photo.
Kirk Johnson's Dust Devil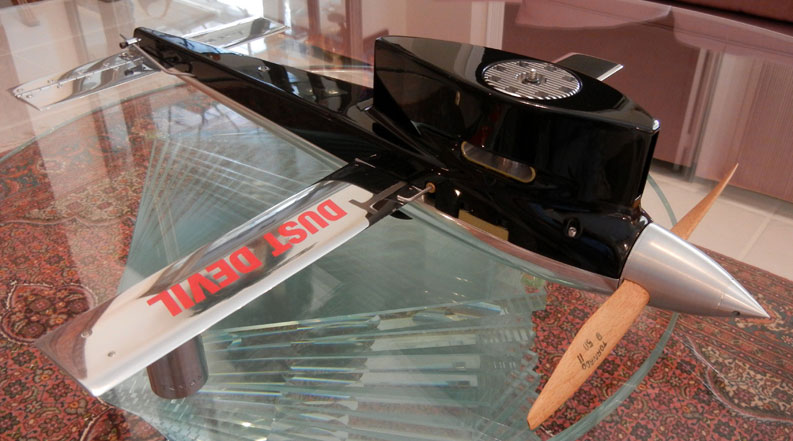 Kirk Johnson is an enthusiast for vintage speed planes. This is his Dust Devil, powered by a reproduction Dooling Yellow Jacket .61. Here's Kirk's explanation: "I just completed a somewhat unusual speed plane, a 1958 Don Yearout/Henry Mullin designed Dust Devil. The plane's wing is made from 1/8" thick 6061 aluminum alloy. The wing is set at 2 degrees positive incidence and utilizes a very shallow NACA 0006 airfoil. The special torque tube, which is tightly fitted and then epoxied into the wing, was manufactured by Marty Higgs. The engine is a reproduction Dooling 61 Yellow Jacket, which was designed as a tether car engine, and the heavily ribbed crankcase allowed for high nitromenthane fuel loads without exploding. Some noted speed fliers, including Bill Wisniewski of K&B engine and Pink Lady fame, experimented with the Yellow Jackets with some good results." Click on the image at left to see a larger version of the article. Kirk Johnson photo.