The Northwest's Favorite Planes
Here are some of the favorite control-line model airplanes of Pacific Northwest. For the latest additions to the galleries, see the Favorite Planes main page.
July-August 2009 Favorite Planes Gallery
---
Rick Cochrun's Impact


Rick Cochrun's Impact makes an inverted pass with the Eugene Airport flying field's wind sock in the background at the first Oregon Blue Sky Stunt Classic, held Aug. 22-23, 2009, in Eugene, Ore. Paul Walker-designed plane with four-stroke power looks nice in all-plastic film covering. Lower photo is close-up in the pits. Flying Lines photo.
Rich Walbridge's Cardinal

Richard Walbridge of Fresno, Calif., flies this beautiful Cardinal in Advanced Precision Aerobatics. Seen above at 2009 Northwest Regionals, where Rich took first place in Advanced. Flying Lines photo.
Dan Rutherford/Rick Cochrun's Smoothie on Steroids

One of the more interesting stunt planes in the Northwest is the "Smoothie on Steroids" built by Dan Rutherford and currently flown by Rick Cochrun. The plane is an oversized version of the classic design, powered by a Saito four-stroke. Very impressive in the air. Seen above at the 2009 Stunt-a-thon in Puyallup, Wash., in June. Flying Lines photo.
Dan Rutherford's Flag Streak

Dan Rutherford knows how to make a plane look nice with a plastic covering finish. This is his 'Flag Streak," seen at the 2009 Western Canada Stunt Championships. Dan provides this airplane data: The model is a slightly enlarged Flite Streak - -the wing is about 450 square inches, all other components enlarged to suit. Bob Mellen cut the foam core for the wing; it is sheeted in .042 balsa and epoxy. Eppler 475 airfoil. No stick-on flaps as I had Bob cut it to Flite Streak planform. Power is the usual 20FP with Brett Buck Tune-Up, although this particular installation uses a remotely mounted muffler -- an O.E.M. O.S. assembly (header, muffler, silicone coupler) which is rarely seen. APC 9-4 prop, Tru-Turn 1.75-inch spinner, PowerMaster 10/18 fuel, homemade uniflo tin tank. Muffler pressure. Finish is all film; there is no paint on the model. All of the white film is UltraCote. The rest is MonoKote. Creases in the representation of a US flag are opaque dove gray. Blue field with stars is transparent film. Red bands are transparent film as well. The "Impact stripes" on fuselage are opaque film. Keith Varley photo.
Floyd Carter's Tiburon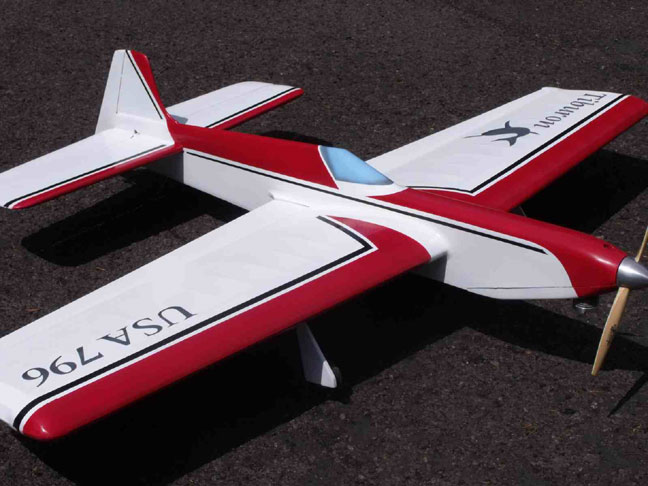 Floyd Carter of Eugene, Ore., designed the Tiburon, an original design that started with a Legacy wing rib kit from Brodak. The numbers roughly follow the Legacy design, a proven flyer. Power is a Stalker 51 and weight is 65 oz. Floyd says "Tiburon" means "shark" in Spanish -- not to be confused with the McFarland Shark design. Floyd Carter photo.
Keith Varley's Komet

Keith Varley's Precison Aerobatics plane, Keith's Komet, powered by Stalker .51, seen at the Stunt-a-Thon in Puyallup in June. Flying Lines photo.
Jim Holmack's Gieseke Nobler

James Holmack rebuilt this Geiseke Nobler after a crash. The wing was the only part used in the rebuild. Before the crash the plane weighed 53 ounces; after the rebuild it is 51 ounces. Power is O.S. LA .46, finish is Brodak/Randolph over polyspan. James Holmack photo.
John Leidle's GEO-XL

John Leidle of Kirkland, Wash., finished this Bill Werwage-designed GEO-XL in summer of 2009. It has a 58-inch span, 740 square inches, and is powered by a PA .65 on pipe. Lots of power, John says! John Leidle photo.
---
This page was upated Jan. 17, 2022