Northwest control-line model airplane fliers are invited to submit photos and information about their favorite planes, for posting on this Flying Lines page.
---
Bob Welch's Barnstormer
Bob Welch of Federal Way, Wash., scratch-built this Barnstormer from Mike Haverly plans and powered it with an E-Flite 15 with a three-cell battery, 11x5.5 prop, and flown on 57-foot .012" lines. Bob Welch photo.
Mike Haverly's Barnstormer
Mike Havery of Auburn, Wash., built this Barnstormer to be flown in Old-Time Stunt in 2020. Power is an O.S. .25FP; finish is Ultracote on the wings and automotive paint on the fuselage, with vinyl trim. Flying weight is 33 oz. Mike Haverly photo.
Jim Morton's United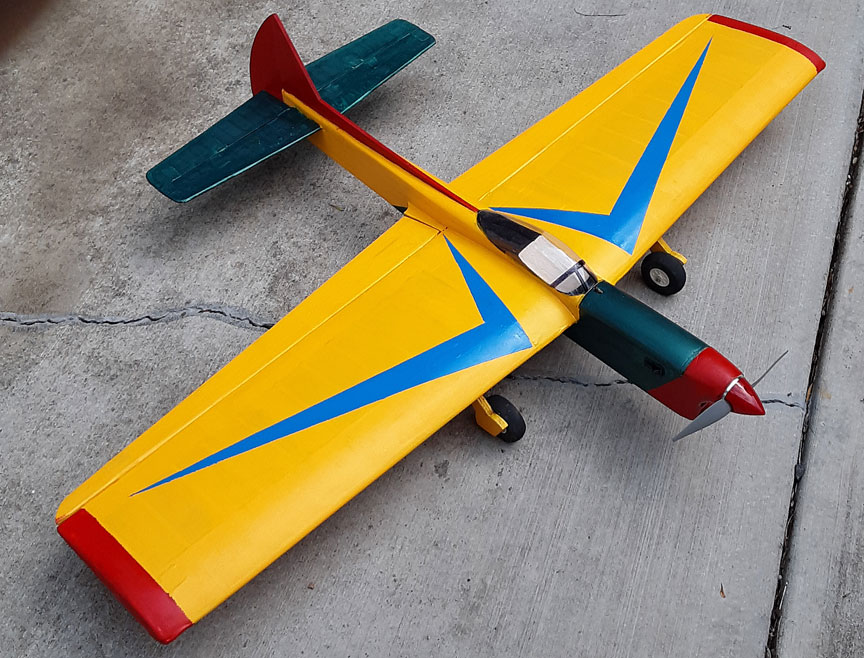 Jim Morton of Sweet Home, Ore., recently finished this electric-powered United, built from a Brodak kit. It hasn't been flown yet. Jim is a member of the Eugene Prop Spinners. Jim Morton photo.
Mike Hazel's Tamigo Trainer
This is a Mike Hoyt Tamigo Trainer, which was a kit that he sold in the 1960s and 70s. Mike Hazel built the plane to about 90% completion many years ago and finished it in early 2020. This jet plane is just for fun. Power is an early 1950s DynaJet engine. Mike Hazel photo.
Ken Burdick's Combat Streak
Ken Burdick of Kamloops, B.C., built this Combat Streak for use in the Graffiti Combat event that has been held in British Columbia several times in recent years. The Streak is powered by a 1958 Fox "combat special" Black Head. Ken Burdick photo.