Northwest control-line model airplane fliers are invited to submit photos and information about their favorite planes, for posting on this Flying Lines page.
---
Floyd Carter's Barnstormer
Floyd Carter of Eugene, Ore., has noticed that the Old-Time Stunt design called the Barnstormer has been gaining in popularity, so he offered this picture of his Barnstormer. "Mine isn't new, but hardly ever flown," Floyd writes. "Covered in dyed Polyspan, butyrate dope. Has authentic "stitched" canopy and powered by a 1950's Orwick 29." Floyd Carter photo.
Pat Chewning's Super Fly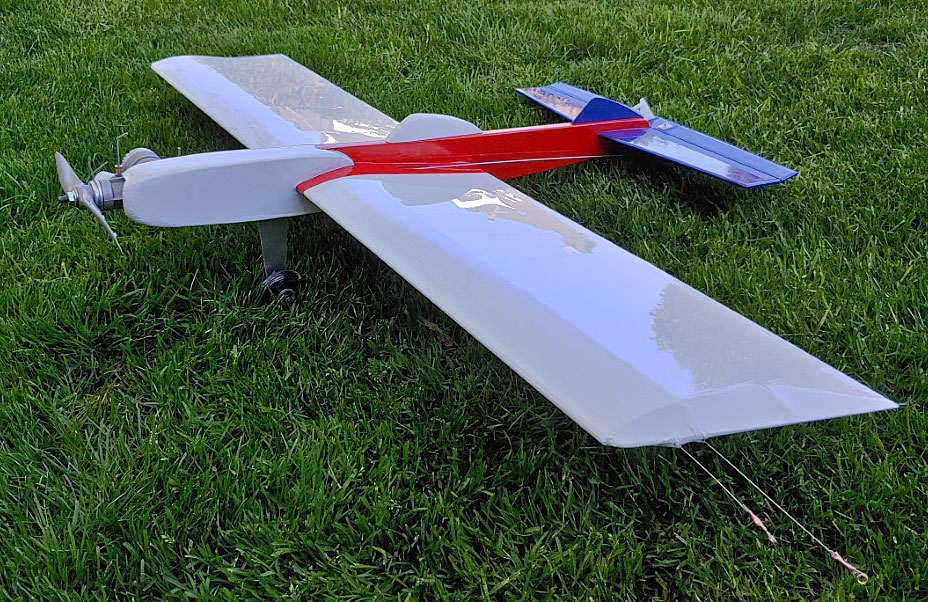 Pat Chewning of Beaverton, Ore., built this Brodak Superfly for Northwest Super Sport Race. It is powered by a K&B .40, and has a fuel shutoff and on-board starting battery. Virus-related contest shutdowns have prevented it from making its racing debut. Pat Chewning photo
Ken Burdick's Sneeker
Here's another entry in the growing fleet of vintage Combat planes in the Northwest. Ken Burdick of Kamloops, B.C., built this Sneeker, a 1962 plane designed by Riley Wooten. The plane is scratch-built from plans from the Baxter/Mears Control-Line Plans site. Power is a Johnson ss 35 from 1964. The plane is covered with Silron and finished with nitrate dope and Rustoleum with auto clear coat on the top. An oversize 10x6 prop keeps the speed down to 75 mph. Ken Burdick photo
Gary Weems' Peacemaker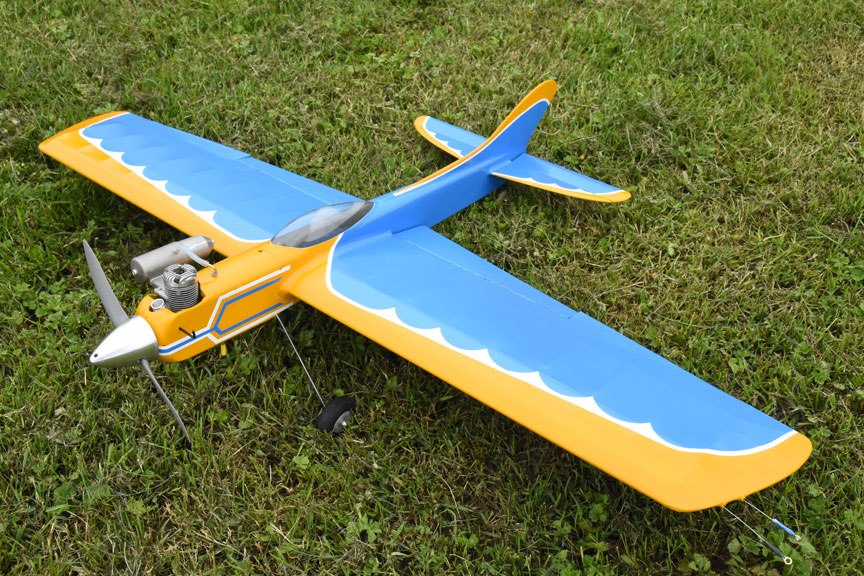 Gary Weems of Monroe, Ore., built this Peacemaker, a George Aldrich design. It is powered by a Brodak .25, and is seen here at the Eugene Prop Spinners flying session on May 16, 2020. Flying Lines photo
Alan Resinger's 2020 Rare Bear
This is Alan Resinger's electric-powered 2020 Rare Bear for Precision Aerobatics. Power is a Plettenberg 15-22 with Igor Berger active controls, Jetti ESC and Thunder Power 6S 2800 battery Prop is Igor's 12x 5 hollow-blade flat back. Flying weight is 66oz. Alan is from Delta, B.C. Alan Resinger photo
Chris Cox's Mig
This is Chris Cox's 2020 Precision Aerobatics airplane, an electric semi-scale Mig, seen at a practice session in Richmond, B.C. That's Chris in the background. Arkady Gorodetsky photo
Ken Burdick's T-Square
Ken Burdick of Kamloops, B.C., added this airplane to the growing fleet of vintage Combat planes in the Northwest, which are showcased in the annual Graffiti Combat events. This is a Sterling T-Square, finished in clear dope with a laser decal. Power is a 1959 Fox Rocket. Ken Burdick photo
John Leidle's Bluebird
John Leidle of Kirkland, Wash., has built this plane, called a Bluebird, for Precision Aerobatics in 2020. The plane has a 640-square inch SV wing, a semi-Impact stab, and a Stalker .81 for power. John Leidle photo
Paul Walker's Dream On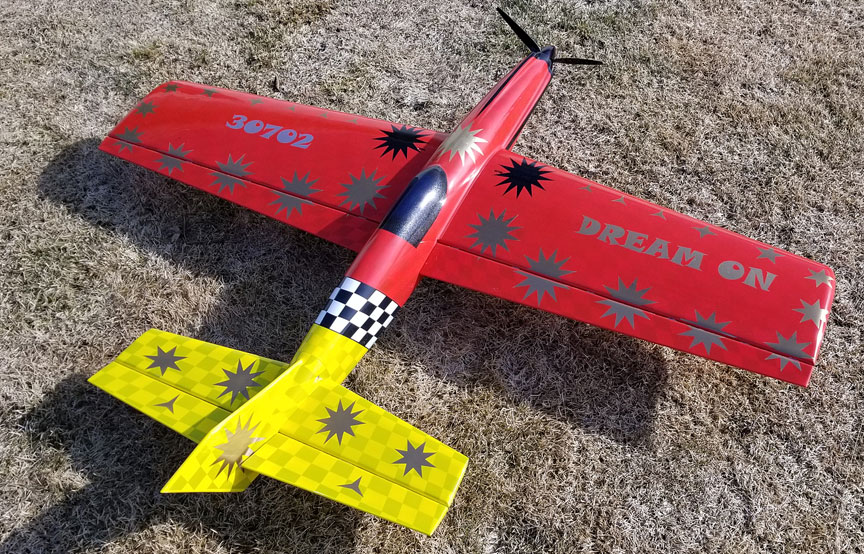 Paul Walker of Deer Park, Wash., calls his 2020 Precision Aerobatics airplan Dream On. Specs: The wing is 700 square inches, and the plane flies on 70-foot lines. Power is a Plettenberg 15-22 electric motor and Thunderpower 6S2800 battery, controlled by a Jet Spin 66 ESC and an Igor Burger active motor control timer. Prop is an Igor 12x5 narrow hollow. Flying weight is 66 oz. Photo below gives a closer look at the finish. Paul Walker photos
Ken Burdick's F2A Speed plane
Control-line model model building is not just about the airplanes. It can also be about support equipment, such as this elegant box made by Ken Burdick of Kamloops, B.C., to transport his A. Valishev F2A Speed plane. The plane is a 2011 model powerd by a 2004 Profi engine. F2A Speed is the international (FAI) class of Speed flown at the world championships and other prestige model airplane contests. See Part 2 of Ken's article about entering into the complex world of F2A Speed. Ken Burdick photo
Fred Cesquim's Falcao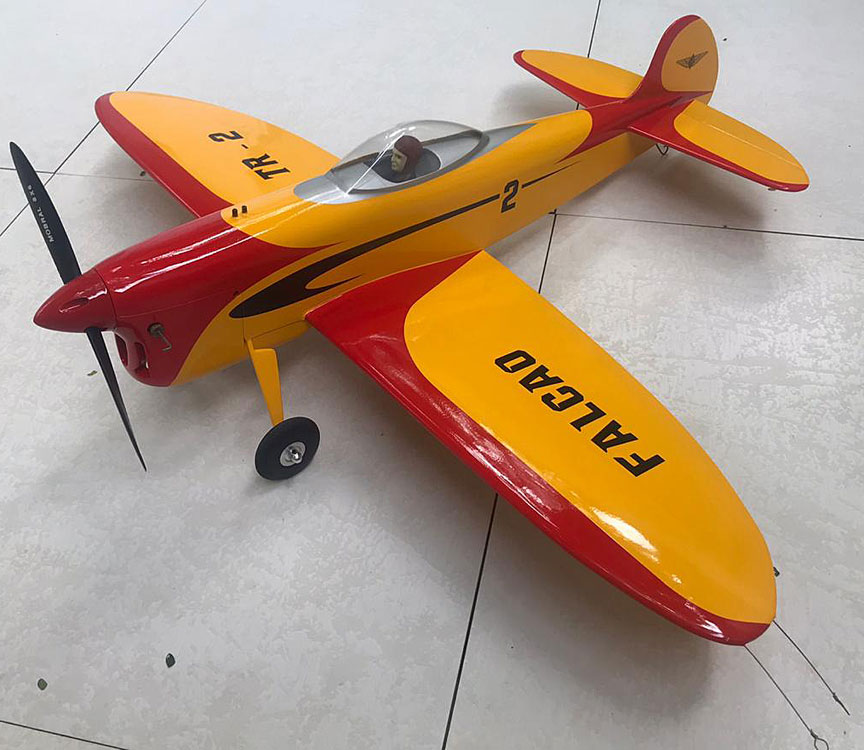 Regular FL reader Fred Cesquim of São Paulo, Brazil, was commissioned to build this Falcao from a very rare kit produced in the 1950s by Casa Aerobras, a prominent Brazilian model airplane kit maker. Finish is automotive lacquer and clear coat over doped polyspan. Fred Cesquim photo
'Bob Welch's Oriental
Bob Welch of Federal Way, Wash., built this Oriental, powered by an E-Flite 25, using a 4-cell battery, 11x5.5 prop, and .015"x60' lines. It is used in the Classic Stunt event. Bob Welch photo
Jim Hoffman's Predator
Jim Hoffman of Chandler, Ariz., built this electric-powered Predator with foam flying surfaces for Precision Aerobatics in 2019. Jim provides the details: "Removable flaps and elevators. Molded fuse top and bottom. Finish is Randolph dope over a carbon mat base. Automotive urethane top clear coat. Fuse construction and aerodynamics stayed true to Paul Walker's design. All the standard adjustables. Power train uses a Cobra C-2826/12 Brushless Motor, Castle Creations Phoenix Edge Lite 50 Amp ESC, Hubin Timer, and a Thunderpower ProLite X 2800mAh 6S battery. Hobby King arming plug and Tru Turn spinner. Using a variety of props 11-12 inch diameter, 2 and 3 blades, Carbon Fiber and APC plastic. Ready-to-fly weight is 68 oz. includes 2.5 oz. nose weight + 13 oz. battery. Uses 63' x 018" lines (66' center to center)." Jim Hoffman photo.
Bob Welch's Barnstormer
Bob Welch of Federal Way, Wash., scratch-built this Barnstormer from Mike Haverly plans and powered it with an E-Flite 15 with a three-cell battery, 11x5.5 prop, and flown on 57-foot .012" lines. Bob Welch photo.
Mike Haverly's Barnstormer
Mike Havery of Auburn, Wash., built this Barnstormer to be flown in Old-Time Stunt in 2020. Power is an O.S. .25FP; finish is Ultracote on the wings and automotive paint on the fuselage, with vinyl trim. Flying weight is 33 oz. Mike Haverly photo.
Jim Morton's United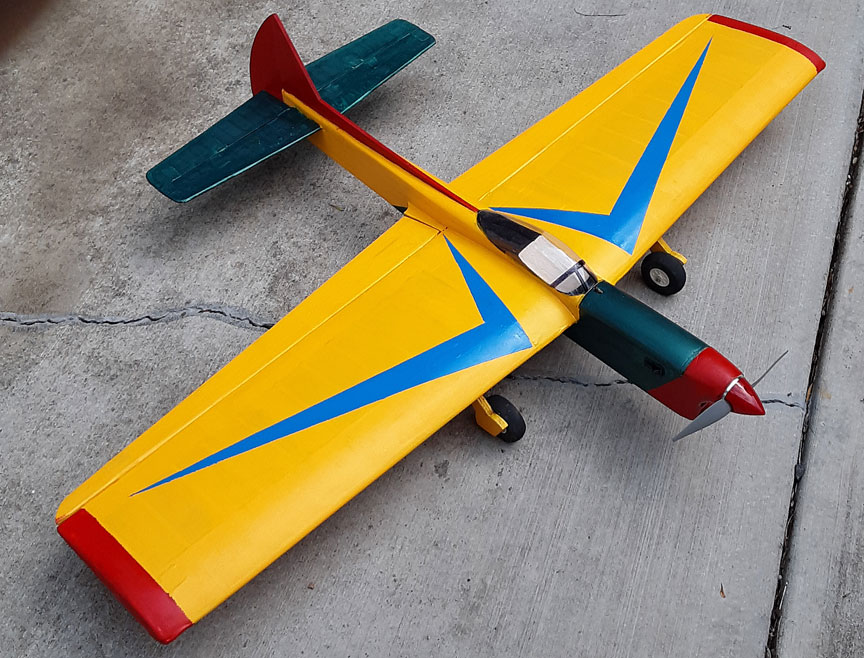 Jim Morton of Sweet Home, Ore., recently finished this electric-powered United, built from a Brodak kit. It hasn't been flown yet. Jim is a member of the Eugene Prop Spinners. Jim Morton photo.
Mike Hazel's Tamigo Trainer
This is a Mike Hoyt Tamigo Trainer, which was a kit that he sold in the 1960s and 70s. Mike Hazel built the plane to about 90% completion many years ago and finished it in early 2020. This jet plane is just for fun. Power is an early 1950s DynaJet engine. Mike Hazel photo.
Ken Burdick's Combat Streak
Ken Burdick of Kamloops, B.C., built this Combat Streak for use in the Graffiti Combat event that has been held in British Columbia several times in recent years. The Streak is powered by a 1958 Fox "combat special" Black Head. Ken Burdick photo.