Northwest control-line model airplane fliers are invited to submit photos and information about their favorite planes, for posting on this Flying Lines page.
---
David Shorts' Icarus Sr.
David Shorts of Lodi, Calif., built this Icarus Sr., which was designed by John Coasby in 1951. It has a 67-inch wingspan, 780 square inches of wing area, and a SuperTigre .51 engine. David Shorts photo.
Dale Gleason's Impcat
Dale Gleason of Valley View, Texas, sent this in-flight photo of his Impcat, taken at an AMA District VIII contest in Eldorado, Ark. The plane is built by the lost-foam wing method. Power is a carbon-piped PA .75 swinging a Mejzlik 13x4.4 three-blade carbon prop and tank is an 8-oz. RST on uniflow pipe pressure. Fred Kocher photo.
Ricardo Vieira's Nobler
Flying Lines reader Ricardo Vieira of Montreal, Canada, sent this photo of his customized Nobler with an O.S. .40LA for power. Ricardo Vieira photo.
Phil Goldberg's Buster
Phil Goldberg of Portland, Ore., displayed this Buster at the 2018 Jim Walker Memorial Spring Tune-Up. Power is an O.S. .46LA. This is a larger plane than the well-known Goldberg kit. Flying Lines photo.
Tom Brightbill's Thundergazer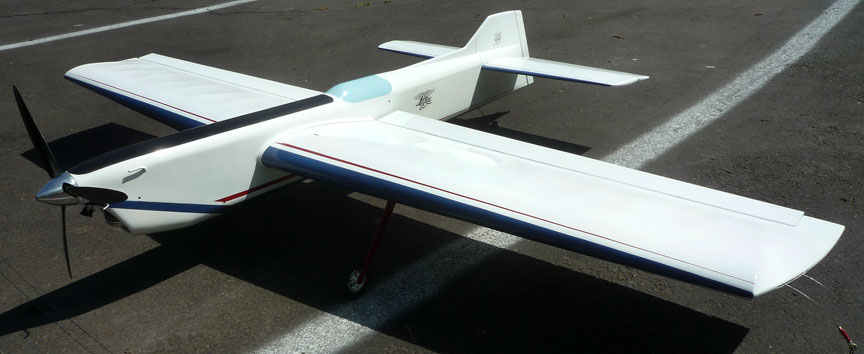 Tom Brightbill
of Oregon City, Ore., built this Thundergazer for Precision Aerobatics, done as a full take-apart airplane. Tom explains: "I wanted to be able to put in in a box and take it on my motorcycle to contests. It has a Kaz Minato K-77 on a pipe, a Brett Buck bellcrank, Walker flap adjustment, and take apart based on Mike Haverly's input. It's set up to also take a RoJett .61 or .65 if necessary, but the K-77 seems fine."
Tom Brightbill photo.
Bob Gore's Twister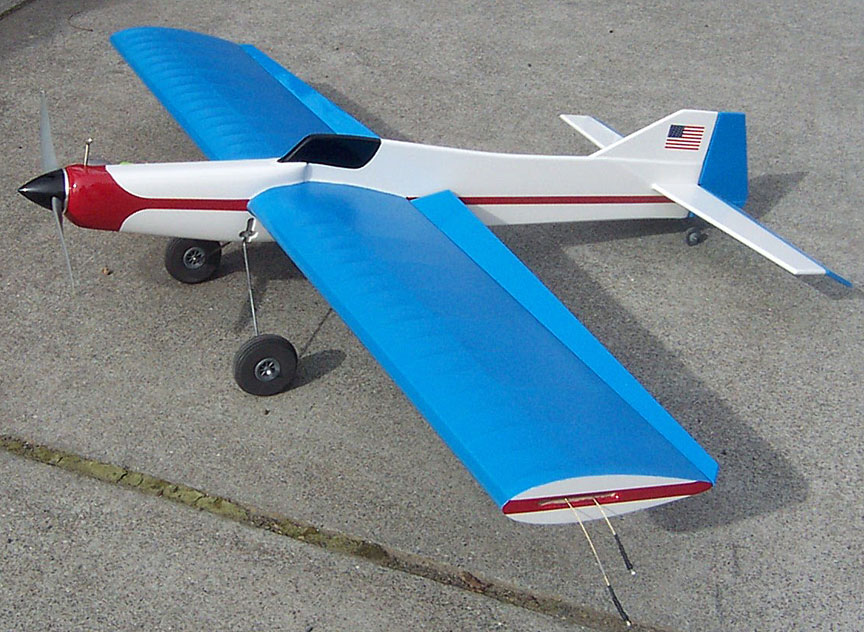 Bob Gore of Kennewick, Wash., built this very nice modified Twister, powered by an O.S. .40LA. Bob, also a restorer of automobiles, used automotive Kondar primer by PPG, sealed with clear dope and then painted with urethane. Thanks to Joe Just for passing on the photo and the information. Bob Gore photo.
Chris Sackett's Smokin' Joe
Chris "Partner" Sackett
built this Smokin' Joe airplane for Northwest B Proto Speed from one of the kits he makes. This plane weighs 20 oz., equpped with the O.S. .25LA that is required by the event.
Chris Sackett photo.