Northwest control-line model airplane fliers are invited to submit photos and information about their favorite planes, for posting on this Flying Lines page.
---
Bruce Perry's Two Much
Bruce Perry of Edmonton, Alberta, built this Two Much, designed by Gordan Delaney, a project that took three years to complete. The plane, with a 76-inch wingspan, is powered by two Aero Tigre .36's with Randy Smith tongue mufflers. Fuel is supplied from two 6-oz. clunk tanks. The plane has E-Flite retracts using a Jomard timer. The plane is fully take-apart. Colors are sunflower yellow and dark cherry red; both are metallic. The plane weighs 92 oz. and flies on .021" lines. Rob Duckering photos.
Douglas Marra's Spitfire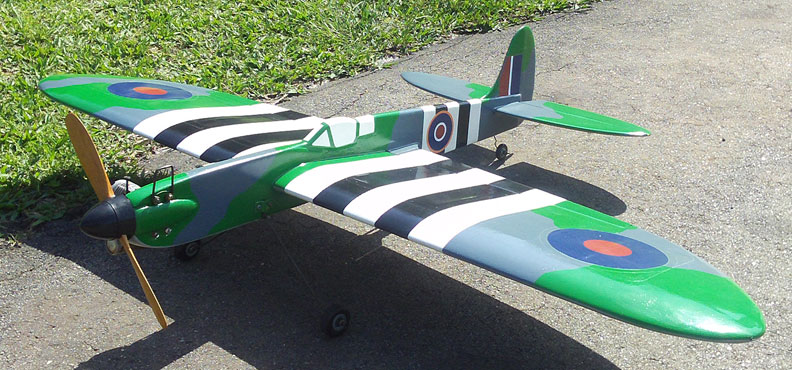 The Spitfire is a favorite subject for regular Flying Lines reader Douglas Marra of Sao Paulo, Brazil. He sent in this photo of his 2017 version. The plane is powered by a Fox .35. Douglas Marra photo.
Gordon Van Tighem's Chipmunk
Gordon Van Tighem of Yellowknife, Northwest Territories, built this Joe Dill Chipmunk and painted it to resemble Joe Gilbert's full-size Chip. It's from an RSM kit and powered by an HP .40. Gordon Van Tighem photo.
Ron Anderson's Oriental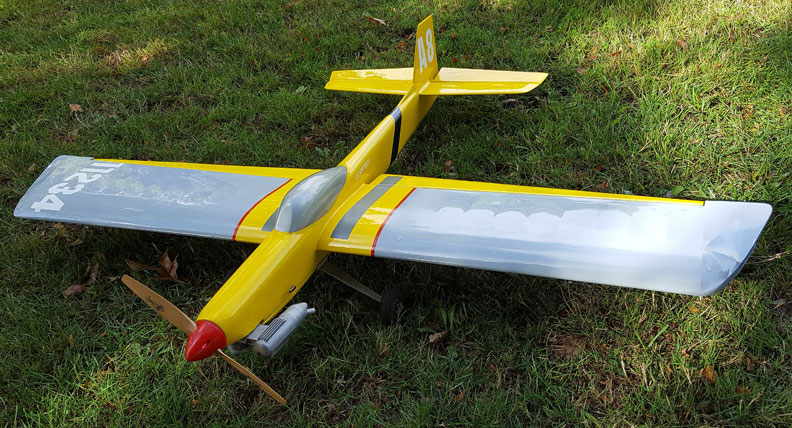 Ron Anderson of Vancouver, Wash, built this Oriental-inspired plane using a Flite Streak wing. It's powered by an O.S. .35FP. Yellow covering is Monokote and the fuselage is automotive polyurethane. Bill Lee photo.
Darrin Bishop's Fokker Triplane
Darrin Bishop of Castle Rock, Wash., scratch built this delightful Fokker Triplane from a Guillows kit plan that he enlarged to a 31-inch wingspan. It's powered by an O.S. .15LA engine and flies well. The airfoil between the wheels is adjustable to vary the lift if needed. The cowling is handmade from wood. Bill Lee photos.
Ricardo Vieira's Profile Oriental
Flying Lines reader Ricardo Vieira of the Montreal area in Canada submitted this photo of his new electric-powered Brodak Profile Oriental. The system uses a 4s2700mah Li-po battery, Turnigy G15 motor, APC 11x5.5 prop. Ricardo Vieira photo.