Northwest control-line model airplane fliers are invited to submit photos and information about their favorite planes, for posting on this Flying Lines page.
---
Bob Welch's Meteor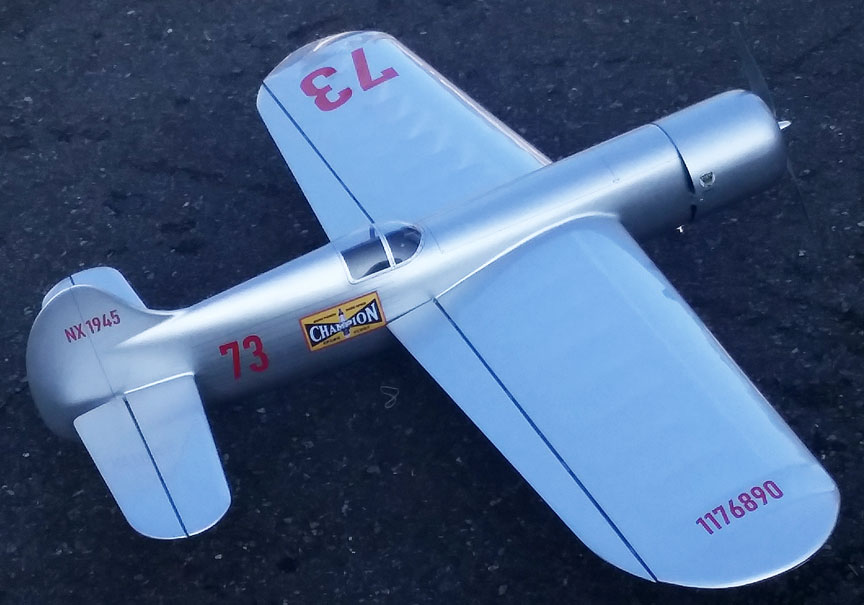 Bob Welch of Federal Way, Wash., built this RT-14 Meteor with the same moments and power as his Buccaneer (below) but a thicker wing. Bob Welch photo.
Bob Welch's Buccaneer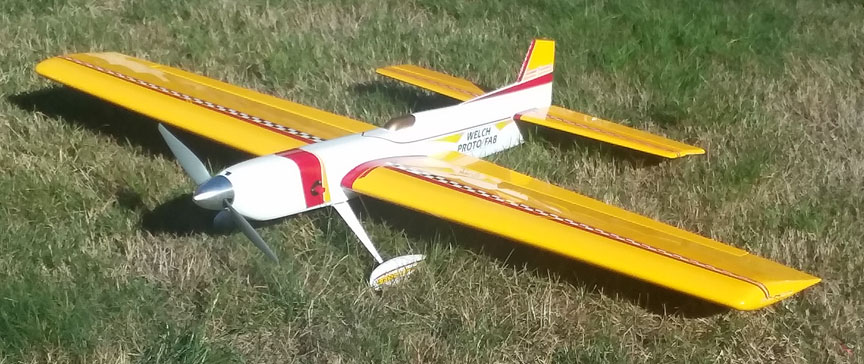 This electric-powered Buccaneer for Precision Aerobatics was built by Bob Welch of Federal Way, Wash. Bob Welch photo.
John Thompson's Crossfire

John Thompson's Crossfire electric stunt plane, completed in early 2019, powered by an E-Flite 32. Flying Lines photo.
Joe Just's Flying Clowns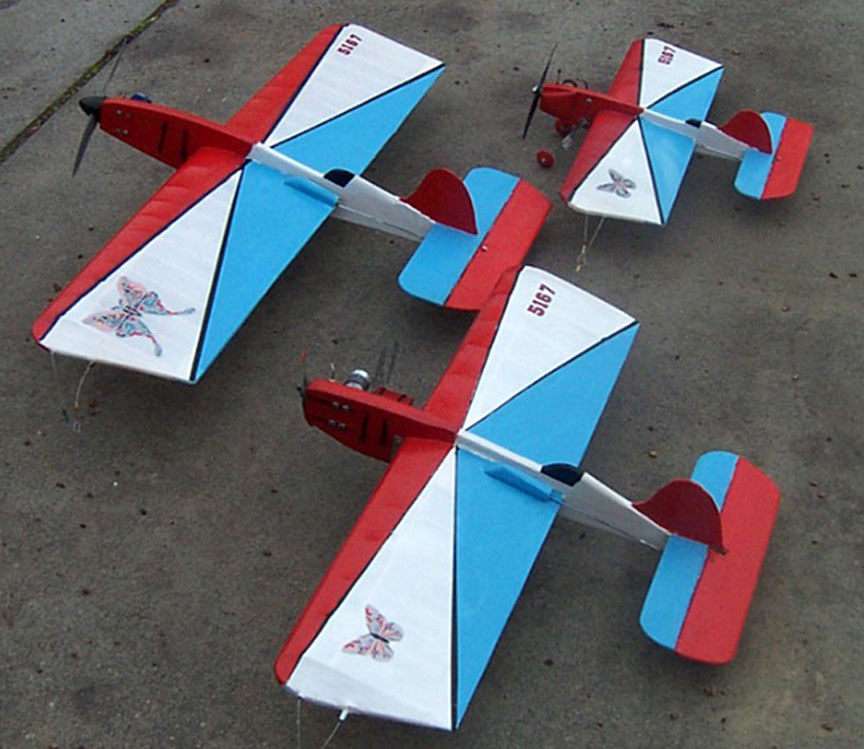 Joe Just of Waitsburg, Wash., likes the Flying Clown design. He finished building three versions in early 2019. Upper right is the original design from the 1950s. At lower right is Joe's slightly modified Super Clown. And at left is a .46-powered Super Duper Clown. Joe Just photo.
Mike Haverly's Ringmaster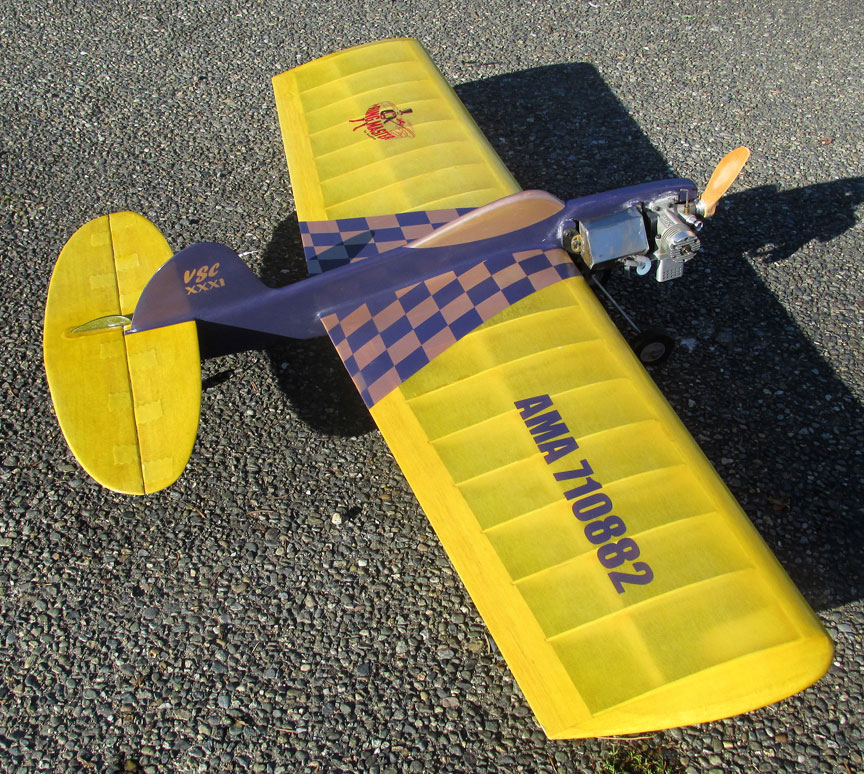 Mike Haverly of Auburn, Wash., built this Ringmaster for the 2019 Vintage Stunt Championships in Tucson, Ariz. The Ringmaster weighs 26 oz. with the O.S. .25FP; it's covered in polyspan with House of Kolor candy concentrate yellow, custom purple and Randolph gold. The fuselage has a coat of two-part clear for fuel proofing. Mike Haverly photo.
Russ Hester's Combat fleet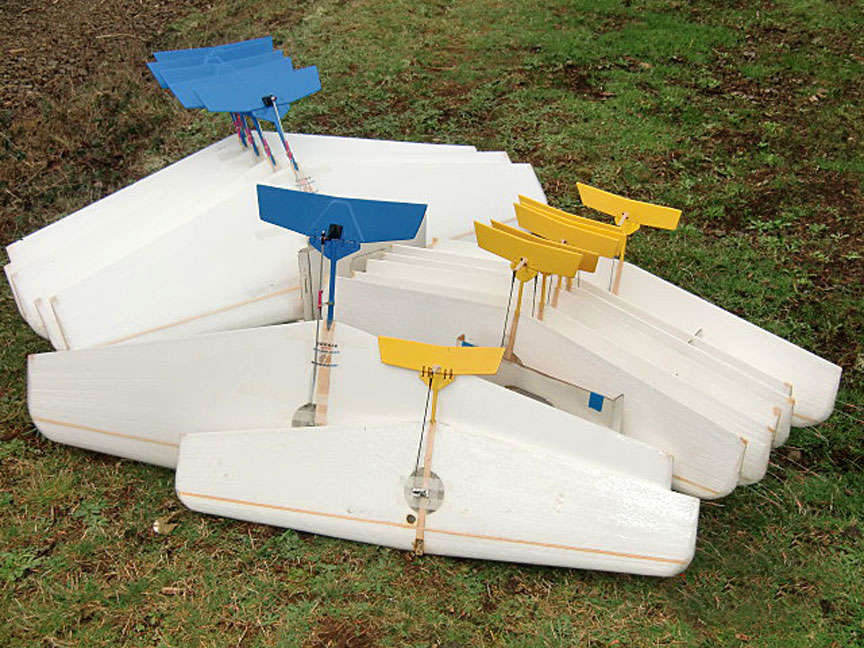 Winter is building season, and Combat flier Russ Hester of Florence, Ore., was busy in the winter of 2018-19. Here is his fleet of planes for AMA Fast Combat and 1/2-A Comba, finished in January 2019. The fast design is called the Shocker and the 1/2-A is called Lil' Shocker. All have internal line-tension flyaway shutoffs of Hester's own design. Flying Lines photo.
Pat Johnston's Shark 35
No problem telling what this airplane is -- it's Pat Johnston's Shark 35, seen during Classic Stunt appearance judging at the 2018 Northwest Control-Line Regionals in Roseburg, Ore. Flying Lines photo.
Dave Royer's All-American Sr.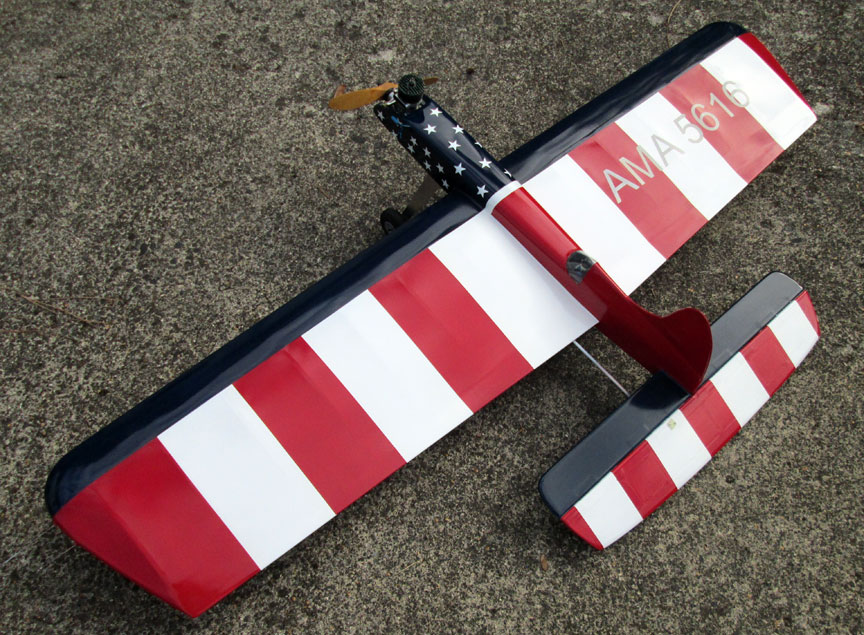 Dave Royer of Portland, Ore., built this All American Senior, an Old-Time Stunt plane. Dave explains: "One of my all time favorite airplanes has been the dmeco All American Sr. and I've wanted one since I was about 10 years old. I finally got around to checking this one off my bucket list last summer. ... I scratch-built this one from original kit plans for a K&B Torpedo Green Head .35 and tried to duplicate the kit box paint scheme. I updated the nose construction a bit with 1/32" plywood doublers and used the canopy and gear from Brodak but it is original in all other respects." Dave Royer photo.