Northwest control-line model airplane fliers are invited to submit photos and information about their favorite planes, for posting on this Flying Lines page.
---
Lanny Shorts' Sierra Sun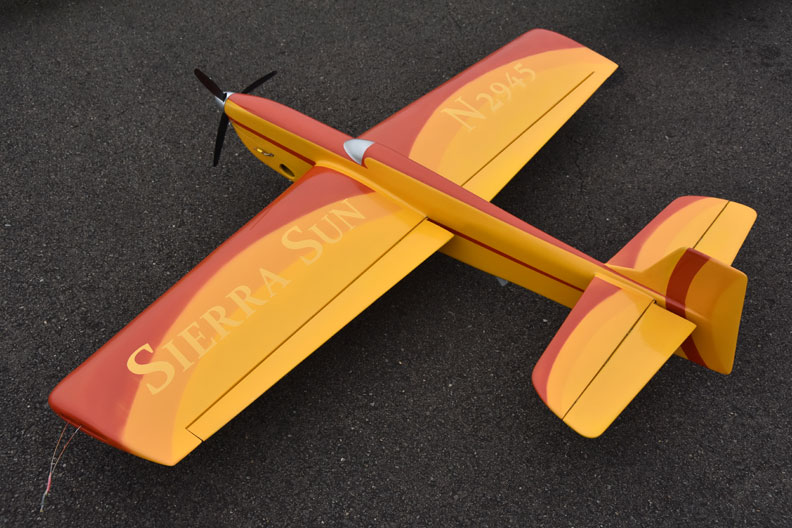 This beautiful Precision Aerobatics plane, Sierra Sun, was flown by Lanny Shorts of Truckee, Calif., at the 2017 Northwest Control-Line Regionals in Roseburg, Ore. Flying Lines photo.
Tim Wescott's Walker Atlantis
Tim Wescott of Oregon City, Ore., is flying the Atlantis, built by Paul Walker, powered by an O.S. .46 L, seen at the 2017 Stunt-a-Thon in Chehalis, Wash. Tim says the LA pulls the 64-oz. plane with authority, and he loves flying it. Tim Wescott photo.
Dick Logston's Monogram Piper Cub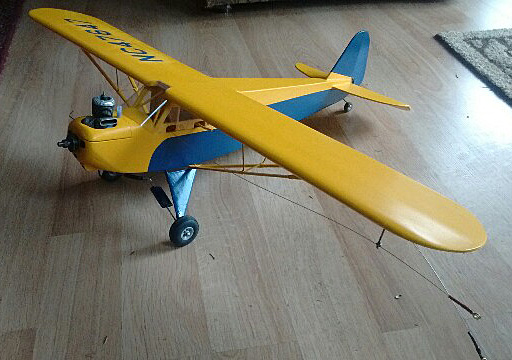 Dick Logston of Aberdeen, Wash., recently built this Monogram Piper Cub Special as a nostalgia project. He explains: "I received this airplane as a childhood Christmas gift. Made my first control-line flight with it lasting about 2 laps. So this last spring I found the revised plans on Outerzone and decided to relive the so-called good old days by building it better than I did a kid. It is powered with a O&R23FR on glow. Randolph dope is CubYellow and Piper Blue. Have not flown it yet, hope to this summer. The original kit had a U-shaped bellcrank mounted under the inboard wing with a 1/16th wire running inside the wing to a 90-deg. bellcrank actuating a pushrod to the elevator. The revised plan shows the typical control-line system. At 82 years old and with AS, a form of arthritis I don't fly much anymore, difficult to fly overhead, but I still love to build. Back in the sixties I was just getting through the stunt pattern when the RC bug took over. Old pal Dave Shrum sent me the O&R 23 FR engine." Dick Logston photo.
Don Curry's Smokin' Joe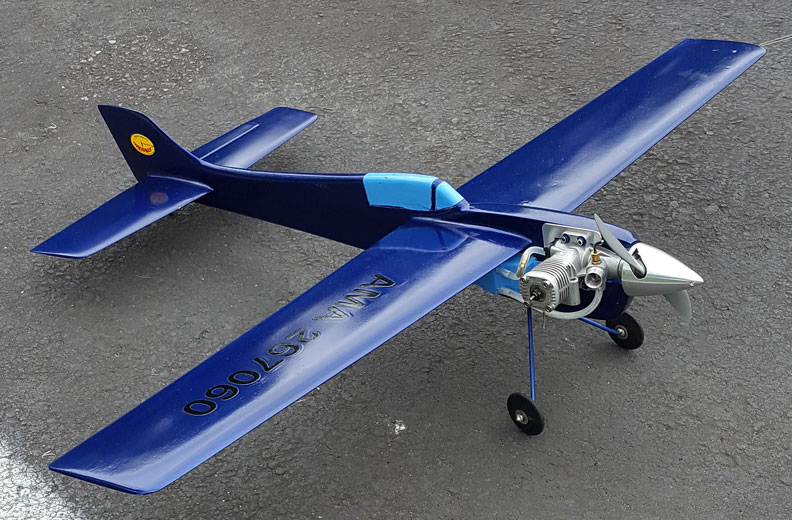 The Northwest B Proto Speed produces some cute airplanes. The B Proto event is a good introduction to speed flying, using a two-line control system and a common O.S. LA .25 engine. This one was built by Don Curry of Portland, Ore., from a Chris Sackett "Smokin' Joe" kit. Bill Lee photo.