The Northwest's Favorite Planes
Here are some of the favorite control-line model airplanes of Pacific Northwest. For the latest additions to the galleries, see the Favorite Planes main page.
April-June 2009 Favorite Planes Gallery
---
Floyd Carter's Gee Bee

Floyd Carter of Eugene, Ore., has produced another elegant stunter. "This Gee Bee "Sportster" Model D comes from my plans (3-views and photos)," Floyd says. It has 56-inch wingspan and O.S. LA .46 power. "The colors are wrong for the Model D, but I like the white/red paint used on other Gee Bee planes," Floyd says. Floyd Carter photo.
Pete Peterson's Venus

Pete Peterson's Classic Stunt beauty, Venus, seen at the 2009 Stuntathon in Puyallup, Wash. Flying Lines photo.
Paul Walker's All American Eagle 09

Paul Walker's 2009 all-electric Precision Aerobatics airplane, seen at the 2009 Northwest Control-Line Regionals, has a 1960s jet-style stunter look. Paul says the plane is a "copy" of the late 1960s All American Eagle designed by Dave Gierke. It's powered by a Plettenburg 25-14 electric motor with Thunder Power 4000 5S2P "cube" battery pack. It has a Shultze 18.46 F2B ESC with a Kim Doherty timer/processer. The plane weighs 75 ounces and flies on 70-foot .018 cables at lap times of 5.25 to 5.35 seconds per lap. Flying Lines photo.
Jim Aron's Boogaloo 3

The Boogaloo 3 by Jim Aron of El Cerrito, Calif., was one of the beautiful Precision Aerobatics planes at the 2009 Northwest Control-Line Regionals. Flying Lines photo.
Phil Granderson's Zealot

Phil Granderson of Oakland, Calif., captured the stunt Concours d'Elegance award at the 2009 Northwest Control-Line Regionals, his third Concours award in a row. The plane is his 2008 Zealot, powered by O.S. .40VF. Flying Lines photo.
Randy Powell's Dramatic Effect
Randy Powell's Dramatic Effect, seen at the 2009 Jim Walker Memorial Spring Tune-Up in Portland, Ore. Powered by a RO-65 on pipe, Aerodynamically, the plane is the same as Randy's Slider design. Flying Lines photo.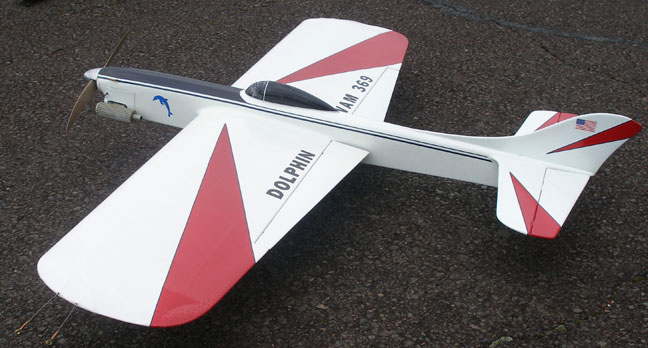 This Classic Dolphin belonged to Paul Isenhower of California until it was aquired by Mike Denlis of Eugene, Ore., in April 2009. Paul was a friend and mentor for Mike during his days flying with California's Western Associated Modelers; the two met up at the recent contest in Woodland, Calif. Paul can no longer see well enough to fly, so passed the plane, four years old but never flown, to Mike. Mike put initial flights on the plane at the Eugene flying field on May 3, and reports that its a great flier, responsive but not twitchy. Power is an O.S. .35FP "It means a lot to me to have something that belonged to Paul," Mike says. Flying Lines photo.
Randy Powell's Ringmaster Deluxe

Introducing the Ringmaster Deluxe. Randy Powell of Port Orchard, Wash., designed this profile off the cuff at the urging (and general harassment) of Pat Johnston and Mark Scarborough. Pat is drawing up some plans from Randy's templates. Stats are 56" wingspan, about 610 square inches. Randy's own airfoil and moments. Power is an OS40VF on pipe. The styling is, well, obvious. Randy Powell photo.
Gerald Schamp's Corsair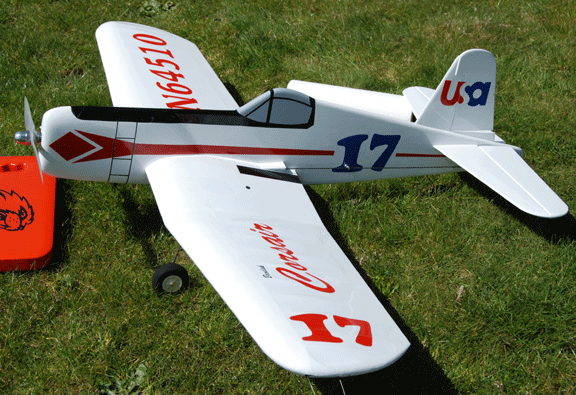 Gerald Schamp's profile Corsair, originally designed and built by Pat Johnston and refinished by Gerald, seen at Oregon Flying Fun No. 4 in McMinnville, Ore., on April 5, 2009. Flying Lines photos.
Walt Russell's Barnstormer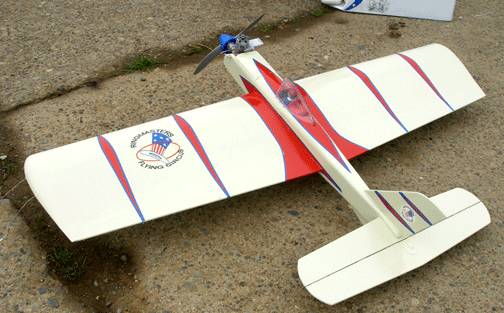 Walt Russell's Barnstormer for Old-Time Stunt, powered by Fox .35, seen at the Chehalis, Wash., flying site on March 21, 2009. Flying Lines photo.
Gene Pape's combat planes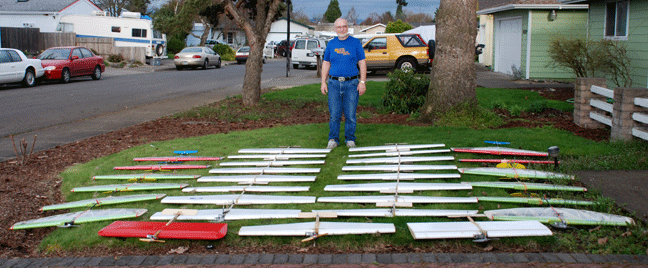 Gene Pape of Eugene, Ore. displays not one favorite plane, but one favorite kind of plane. His fleet of CL combat planes as of March 2009 included 21 planes, including: FAWF (Gene's design published in Model Aviation), the red plane at lower left; Dogfighter (Gene's design kitted for a time in the 1980s), at lower right; Baracudas (George Cleveland design), the planes with green leading edges in front of the rows on the left and right sides; Cleveland Fasts, the planes with red leading edges; and, in the center two rows, Gene's Millennium Underdog design. All planes are for either fast or 80mph combat. Carole Pape photo.
---
This page was upated Sept. 8, 2009