The Northwest's Favorite Planes
Northwest control-line model airplane fliers are invited to submit photos and information about their favorite planes, for posting on this Flying Lines page.
November-December 2010 Favorite Planes Gallery
---
Rex Abbott's Mars
Rex Abbott of Sequim, Wash., had this Mars ready for test flights in December 2010. He planned to finish the tank mount and cheek cowls after test flights. Flying Lines photo.
Scott Riese's Pathfinder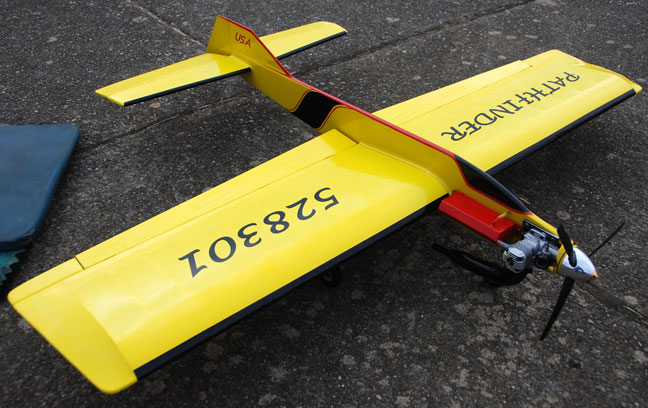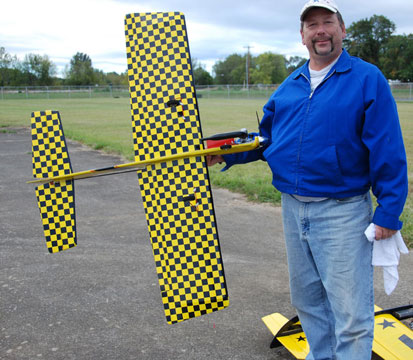 Scott Riese flew this very well executed profile Pathfinder at the 2010 R.F. Stevenson Memorial Raider Roundup in Chehalis, Wash. Details show front end with the O.S. LA .46 engine and Maxx muffler, and the mind-boggling bottom checkerboard. Flying Lines photo.
Norm Whittle's Sultan e
Norm Whittle's electric-powered Sultan e took first place in Expert Precision Aerobatics at the 2010 R.F. Stevenson Memorial Raider Roundup in Chehalis, Wash., in September. Flying Lines photo.
Roy DeCamara's Oriental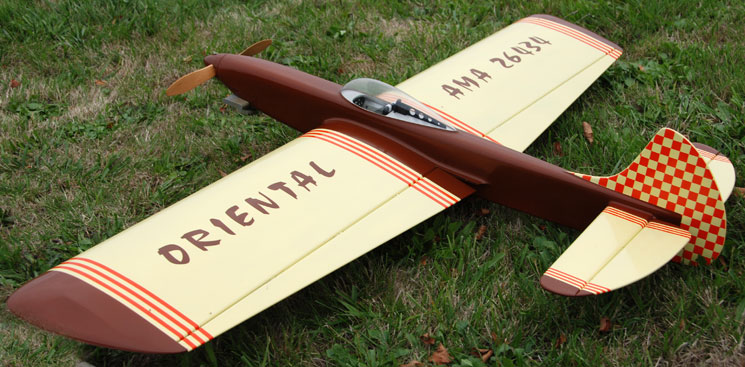 Roy DeCamara's Classic Stunt and Old-Time Stunt airplanes are always dazzling. He flew this Oriental at the 2010 Fall Follies in Salem, Ore. Flying Lines photo.
Don McClave's Thunderbird II
Here's a Classic Stunt plane with an honored position in Northwest control-line model aviation history. This is the Thunderbird II designed by the late Bob Palmer and built by Don McClave. The original plane won the 1959 AMA Nationals in Los Angeles. This photo is from the 1995 Stuntathon in Kent, Wash. Don built the pictured plane from plans drawn from Bob Palmer's specifications by Bob Emmett. Don flew it to third place in Classic Stunt at the 1995 Nats in Tri-Cities, Wash. The Thunderbird II later became available as a kit from RSM Distribution. Don's version was powered by an L&J Fox .35, weighed 40 oz. and was finished in colored Japanese tissue, yellow with red trim. Gary Letsinger photo.
Greg Davis' Stunt Master
Greg Davis of Port Coquitlam, B.C., built this Stunt Master, powered by a K&B Torpedo .23. It has a very fine stunt-quality finish, Taymia train paint covered by automotive clear. Ken Burdick photo.
Floyd Carter's Tipsy Jr.
Here's another interesting plane from the vast fleet of Floyd Carter of Eugene, Ore. This is a semi-scale Tipsy Jr. in Belgian markings, powered by an O.S. .35FP, and it's a good stunt flier. Flying Lines photo.
Bob Emmett's Jamison Special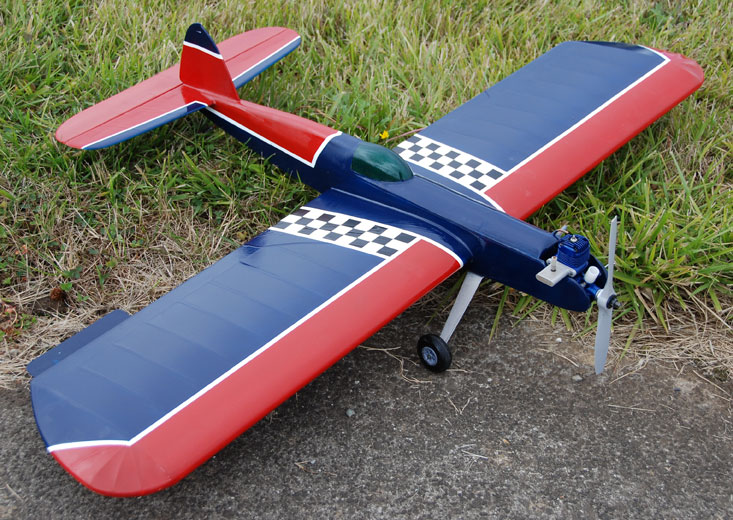 The Jamison Special is a popular plane for Old-Time Stunt. This one was built by Bob Emmett of Sequim, Wash., and seen at the 2010 Raider Roundup. Flying Lines photo.
---
This page was upated Feb. 1, 2011