The Northwest's Favorite Planes
Northwest control-line model airplane fliers are invited to submit photos and information about their favorite planes, for posting on this Flying Lines page.
---
January-March 2012 Favorite Planes Gallery
---
Dick Logston's Smoothie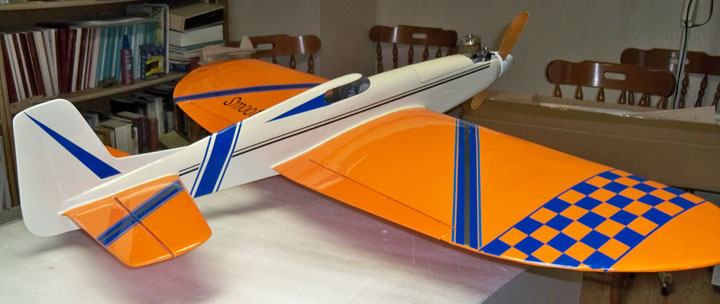 Dick Logston of Aberdeen, Wash., recently completed this 1952 Smoothie. He has recently returned to control-line flying after a long layoff. The Smoothie is powered by an OS .40FP, with finish of Minwax silkspan on the fuselage and Monokote on the wings. Paint is from Rustoleum rattle cans. Dick Logston photo.
Rex Abbott's Detroit Stunter
Rex Abbott of Sequim, Wash., returned to a familiar color scheme with this Detroit Stunter, a Rolland McDonald design, that Rex built for the 2012 Vintage Stunt Championships. The plane is powered by a Saito .40 four-stroke with a 3/4" shaft extension. Rex Abbott photo.
Jim Harper's Cardinal
Northwest Fireballs Vice President Jim Harper repaired this Cardinal from a crash in early 2012. With covering by Don Curry, it looks good as new. Bill Lee photo.
Don Curry's Magician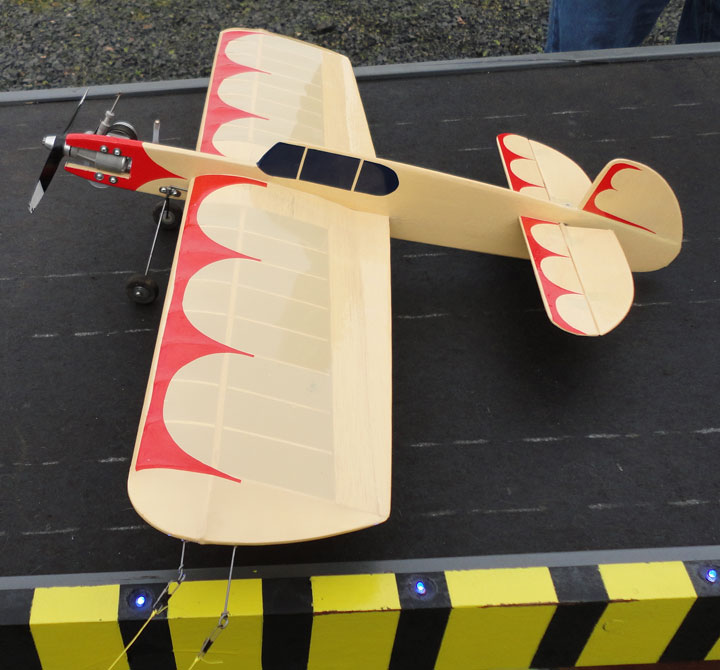 Northwest Fireballs President Don Curry built this 1/2-A Norvel-powered Magician scaled down to a 24-inch wingspan. It flies on 42-foot Spectra lines. Geoff Christianson photo.
Floyd Carter's Zero
Floyd Carter of Eugene, Ore., built this A6M2 Zero stunter. It has a 61-inch wingspan and is powered by a Ro-Jett .76RE. The plane is built from Floyd's own plans, backed by Profile Publication 129. The paint scheme duplicates an actual Zero. The plane features spring-shock mounted retracting landing gear. Photo at right shows cockpit detail. Floyd Carter photos.
Don McClave's Blackbird
Don McClave's Classic Stunt winter project for 2012 was this Blackbird, designed by Gene Schaffer. It weighs 47.5 oz. with an Aero Tiger .36 for power. Chris McClave photo.
Keith Varley's e-Sultans
Keith Varley of Vancouver, B.C., uses a unique color palette for all of his stunt planes. These are two of his most recent, both electric-powered Sultans. In the foreground is the 2012 plane which he calls Son of Sultan. The new plane has a top-opening hatch for access to the electronics and an extra air outlet in the nose. Weight is 63-3/4 oz. Keith Varley photo.
Javier Fernandez' MFe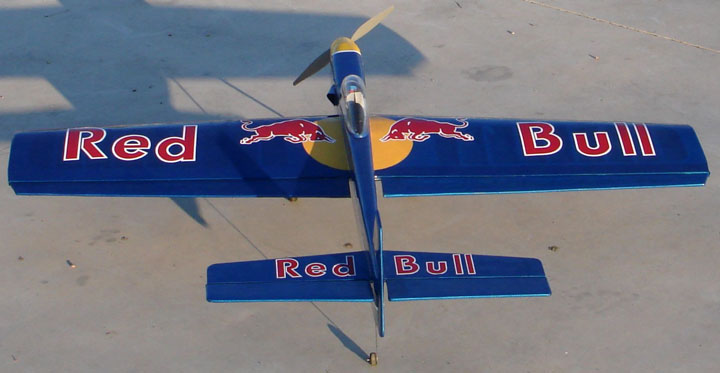 Javier Fernandez of Cordoba, Spain,went electric with this stunt plane that he calls the MFe. Javier runs an excellent web site about CL flying activites in Spain. Javier Fernandez photo.
Rex Abbott's Legacy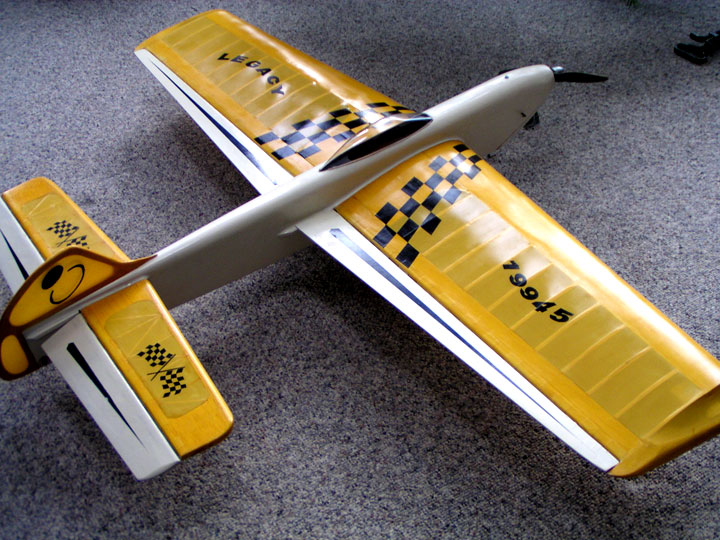 Rex Abbott of Sequim, Wash., says this Legacy his his reward for getting to know some of the folks in the Pacific Northwest. The Brodak kit was purchased from Terry Mitchell, who has discontinued stunt competition and the Saito .56 engine was purchased from Randy Powell, who discontinued his use of four-stroke engines. Rex cut 1 inch off the fuselage nose and it it flies better than anything he has owned before this one. The plane weighs 59 oz. Covering is silk with graphics cut from black tissue. Rex Abbott photo.
Floyd Carter's Buccaneer
Floyd Carter of Eugene, Ore., tells the story of this airplane: During World War II, control-line flying was just getting started. There were very few control-line kits available. It was common to convert a free-flight model for CL. This is a 1937 Buccaneer. clipped wing version, converted to CL. Powered by a Super Cyclone 65 on spark ignition. I flew this model during a noontime demonstration at a Vintage Stunt Championship several years ago. These converted free flight models were called "goats." Floyd Carter photo.
---
This page was upated Sept. 3, 2012