The Northwest's Favorite Planes
Northwest control-line model airplane fliers are invited to submit photos and information about their favorite planes, for posting on this Flying Lines page.
January-April 2011 Favorite Planes Gallery
---
Mike Haverly's Chizler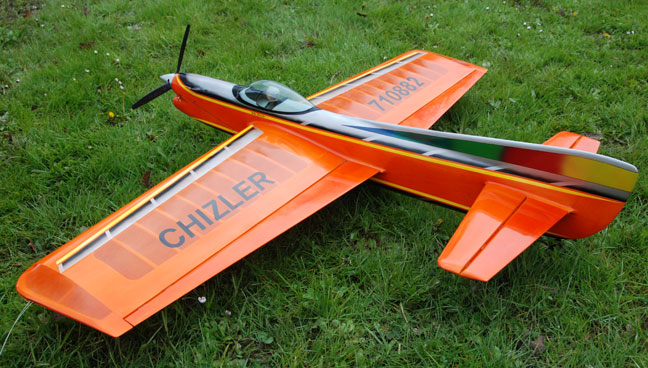 Mike Haverly's gorgeous Chizler for Classic Stunt, seen at the 2011 Jim Walker Memorial Spring Tune-Up. Power is a Ro-Jett .40 rear exhaust. Colors are standard Randolph dope except for the orange, which is Randolph clear with House of Kolors dye added. Finish is topped with automotive two-part polyurethane. Flying weight is 45 oz. Flying Lines photo.
Alan Resinger's Gypsy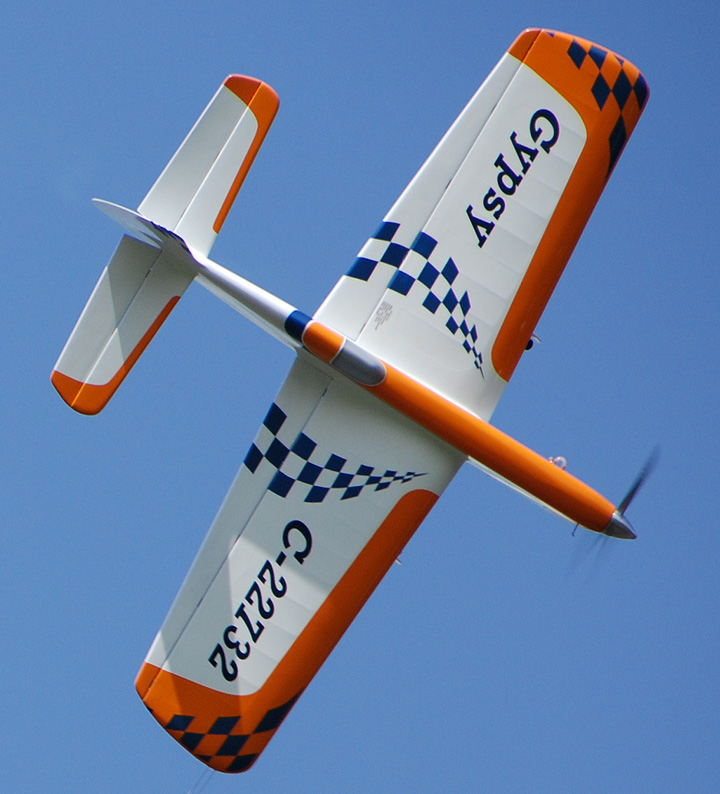 Alan Resinger's Gypsy, seen in flight at the Jim Walker Memorial Spring Tune-Up in April 2011. The plane is powered by a Stalker .61RE and uses and Eather 12x5x5.25 three-blade prop. Fuel is Wildcat 15% nitro/18% synthetic lube. Finish is Randolph dope, and the flying weight is 58 oz. Alan uses the plane in both Classic Stunt and Precision Aerobatics. Flying Lines photo.
Dave Shrum's Firecat Junior
Dave Shrum shows a flair for the historical with this Jim Walker-designed Firecat Junior, powered by a Cox .09. The plane was never kitted or published by Walker, but Dave got the plans from the late Frank Macy, a Walker and CL historian. The plane is painted in classic Firecat colors. It's seen above at Oregon Flying Fun No. 4 in Eugene, Ore., on April 2, 2011. Flying Lines photo.
Bill Badstubner's Omega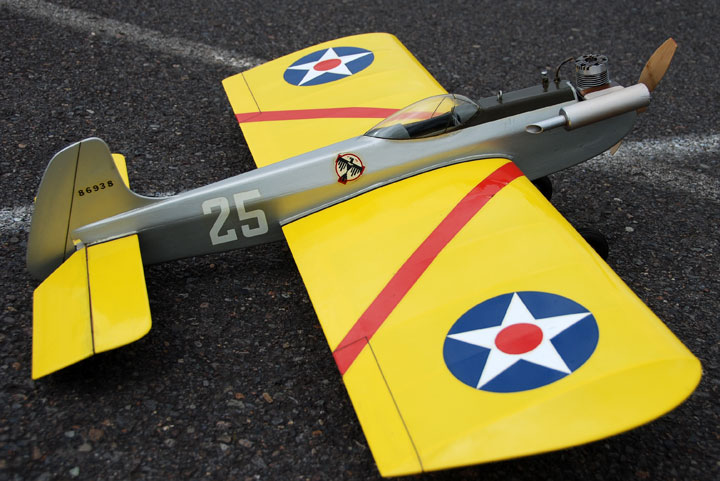 This Omega is flown by Bill Badstubner of Santa Rosa, Calif., a frequent visitor to Oregon who is a member of the Eugene Prop Spinners. Flying Lines photo.
Rex Abbott's Oriental
Rex Abbott of Sequim, Wash., built this nice-looking Oriental, with four-stroke power. Flying Lines photo.
Floyd Carter's Hi-Boy, an Old-Time Stunt plane designed by Ted Goyet and Bob Palmer, ready to fly at the Eugene, Ore., flying field on March 5, 2011. Paint is Palmer's colors and design; power is an OS .25 FPS. Flying Lines photo.
Walt Russell has recently produced a "Mk-III" version of the IYQ, a stunt plane he designed in 1950. It has a 42-inch wingspan, 10-inch chord, 25% airfoil and is 25 inches long. Power is an O.S. .25. Bill Darkow photo.
Don McClave of Portland, Ore., built this popular Old-Time Stunt plane, the Jamison Special, powered by an Aero Tiger .36. It is built from RSM Distribution plans with RSM ribs, and weighs 38 oz. The "70" on the tail honors Don's 2011 birthday. Christine McClave photo.
Dave Shrum of Roseburg, Ore., built this beautiful Mackey Lark, seen at the Oregon Flying Fun No. 2 fun fly in Roseburg on Feb. 12, 2011. The Lark is powered by a Tom Dixon-modified Fox .35 stunt, finished in Sig dope with a final gloss coat of Minwax Polyurethane. Flying weight is 44 oz. Flying Lines photo.
Javier Fernandez' profile stunter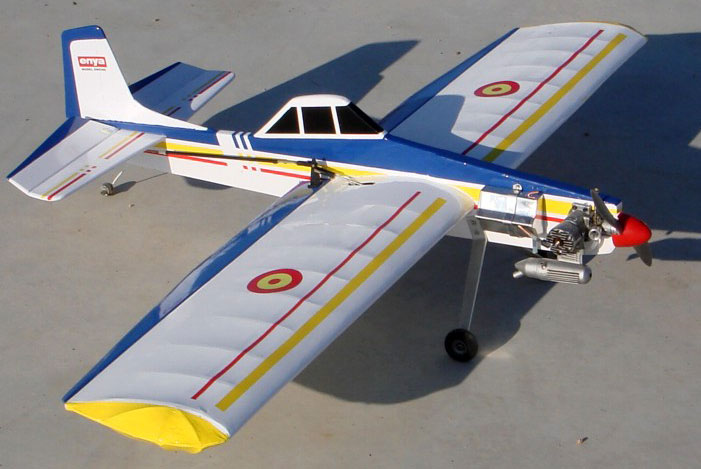 Javier Fernandez of Cordoba, Spain, sent this picture of his latest profile stunter. Javier has a very nice web site, showing a lot of nice airplanes plus links to conrol-line activities in Spain and Europe. Javier Fernandez photo.
Jerry Olson's Tutor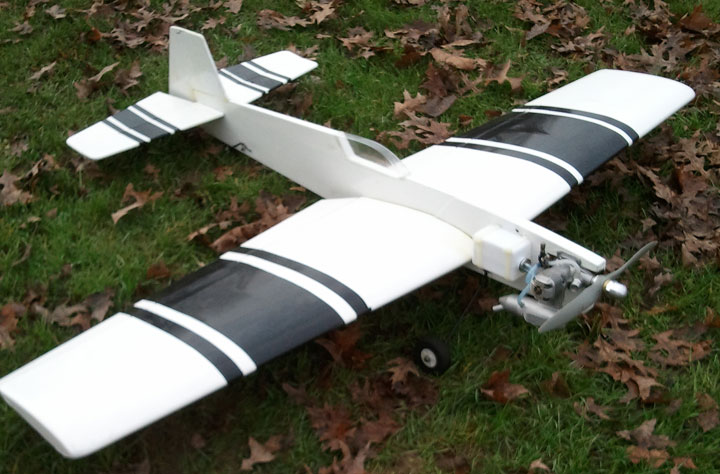 Jerry Olson of Portland, Ore., flies this Tutor with the guys at East Delta Park. Bill Lee photo.
Bill Darkow's Venetian Blind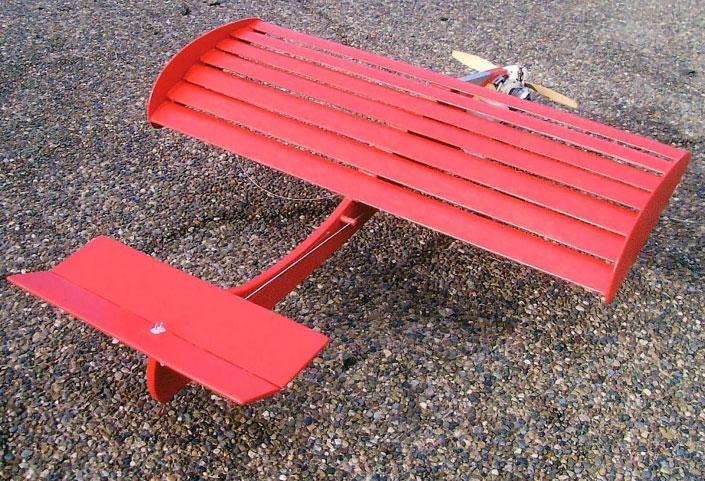 Now, here's something completely different! Bill Darkow built this highly modified version of the Venetian Blind, designed by Roy Clough, which appeared in the August 1955 Popular Science magazine. The original was a "stall-proof" 1/2-A control-line trainer. Bill enlarged it to a 24-inch wingspan and put a throttled OS Max .15 in the front. The slats are 1-1/2 inches wide with 1/4-inch gaps. The plane flies like a trainer and is nearly stall-proof, with very good low-speed flight characteristics. Bill Darkow photo.
---
This page was upated May 10, 2011