The Northwest's Favorite Planes
Northwest control-line model airplane fliers are invited to submit photos and information about their favorite planes, for posting on this Flying Lines page.
---
July-September 2011 Favorite Planes Gallery
---
Geoff Christianson's Ares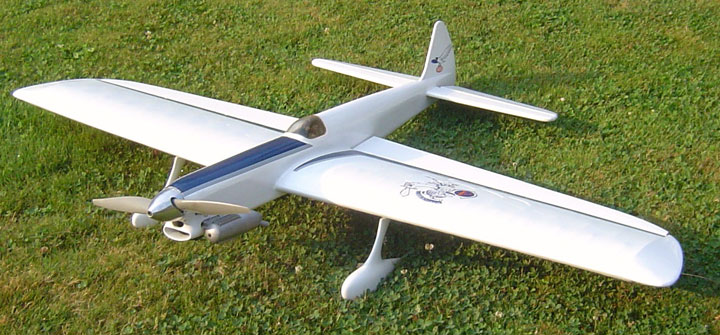 This nice-looking Ares flying in Portland, Ore., has an interesting history. Don Curry purchased it partially built via eBay, and finished it up. It's now owned by Geoff Christianson. Power is O.S. .40. Flying Lines photo.
Pete Peterson's Caprice
Pete Peterson of Tacoma, Wash., produced another masterpiece with his Caprice, seen at the Dick Scobee Memorial contest in August 2011. The plane is powered by an Aero Tiger .36 swinging a Mejzlik 10-5/8x4-1/2 carbon fiber prop. It is finished in polyester tissue and Randolph dope and weighs 44 ounces. RexAbbott photo.
Richard Entwhistle's Vector 40

Richard Entwhistle of Scappoose, Ore., built this Vector 40, powered by a Tower .40, in 2011. Geoff Christianson photo.
Bipes by Dave Shrum and Pete Benning
Seeing double: Two Beech Staggerwing biplanes flown at the Roseburg Fun Fly on Aug. 27, 2011. At left is Dave Shrum's solid-wing version, with Cox .049 power. At right is Pete Benning's Fox .07-powered built-up version. Flying Lines photos.
Mike Haverly's Mo Ichi Do
Mike Haverly's electric KISS, twice crashed, returned to life as Mo Ichi Do ("One More Time") at the 2011 Dick Scobee Memorial contest in Auburn, Wash. Rex Abbott photo.
Bill Darkow's Witch Craft
"I'll get you, my pretty! And your little dog, too!" That's what the pilot of this crazy plane by Bill Darkow seems to be saying. Bill enjoys coming up with unusual projects. He calls this one the "Witch Craft." It's an improved version of one published in the November 1972 American Aircraft Modeler magazine, enlarged to a wingspan of 21 inches and with a Cox Tee Dee .051 in place of the original .020. It flies well on 35-foot lines, as shown at right. "Surrendor, Dorothy, or else!" Photo supplied by Bill Darkow.
Floyd Carter's Ardenette
Floyd Carter of Eugene, Ore., designed this new plane with an old-timer flair. It's called the Ardenette, reflecting its engine, a 1948 Arden .19, featuring two ball bearings and a magnesium crankcase. The plane has a wingspan of 36 inches and ready to fly weighs 12.7 ounces. Floyd Carter photo.
Mimmo Speranza's Teti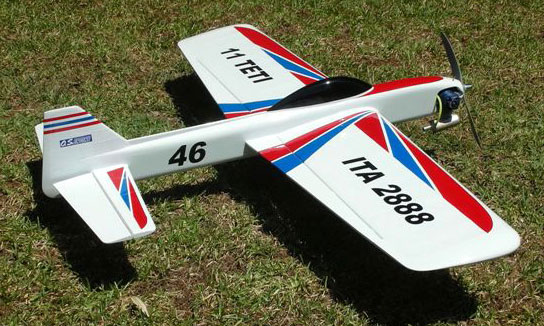 Mimmo Speranza Catdania, Italy, sent in this photo of his original-design Teti stunter. Powered by an O.S. LA .46, it has a 55-1/2 wingspan, weighs 49 oz., is covered in Polyspan and swings an APC 12.25x3.75 prop. Mimmo Speranza photo.
Don McClave's Ruffy
Don McClave finished another beautiful Classic Stunt plane in summer 2011. The Ruffy is built from RSM plans, using RSM landing gear and laser cut ribs. Power is an Aero Tiger .36 fed by a custom made RSM uniflow tank. Christine McClave photo.
Javier Fernandez' MF4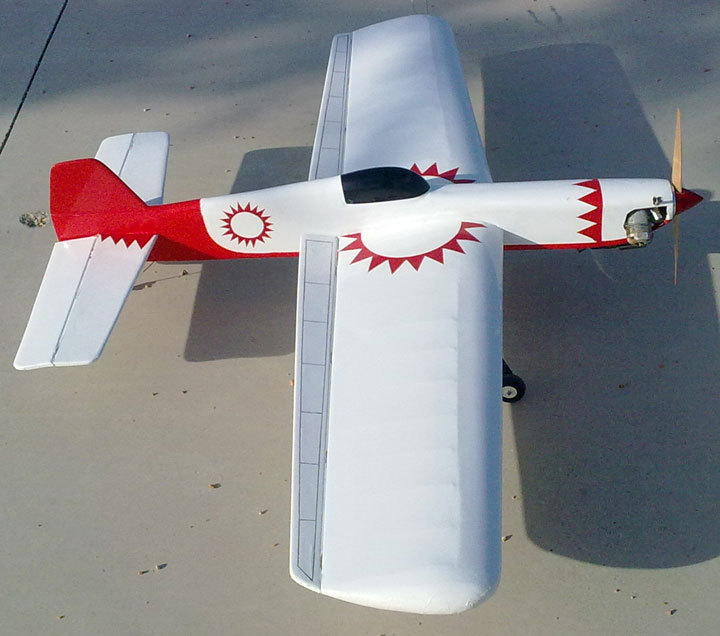 Javier Fernandez of Cordoba, Spain, sent along a photo of his called the MF4. See his very nice web site about CL flying activites in Spain. Javier Fernandez photo.
---
This page was upated Oct. 10, 2011