---
2009 Northwest Control-Line Model Aviation News Archive
Below are some of the headlines about CL activity in the region in 2009, along with links to some of the technical articles and columns that appeared on the Flying Lines web site during the year. For a more complete look at CL activity in the Northwest, go to the Flying Lines home page and click on the links to various categories at the top of the home page.
---
---
Making propellers, Part II, the First Prop See Article by Buzz Wilson Part I, the mold See article
Fireballs to host multi-event Flying Clown Day in 2010 See article
Rules change approved clarifying F2D Proto Speed lines, pull test and model weight See article in NW Rules section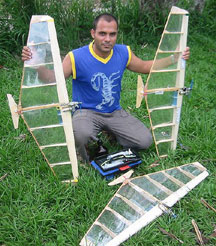 Octavio Rodriguez, a combat flier who lives in Cuba, recently discovered the Flying Lines web site and sent in some photos of himself and his F2D (FAI Combat) airplanes. He sends greetings to Northwest modelers and would love to hear from other CL fliers.
Proposal to change line diameter for 2010 80mph Combat withdrawn; voting canceled See article in NW Rules section
Flying Flea Market classified ad page updated with new ads
How to set up the OS Max 25FX for 80mph combat See article in Combat section
More Flying Lines newsletter back issues available for download See Back Issues page
Fun Fly inaugurates Auburn Airport flying venue See article and photos
VGMC Nearly 1/2-A Fun Stunt Event See photo gallery >>
<< Chehalis Cup Contest No. 4 results See article
2009 Northwest Speed Bash results See article
Northwest records updated with Northwest Speed Bash results See NW Records
Wayne Spears obituary, memorial service information See article in Northwest Fireballs page
Prop rule change approved for 2010 Vintage Diesel Combat; engine rule change fails See article in Northwest Rules section
2009 "NS with BS" Mission Wings Fun fly report See article
<< Picco de Gallo 1/2-A Speed plane construction See article in Speed section
Noted California speed flier Frank Hunt dies See obituary
How to trim a combat plane (or any other CL plane) >>
See article by Don McKay in Combat section
Western Canada Stunt Championships results See article
<< Reworking the Picco .8cc for 1/2-A Proto Speed See article in Speed section
Don McKay wins Fast Combat at U.S. Nationals See updated article in Combat section
Northwest Fireballs hold annual Happy Valley Fourth of July Flying Demonstration See article
Results of 2009 Postal Carrier contest See article
Chehalis Cup No. 3 and Vintage Diesel Combat contest report See article
Lucky Hand Fun fly draws a crowd, and Greg Hart draws a hand! See article
Pat Johnston says the photo at right explains why we haven't seen him at many of the Northwest contests this year. "Annette is the best thing to happen to me since the invention of braided flying lines," Pat says. The official marriage time will be announced later. Congratulations, Pat and Annette!
Download updated 2009 scoresheets for Precision Aerobatics, Profile Stunt, Classic Stunt, Beginner Aerobatics, Old-Time Stunt in Aerobatics section
<<2009 Stuntathon results and photos See article
Longtime modelers Gil Coughlin and Frank Macy die See obituary
R.F. Stevenson Raider Roundup 2009 flyer now available for download in Where the Action Is
Coordinated schedule for Northwest Combat in 2009 See article in Combat section
Bod Busters at the 2009 Regionals! See article
Portland Stunt Clinic and Northwest Sport Race opener See report and photos in Aerobatics section
Practicing the stunt pattern: Better bottoms! Read new Heavy Stunt column in Aerobatics section
Chehalis Cup Contest No. 2 and Vintage Diesel Opener Combat contest results See article
<< TEAM losing McMinnville control-line circles See article
BBB shows big at first major race See article in Bod Busters section
All About F2D Proto See article in Speed section >>
Updated March 25 Chehalis Cup and 1/2-A Opener launch contest season! See article in Combat section
Looking for CL products near you? Check Northwest Hobby Shops page
Weather blows, rains out Oregon Flying Fun No. 3 at the Salem field See article in WOLF section of NW Club News
Oregon CL flier Terry Miller dies See obituary
Oregon Flying Fun No. 2: Lots of flying and hobnobbing! See article >>
AMA rulebook for 2009-2010 now online See article
---
---
---
This page was upated Jan. 1, 2023