Longtime modelers Frank Macy and Gil Coughlin die
Longtime control-line enthusiast Frank Macy of Oregon and free-flighter Gil Coughlin of Washington both died on May 29.
Frank Macy was a control-line modeling historian well-known to Northwest modelers as the driving force behind the American Junior Aircraft Co., which kept alive the model airplane innovations of the late Jim Walker.
Gil Coughlin was an engine collector and free-flight modeler known by many as a person who demonstrated indoor free-flight planes at trade shows and swap meets.
A notice about the two has been posted on the American Junior Web site.
The photo above, taken from the American Junior Web site, shows Frank (left) and Gil at a recent event.
---
The following funeral information comes from the McMinnville News-Register:
Franklyn "Frank" D. Macy
1935 - 2009
Franklyn "Frank" D. Macy, age 74; of McMinnville, died on May 29, 2009 in Eugene, Oregon. Funeral services will be held on Saturday, June 13, 2009 at 10:00 AM at the Church of Jesus Christ of Latter Day Saints, Eugene, Oregon.
Viewing will be held on Wednesday June 3 and Thursday, June 4 from 4 ­ 7:00 p.m. at the Chapel of Macy & Son in McMinnville.
---
Gil Coughlin memorial service
The service will be held Saturday, June 20, from 6 p.m. to 9:30 p.m. at the Des Moines Activity Center, 2045 S. 216th St., Des Moines, Wash. Download a flyer on the memorial service for details.
---
An article from the Tacoma News Tribune about Gil Coughlin
---
A few words about Gil Coughlin from Karl Brown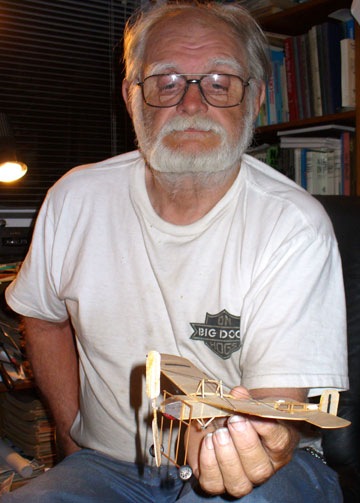 Thanks for the chance to provide information about Gil.
He and I were close. I would travel to his place every couple of months and spend a few days with him.
For two or three days, we would sit in his front room (you could not stand, there were too many models hanging from the ceiling), eat bags of potato chips, drink pop, and build models. We'd sleep for a few hours now and then, but mostly, we'd build. I usually got a whole peanut scale or walnut scale kit put together on each trip.
We'd talk and talk. Well, Gil would talk. Over the decades, a lot of the stories were repeats, but that just meant that I got to know the stories better. We had a great time, every visit.
I was planning to visit him last weekend, but Heather (one of his daughters) said that he had a little health problem, and I postponed the trip to this weekend coming. His health problem quickly turned serious, and now I won't be building with him again.
Gil could build. His little gems were not only fantastic looking, they were fantastic fliers too.
I'm still in shock about him leaving so suddenly. Perhaps I will send more later.
Photo at right of Gil Coughin provided by Karl Brown.
Memories of Gil Coughlin from Scott Newkirk
I've known Gil since before I remember. He loved to tell me about knowing me since I was in diapers as he and my dad were friends and colleagues for many years and co-workers around the time I was born. As my dad flew free flight he and Gil were in frequent contact and I grew up in both of their shadows.
When I turned 18, I went to work in the Wind Tunnel at Boeing where I trained under Gil and Jerry Thomas among many others. Gil was a mentor to me about many things in life as well as aeromodels. His influence improved my building skills immeasurably and he expanded my grasp of the world around us.
Over the years after the Wind Tunnel, Gil continued to teach me many things including how to fine tune rubber size for indoor models and designing and building more stable speed and racing models. We had many conversations about practically every aspect of model aircraft from aerodynamics to engine modifications to propeller setup. Gil also shared with me several of his old speed models and we traded rubber model parts and supplies and engine tidbits just about every time we flew together.
His influence will be greatly missed.
---
We will post further obituary information and service information here as it is received. Photos also are welcomed. Please send in any info you might have.
---

Dave Shrum sent along some photos and memories of Frank Macy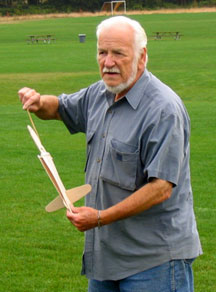 I have been dreading this day, Frank was a wonderful friend and we spent many hours together.
At right, we are "testing" several new designs for the catapult glider. I cut out most of the parts for the gliders in the recent years. One that did not make it past the testing stage was the H-1 --WITH 8 ENGINES ON IT !
Cutting out those engines was a bear and kind of glad it did not go into production. I guess the museum did not want to give Frank the price he was asking.
Photo at bottom is Frank at his bench !!! This was just after Scott Griffith and I had spent two full days moving all of his shop to another bay building that was Noel's.
Photo at left was a poster in Franks home in his hallway. I loved it !!! It kind of depicts Franks attitutide in life, "get over it and move on" which he had to do many times with his health condition. I will miss him very much, he was a great friend and model friend.
Photo above the headline is Frank with his BIG FIREBALL !!! Actually it was not a Fireball it was a large plane that Frank helped the designer (can't remember his name) who lived in Portland when Frank was 10-12 years old. Frank went over as a youth and helped this kit designer. Frank made up the shipping boxes out of old refrigerator boxes. Toward the end of his helping, he was "promoted" to helping cut of some parts !
Frank and I spent many hours together in his home and these were a lot of modeling stories that I will never forget, these are a part of them. When I was working with Frank to develop the catupult glider, he showed me how to "Trim" them out- the wing swivel devise had to be dead on!
---
This page was upated June 12, 2009