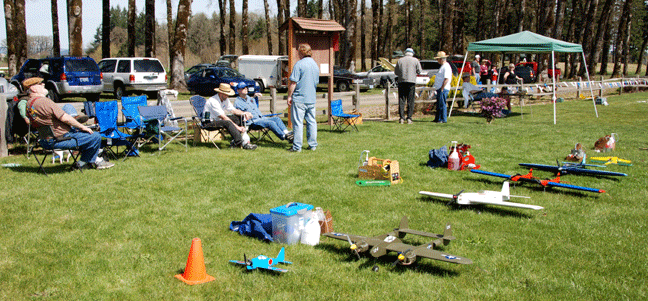 A big turnout and a sunny day made for lots of flying -- and lounging in the pit area -- at Oregon Flying Fun No. 4 Flying Lines photo.
Oregon Flying Fun ­ 4
Glorious day for all kinds of flying
April 5, 2009, McMinnville, Ore.
Wow, what a sunny day will do to bring out the CL fliers!
Oregon Flying Fun No. 4 finished off the 2009 winter-spring fun fly series with a dandy day of flying with about 15 flying and several more lending support and "just visitin'."
Weather was perfect, with almost no wind, and flying was constant all day long. The official day finished off with the door-prize drawing -- and then more flying followed. The photo gallery below pretty much tells the story.
Jerry Eichten of The Evergreen Aero Modelers again did a great job hosting the annual spring event at DeAlton-Bibbee Field, which is just alongside the beautiful Evergreen Aviation and Space Museum.
Among those flying were Jack Pitcher, Gerald Schamp, Jerry Eichten, Mike Denlis, Doug Powers, Richard Entwistle, Bruce Hunt, John Thompson, Floyd Carter, Geoff Christianson, Ron Anderson, Joe Just, and John and Ehren Castle. Also attending were Dave Royer, Terence Bardue and Bob Cooke. Hope we didn't miss anybody.
Next flying event in the Northwest is the Jim Walker Memorial contest, on April 17-19 at East Delta Park in Portland, Ore. See Where the Action Is for details.
Oregon Flying Fun No. 4 Photo Gallery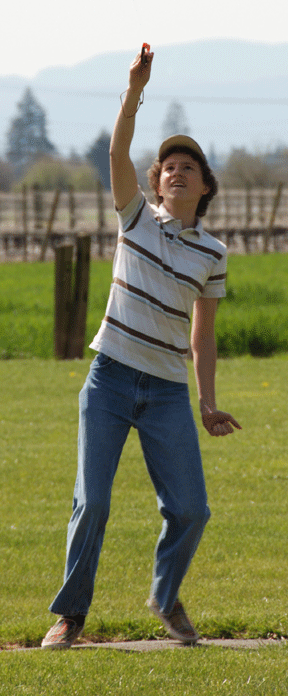 The fun fly welcomed two new local fliers to the scene, John (left) and Ehren (flying) Castle, of McMinnville. Flying Lines photo.
John Castle prepares to start the Cox engine on his corrugated plastic trainer, closeup at right. These are becoming popular trainers. Flying Lines photos.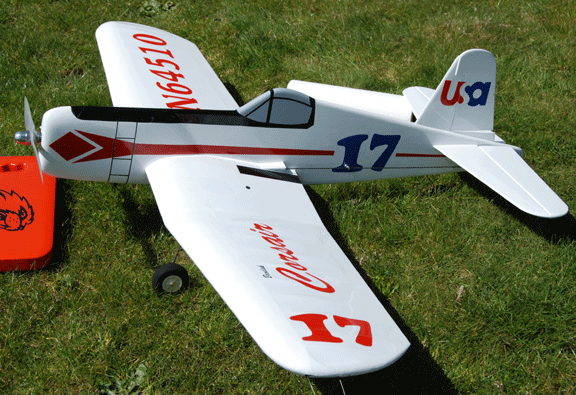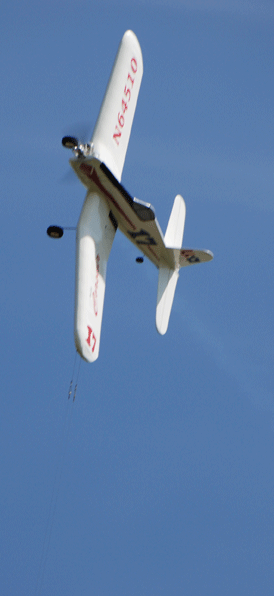 Gerald Schamp has refinished this Corsair, designed and built by Pat Johnston. Looks good in flight (right). Flying Lines photo.
Left photo: A nice Yak by Geoff Christianson of the Portland area. Right photo: Much-flown profile by Ron Anderson of Hazel Dell, Wash. Flying Lines photos.
Bruce Hunt fuels his Lark for a flight. He flies it in Classic and Precision Aerobatics, powered by O.S. LA .46. Flying Lines photo.
Planes of all sizes flew in the fun-fly. These include Mark Hansen's coro trainer (left) and Doug Powers' little warbird (right). Flying Lines photos.
A series of photos of Joe Just's twin-engine P-38, powered by O.S. LA .25 engines. Above, a closeup of the plane. Below, Joe starts the second engine, with one already running. Flying Lines photos.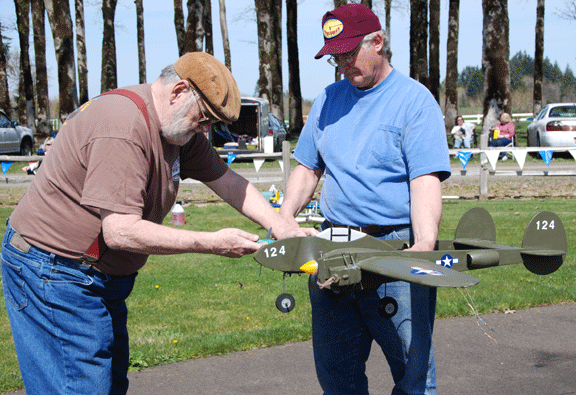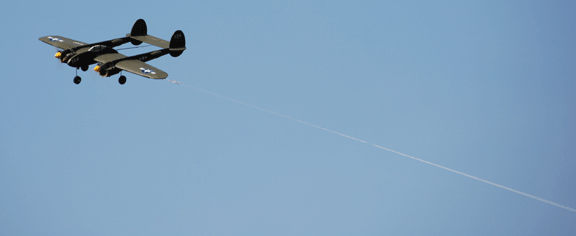 Joe's P-38 looks good in the air (above), and cruises nicely on one engine (below). Flying Lines photos.

This page was upated April 7, 2009