Terry Miller (right) was a longtime control-line and radio conrol flier in the Roseburg, Ore., area. Dave Shrum photo.
Roseburg CL flier Terry Miller dies
By Dave Shrum
Terry Miller passed away at his home in Roseburg on Thursday or Friday, Feb 27-28. He had not reported to work at McDonald's. He was in his chair and passed away peacefully.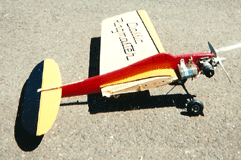 He had one son, Nathan. His wife, Lorella, died several years ago.
The picture above is from 1996 when I was teaching young people at the parking lot at Mc Donald's. The airplanes in front of Terry are his. The Ringmaster is seen before (above) and after, (right). We had a net around the site and Terry strayed too close to one of the poles.
Terry loved his model airplanes, both RC and CL. He also had quite a collection of model cars. He was an avid bowler all his life. He flew Navy Carrier and Precision Aerobatics in a number of Northwest contests.
There will be a memorial service on March 14, Saturday, at Redeemers Fellowship at 11 a.m. Address is 3031 W. Harvard Ave., Roseburg,, Ore.
---
This page was upated March 6, 2009