Fun fly guys: Here are some of the guys who attended this year's Oregon Flying Fun No. 2 in Eugene, Ore. More came after the photo was taken. From left are Floyd Carter, Mike Denlis, Mike Massey, Jim Corbett, Tom Kopriva, Mike Hazel, John Thompson and Bruce Hunt. Kris Hunt photo.
Oregon Flying Fun -- 2
Nice day, nice fliers, nice flying fun!
Feb. 15, 2009, Eugene, Ore.


It was a great day of flying at the second installment of the annual Oregon fun fly series, held on a mostly sunny day at Eugene Airport, site of the upcoming Northwest Regionals. Temperatures were in the high 40s, with a sustained 7-mph breeze. Lots of flights were put in.
A good turnout of fliers, including some from Salem and Roseburg, participated in the event along with lots of the local Eugene Prop Spinners club. Mike Denlis, president of the Prop Spinners, brought coffee, doughnuts and muffins. There was the usual flying raffle, with everyone getting a ticket for each flight, and a dozen or so nice prizes given away by drawing at the end of the day. Prizes were donated by Mel Marcum, Tom Kopriva and the Northwest Regionals.
Flyers included Bruce Hunt, Mike Hazel, Tom Kopriva, John Thompson, Mike Denlis, Jim Corbett, Dave Shrum, Pete Benning, and Mike Massey. Also attending were Gene Pape, Mike Robinson, Bill Badstubner and Floyd Carter. Stunt and sport planes were the order of the day.
The third in the series of four Oregon fun flies is scheduled for 10 a.m.-3 p.m. at Bill Riegel Model Airpark at the Salem, Ore., Airport, on Saturday, March 14. See Where the Action Is for details.
Oregon Flying Fun 2 photos
Above: Bruce Hunt flies his Lark past the lineup of parked cars, some spectators and the "doughnut table." Right: The lark looks good against a blue sky. Flying Lines photos.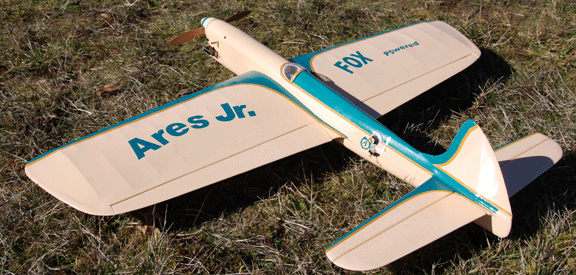 Pete Benning's Ares Jr. Pete is from Roseburg, Ore. Flying Lines photo.
Mike Massey starts the Fox .35 on his Magician, with Jim Corbett holding. Flying Lines photo.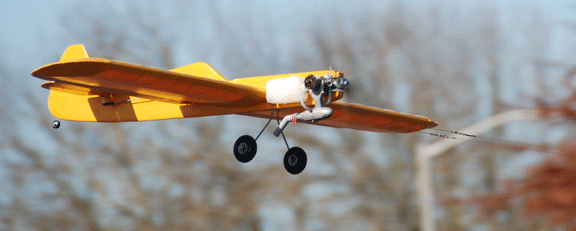 The Magician looks good in the air. Flying Lines photo.

The Lark passes the doughnut station as some of the fliers watch closely (from left): Mike Denlis, Jim Corbett, Tom Kopriva, Floyd Carter, Bill Badstubner, Mike Massey. Flying Lines photo.

Mike Hazel's Mr. Stubby. Flying Lines photo.
A good time was had by all in the pits as well as on the flying circle. Dave Shrum (center) gets ready to fly his Flite Streak. Flying Lines photo.
---
This page was upated Feb. 18, 2009