Bill Darkow's Ultimate bipe tows th Skyraiders banner. All photos by Don Schultz.
Skyraiders 2009 Auburn Fun Fly
Sept. 26, 2009, Auburn, Wash.
The NW Skyraiders Fall Fun Fly at Auburn Airport is the first of hopefully many more events this club will hold at the Auburn Airport venue.
We had approximately 20 club members and several family members show up for a day of beautiful weather, model flying , a great lunch, and lots of airport activity for our entertainment.
We ran two paved circles with a 100' pit area in between them to accommodate the planes on the south parking ramp of the Airport. Saturday morning traffic traveled close the enclosed fenced pits area with many cars slowing down to check out the activities and some parking and watching the flying, some coming over and asking questions about the planes.
Several full scale flyers and airport residents came by to chat about their experiences with CL airplanes and one offered us storage accommodations in his hanger for future events. Members of the Airport Board came by to check out our event and left impressed with energy that the club exhibited and commented how the planes were much quieter than they had expected. (Mufflers are required at that site as the Airport is sensitive about noise complaints).
I think most of the flyers got to fly as much as they wanted as the afternoon winds held off until 2 p.m. or so and it never became unflyable. I believe everyone agreed it was an excellent venue for CL flying and had a good time doing so.
Some background info
The Fun Fly was sort of an dry run for future events at that site. We had been trying for a few years to get permission to fly there but were repeatedly turned down by the Airport Board. We had been approaching it from the standpoint of having a place to practice, which meant unsupervised access, from the Airport Boards point of view.
A member of the Auburn City Council noted that the Airport Board had turned down our request in writing and questioned whether we would be satisfied with a venue to be used on a limited basis. I was asked to explain my proposal to the City Council in those terms. I did, and I received the support of several Council members and the Mayor.
The Council instructed the Airport Board to reconsider our request on a limited basis. The Board reconsidered and laid out all of the conditions we needed to meet to fly there ( airport rules, safety precautions, noise etc). When I went to meet the Airport Board to explain my response, our friend on the city council, showed up in support; and the Airport Board voted unanimously to let us hold events there. I had proposed several one day Club Fun Fly events and one two day contest to be held per year. So in 2010 the NW Skyraiders we will hold several Fun Flys and one two day contest there.
Howard Rush astutely noted that Auburn Airport is named Dick Scobee Field. Dick Scobee was an Auburn resident and Astronaut who died in the Challenger accident. He was also a Control line flyer. It would be fitting if we named the new contest the Dick Scobee Memorial in his honor. I think that will also please the city fathers who are very interested in the potential benefits of the event to the community and its potential to bring in out of towner's to fly and patronize the local restaurants and hotels.
In the near future, the NW Skyraiders will be setting dates for those events.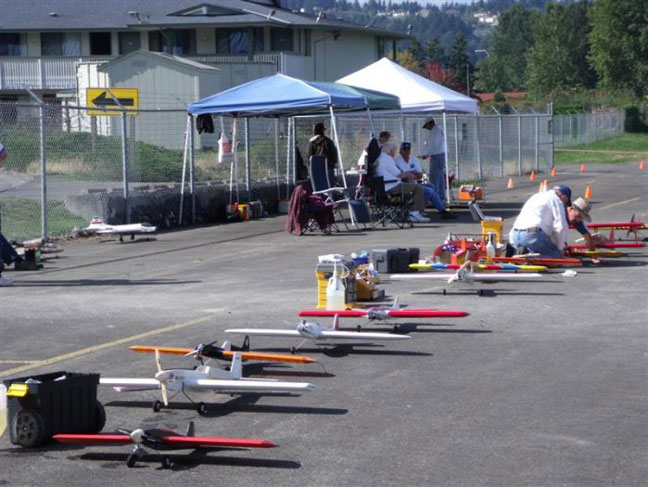 Control-line planes lined up in the pits at Auburn Airport.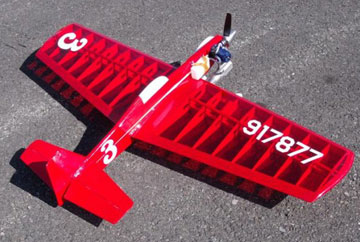 Left: A nice Cosmic Wind. Right: Northwest Fieballs Air Show Firecat.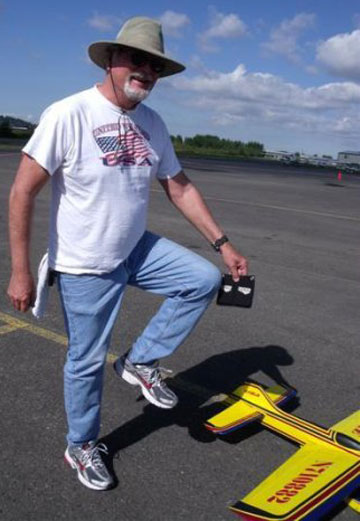 Left: Steve Helmick prepares to launch Mike Haverly's Shrike with nifty gel kneepad. Right: Mike 'n' the Shrike.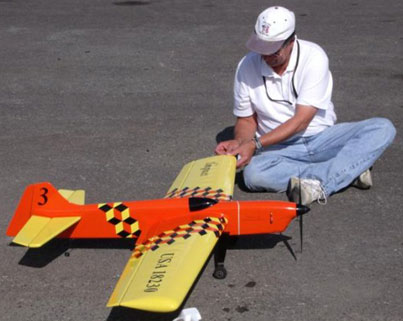 Left: Howard Rush with his Impact. Right: Ultimate bipe that Bill Darkow uses to tow the club banner.
Steve Helmick launches Vector 40 for Pete Ferguson.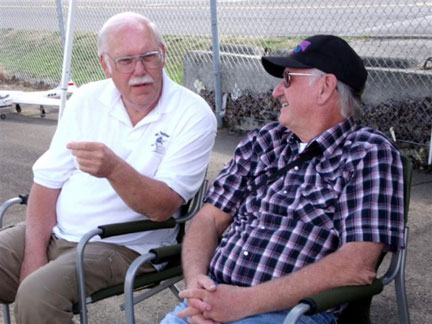 Left: Pete Peterson. Right: Mike Potter (left) and Bob Parker.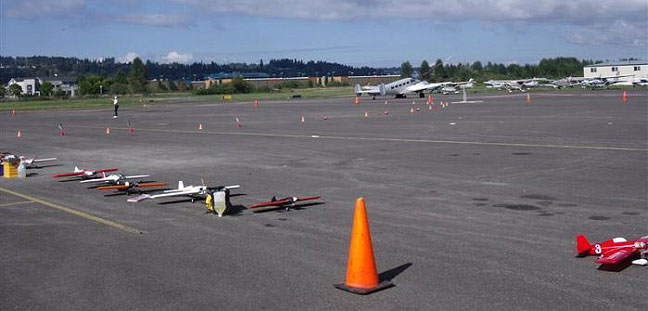 The lovely Auburn Airport flying venue.
---
This page was upated Oct. 1, 2009