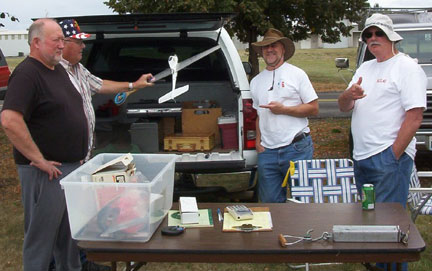 Speed fliers discuss the finer points of competition at the 2009 Northwest Speed Bash. Craig Bartlett photo.
Northwest Speed Bash, 2009
Sept. 19-20, 2009, Bill Riegel Model Airpark, Salem, Ore.
By Mike Hazel, contest director
Turnout was a bit light this year. Seems we scheduled it on a bad weekend. There were some conflicts with family plans and other business, and some decided to be sick. Oh well, we still had a good time. Weather was a bit moist to start the weekend, but then it dried out nicely.
The Broadway Bod Busters once again provided a full cadre to do battle in the F2D Proto and 1/2 A Proto events. The Louie-Louie Team finally broke the Northwest 'D' record, as they have been clamoring for, on their first flight of the meet. A second attempt sounded well into 180 mph territory when the pushrod experienced a case of elevatorhorniusdetachias. Fortunately the only damage was a buzzed prop.
Special thanks go to WOLF member Bob Cooke who helped out with timing duties for the entire contest. Other Speed folks attending but not flying were: Craig Bartlett, Guy Laine, and Loren Howard.
Results
Northwest Standings Points in parentheses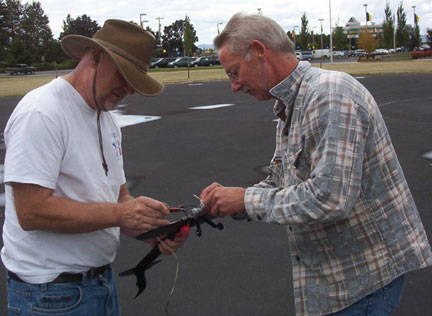 1/2 A PROTO SPEED (3 entries)
1. Don McKay, Redmond, Wash, 89.27 mph (3)
2. Ken Burdick, Kent, Wash., 84.47 (2)
3. Jeff Rein, Covington, Wash., 84.03 (1)
F2D PROTO SPEED (5 entries)
1. Buzz Wilson, Belfair, Wash. 101.74 mph (5)
2. Don McKay, 100.65 (4)
3. Ken Burdick, 94.47 (3)
4. Jeff Rein, 89.16 (2)
5. Dick Salter, Tenino, Wash. 88.31
NORTHWEST SPORT JET SPEED (2 entries)
1. Dick Salter, 134.63 mph (2)
2. Mike Hazel, Mehama, Ore. 124.86 (1)
Photo: Ken Burdick (left) and Jeff Rein prepare a 1/2-A Proto plane for start. Craig Bartlett photo.
D SPEED (1 entry)
1. Louie-Louie Team , Somewhere in the Northwest, 176.05 mph (1) *new NW record
.21 SPORT SPEED (1 entry)
1. Ken Burdick, attempt (1).
---
LOUIE-LOUIE TIME!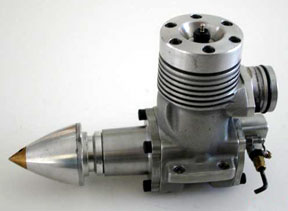 Once again the Two Louies known to all as the Louie-Louie Speed Team, made the long trek to Oregon to fly their "La Louie Mobile" As you might recall, their previous attempts ended with somewhat dismal results.
Jim Walker 2009:
Chased away by a hail storm.
Northwest Regionals:
135 mph as the model skidded past the lap counters to complete required laps.
With yet another attempt at the Speed Bash September 19th and 20th, the two Louies (Ken and Mike) Finally put up a semi decent run with the McGee .65 powered Louie Mobile. The tank and pressure problems that had plagued them before were nowhere to be seen and the .65 sounded more like a stunt engine than a speed ship. A bit of prop work and some "mo" needle produced a sound that was awe inspiring. The mini pipe kicked in and it just kept getting faster every lap. Unfortunately, mechanical problems tipped the honkin D ship in to stop the madness.
The first run was a Sunday walk in the park for the powerhouse Louie Mobile and was enough to set a new Northwest record in D speed at 176+ mph. Comments from the two Louies below.
"We lookin for la Louie-Louie record mon, an we foun it mon, we throw a big-time party mon.you come and drink sum rum with us Louies"
-- Ken-Louie
(Photos by Ken-Louie)
---
This page was upated Sept. 23, 2009