---
Next Northwest CL event: Portland Northwest Sport Race See Where the Action Is
---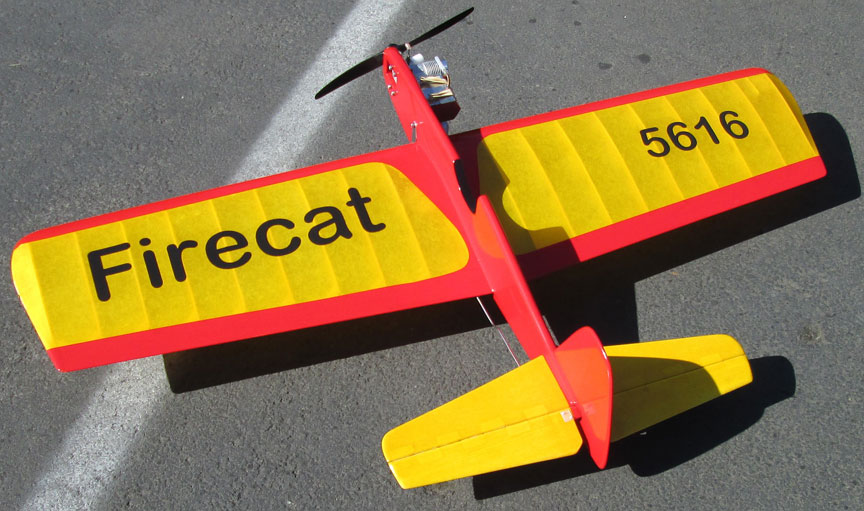 Dave Royer of Portland, Ore., recently finished this Firecat as a test for the examination table paper covering, sometimes called "doctor paper," that has been mentioned in various articles on the Internet of late. The base color is Higgins Fade Proof Ink in clear with Sig red and black trim. "The O.S. .25FP is a nice pairing with this A.J. Aircraft Firecat and it's a lot of fun to fly," Dave says. Dave Royer photo.
Put your airplane photo here! Submit a photo of your latest plane our your favorite plane to Flying Lines! To see photos of great Northwest control-line model airplanes, see the Favorite Planes section.
---
Northwest control-line news headlines
Updated Oct. 17! Northwest fliers participate
in global Ringmaster fly-a-thon See article
<< New! 32nd Fall Follies wraps up 2018 Stunt season See article
2018 Northwest Control-Line Speed Championships report and photos See article in Speed section
2018 R.F. Stevenson Raider Roundup results and photos See article
Bladder Grabber XL report and photos See article in Combat section >>
Big turnout for 2018 Western Canada Stunt Championships See article in Aerobatics section
Get ready for Speed Fun in September! See article in Speed section
2018 Lucky Hand Fun Fly report and photos See article
Orin Humphries' July 2018 column in Scale Matters: Boyhood recollections at the Regionals
2018 Stunt-a-Thon results and photos See article
Combat Graffiti report See article in Combat section
Northwest Regionals report and photos See article >>
How to make a venturi for your Combat Graffiti plane See article in Combat section
<< Closed-door negotiations at the Jim Walker Memorial See article in Combat section
Contest season opens with Jim Walker Memorial Spring Tune-Up See article and photo gallery >>
Updated! Orin Humphries revisits .049 engines in his April 2018 column in Scale Matters:
Of Blackbirds, .049s and the pursuit of knowledge
Starting the Nelson .65 Speed engine -- wow! See article in Speed section
Control-line Music! Flier/musician writes, performs song to go with AMA "Wired for Excitement" See article
Latest Round & Round Column: How we all contribute to the success of our favorite contests
Lots of flying at Oregon Flying Fun No. 2 in Roseburg See article
The Nelson .65 for Speed See article in Speed section
The ASP .25 for Northwest Sport Race See article in Racing section
Approved! Two rules changes take effect in 2018 for Northwest Sport Race: ASP .25 added to the engine list and shutoffs legalized See article in NW Rules section
Oregon and B.C. fliers greet 2018 with Oregon Flying Fun No. 1 and Polar Bear Fun Fly See article
---
---
Get published!
If you have an idea for an article, submit the text and photos to the FL editor now. For details on how to submit articles to FL, see the You Can Help page and the Guidelines for Submission of Articles page. Flying Lines is always interested in receiving comments, suggestions and contributions of materials for this website. Please Send the editor an e-mail with your comments and contributions.
---
Get the latest news: A browser tip
Flying Lines is updated almost daily. That means that there is something new almost every time you look at this website. In order to make sure you see the newest items, try this tip: After you open up a FL page, hit your browser's refresh button. It's in the toolbar somewhere, depending on the browser you use. This will make sure you're seeing the latest version of the page, not one stored in your computer's cache.
---
Navigation Tip: Click on the Flying Lines logo of any page to return to the FL home page
---
---
Flying Lines -- Daily News of Northwest Control-Line model aviation
Editor: John Thompson | Associate Editors: Mike Hazel and Barbara White
This page was upated Oct. 18, 2018
---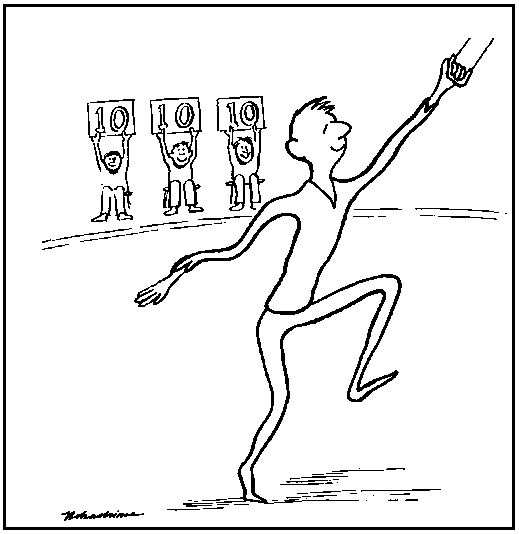 "I concede the match."