Control-line competition categories: Updated! Aerobatics | Updated! Combat | Updated! Navy Carrier | Updated! Racing | Updated! Scale | Updated! Speed
---
Next Northwest CL event: Stunt-a-Thon See Where the Action Is
---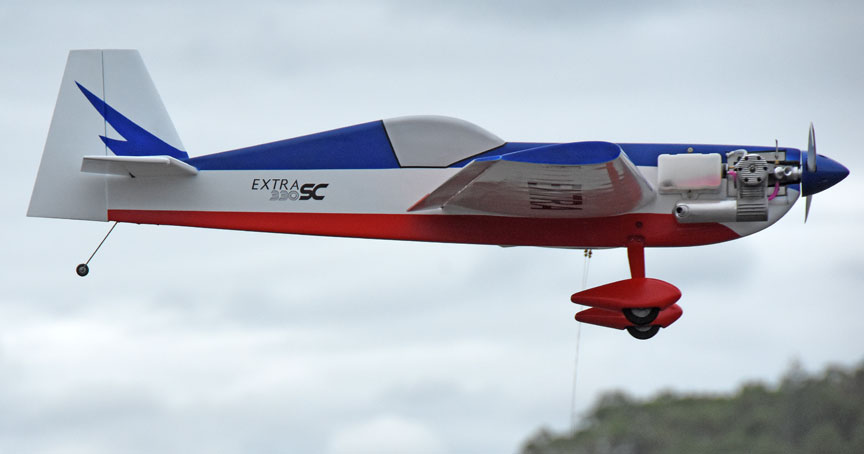 Walter Hicks' Extra 330 glides in for a landing during an official flight in Sportsman Profile Stunt at the 2019 Northwest Control-Line Regionals in Roseburg, Ore. Walter is from Central Point, Ore. Flying Lines photo.
Put your airplane photo here! Submit a photo of your latest plane our your favorite plane to Flying Lines! To see photos of great Northwest control-line model airplanes, see the Favorite Planes section.
---
Northwest control-line news headlines
Updated with Combat and Speed directors' reports, and video of rocket-powered SR-71 Scale flight! Northwest Regionals report and photos See article >>
Contest season opens with a damp Jim Walker Memorial Spring Tune-Up See article
Twenty fliers greet 2019 sunshine at Oregon Flying Fun No. 3 See article >>
Two B Speed engines compared, Part 2 See article in Speed section
The Yeti and other kits from Hobbins Hobbies See article in Combat section
Approved! Rule change requires 60-foot lines in fast Clown Race See article in Northwest Rules section
Approved! Four engines added to the Northwest Sport Race list See article in Northwest Rules section
Approved! 80mph Combat line diameter set at .018 for all planes See article in Northwest Rules section
Orin Humphries Scale Matters February 2018 column:
Part 2 of vacuum molding, Preparing the mold in Scale section
<< How to assemble a glow engine See video by Juan Seren
How to build Russ Hester's internal line-tension shutoff See article in Combat section
Updated with corrections on March 4! B.C. modeling legend Barrie Hobkirk dies See obituary >>
Two B Speed engines compared, Part 1 See article in Speed section
CL opens 2019 alive and well at Oregon Flying Fun No. 1 and Polar Bear Fun Fly See article
Mike Hazel regains Competitor of the Year Title See article and NW Standings >>
---
---
Get published!
If you have an idea for an article, submit the text and photos to the FL editor now. For details on how to submit articles to FL, see the You Can Help page and the Guidelines for Submission of Articles page. Flying Lines is always interested in receiving comments, suggestions and contributions of materials for this website. Please Send the editor an e-mail with your comments and contributions.
---
Get the latest news: A browser tip
Flying Lines is updated almost daily. That means that there is something new almost every time you look at this website. In order to make sure you see the newest items, try this tip: After you open up a FL page, hit your browser's refresh button. This will make sure you're seeing the latest version of the page, not one stored in your computer's cache.
---
Navigation Tip: Click on the Flying Lines logo of any page to return to the FL home page
---
---
Flying Lines -- Daily News of Northwest Control-Line model aviation
Editor: John Thompson | Associate Editors: Mike Hazel and Barbara White
This page was upated June 14, 2019
---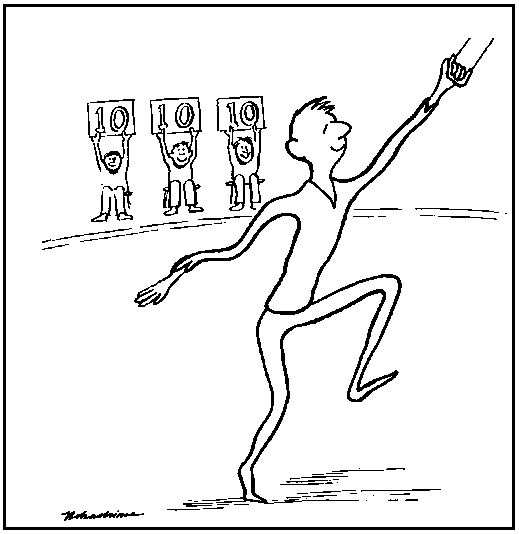 This Steve Lindstedt cartoon is from the January 1983 edition of the Flying Lines newsletter.