---
Next Northwest control-line event: Global Ringmaster Fly-a-Thon See Where the Action Is
---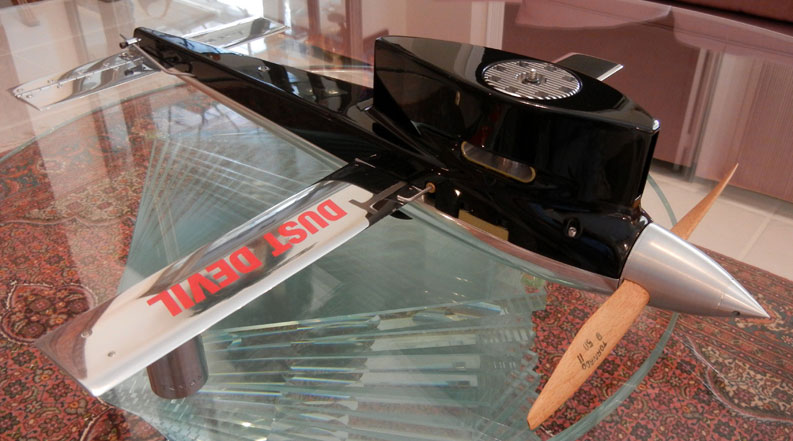 Kirk Johnson is an enthusiast for vintage speed planes. This is his recently finished Dust Devil, powered by a reproduction Dooling Yellow Jacket .61. Here's Kirk's explanation: "I just completed a somewhat unusual speed plane, a 1958 Don Yearout/Henry Mullin designed Dust Devil. The plane's wing is made from 1/8" thick 6061 aluminum alloy. The wing is set at 2 degrees positive incidence and utilizes a very shallow NACA 0006 airfoil. The special torque tube, which is tightly fitted and then epoxied into the wing, was manufactured by Marty Higgs. The engine is a reproduction Dooling 61 Yellow Jacket, which was designed as a tether car engine, and the heavily ribbed crankcase allowed for high nitromenthane fuel loads without exploding. Some noted speed fliers, including Bill Wisniewski of K&B engine and Pink Lady fame, experimented with the Yellow Jackets with some good results." Click on the image at left to see a larger version of the article. This week's control-line cartoon may reveal how fliers experienced such power in the 1950s. Kirk Johnson photo.
Put your airplane photo here! Submit a photo of your latest plane our your favorite plane to Flying Lines! To see photos of great Northwest control-line model airplanes, see the Favorite Planes section.
Northwest control-line news headlines
Updated with airplane data! 2016 R.F. Stevenson Raider Roundup results and photos See article
New! Vintage Stunt Trophy renamed to honor the late Don McClave See NW Standings page for details
New! 2016 Northwest Speed Championships includes record run See article in Speed section
<< Bladder Grabber XXXVIII report See article in Combat section
2016 Western Canada Stunt Championships results and photos See article in Aerobatics
See Where the Action Is for details of September R.F. Stevenson Memorial contest:
New location, date and event lineup including stunt, carrier and combat
<< Northwest stunt pioneer and cartoonist Don Shultz dies See article
Northwest stunt icon Don McClave dies See article >>
Combat Graffiti 2016 report and photos See article in Combat section
Bragging rights at Brodak: Fox Speed See article in Speed section
Vancouver area fliers spruce up Richmond flying site See article
Skyraiders lose Auburn field See Northwest Skyraiders page for details in June meeting minutes Breaking news: On Thursday, June 23, word was received that the Skyraiders have achieved an agreement that allows them to continue using one circle at the Auburn Airport through September.
2016 Stunt-a-Thon results and photos See article in Aerobatics >>
Northwest Regionals report, photos See article
Read Gene Pape's third Miscellaneous Stuff; the May 2016 article is on Frayed lines, stiff wings and little engines
U.S. wins gold in Aerobatics at the Control-Line World Championships! See results at the World Championships website
Longtime Northwest CL modeler Dick Salter dies See obituary >>
Blondie gets a speeding ticket See article in Speed section
Control-line's past revisited: See group photo of 1962 Skyraiders in Northwest CL History section
Stunt flier Rex Abbot dies See obituary >>
New! Northwest Skyraiders meeting minutes now posted monthly
on Skyraiders page in NW Club News
Read Gene Pape's second Miscellaneous Stuff; the February 2016 article is on covering the Demon, fun with combat, and ASP engines
Oregon Flying Fun No. 2 report and photo gallery See article >>
<< Combat Graffiti 2016 promo See article in Combat section
Approved! Rule change clarifies Sport 40 Navy Carrier carburetor specification See article in Northwest Rules section
January 2016 edition of Northwest Speed Flyer newsletter available for download in Speed section
2016 Polar Bear Fun Fly starts the B.C. year off cold See article
Cox, Rush share 2015 Competitor of Year title See article on NW Standings page
2016 Postal Carrier Contest scheduled See article in Navy Carrier section
---
---
Get published!
If you have an idea for an article, submit the text and photos to the FL editor now. For details on how to submit articles to FL, see the You Can Help page and the Guidelines for Submission of Articles page.
---
Get the latest news: A browser tip
Flying Lines is updated almost daily. That means that there is something new almost every time you look at this website. In order to make sure you see the newest items, try this tip: After you open up a FL page, hit your browser's refresh button. It's in the toolbar somewhere, depending on the browser you use. This will make sure you're seeing the latest version of the page, not one stored in your computer's cache.
---
Navigation Tip: Click on the Flying Lines logo of any page to return to the FL home page
---
---
Let's hear from you!
Flying Lines is always interested in receiving comments, suggestions and contributions of materials for this Web site. Please Send the editor an e-mail with your comments and contributions.
---
Flying Lines -- Daily News of Northwest Control-Line model aviation
Editor: John Thompson --- Associate Editor: Mike Hazel
This page was upated Sept. 26, 2016
---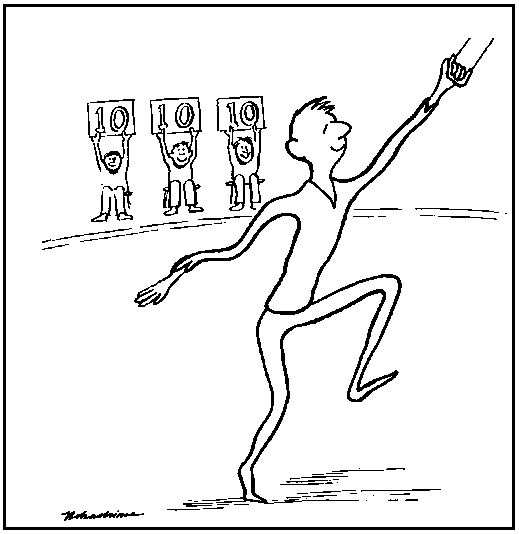 This vintage control-line cartoon is from the Tom Wilk collection, which is available on CD. See Flying Flea Market for ordering details.