Northwest Control-Line Flying Fields
Where do control-line fliers gather to fly their model airplanes in the Pacific Northwest? Below is information about Northwest flying fields. This information is compiled by Flying Lines from reports by clubs and local fliers.
We'll update the information on flying fields as we receive it. If your flying field is not listed below, or the information is incorrect or changed, please e-mail the editor. Flying fields are listed alphabetically by metro area.
We have photos of some of the flying sites. If you can send a photo of a flying site that's missing below, please
Arlington, Wash.
This site is no longer available for control-line flying as of October 2020. Arlington Airport: Take exit #206/Smokey Point from Interstate 5, and go east one mile on 172nd St. N.E. Turn left onto 51st Ave. NE at the light, and the site is on the left, behind the RV Sales lot. Park on the grass. Safety cones are recommended to outline your circle.
Chehalis, Wash.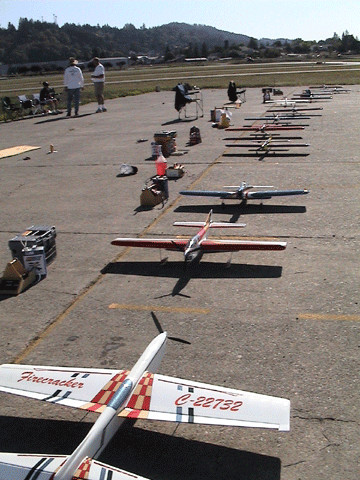 Chehalis Airport: Get off I-5 at exit 79 (Chamber Way). Go west to intersection of Chamber Way and N.W. Louisiana Ave. Turn left onto N.W. Louisiana Ave. Follow that to first major intersection. Turn right onto N.W. Airport Way. Follow that to Airport Entrance sign. Turn right onto airport entrance road. Follow that approx. 1/4-mile to electronic gate.
Conditions of use are: Control-line model airplanes only. All flyers must have valid AMA licenses. Most CL modelers in the area have the gate code, however, contact Bill Darkow to get the code if you don't have it. Park on grass near the perimeter fence or on concrete taxiway next to grass. Do NOT park on asphalt taxiway in front of hangar S-1. Muffled engines preferred. All appropriate safety requirements listed by the AMA, such as wrist thongs, must be followed. Remember that we are guests of the airport using their property and act accordingly.
Faro Field: 1354 Pleasant Valley Road, Chehalis.
This is an RC field that also contains a control-line circle. Email for information or see the Faro Field Flyers club website.
Eugene, Ore.
Eugene Airport: This flying field is no longer available.
Can Do Ranch: The Eugene Prop Spinners also fly at a privately owned ranch about five miles north of the Eugene Airport off Highway 99 at Milliron Road. Flying is allowed when a club officer is present to open the gate. Guests are welcome; all fliers must be AMA members and pay a $5 per flying session fee to cover the cost of using the field. E-mail the Eugene Prop Spinners for upcoming scheduled flying dates and directions to the field. The flying site includes one grass circle. Mufflers are recommended. The field is not open to the public on a drop-in basis.
Orchard Point County Park: The Eugene Prop Spinners have a permit to fly during the winter months at a Lane County park alongside Fern Ridge Lake, west of Eugene. Flying is allowed at the park from November through April when a club member is present to open the gate. Guests are welcome; all fliers must be AMA members and have a valid Lane County parking pass. Facilities include up to two grass circles, picnic tables and portable restroom. Mufflers are recommended. E-mail the Eugene Prop Spinners for upcoming scheduled flying dates and for information about how to get a discount parking pass. The field is not open to the public on a drop-in basis.
Directions to the site: From Highway 99 in west Eugene, take Clearlake Road west to Orchard Point County Park. The park has two entrances. The first entrance you come to, the north entrance, is closed to the public from November to April -- the Prop Spinners have the combination to this gate and use this entrance to get to the flying site. You also can use the south (marina) entrance, but it is a longer walk to the flying circles.
Florence, Ore.
Siuslaw Middle School: Control-line flying is allowed at this field from 10 a.m. to 2 p.m. on Saturdays and Sundays when the field is not being used for school-related events. This field is sponsored by the Eugene Prop Spinners and the local contact is Russ Hester. The flying site has room for several grass circles. It is recommended that anyone planning to fly at this site contact Russ Hester for current information.
Directions to the site: Coming into Florence on Highway 126, turn north (right) on Highway 101; turn left on 27th Street and take the second driveway past Oak Street into the Siuslaw Middle School parking lot. Follow the parking lot south to the field behind the brick middle school. The flying area is the grass field to the south of the football stadium. Map of school area showing flying field is at right.
McMinnville, Ore.
This site is no longer available for control-line flying as of May 2019. DeAlton-Bibbee Field: The model flying field is at the Evergreen Aviation Museum, home of the Spruce Goose and many other historic aircraft. There also is a radio control flying field and a picnic area. These are maintained by The Evergreen Aero Modelers club. From the North, take Highway 99W from Portland, but you need to turn left onto Highway 18 a few miles north of the flying site. From Salem take Hwy 22 across the Willamette River, then right (north) on 99W, then a right onto 18 just before McMinnville. The control-line site is north of the aerospace museum. It is available for club member use. Yearly dues are $20. You can join the club by attending a meeting and submitting an application form with a copy of your AMA card. Club meetings are on the second Thursday of each month at 7 p.m., either at the flying field or at the space museum building. Folks considering joining TEAM should be aware that club members are expected to assist with museum educational programs, student flying camps, and other activities that promote the aviation instruction mission of the museum. Also club members will be asked to help with field mowing and adminstration of club events and contests. For more information, see The Evergreen Aero Modelers website.
Oregon City/Estacada, Ore.
McIver State Park: The model flying field is located in McIver State Park outside of Estacada. It is run by the Fun Flyers, AMA 1404. The club is primarily RC, but they have a grass control line circle and happily tolerate control line flying. The park management is noise sensitive, so please run only muffled engines. A day-use pass is required by the park. To find the field, drive down the entrance road to the first stop sign and take a left (to the "North Day Use Area"). You'll go down a moderately steep hill. When the hill levels out a bit watch out on the right for a pull-out with a gate and a gravel road leading into the trees -- take that road to the end, and you'll find the field.
SITE USE UPDATE AS OF JUNE 9, 2017: The Fun Flyers RC club has moved its field to Molalla. The McIver field is currently available for club members and guess to fly on weekdays only; the club is working on making it available on weekends. Visitors by arrangement. For information, contact Tim Wescott.

Portland, Ore.

East Delta Park: From I-5 just south of the Columbia River, take the East Delta Park exit, #306b. Follow signs to East Delta Park, about 1/4 mile after exit. This will deposit you right at the control-line flying area. There is one asphalt circle and room for two or three grass circles.
Roseburg, Ore.

Sunshine Park: A city park consisting of five baseball fields kept mowed year-around and open to control line flying when not in use for baseball. Public restrooms, bleachers, electric outlets in central gazebo. Use the main entrance for fun large groups and the lower entrance normal flying days.
Directions to Sunshine Park: From Roseburg east on Diamond Lake Blvd (Hwy 138) -- All the way out past Phoenix School and Les Schwab Tire warehouse. Normal flying: Go past the main entrance to the baseball park at Sunshine Park about 100 yards. Turn left at the sawmill log yard entrance and go through the big yellow gate. Turn left down through the chain link fence gate into the baseball park. NOTE: For events or on days when the log yard gate is locked we go in the main entrance and fly up there.
Questions? Lost? Bob Lewis cell phone: 541-537-0061
Salem, Ore.

Bill Riegel Model Airpark: This field has one asphalt circle, one grass circle, and a storage building. It is right at the Salem Airport terminal. From Interstate 5, take exit #253, Hwy.22 / Mission St. SE / Airport and head West. Do NOT turn on Airport Road. Turn left on 25th St.(West side of airport) and left again on Madrona, into the airport. You will see the flying area before you get to the turn at Madrona.
Seattle, Wash., area
This site is no longer available for regular control-line flying as of late 2016. Auburn Municipal Airport: Also known as Scobee Field. Vehicle entrance is at the southeast end of the airport, security card required, or the "man gate" at the south end next to the hotel. The gate has a cypher lock to enter from outside. Access is limited to Northwest Skyraiders and guests. Guests must be accompanied by a club member. AMA membership and mufflers or electric power is required. No flying before 9 a.m. or after 8 p.m. Contact a member of the Northwest Skyraiders for visits from out of town.
Carkeek Park, Seattle:
On April 24, 2017, Flying Lines recieved the following notice by email from the city of Seattle: Could you please remove Carkeek Park from your listing of sites where model airplanes can be flown? At this time, flying model airplanes is not allowed at Carkeek or any other Seattle parks. The notice was signed by Laurie Dunlap of the Superintendent's Office, Seattle Parks and Recreation.
Riverwalk site, Kent: It is easily accessible from Highway 167, Willis Street Exit. Head West, take left onto West Valley Hwy./Washington Street, and left again. From I-5, take Kent-Des Moines exit, head East to West Valley/Washington St., turn right, then immediate left. Click here for map to Riverwalk site.
Tri-Cities, Wash.
TRAC stadium complex: This field at a baseball stadium serves the Richland-Pasco-Kennewick area. More information to come.
Vancouver, B.C. area

Upper Coquitlam River Park, Coquitlam, B.C.: This two-circle CL flying site at 1795 Pipeline Road, which shares a park area with a radio-control runway, is about 40 minutes from the U.S. border's Sumas crossing. Directions to the site starting from Lougheed Highway in Coquitlam: Turn north on Pine Tree Way, then right on David, then left on Pipe Line Drive. Go about two miles, just after the second gravel pit, to the flying site on the right.

Rice Mill Road site, Richmond, B.C.: If you are coming from the U.S., stay on #99, the Canadian extension of I-5, and go about 14 miles north of the border to the Massey Tunnel. Get in the right lane just before the tunnel. The tunnel goes under the river. You take the first exit after the tunnel to Steveston Hwy. Go left (west) on Steveston, over the freeway then take the first left onto No. 5 Road. The 3rd left is Rice Mill Road. About 400 yards down on the left is the flying site. Park beside the road with the other cars. This is due west of the (99) on the freeway on the map and about dead center in the map. At the U.S. border, usually "Truck Customs" is where the lineup is shorter. Watch for the sign as you approach Blaine. Once you are through Customs, go about a mile north on 172nd St (aka Pacific Hwy) and turn left at the first stop light, 8th Ave. This takes you back to the #99 freeway.
This page was upated Nov. 1, 2020