Favorite control-line photos
We have the Favorite Planes section for photos of airplanes, we have the Northwest CL People page for pictures of control-line modelers, and we have the various news articles full of competition photos. But some pictures don't fall into any particular category.
That's what this page is for -- control-line modeling-related pictures that don't fall into any particular category, but just need to be seen. We will be adding photos to this page gradually over time, so keep checking back.
As always, submissions of photos are welcome. Just send them to the editor.
Wild racing action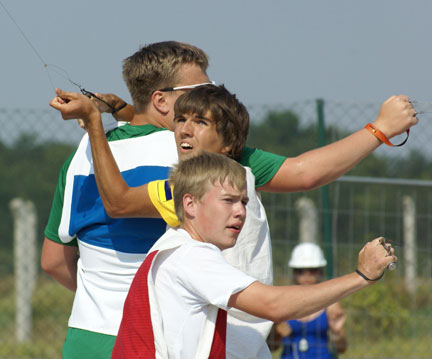 Charlie Johnson captured some excitement in the center of the racing circle at the European Championships in Hungary in 2013. This is the Junior F2C final. Charlie says, "It pays to be big. Moose-size Polish pilot was about three times the size of the Russian. Amazingly all three made it down safely with the white pilot actually landing the plane behind his back and still tangled up with the Polish kid." Charlie Johnson photos.
Sunset at the flying field
What could be more beautiful to a control-line modeler than a pretty plane on the flying field at sunset? This photo was sent in by Rodrigo Mansano of Londrina, a city in the state of Paraná, Brazil, in May 2020. Rodrigo started flying when he was 13; he is now 47 and still loves control-line flying. He says his local area is experiencing a boom in CL flying. Because of the pandemic, the local government closed the regular flying field, so the modelers moved their flying to this grass area. Rodrigo Mansano photo
Flying lesson!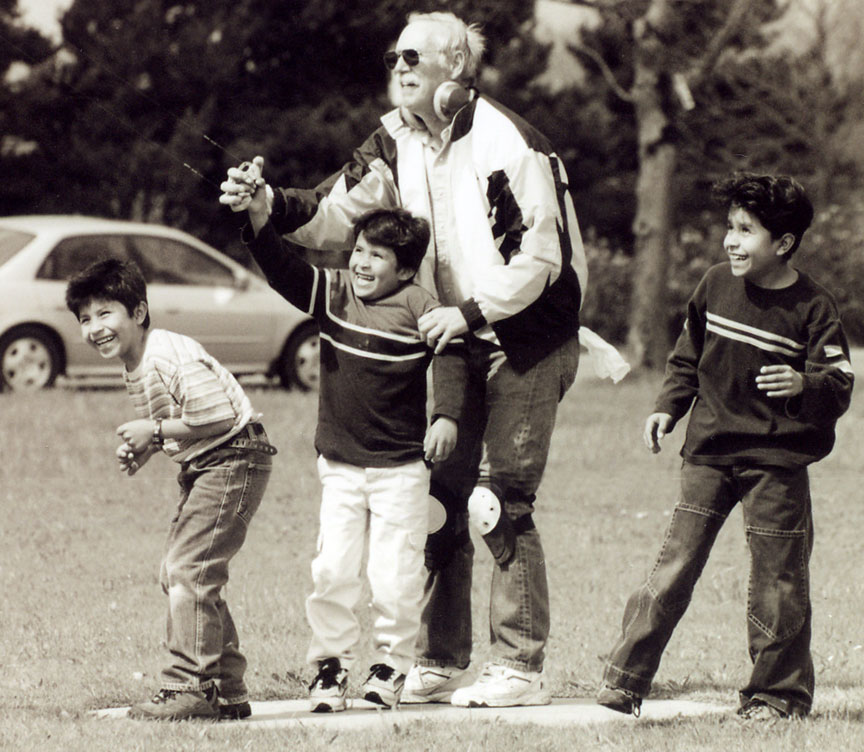 This is one of the FL editor's all-time favorite CL photos. Mac Ryan of Burbank, Wash., gives a flying lesson to some youngsters who happened by Bill Riegel Model Airpark in Salem, Ore., during a summer racing contest in (approximately) 2006. Now, are they having fun yet? Flying Lines photo.
An idyllic CL scene: An S-1 Ringmaster resting in a bed of newly sprouted grass on a backyard flying field. It's Mike Hazel's Zoot Ranch, where the removal of two large trees expanded the circle to accommodate up to 70-foot lines. In the background is a horseshoe pit backstop. Photo at right shows more of the Zoot circle with the ranch house in the background; that's Dave Shrum flying his Coon Dog at the 2017 Zoot Ranch Fun Fly. Mike Hazel photo
---
This page was upated May 19, 2020