Precision Aerobatics planes await action as the judges, far right, observe a flight at the 2017 Stunt-a-Thon. Dave Gardner photo.
Stunt-a-Thon 2017
June 24-25, 2017, Chehalis Airport, Chehalis, Wash.
By Dave Gardner
Saturday: Bright early, strong wind, turning to a hot stunt day, 95°F Max, with winds diminishing later.
Sunday: Bright and clear, moderated wind, with temps rising to high 90's.
Pit Bosses: Steve Helmick, Doug Oertli … and other field assignments.
Tabulators: Colton Lutz, with assistance from assistants!
At five folks, the turnout was the lightest EVER for this legacy contest.
(At the first annual event at Delta Park in 1981, we had 12 entries, but only the four basic precision aerobatics events for a one-day event. There was some guy named Walker, who won Expert with a 561.5! We did, however, have a special midday feature with Frank Macy's tribute to Jim Walker, recognition of the Jim Walker family and Fireball flying).
Contestants came from Washington and British Columbia. We had five entrants flying in two events, with a total of eight event entries. The Saturday schedule had NO Old-Time Stunt or Classic Stunt entries, with Profile being combined to one event. The Sportsman 40 Carrier Event was not flown due to lack of interest/entries.
On Sunday, appearance judging was moved to judging on the starting line, for an effective use of the available time.
We had NO Beginner, Intermediate or Advanced PA fliers. Expert skill class had five of the usual contenders/suspects. The overall level of flying in the Northwest continues to improve, but control line flying seems to be in decline! Compared to previous years, we've lost quite a few of the usual contenders, with some of the remaining folks seeming to cut back their activity.
(EDITOR'S NOTE: It's possible that the weather-related change of date to June 24-25 shortly before the originally scheduled June 10-11 weekend had an effect on entries. We know of at least one participant who was not able to attend the substitute date.)
Most of the places were hard flown, with close separation of places and all the flyers were in the high scoring range of their respective classes.
The scores for each event are listed, with scores from both rounds of the stunt events noted, with the high score highlighted. Note that most of the scores were very consistent, round to round.
First through third place awards were photo based framed certificates, with the individual flyer's photo inserted into the 8-1/2 x 11 framed awards, nicely done as usual.
As a closing gesture, Mike Haverly volunteered his RingRat 250 for CD Dave Gardner to get in a couple of lower-key flights. Not too bad for a rickety 79 year old geezer!
At the end of the day, a cooperative group took down all the barriers, dropped all the canopies, put all the competition gear away, and headed to Wendy's, prior to getting on the road to home, after a satisfying fairly low key contest / fun fly!
Stuntathon 2017 Results (Northwest standings points in parentheses):
OLD-TIME STUNT (0 entries)

CLASSIC STUNT (0 entries)

PROFILE STUNT (3 entries)
1. Fred Underwood, West Linn, Ore. -- 520.5/495 (3)
2. Dane Covey, Tacoma, Wash. -- 415.5/490.5 (2)
3. Jerry Eichten, McMinnville, Ore. -- 394.5/406.5 (1)
Judges: Pete Peterson and Steve Helmick

BEGINNER PRECISION AEROBATICS (0 entries)

INTERMEDIATE PRECISION AEROBATICS (0 entries)

ADVANCED PRECISION AEROBATICS (0 entries)

EXPERT PRECISION AEROBATICS (5 entries)
1. Paul Walker, Deer Park, Wash. -- 605.5/617 (7.5)
2. Chris Cox, Delta, B.C. -- 599/593.5 (6)
3. Mike Haverly, Auburn, Wash. -- 525/552.5 (4.5)
4. Mark Scarborough, Pullman, Wash. -- 504.5/514.5 (3)
5. Tim Wescott, Oregon City, Ore. -- 511/503
Judges: Pete Peterson and Bruce Hunt
More photos from Stunt-a-Thon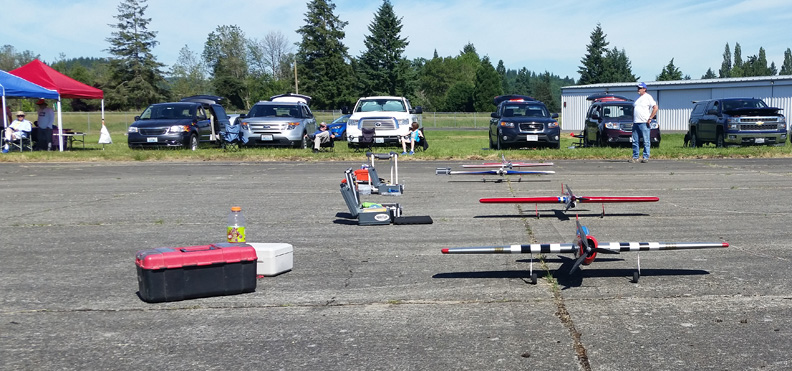 The lineup of Precision Aerobatics airplanes. Tim Wescott photo.
Paul Walker with his P-47, first place in Expert Precision Aerobatics. Dave Gardner photo.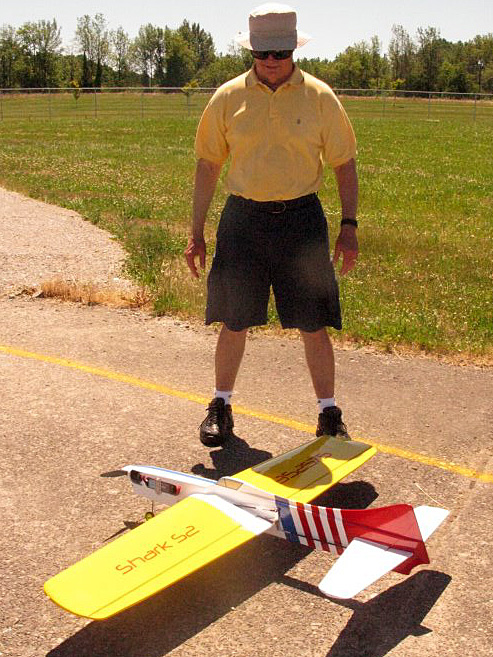 Fred Underwood, first place in Profile Stunt. Dave Gardner photo.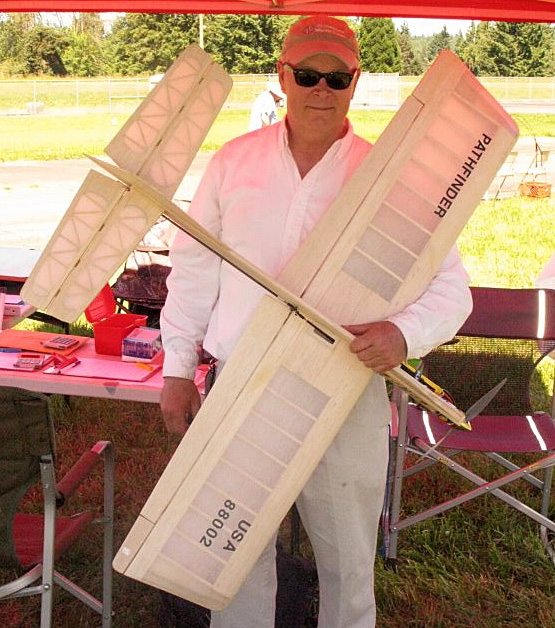 Dane Covey with electric Pathfinder. Dave Gardner photo.
Jerry Eichten returned to action -- welcome back, Jerry! Dave Gardner photo.
Mike Haverly with Chipmunk. Dave Gardner photo.
Mark Scarborough with Paul Walker-built plane. Dave Gardner photo.
Mark Scarborough flies the Eagle. Tim Wescott photo.
Tim Wescott with another Walker-built. Dave Gardner photo.
Chris Cox with Defiant. Dave Gardner photo.
Results of this contest are included in the Northwest Competition Standings.

---
This page was upated July 3, 2017