The 2017 Northwest Control-Line Regionals
Roseburg, Ore., May 26-27-28, 2017
Paul Walker (left) and David Fitzgerald closely examine Jim Aron's Feno during appearance judging for Classic Stunt. Flying Lines photo.
Outstanding weather and competition at the 46th Regionals
The Regionals came to Roseburg for the third year in a row and the contestants went home happy after a delightful three days of fine weather, fine flying and friendly, world class competition.
The control-line fliers were welcomed once again by the city of Roseburg, taking over much of the Roseburg Regional Airport, the Windmill Inn motel and several local restaurants. When it was all over, plans immediately got underway for the 47th Regionals in Roseburg on Memorial Day 2018.
The work of putting on the Regionals was handled by the Eugene Prop Spinners, the Umpqua Valley Modelers, Roseburg area control-line fliers and many individuals who volunteered as event directors and workers.
Fifty-eight individuals showed up as contest entrants, down slightly from the 2016 event. The contestants accounted for 158 event entries.
Former world and national champion Paul Walker again emerged from a world-class field to capture the Regionals Expert Precision Aerobatics championship, flying his electric-powered P-47 to a 1-point victory over former world champion David Fitzgerald. Walker's plane also captured the Concours d' Elegance trophy for the most beautiful Stunt plane. In the hotly contested Combat category, Jeff Rein won three out of the four events.
Field setup and teardown was again under the direction of Eugene Prop Spinners President Mike Denlis, with strong worker support from the Prop Spinners and the Umpqua Valley Modelers and Roseburg control-line fliers, along with a number of contestants on Thursday and Sunday. Events were directed by Howard Rush (aerobatics); Gene Pape (Combat); Mike Potter (Navy Carrier); Doug Powers and Richard Entwhistle (Racing); Walter Hicks and Mark Scarborough (Scale); and Will Naemura (Speed). Barbara White kept the registration booth running smoothly all weekend, and Richard Entwhistle hauled the carrier deck to the site and away again.
Excellent food was provided again by the Idleyld Lodge, and the accompanying snowcone booth was a welcome addition for the 86-degree days.
There were no serious crashes or injuries except for one frightening incident when California flier Dennis Nunes suffered a heart attack on Friday. Emergency crews responded quickly and Dennis was treated at the local hospital and was back on the field by Sunday afternoon, with all the contestants wishing him a full and speedy recovery.
As began in 2016, the contest offered trophy plaques for all contestants, plus huge grand championship trophies in all events. A huge array of high-quality merchandise prizes was given away on a "door-prize" system, so every contestant came away with a good prize, win or lose. Feedback was good about this system, begun in 2016.
The trophy and merchandise prizes were made possible in part by generous donations from Regionals contestants and supporters.
Trophy sponsorships were: Aerobatics Grand Champion, Tom Brightbill; Combat Grand Champion, Jim Green; Navy Carrier Grand Champion, In Memory of Wayne Spears; Racing Grand Champion, Northwest Fireballs; Scale Grand Champion, Umpqua Valley Modelers; Speed Grand Champion, In Memory of Dick Salter; Concours d' Elegance, Paul Walker.
Donating merchandise prizes or cash for the purchase of prizes were: Jim Aron, Burt Brokaw, Eric Conley, Mike Conner, Chris and Joan Cox, Fred Cronenwett, Pete Cunha, Dave Gardner, Brian Massey, Eugene Toy & Hobby, John Knoppi, Doss Porter, Jerry Rocha, Gerald Schamp, Lanny Shorts and Louise Spears.
Elsewhere on the Flying Lines website, see updated Northwest standings, Northwest records and Regionals records.

Paul Walker's P-47 captured the coveted Concours d'Elegance award for aerobatics airplanes at the 2017 Regionals. The award for the best-appearing stunt plane is chosen by a ballot of the pilots and judges. Flying Lines photo.
Combat director's report
By Gene Pape
Wow! Third year for the Regionals in Roseburg already! First off, Buzz Wilson, Lane Puckett, and Lee Letchworth, we missed you. Because you weren't here, the Californians outnumbered the northwest flyers 6 to 4. I don't believe that has ever happened before. Returning after a long absence were Mike Rule and Jim Schneider. I hope they, and the rest of you, enjoyed the contest enough to come back next year. I know I did. We had a total of 12 people in combat this year and most people flew all events.
Combat started at noon on Friday with 7 entries in .15 Fast. In nearly any other part of the country, this would have been the most highly attended of the events we flew. Here, it drew the lowest number. Jeff Rein gave us a preview of most of the rest of the contest by winning. He was followed by Don Jensen in second. Don consistently flew some of the best matches seen in the rest of the contest, only to have this be the only event he placed in. Pete Athans, was third.
Saturday was as hectic as Friday was laid back. 1/2A drew 11 entries to start the day. It took seven rounds for Jeff Rein to finally emerge the winner. Robert Smith had to settle for second, with Mike Rule third.
Photo: Don Jensen (left) and Doss Porter mix it up in 80 mph Combat. Flying Lines photo.
1/2A ran until 2 in the afternoon which caused 80 mph to start later than I wanted. Because of that, I dropped out of that event to try to catch things up so Fast could start on time on Sunday. That worked out just fine for me. I was treated to some of the best combat I've ever seen. The most memorable matches were the match between Doss Porter and Don Jensen and the match between Doss Porter and Jeff Rein. Both of these were the kind of matches where both competitors don't walk away thinking "wow, I won" or "Darn, I lost." They all walked away thinking "What an awesome match."
We managed to finish the third round by about 6 so. By starting 80 mph again at 8 on Sunday morning, we were back on schedule. In the end, Jeff Rein again walked away the winner. Jim Schneider, who Bob Kerr badgered into flying his equipment because he (Bob) had aggravated his back earlier in the day and who hadn't flown a combat model in 20 years placed second. Doss Porter rounded out the top three.
Fast on Sunday drew nine competitors. Jeff Rein's streak stopped in the third round when a brand new model folded in the first maneuver. Careful examination by several different people could come up with no cause. Both spars and their carbon fiber reinforcing just snapped in half. The next strange occurrence came as I prepared for my next-to-last match. While I was fueling I noticed my prop wasn't clocked quite properly. I assumed the prop must be loose. When I put the prop wrench on the nut, the whole front of my Nelson crank came off. After a quick engine change, I was able to beat Doss Porter which gave him third place. Mike Rule beat me in the next match to win the event leaving me second.
All in all, it was a very busy and enjoyable two and a half days of combat. Many thanks to all the people who helped with judging including several members of the Umpqua Modelers, Tom Brightbill, Gary Harris, Doug Powers and Jeff Rein who filled in as event director when I flew.
Click on results chart below for larger view

---
Regionals Photo Gallery
A random selection of scenes from the 46th Regionals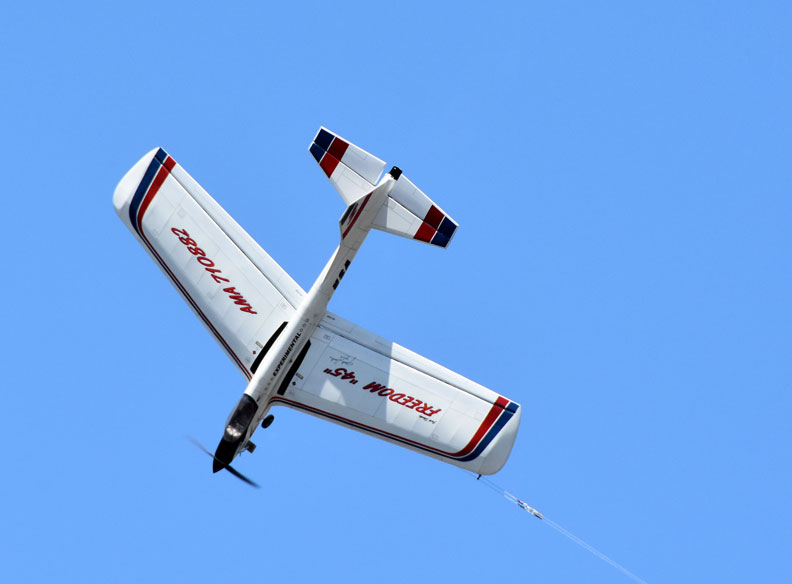 Mike Haverly's Freedom 45 an official flight in Classic Stunt. Flying Lines photo.
Scale got a lot of attention at the 46th Regionals as interest in the event seems to be growing. Above, John Wright stands behind his plane during static judging as judges Walter Hicks (left) and Mark Scarborough consult. Flying Lines photo.
The Roseburg area control-line modelers put up several displays for the enjoyment of fliers and spectators. This is their show of all the models built from Veco kits. Flying Lines photo.
Two MO-1 Navy Carrier planes stacked up and ready for action. Flying Lines photo.
Barbara White discusses a registration matter with contestant Dave Shrum at the registration tent, the contest's nerve center. Flying Lines photo.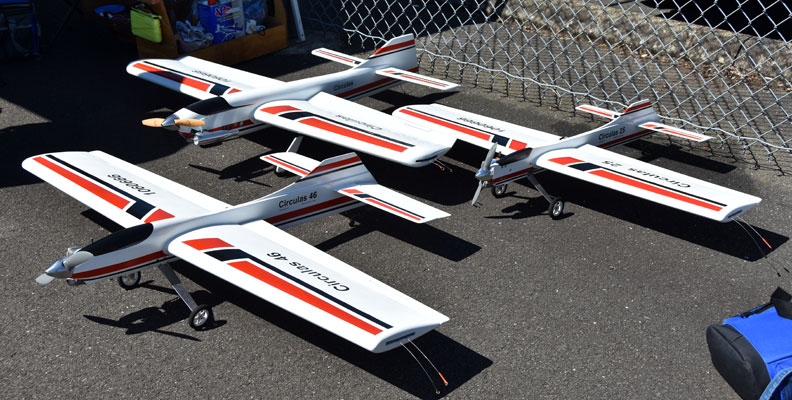 Dennis Nunes brought a trio of identically finished stunt planes for all the events. Dennis suffered a heart attack on Friday during his Intermediate Precision Aerobatics flight, but was doing well by Sunday after treatment at a local hospital. Oh, and his flight was a winner. Flying Lines photo.
There are lots of classes in the Speed category, meaning some teams bring a big fleet. Flying Lines photo.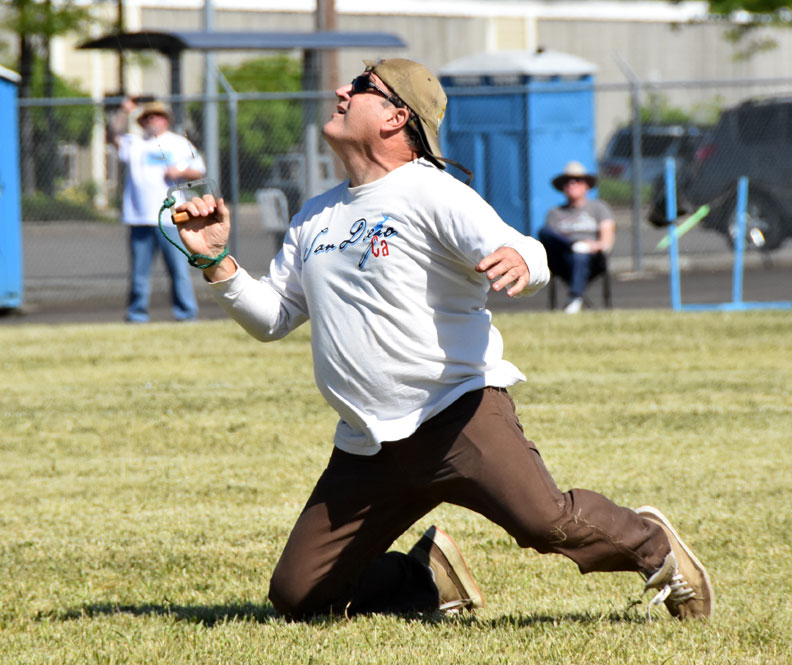 During a Combat match with Robert Smith, Andrew Prior got knocked to his knees. No problem; Andrew kept the plane under control, got up and resumed the match.. Flying Lines photo.
Paul Walker flies his P-47 to a one-point victory over David Fitzgerald in Expert Precision Aerobatics. Flying Lines photo.
The Northwest Flying Clown Race feature race started right off with a mishap, so pilot Bob Kerr waits out the race on the ground while Ken Burdick (center) and Mike Hazel drive their planes home. Flying Lines photo
Pat Johnston's Shark for Classic Stunt is decorated in the appropriate scheme. Flying Lines photo.
Floyd Carter brought two versions of his Wildman for Old-Time Stunt. The box is the RSM kit of the Wildman. Flying Lines photo.
Another of the Umpqua Valley Modelers' displays, this one devoted to the little 1/2-A airplanes. That's Bob Lewis in the booth. Flying Lines photo.
Speed legend John Newton heads to the circle. Flying Lines photo.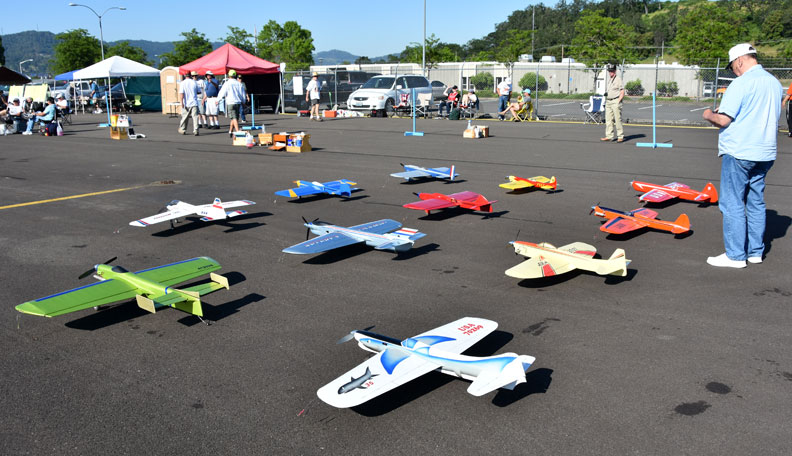 Classic Stunt planes on display for appearance judging. Dave Royer gets a photo. Flying Lines photo.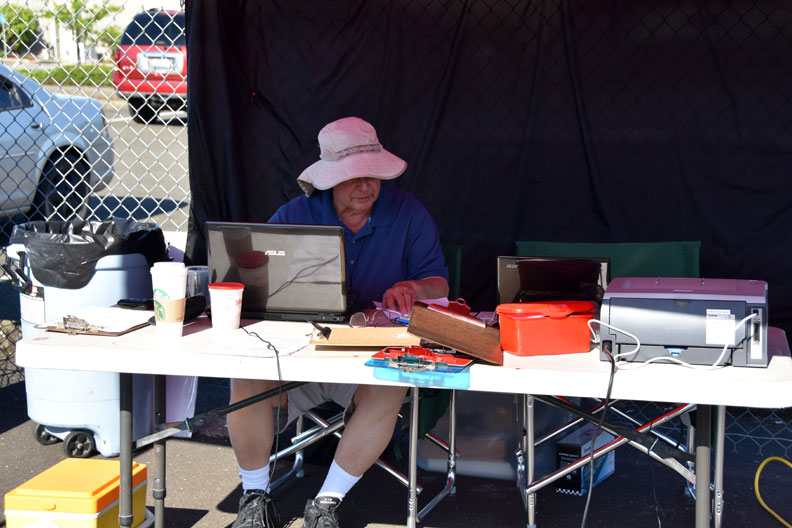 Hardest working, highest-tech man in Stunt, Event Director Howard Rush tabulates scores. Flying Lines photo.
Not all the pretty planes are in Stunt. These are two .21 Proto Speed planes. Flying Lines photo.
In most Northwest contests, pilots start their own engines. That means they have to run to the handle to get the first-up advantage. This is the start of a match between Doss Porter (left) and Don Jensen. Flying Lines photo.
The Louie-Louie Speed Team, Mike Hazel (left) and Ken Burdick. Flying Lines photo.
Bob Harness' Thunderbird captured in a Classic Stunt flight. Flying Lines photo
Combat judges at work: Event Director Gene Pape is flanked by Gary Harris (left) and Roger Hebner. Flying Lines photos.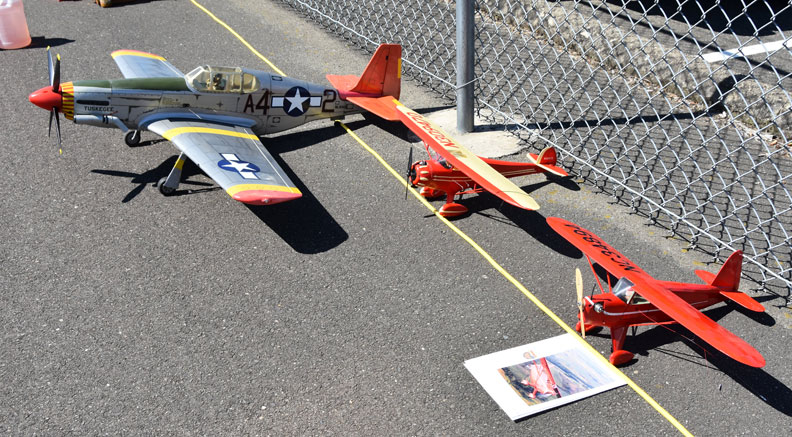 Some of the Scale planes await judging. Flying Lines photos.
Mike Rule launches a 1/2-A Combat plane. Flying Lines photo.
Start of a Northwest Sport Race heat: Plane on the left is away from pitman John Knoppi while Mark Schluter works on getting the plane on the right started. Flying Lines photo.
Fast Combat is the top-gun Combat event. The top three was (from left) Mike Rule, Gene Pape and Doss Porter. Gene Pape photo.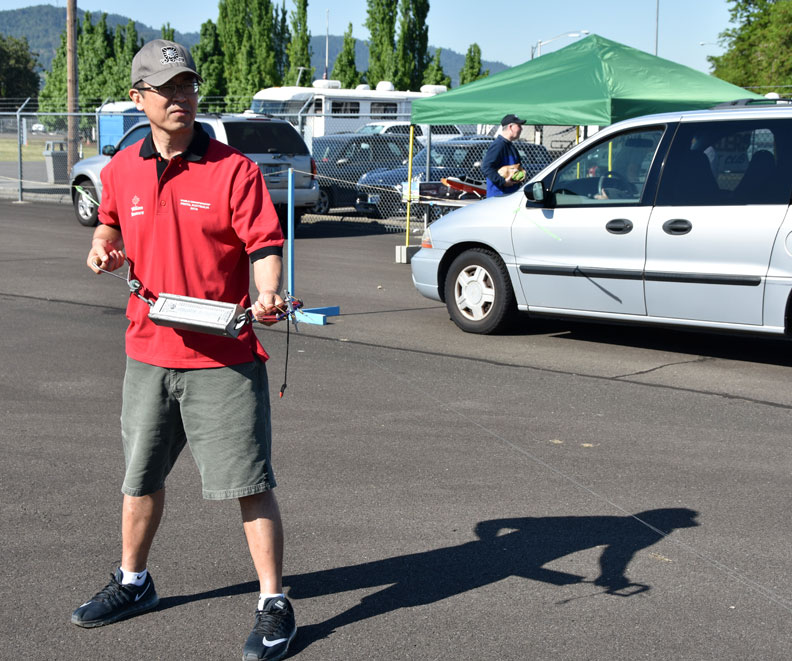 All control-line competiton aircraft are subject to control system pull tests. Here, Speed Event Director Will Naemura prepares to administer a pull test. Flying Lines photo.
Lots of planes lined up for action in the Navy Carrier pits. Flying Lines photo.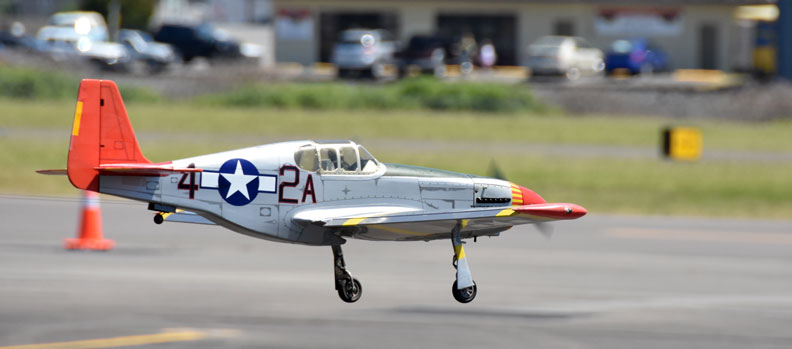 Burt Brokaw's P-51C makes a flight in Fun Scale. Flying Lines photo.
Shade canopies line the Combat pits. Shade was a necessity with sunshine and temperatures in the 80s. Flying Lines photo.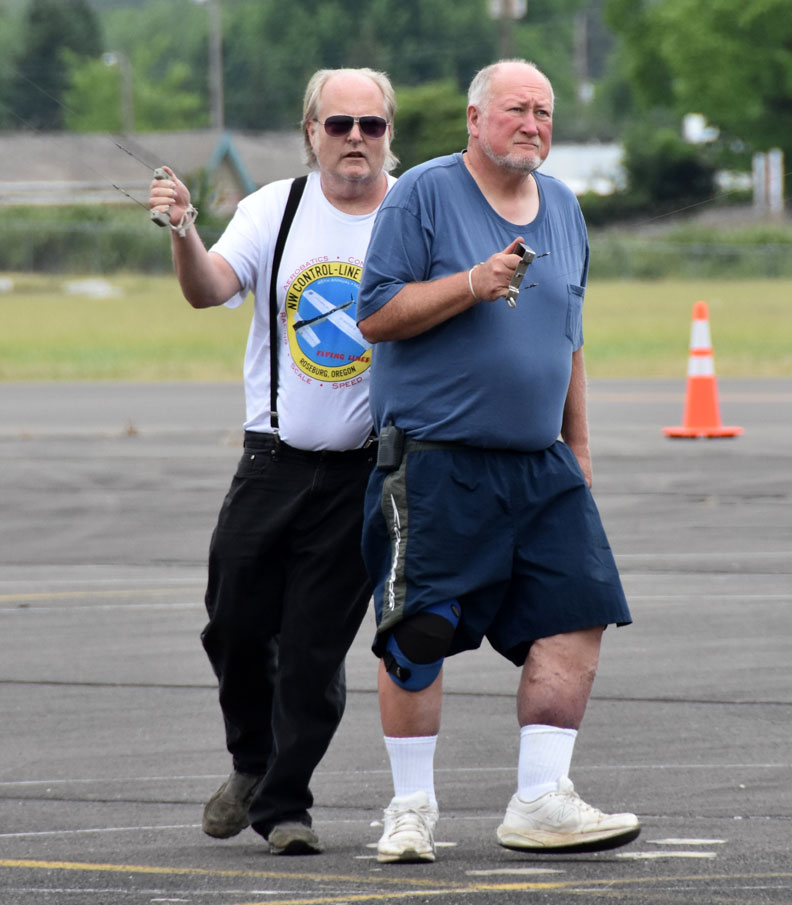 Alan Hoffman (left) and Mike Hazel pilot a race. Flying Lines photo.
Combat planes in action -- looks like a cut is coming. Jim Corbett photo.
The crew starts the engine of Jerry Rocha's .21 Proto Speed plane. Flying Lines photo.
Dave Shrum tunes the engine on his Carrier plane as Jim Schneider holds. Flying Lines photo.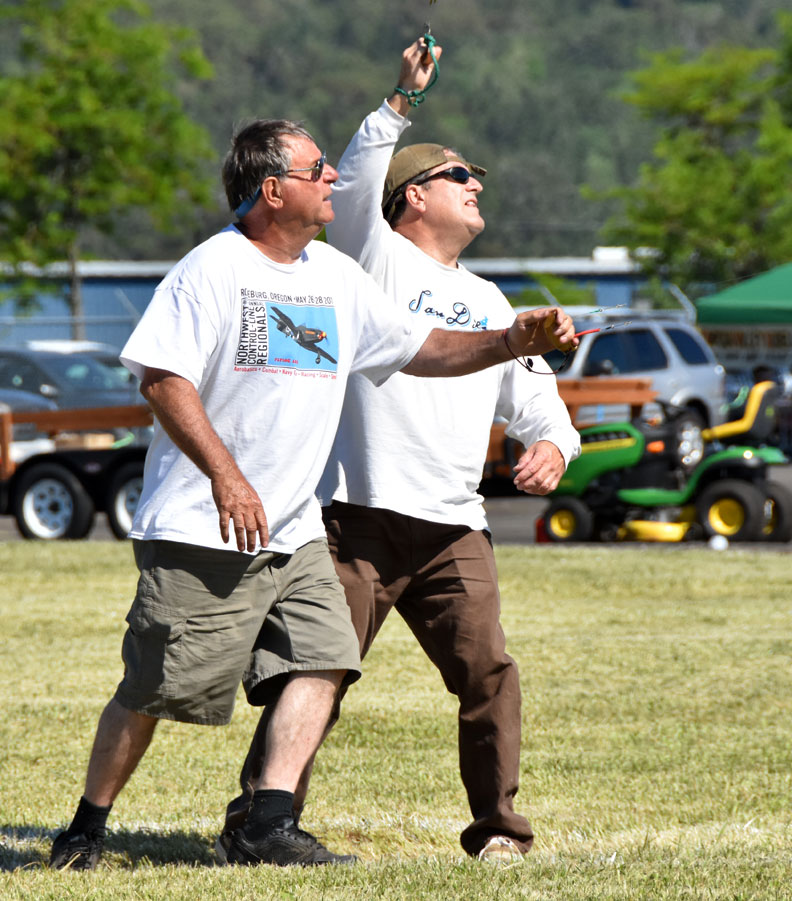 Robert Smith (left) and Andrew Prior mix it up in Combat. Flying Lines photo.
Navy Carrier timers watch a flight. At center behind the pole is Event Director Mike Potter. Flying Lines photo.
One weekend's worth of Combat planes. This is Gene Pape's fleet. Flying Lines photo.

Judge Tim Wescott and Dave Gardner scruitnize planes during appearance judging for Precision Aerobatics. Flying Lines photo.
Event directors Doug Richard Entwhistle (foreground) and Doug Powers (seated in background) oversaw the Racing events. Flying Lines.
Jim Green (left) and Gary Harris duke it out in Combat, as pitman Doss Porter watches. Flying Lines photo.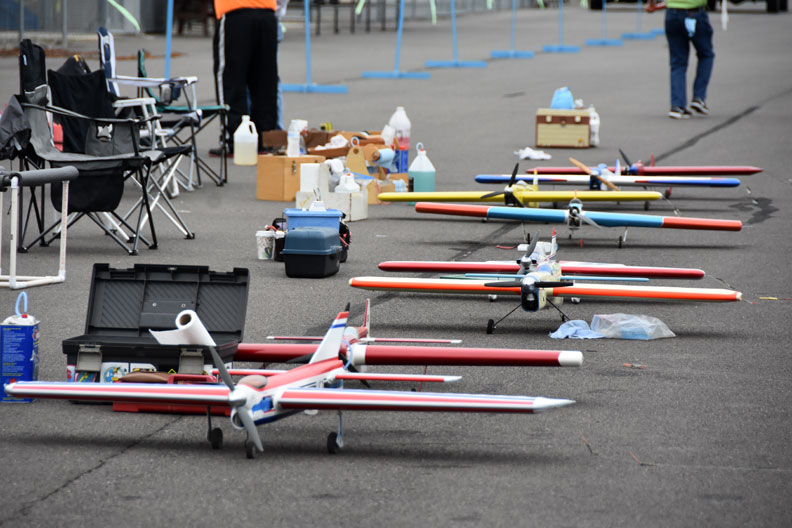 Some of the planes awaiting fights in the Precision Aerobatics pits. Flying Lines photo.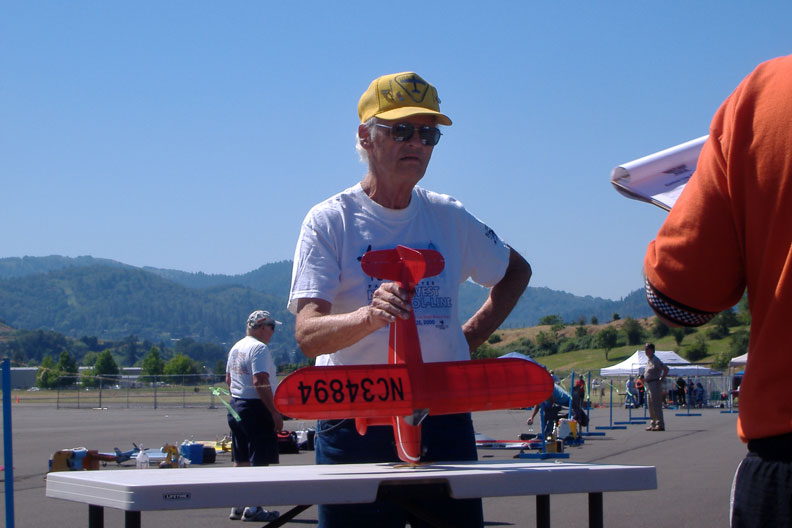 Dave Shrum shows one of his planes to the Scale judges. Bob Lewis photo.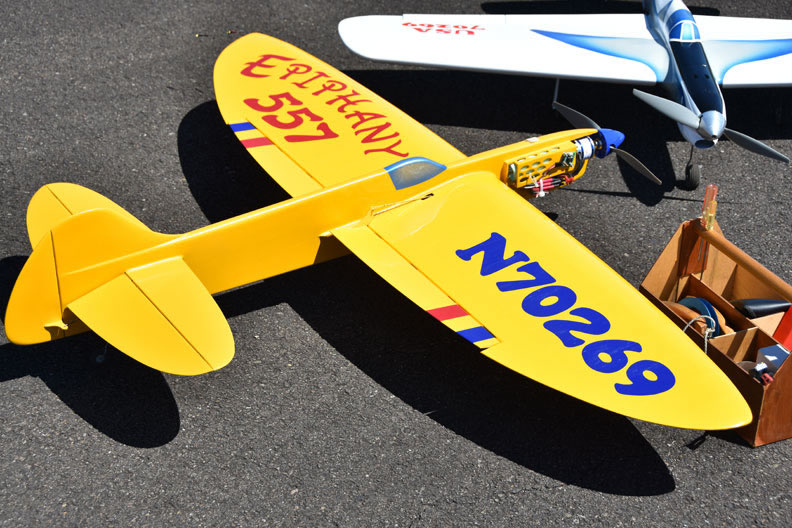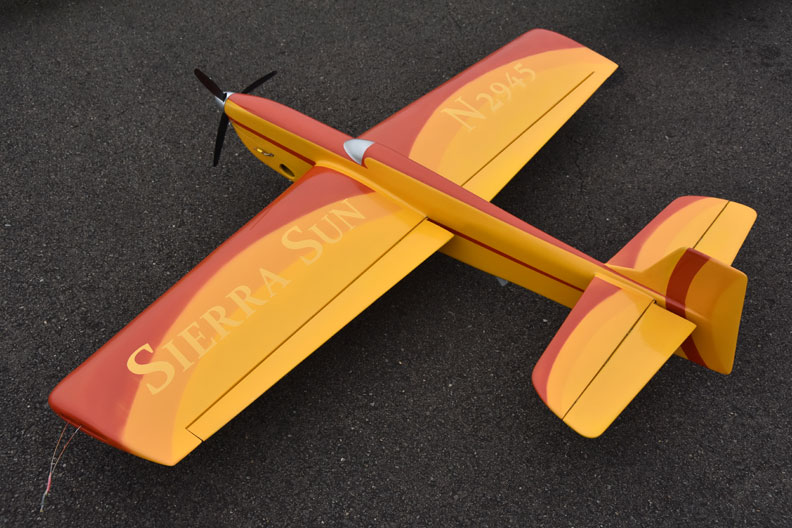 Left: Pat Johnston's Epiphany electric profile. Right: Lanny Shorts' Sierra Sun. Flying Lines photos.
Note: click on the airplane photos for a larger image.
Left: Jim Rhoades' Apteryx. Right: Bob Harness' Stratus. Flying Lines photos.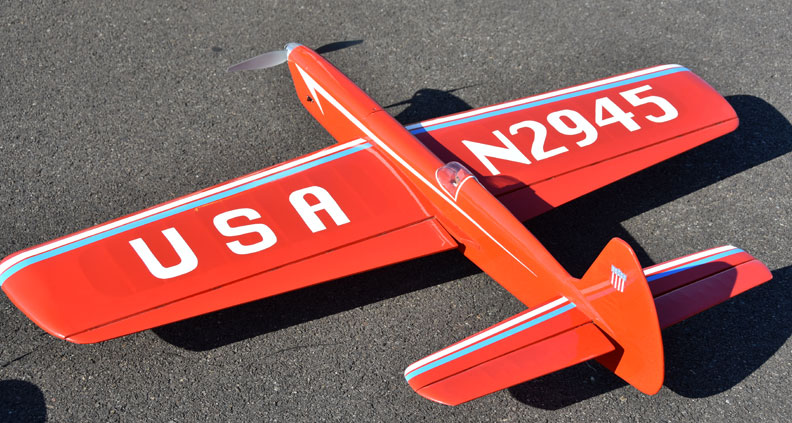 Two Classics: Lanny Shorts on left and Pete Cunha's on right. Flying Lines photos.
Left: Bob Harness' Thunderbird. Right: David Fitzgerald's Thunder Gazer. Flying Lines photos.
Left: Brett Buck's Infinity. Right: Jim Aron's Systrema. Flying Lines photos.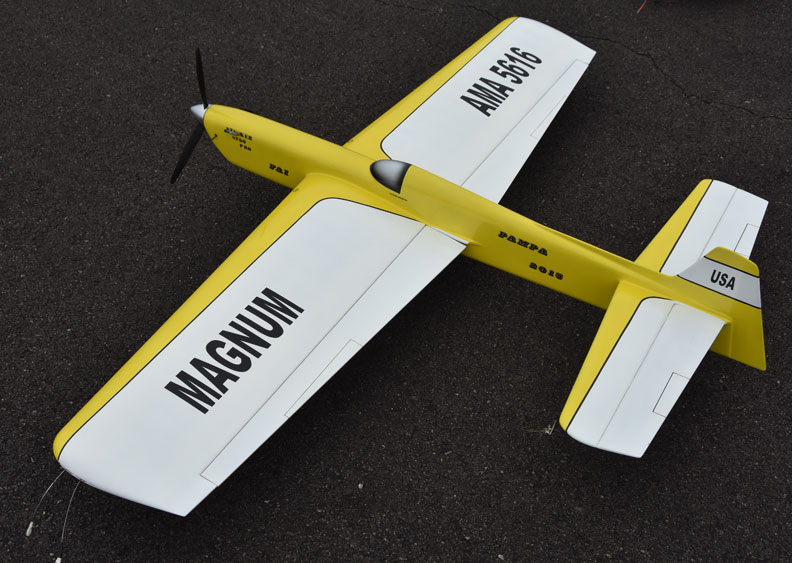 Left: Dave Royer's Magnum. Right: Mike Haverly's Chipmunk. Flying Lines photos.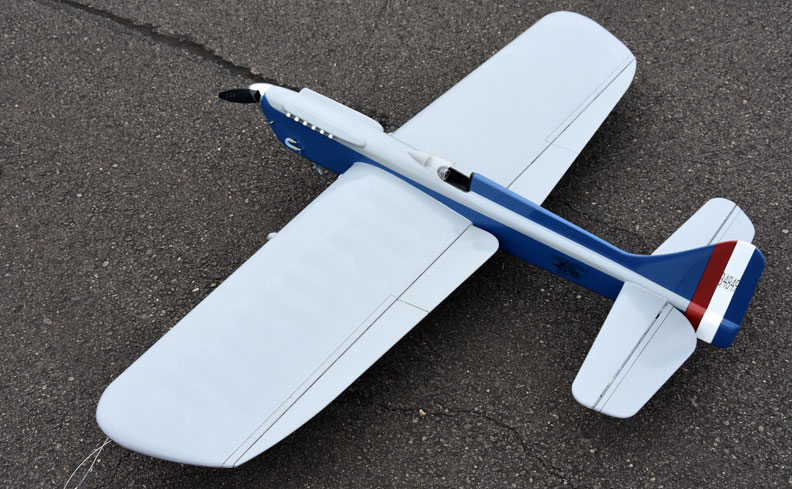 Left: Tom Brightbill's O'Toole Tucker. Right: Mike Massey's Legacy. Flying Lines photos.
Left: Marshall Palmer's Skipjack. Right: Chris Cox's Defiant. Flying Lines photos.
Two approaches to Navy Carrier. Flying Lines photos.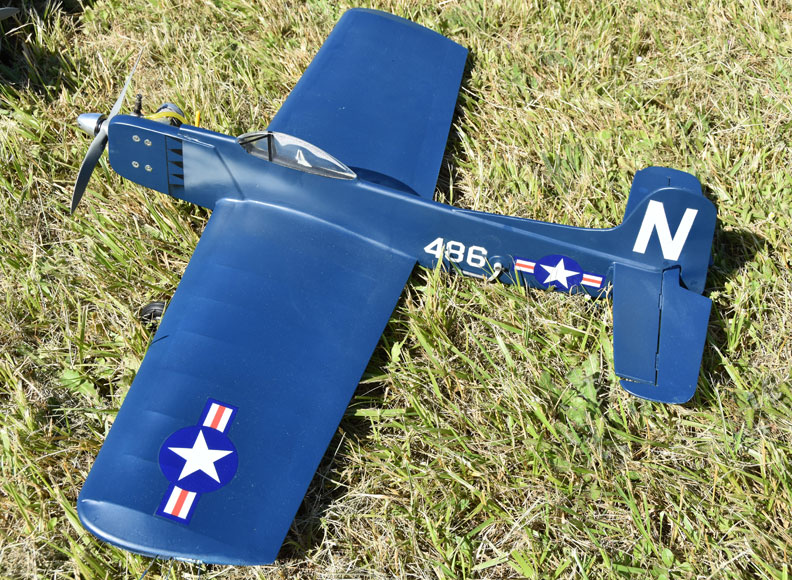 This Navy Carrier plane is brand new by Mike Potter. It's a Martin Mauler. Flying Lines photo.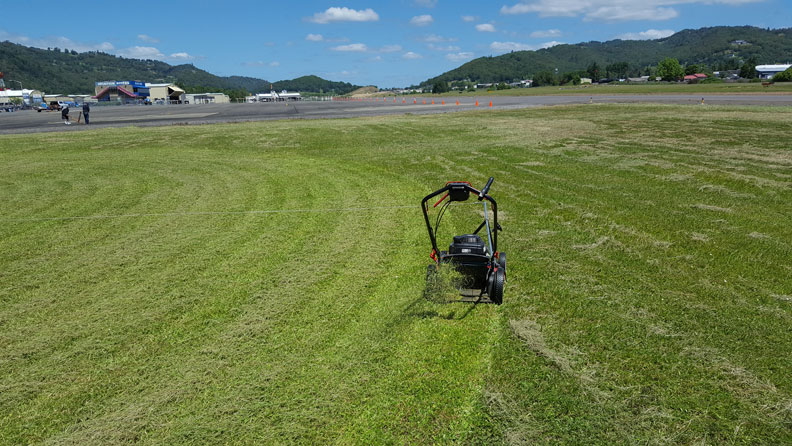 One of the many sights of Thursday, before contestants arrived, was the Eugene Prop Spinners circle mower grooming the combat circle. Event Director Gene Pape had it smooth and pretty by the time action started on Friday. Gene Pape photo.
Contest Director John Thompson (left) and Mike Hazel conduct the traditional awards ceremony. Jim Corbett photo.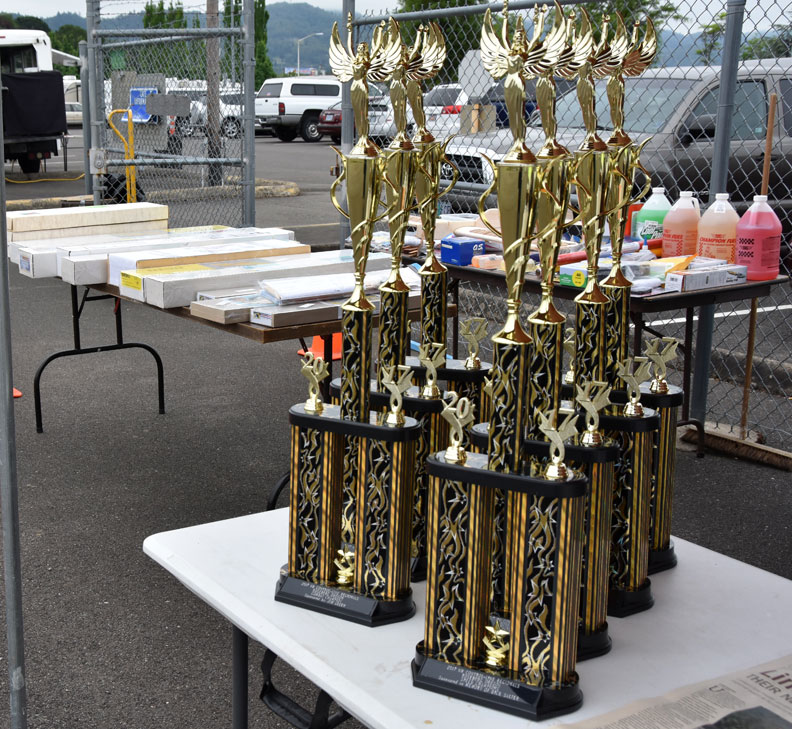 The loot! Grand Championship and Concours' trophies in the foreground, merchadise in the background. Flying Lines photo.
---
This page was upated June 13, 2017