---
Vintage Stunt Championships XX
A number of Pacific Northwest fliers made the trip to the 2008 Vintage Stunt Championships in Tucson, Ariz., and we already have some early photos of the 20th annual pilgrimage to Stunt Mecca. Thanks to Art Zehner for the photos! If anyone sends us any later VSC photos, we'll post them here.
VSC Results
Below are links to pdf files giving the results of all the Vintage Stunt Championships results, as posted on Stuka Stunt Works by Robin Sizemore.
VSC notes
Excerpted from an e-mail from Don McClave:
As you probably know, Mike Haverly's beautiful swept wing Classic Freedom 45 was destroyed in a practice accident, but he soldiered on with his J.D. Falcon. The weather was good, especially considering that severe high winds and dust/sand storms plagued much of Arizona. I managed 9th place in Classic, the result of a rotten first round flight and an excellent second round effort.
We were all greeted by a brand new third asphalt circle on the flying site, along with a variety of other improvements made by the city of Tucson. This means that, beginning in 2009, the format will no longer be two very long rounds with both flights counting. Instead, there will be three shorter rounds with the best two counting. This will not penalize those who draw late flights because the rounds will generally be completed before the winds blow and, I think, will be an extremely popular change. It will also be a very popular change with the judges! They would have used the new format this year, but decided not to because there was some doubt about whether or not it would be completed in time for the meet.
Appearance judging in a hotel courtyard.

The flying field in Tucson.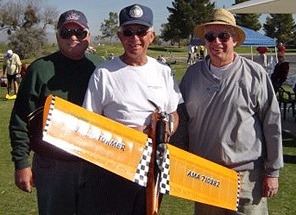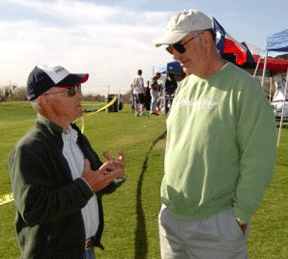 Left photo: (Left to right) Art Zehner, Mike Haverly with Barnstormer, Dave Gardner. Right photo: Bob Smiley (left) and Don McClave.
Left photo: Roy DeCamara. Right photo: Mike Haverly prepares the Freedom 45 for flight. The plane won the award for the best Jack Sheeks design, but was unfortunately destroyed in a crash during practice. For a full view of this plane, see Favorite Planes.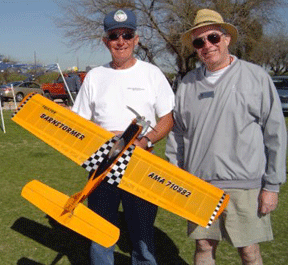 Left photo: Mike Haverly with Barnstormer and Dave Gardner. Right photo: Bob Smiley, eight-place finisher in Old-Time Stunt.
Left photo: Randy Powell with Cobra. Right photo: Pete Peterson.
Left photo: A closer look at Randy's Cobra. Right photo: A nice Humongus by Kaz Minato.
A nice Rayett by Alan Brickhaus
All photos provided by Art Zehner.
This page was upated March 19, 2008