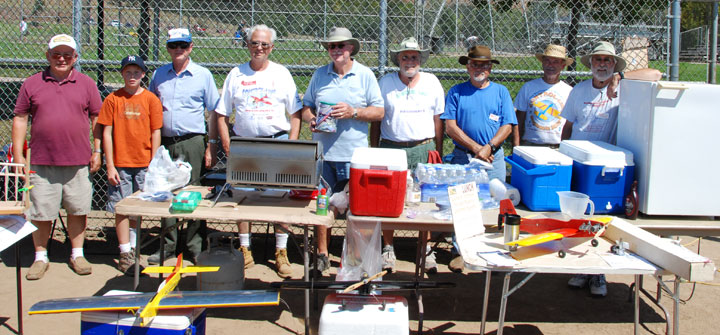 The fliers at the Aug. 27 Roseburg Fun Fly. From left: Bob Lewis, Brendon, Bill Mix, Dave Shrum, Dave Mitchell, Tom Kopriva, Mike Massey, Pete Benning and John Thompson. Not shown, "Ticket Master" Dave Crabtree. Flying Lines photo.
Roseburg Control-Line Fun-Fly
Summer flying party and barbecue
Aug. 27, 2011, Roseburg, Ore.
The Umpqua Valley control-line model fliers hosted Oregon CL enthusiasts at Sunshine Park for a summer fun-fly and food feast, complete with prizes in a "flying raffle." Perfect, sunny, windless weather allowed lots of flights on two circles.
The Roseburg group showed once again that they know how to put on a fun-fly. Everyone who attended is looking forward to coming back for another day in the sunshine.
Information about regular control-line flying in the Umpqua Valley can be obtained from Dave Shrum.
Below is a gallery of photos that captures some of the action. Some of the captions have incomplete information and will be updated as we get further info.
Roseburg Fun Fly photos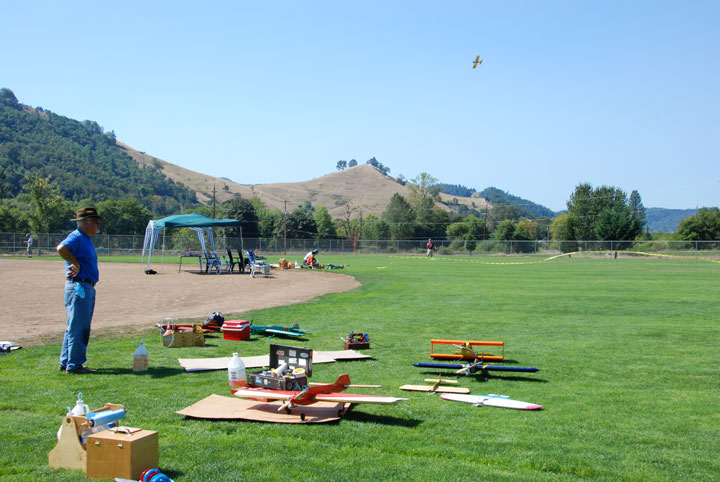 Mike Massey surveys the flying site as a plane is in the air in the far circle. The other circle was at right. There were three separate pit areas set up, and two shaded areas for spectators. Flyhing Lines photo.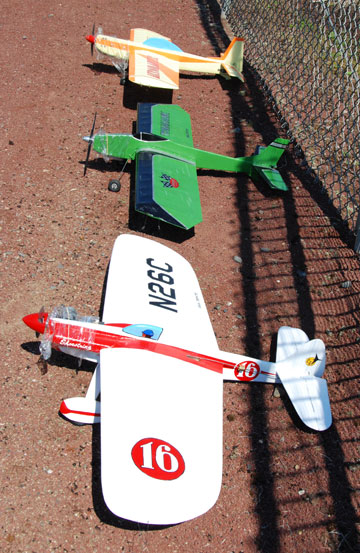 A wide variety of airplanes were either flown or on display, three of Bob Lewis' are at left: a Shoestring, a Tomahawk and an Akromaster. At right, Pete Benning flies. Flying Lines photos.
At left, Dave Shrum flies his Staggerwing biplane. At right, more planes. Flying Lines photos.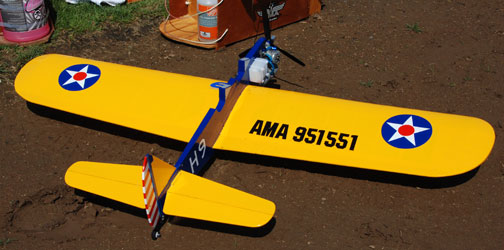 Dave Mitchell's ARF PT-19. Flying Lines photo.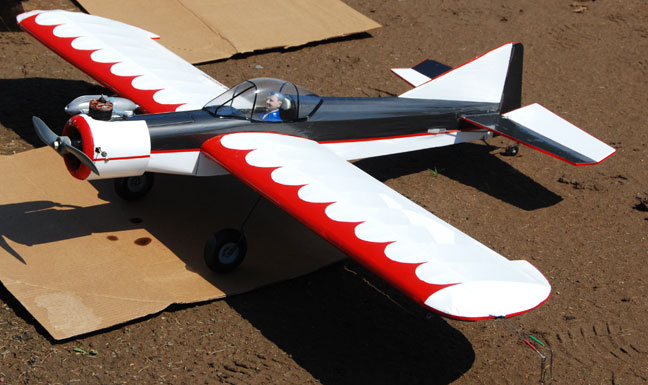 Dave Mitchell's Twister Sister, John Miller design. Flying Lines photo.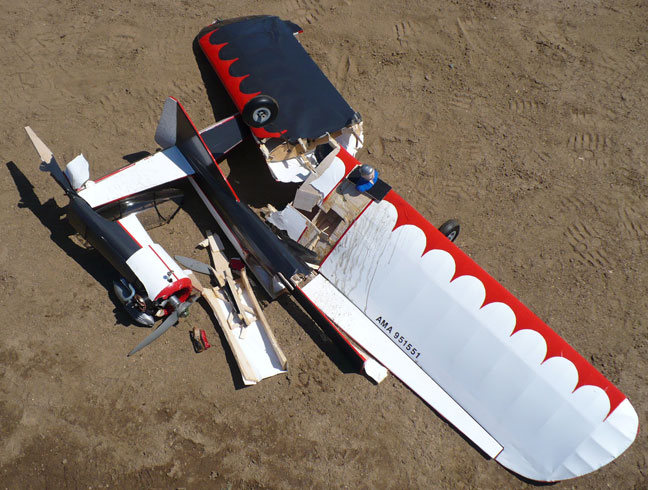 The Twister Sister, after a crash. Dave Shrum photo.
Bob Lewis' Flite Sreak. Flying Lines photo.
Pete Benning's tiny Beech Staggerwing. Flying Lines photo.
Detail of Pete's Staggerwing, showing Fox .07 engine. Flying Lines photo.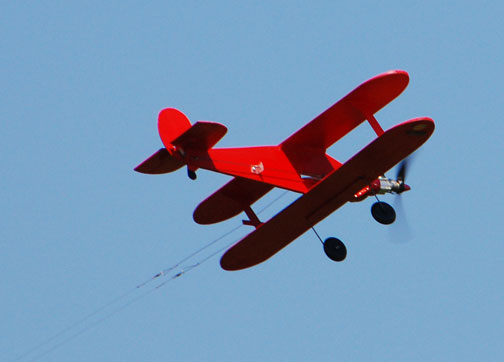 Dave Shrum's Beech Staggerwing in flight.. Flying Lines photo.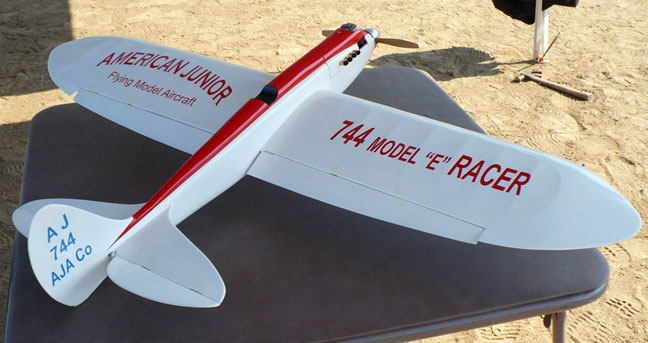 This classic American Junior plane has documentation signed by the late Frank Macy, AJ historian. Dave Shrum photo.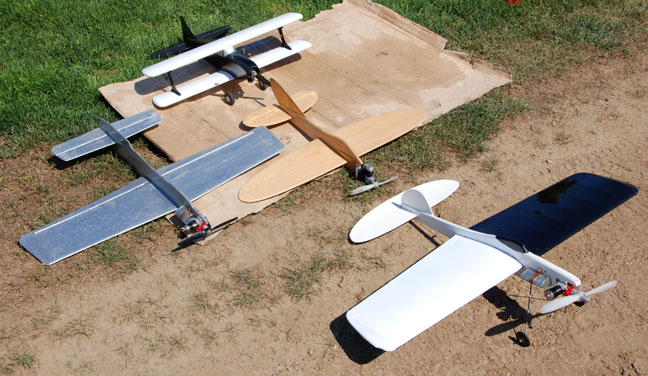 Lots of small planes were on hand; these are Dave Shrum's: A Junior Ringmaster with Cox .09 power; silver plane is a Dick Sarpolus-design Little Brother; the bipe is Two for the Show; and the clear finish is a Firebaby II, designed by Frank Macy and Jim Cameron. Flying Lines photo.

Some of the planes brought by Eugene Prop Spinners who attended. From left, John Thompson's Bi-Slob, Mike Massey's Profile Smoothie, Tom Kopriva's aerobatic 1/2-A plane and John Thompson's Sonic Chicken. Flying Lines photo..
A nice Ringmaster by Bob Lewis, hand-lettered. Flying Lines photo.
Pete Benning adjusts the needle on his Fox .15-powered stunter, keeping his fingers out of harm's way, as Bob Lewis holds. Flying Lines photo.
John Thompson flies his Bi-Slob, Fox .35 power comedy act. Dave Shrum photo.
---
This page was upated Aug. 31, 2011