Odds and Ends (Alias Lines and Tubing)
October 2006
Women in the control-line hobby
For those who have asked about the women are in our hobby and are wondering who they are and what it is that they do, this article is for you. I know you are sitting there contemplating the number of bon bons they must consume while waiting for their husbands to finish "playing" with their toy airplanes, so I did a little poking around and discovered some women who are solid Pampa judges, Stunt News contributors, contest contestants, pilots, CDs, Pampa administrators, and then there are those who run scores at a maddening pace at contests.
So, let's start with this year's Northwest Regionals contest. This is a contest that attracts control-line pilots from Canada and from all around, south of and a few states east of the Pacific Northwest region. My husband and I were there and so was Alana Perry
(See picture below). I call her "The Snow Queen" for she comes from way up north in Edmonton, Alberta, Canada. She flew Beginner Precision Aerobatics last year and won first place in Intermediate this year while, if you can believe it, pregnant with her first child! She wasn't eating any bon bons as far as I could tell, but she was flying an Arp Nobler and says she is working on her own PA plane. Her husband, Bruce Perry, Canadian World Team member, totally supports Alana's interest in model airplanes. It seems she is a natural stunt pilot.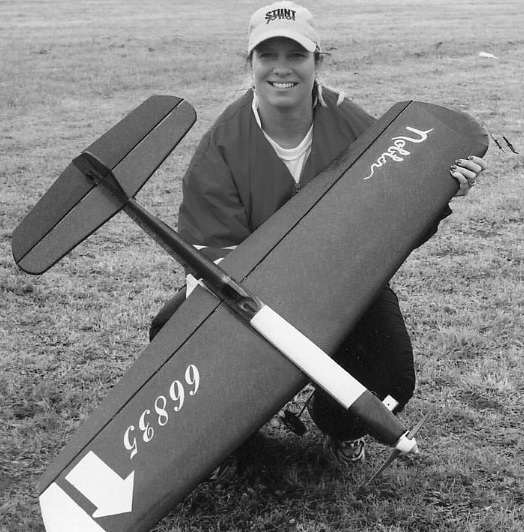 And below, squinting under that huge umbrella that is righteously protecting her from the Northwest's unwavering rainfall, is the "Dragon Lady", Joan Cox, from Vancouver B.C., Canada. She judged all day after, if you can believe it, a major surgery some weeks before the contest. I looked all over but I just could not find any bon bons! (That's Steve Helmick, Joan's judging partner for the day).
Cox's husband, Chris Cox, is an Expert Precision Aerobatic stunt pilot. At the Regionals, he placed second after Howard Rush.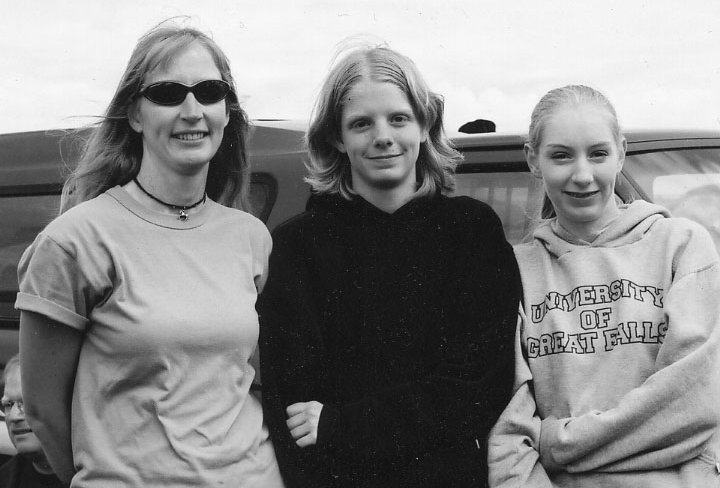 Now these three women above not only fly, but they place as well. They drove in from Montana with husband and dad, Greg Beers, who flew .21 Sport Speed. From left to right we have Laura Beers (mom - who got third place in 1/2-A Proto Speed) and her two daughters, Jenessa (she placed second in Mouse Race I Junior and fourth place in 1/2-A Proto Speed) and Danilla (she won a first place for .21 Proto Speed)
Side note: I used to fly with Laura Beers many years ago when I first started flying stunt. She was flying then as she does now, with her husband, Greg. Greg used to tease me about building my own plane (which I had never attempted up to that point). So I built a Sig Akromaster which began a six year run of heavy stunt building and flying for me. Danilla and Jenessa were toddlers then, but not any more! By the way, do you see any bon bons hidden up their sleeves? I'm sure that's where they are!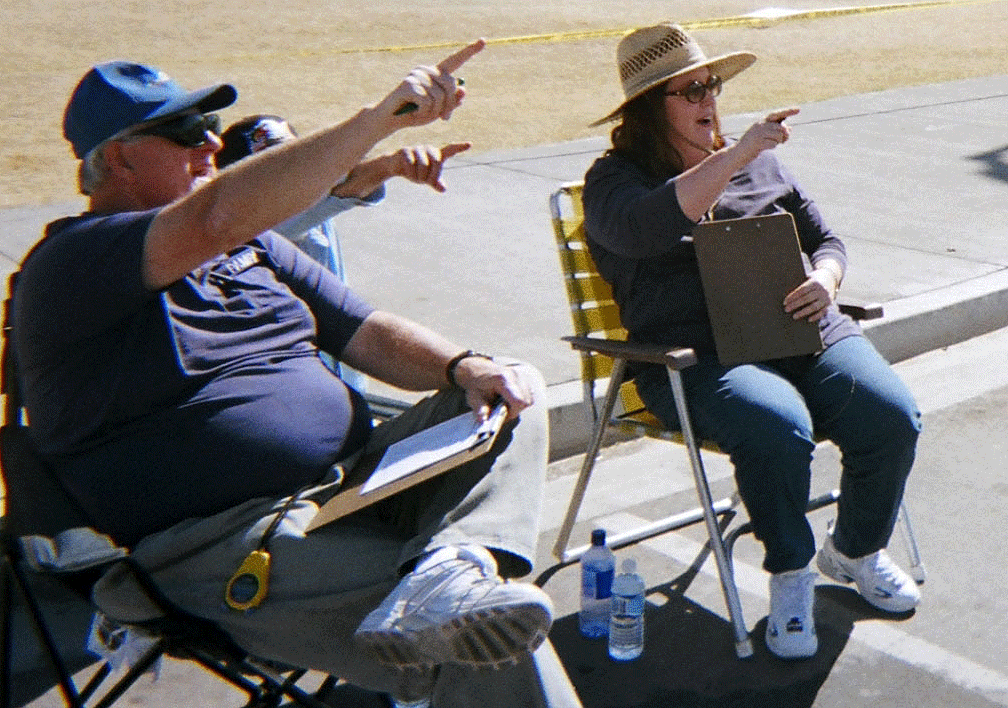 Above is Bobbie Smith judging (and pointing) with Eric Rule. She is a member of the Cholla Choppers in Phoenix, Arizona. She says she usually judges two or three local contests a year and has judged at VSC (once during a two-day marathon of flights). Smith prides herself in being fair by only watching the maneuvers and not the person who is flying at the time. "And frankly ," she says, " I don't care who is flying, so on occasion some egos are bruised." That's my girl. There is nothing tentative about Bobbie Smith. She is solid and well-trained in her role as a C/L stunt judge. Her husband, Mark Smith, who is a stunt pilot is hidden behind Eric in this picture and is enthusiastically pointing along with the judges. What are they pointing at? Maybe they just realized that the airplane they just judged is not a model airplane at all, but is in fact a flying bon bon! I knew their had to be a bon bon somewhere.
In case you don't know it, the Secretary/Treasurer of Pampa is a woman. Shareen Fancher is her name and she handles membership, financial issues, tabulates scores, and has effectlively deflected some inappropriate comments and behaviors regarding Pampa over the years. She is highly intelligent and will not, for any reason, accept bon bons as a bribe. Her husband, Ted Fancher, is a World Precision Aerobatic and was the 2005 Vice President of Pampa. He's been a CD, an Expert P.A. competitor, a coach and he used to fly full scale commercial airplanes.
Mary Gebhart was a Pampa judge when I flew at my first Nationals contest in 1995. I imagine she has judged at many other contests and I believe she was involved with Pampa Products at one time. Hey, Mary, drop me a line and let me know what you are up to.
I was lucky enough to receive an e-mail from Pampa member, Dawn Kaler, who has done quite a bit of photography for us. Kaler's pictures have been published in Stunt News featuring photographs from VSC, Brodak contests and the Team Trials.
Randi Gifford, also a Pampa judge, has been of great help in gathering names for this article. She was a judge at VSC 2006. I wanted to go and meet her, but alas, I had to work. She loves airplanes and found herself married to a stunt pilot of all things. She has tried some control line flying and says , "I'm not sure you could call what I do flying, but I can take off, fly around in circles, do climbs and dives, and land (sort of) if all the stars are aligned perfectly." She built a Sig Akromaster (hey, me too) but didn't like the profile fuselage. She tried to construct a built-up fuselage, so she shaped one out of a 4" square length of balsa. Gifford says it looked like a Louisville Slugger but (her husband) Russ, "who is a wonderful builder," made sure it would fly by having her add four inches to the wingspan and lengthened the fuselage by about two inches.
Gifford claims that judging is what she loves most about the hobby. She pitted for Russ (her husband) for several years and then one day at a Peoria contest Russ said, "Go sit by Bill Zimmer and have him teach you to judge." She did before she realized what happened she was asked to judge a local contest. So,in order to be more professional at judging, she went to Cleveland where Big Art Adamisin was holding a judging clinic. "I soaked up as much wisdom from Art as I could," she says. Then she was asked if she would be interested in being a Nats judge. Her answer? "You betcha! And that was, I think, was eight years ago and I've only missed one Nats since then."
And then there's Linda "Linda-Bob" Gleason from Texas who is very much involved in her local club from what I hear and she was the pit boss at VSC.
Brenda Schuette is a Pampa member who I've heard has been very active with AMA. She is the "Control Line Contest Coordinator" at the Nats. Is that correct Brenda? Let me know what's going on with that ­ sounds interesting.
Rickii Pyatt is a Pampa member who runs the score sheets at the Nats.
JoAnn Keville is a Pampa CD.
Karyn Urtknowski is a tabulator on the East Coast.
Alice Williams did some flying at a VSC some years ago. Hey Alice, are you still flying in California?
There are a handful of other women who are involved in Pampa in a variety of supportive ways such as Joyce Hager (the AMA Executive Director), Elaine Heyworth, Grace Kirk, Janice Stokey, Sheryl McClain, and Jennifer Stokey.
Are there more? Write me and let me know about your secret life with bon bons.
The funniest thing I discovered during my quest to find Pampa women via the Pampa member list was when I contacted the following three people via e-mail. I totally believed they were women and were happily gorging themselves with bon bons, but women they were not!
Marion Davis, said he's been building and flying in SW Illinois during summers and in Arizona during winters. He said he's been flying since he was 14 years old.
Kimberly Elmore told me that despite his name he IS a guy, married with a daughter, age 7, and a boy, aged 5 _ . Elmore said he flew lots of C/L models until he was a teen and then started flying full-scale aircraft. He is a light plane pilot as is his wife. They own a 1946 Cessna 140. Elmore says, "I find that working with models is one of the best, if not THE best way to learn what makes airplanes work on a practical level." He lives in Norman, OK and is a member of the Tulsa Glue Dobbers as there are no C/L clubs in Oklahoma. It turns out that Kimberly is also a research meteorologist and a ham radio operator. Elmore says he likes C/L because "I like the tactile connection between me and the thing that flies." Right on Kim, many of us can relate to that!
Kim said he'd read that the masculine use of his name can be traced to the Boer War, when English soldiers were fighting in the South African town of Kimberley. Still, the name has generated no end of amusement: "I used to get all manner of free samples in the mail, many of which I had no place for. I had to go to the girl's gym in high school to get my report card, and on and on. Without a sense of humor, I'd not have survived this long. I still get things addressed to Ms. Kimberly Elmore and that's a dead give-away that whoever sent it doesn't know me, and so a reliable way to filter junk mail masquerading as legitimate."
Hilary Kahn says his name does get confusing for people, but he is totally male and started in control-line 35 years ago at the age of five! His parents owned the model airplane company PDQ in Millville NJ in the 1960s. He and his brothers flew PDQ aircraft in a horse pasture behind his house and Hilary has been flying ever since. He reaces, stunts, flies speed events and sport flies. He was a CD at one time. He says he is trying to revive the PDQ line of models through offering plans as they were originally designed. He has a two year old daughter and he hopes she will be flying C/L. "Stunt News is the best control-line publication that I have ever seen," says Hilary.
Thanks!
And last , but not least, is myself. I am an Expert Level P.A. pilot, well, I WAS for I have changed events due to vision problems that have developed over the last few years making it difficult for me to focus on my airplanes. I am now sport flying, AMA team member flying, competing in Old Time Stunt, and I just started eating bon bons for the hell of it. I have built all my own airplanes except for the last one, a Fire Cat, built by Pete Peterson. Pete is a quality Expert PA pilot and builder so I could not ask for a better model to fly!
Keep those emails and letters coming. I need information on women, kids, and men who are NOT in the top stunt positions. If you think you should not be featured in Stunt News, then I definitely want to hear from you. E-mail me.
Keep your glue fresh and stay cool during the summer months.


This page was updated Oct. 4, 2006