The 2016 Northwest Control-Line Regionals
Roseburg, Ore., May 27-29-29, 2016
Expert Precision Aerobatics judges Bruce Hunt (left) and Bill Gruber examine Marshall Palmer's Skipjack during Precision Aerobatics appearance judging. Flying Lines photo.
Championship contest's 45th running fills Oregon sky
Control-line model aviators from all over the western United States and Canada converged on Roseburg Regional Airport on Memorial Day Weekend for the contest known far and wide as simply "The Regionals."
The weather was fine and the competition was world class.
It was the second year for the Regionals in the current series at the Roseburg airport. Previous Regionals venues have been the Eugene Airport (old site), 1971-87; Eugene Airport (overflow parking area), 1988-95 and 2006-13; Albany Airport, 2002-2005; and Roseburg Airport, 1996-2001. Special thanks to Roseburg Regional Airport Manager Patricia Loegering, who assisted at every step of the way in making the modelers feel welcome in Roseburg. Pat is leaving her position at the airport but has left behind a recommendation to Roseburg officials that the Regionals be welcomed back in 2017.
The work of putting on the Regionals was handled by the Eugene Prop Spinners, the Umpqua Valley Modelers and many individuals who volunteered as event directors and workers, all under the supervision of Contest Director Mike Hazel, president of the Northwest Regionals Management Association and the Western Oregon Control-line Flyers.
Sixty-one individuals showed up as contest entrants, down slightly from the 2015 event. The contestants accounted for 182 event entries.
Former world and national champion Paul Walker emerged from a world-class field to capture the Regionals Expert Precision Aerobatics championship in a strong field of entrants, flying his electric-powered Predator.
Chris Cox of Delta, B.C., was awarded the Concours d' Elegance trophy for the contestants' favorite Precision Aerobatics airplane with his Defiant electric airplane.
Top-notch performances led to new Northwest records being set in Profile Nostalgia Navy Carrier (Bob Parker) and Northwest Sport 40 Carrier (Mike Potter), and to Regionals records being set in Class I/II Nostalgia Navy Carrier (Burt Brokaw), Sport 40 Carrier (Eric Conley), Class I Mouse Race (Paul Gibeault) and F2D Proto Speed (Jerry Rocha). See the results table below for details.
Field setup and teardown was again under the direction of Eugene Prop Spinners President Mike Denlis, with strong worker support from the Prop Spinners and the Umpqua Valley Modelers, along with a number of contestants on Thursday. Events were directed by Howard Rush (aerobatics); Gene Pape (Combat); Mike Potter (Navy Carrier); John Thompson and Paul Gibeault (Racing); Pat Johnston and Mark Scarborough (Scale); and Will Naemura (Speed). Barbara White and Annette Johnston handled registration and assisted with stunt tabulation duties.
Elsewhere on the Flying Lines website, see updated Northwest standings, Northwest records and Regionals records.

Chris Cox captured the coveted Concours d'Elegance award for aerobatics airplanes at the 2016 Regionals. The award for the best-appearing stunt plane is chosen by a ballot of the pilots and judges. Flying Lines photo.
---
Regionals Photo Gallery
A random selection of scenes from the 45th Regionals
Mike Haverly's Chizler makes an official flight in Classic Stunt. Flying Lines photo.
Two High-Performance 1/2-A Combat planes are seen a fraction of a second after a kill and a collision. Note the streamer in the wing of the damaged foam airplane, flown by Jeff Rein, after the collision with Don Jensen's plane. Flying Lines photo.
Safety comes before flying as Mike Potter (left) pull-tests Burt Brokaw's Navy Carrier plane. Mike Hazel photo.
Tinkering in the speed pits; in the foreground, Ken Burdick works on a proto speed plane. Flying Lines photo.
Beauty queens: Some of the Precision Aerobatics planes await appearance judging. Flying Lines photo.
Jim Green works on a damagded .15 Fast plane in the Combat pits. Jim emerged on Sunday as winner of the top-gun AMA Fast Combat event. Flying Lines photo.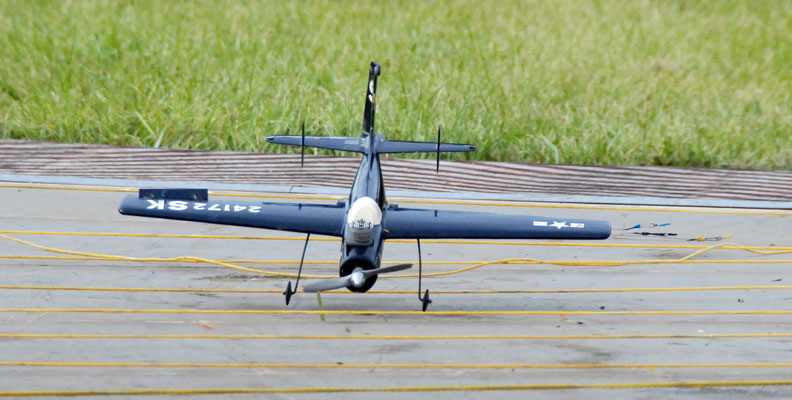 Burt Brokaw's Class II Navy Carrier plane bounces in with a successful landing on the deck. Flying Lines photo.
Jim Rhoades' Apteryx looks great in the air as well as on the ground. The photo captures Jim's winning flight in Classic Stunt. Flying Lines photo.
Two Combat planes make a close pass during 80mph Combat action on Saturday. Flying Lines photo.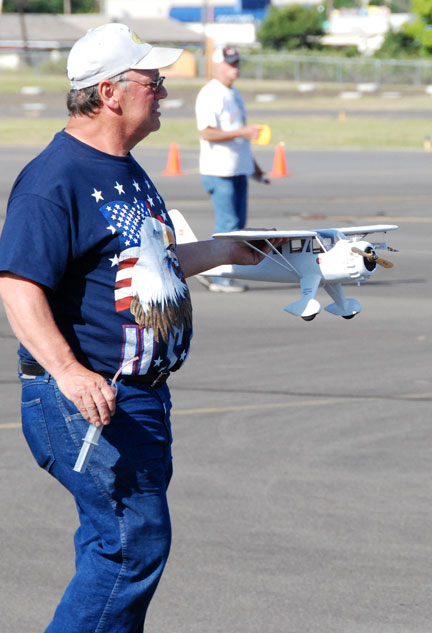 Walter Hicks approaches the circle for an official flight with his Mr. Mulligan in the Sport Scale competition. Flying Lines photo
Don Chandler's P-51D in flight during Sport Scale competition. Flying Lines photo.
At left, Jeff Rein (right) battles Bob Kerr to win the 80mph Combat championship match. At right, Jeff flies against Doss Porter in the High-Performance 1/2-A Combat event eventually won by Lee Letchworth. Flying Lines photos.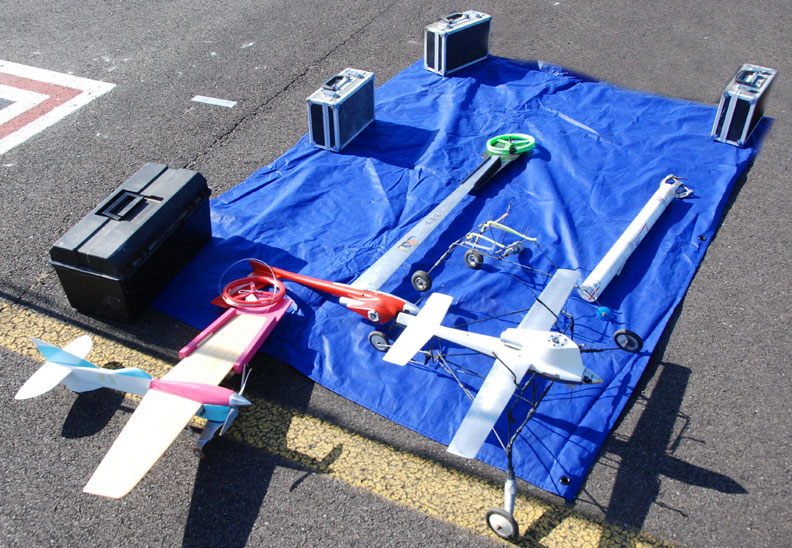 A fleet of Speed planes ready for action. Flying Lines photo.
Classic Stunt judges Chris and Joan Cox examine Mike Haverly's Chizler. Flying Lines photo.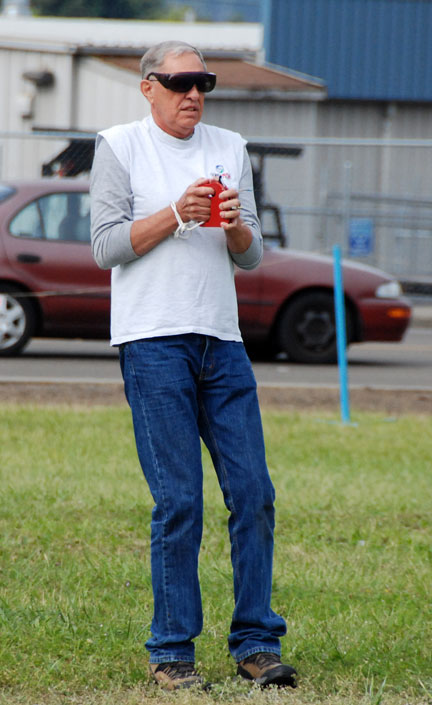 At left, Burt Brokaw pilots a Navy Carrier official flight. At right, Combat judges Tom Kopriva (left) and Gene Pape watch the action.. Flying Lines photos.
High-Performance 1/2-A Combat planes lined up awaiting action. Flying Lines photos.
Master finisher Pete Peterson showed off two brand-new planes. Above, his Jamison Special for Old-Time Stunt. Flying Lines photo.
And here's Pete's Nobler for Classic Stunt. Flying Lines photo.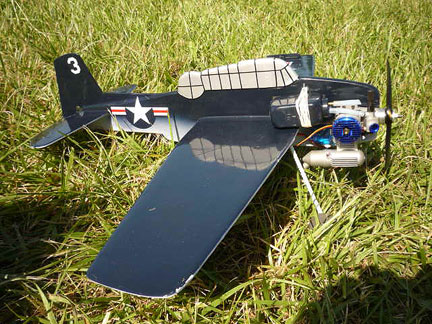 A couple of well-used Navy Carrier planes. At right is a Profile Carrier entry. At left, Mike Hazel's 40-year-old Cro-Magnon, still flying! Eric Conley photos.
At left, Paul Pomposo's Temptation V; at right, Marshall Palmer's Skipjack Flying Lines photos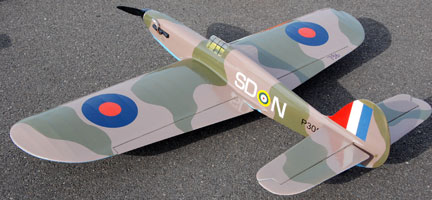 At left, Floyd Carter's Hurricane; at right, Randy Powell's Slider. Flying Lines photos.
At left, Howard Rush's Impact; at right, Alan Resinger's Divergent. Flying Lines photos.
At left, Mike Haverly's Fifth Element; at right, Brett Buck's Infinity. Flying Lines photos.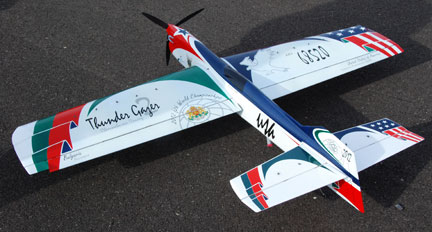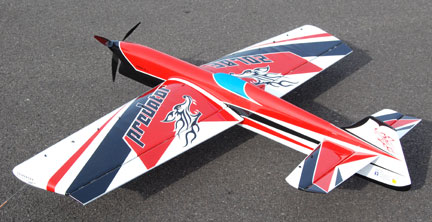 Two Precision Aerobatics planes just back from the World Championships in Perth, Australia: at left, David Fitzgerald's Thunder Gazer 2; at right, Paul Walker's Predator. Flying Lines photos.
At left, Addis Elmore's Letha, 38 years old and still flying; at right, Pat Johnston's Bearcat. Flying Lines photos.
Two Classics: At left, Dave Royer's McCoy-powered Warrior; at right, Rob Moseley's Smoothie. Flying Lines photos.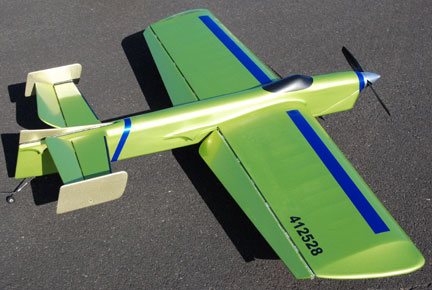 At left, Lanny Shorts' United; at right, John Leidle's Olympus. Flying Lines photos.
At left, Mike Massey's Nobler; at right, Jim Rhoades' Apteryx. Flying Lines photos.
Navy Carrier flying produces interesting warbirds; here are three scene in the Carrier pits. Flying Lines photos.
---
This page was upated June 7, 2016

And the award for Best Hat goes to Bob Parker, making practical use of a wind sock on a sunny day. Did we mention "sunny"? See you next year!