Dave Royer's Chief in flight, with the elegant Evergreen Aviation Museum in the background. Flying Lines photo.
Oregon Flying Fun ­ 4
Flying at the 'boutique CL field'
April 6, 2008, McMinnville, Ore.
A day of flying at DeAlton-Bibbee Field, just outside the spectacular Evergreen Aviation Museum (home of the Spruce Goose and dozens of other classic airplanes) is always an inspirational occasion. If you get hungry, or just want to get out of a little rain squall, just duck into the museum, grab a bite, taste a little wine, gaze at the planes you can see from the lobby, and then back out to the flying circles.
That's how it was on April 6 for the fourth in the 2008 series of Oregon off-season fun-flies. Mike and Laura Hazel came up with a perfect description of the two-circle McMinnville field (one asphalt donut, one grass with asphalt takeoff area, a grove of trees for picnicking and parking, split-rail fences, shrubbery, a nearby RC field, and the museum's huge windows right alongside the field on one side and a vineyard along two other sides): It's CL's 'boutique field." Everything's always perfectly manicured and welcoming. There are usually spectators drifting out from the museum to watch the flights.
A dozen fliers showed up for this year's event, and there was lots of flying despite a few sprinkles and wind gusts. Among those flying were Jack Pitcher, Gerald Schamp, Dave Royer, Jerry Eichten, Mike Denlis, Mike Hazel, Doug Powers, Richard Entwistle, Bruce Hunt and John Thompson. Also attending was new CL flier Bill Spalding, who came with the Eugene Prop Spinners contingent.
Flying continued from about 10 a.m. to about 2:30 p.m., and then TEAM host Jerry Eichten handed out some nice prizes in the flying raffle.
Next flying event in the Northwest is the Jim Walker Memorial contest, on April 18-20 at East Delta Park in Portland, Ore. See Where the Action Is for details.
More photos from Fun Fly No. 4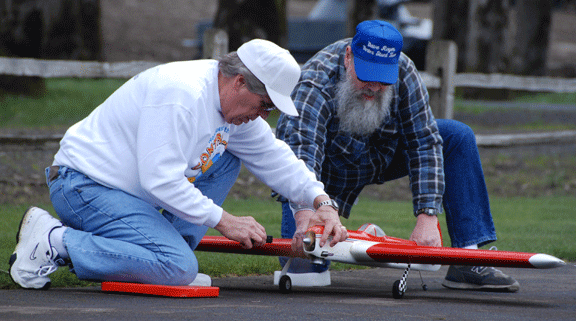 Gerald Schamp tachs the engine on his Praxis stunt plane, with Dave Royer holding. Flying Lines photo.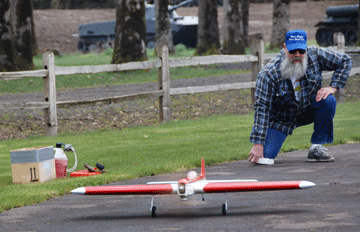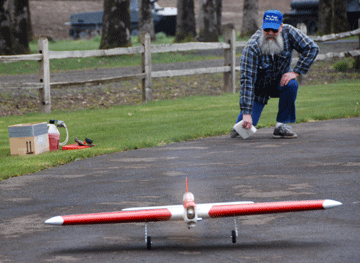 Launch sequence shows Gerald's smooth rollout. At left, just after launch; center, after a roll of about 8 feet; right, just lifting off at about 15 feet, just like the precision aerobatics rulebook says! Flying Lines photos.
The Praxis in flight, with the vineyards in the background. Flying Lines photo.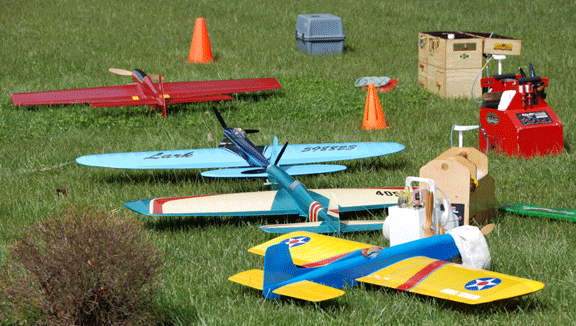 A variety of airplanes in the pits. From left, Mike Denlis' Big Red, Bruce Hunt's Lark, John Thompson's Ares and Dave Royer's Chief. Flying Lines photo.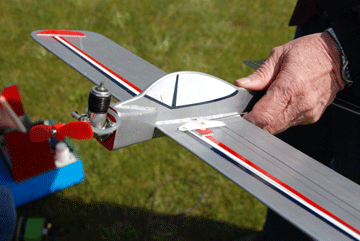 Doug Powers brought out an interesting little plane/engine combo. The plane is s Sig Skyray, and the engine is an OK Cub. In right photo, you can tell that the wind was a bit much for the little plane, as Doug fights for control. Flying Lines photos.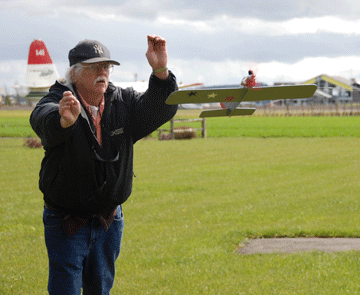 Left photo: Richard Entwistle launches the little Skyray. At right is the .35-size skyray built by Richard, flown by Doug. Flying Lines photos.
Dave Royer is "one" with his chief. Flying Lines photo.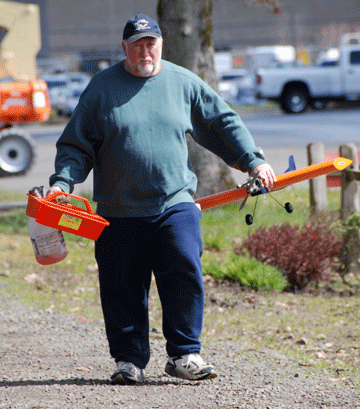 Mike Hazel (left) and Mr. Stubby head back to the truck after a day of flying. Mr. Stubby is always entertaining. Looks funny, flies pretty well! Flying Lines photo.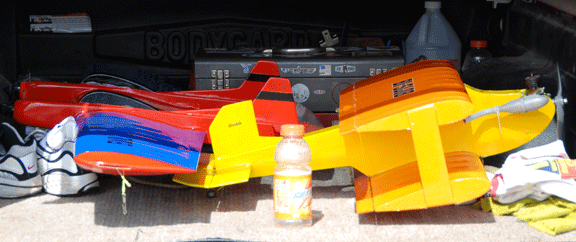 Double fun or double-trouble? Two "twos" by John Thompson didn't get into the air. At left is the Evil Twin, at right the Bi-Slob, sitting in the truck waiting for action that never came. Owner was too busy hobnobbing. Flying Lines photo.
This page was upated April 7, 2008