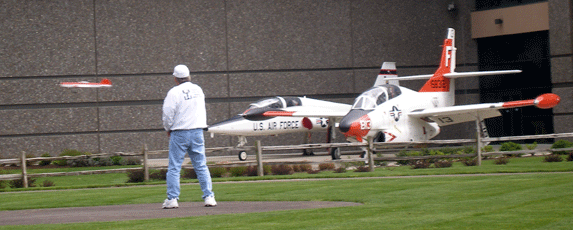 Inspirational setting: Could there be a cooler spot for a flying circle? Gerald Schamp of Albany, Ore., flies his Praxis right next to the fighter jets on display outside the Evergreen Aviation Museum, during the April 1 McMinnville fun fly. Flying Lines photo.
Oregon Flying Fun ­ 4
Flying in the shadow of aviation classics
April 1, 2007, McMinnville, Ore.
Nature played an April Fool's joke on everyone who stayed home from the McMinnville fun fly on April 1. If you thought, just because the weather was not very good for the first three 2007 Oregon Flying Fun events, you would stay indoors, warm and dry, the joke was on you.
The weather was in fact, mostly sunny and pleasant, with just the slightest shifting breeze. Those who showed up for the fun-fly hosted by The Evergreen Aero Modelers got lots of flying, right next to one of the greatest aviation museums in the world. Couldn't have had a better flying day!
Jack, Pitcher, Gerald Schamp, John Thompson, Mike Denlis, Tom Kopriva and Jerry Eichten got lots of flying in. Most of the planes were of the stunt variety, though John's Bi-Slob got a workout, with nearly everyone flying it through the usual goofy aerobatic gyrations. Quite a few spectators drifted over from the museum to watch.
Flying continued from about 10 a.m. to about 2:30 p.m., and then TEAM host Jerry Eichten handed out some nice prizes in the flying raffle.
Next flying event in the Northwest is the Jim Walker Memorial contest, on April 20-22 at East Delta Park in Portland, Ore. See Where the Action Is for details.
More photos from Fun Fly No. 4
Tom Kopriva of Eugene, Ore., who returned to control-line flying a couple of years ago after a hiatus mostly in the free-flight world, brought out this masterpiece to the McMinnville fun-fly. It's probably the nicest-looking Sterling Yak-9 ever built. The finish on the wing is silk, with tissue trim. And get this: The plane is nearly 30 years old! Flies great with a Fox .35 stunt. Flying Lines photo.
Jack Pitcher of Gresham, Ore., launches Gerald Schamp's Praxis. Flying Lines photo.
Left photo: TEAM host Jerry Eichten observes the flying from his headquarters alongside the circles. Flying Lines photo. Right photo: Tom Kopriva heads for the circle with his ARF Cardinal, powered by O.S. LA .46. Jerry Eichten photo.
Left photo: With the Evergreen Aviation Museum in the background, John Thompson prepares his Vector 40 for a flight, while Tom Kopriva prepares to launch. Vector is powered by an O.S. LA .40. Jerry Eichten photo. Right photo: Jack Pitcher (right) and Mike Denlis, of Eugene, Ore., watch a flight. The plane is the foreground is Jack's Centennial, a dozen years old and still looking and flying great, now powered by a P.A. .61. Flying Lines photo.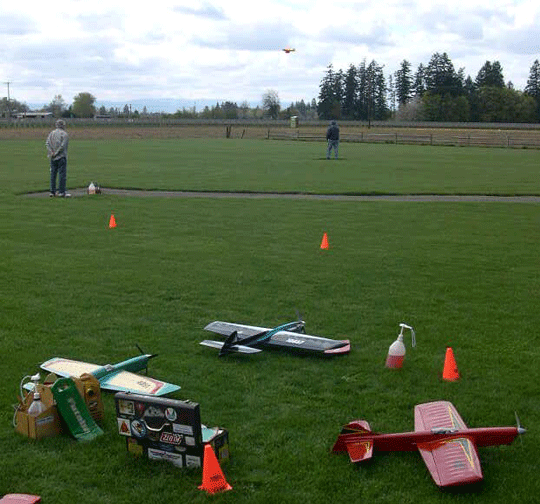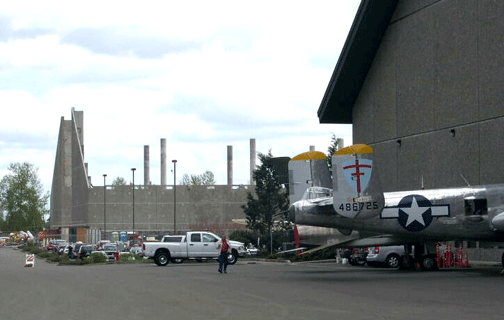 Left photo: Another view of the flying field, this time looking over the grass circle, where Jack Pitcher was flying John's Bi-Slob. Pit area in the foreground. Right photo: A third building is under construction at the Evergreen Aviation Museum complex. Seen in the background, it will be a mirror image of the main EAM display building, and will be devoted to aerospace. Between the two (not pictured) is a recently completed IMAX theater. Jerry Eichten photos.
This page was upated April 3, 2007