Oregon Flying Fun No. 3
A few of the planes lined up for action at Bill Riegel Field on March 3. Jim Corbett of the Eugene Prop Spinners (left) was busy with a camera. Others are (from second left) Tom Brightbill, Jim Harper, Richard Entwhistle and Geoff Christianson. Flying Lines photo.
Salem gets a weather break and lots of flying fun
March 3, 2012, Salem, Ore.
A little chill, breeze and drizzle early in the morning just made the rest of the day more enjoyable as the wind stopped, the temperature rose and sun came out for Oregon Flying Fun No. 3 at Bill Riegel Model Airpark. Fliers from the Western Oregon Control-Line Flyers, Eugene Prop Spinners and Northwest Fireballs turned up for a busy, full day of flying.
The host WOLF club offered some nice prizes in the flying raffle.
Among those attending were Craig Bartlett, Tom Brightbill, Geoff Christianson, Jim Corbett, Jerry Eichten, Richard Entwhistle, Jim Harper, Mike Hazel, Bruce Hunt, Tom Kopriva, Dave La Fever, Mike Massey, Don McClave, Dave Royer, Dean Singleton and John Thompson.
The next stop in the Oregon Flying Fun series will be in Eugene on April 7. The Eugene fun fly will include a stunt clinic for fliers and judges. See Where the Action Is for details.

Another look at one of the two flight lines. Richard Entwhistle of Scappoose, Ore., at the front of the line prepares his plane for flight. Flying Lines photo.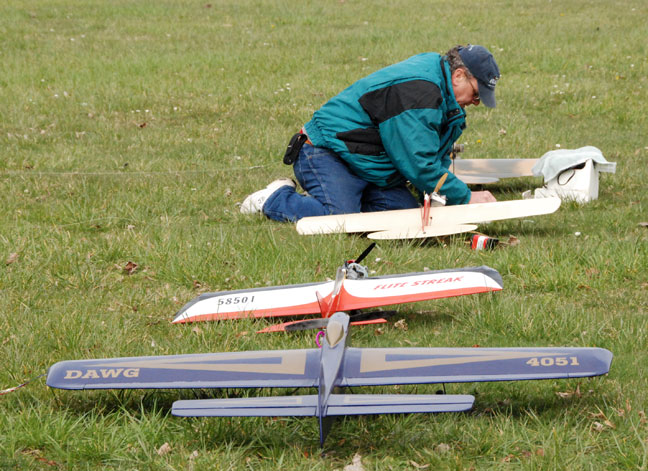 Craig Bartlett of Adair Village, Ore., often seen working at contests, gets a chance to fly. Here he prepares his Ringmaster for flight. Flying Lines photo.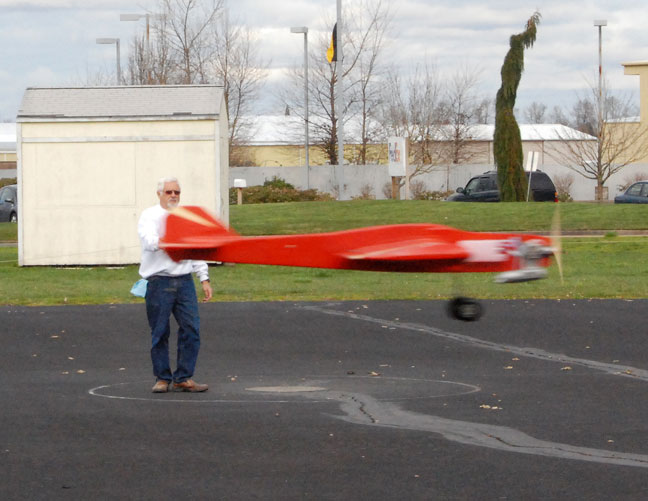 Mike Massey of Cottage Grove, Ore., puts in a flight on one of his profiles. Flying Lines photo.
Dave La Fever of Corvallis, Ore., does some maintenance on his Ringmaster. Flying Lines photo.
Dean Singleton's PT-19, powered by Evolution .36. Flying Lines photo.
Jim Harper's Vector 40 in the flight line. Flying Lines photo.
One of several Ringmasters on the field. Flying Lines photo.
The Northwest Fireballs were well represented. From left: Geoff Christianson, Dave Royer, Jim Harper, Tom Brightbill, Richard Entwhistle, Don McClave. Jerry Eichten photo.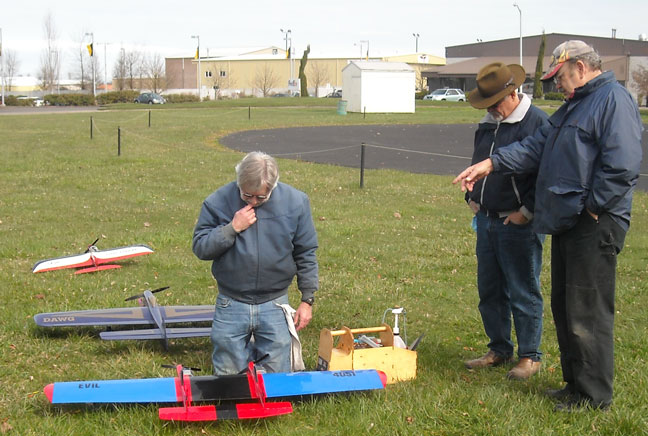 Geoff Christianson (right) and Mike Massey offer suggestions as John Thompson puzzles over erratic behavior of the inboard engine on the Evil Twin. Jim Corbett photo.
Part of the fun of a fun-fly is the "hangar flying." Here, Bruce Hunt holds court with Fireballs (from second left) Jim Harper, Geoff Christianson and Richard Entwhistle. Jim Corbett photo.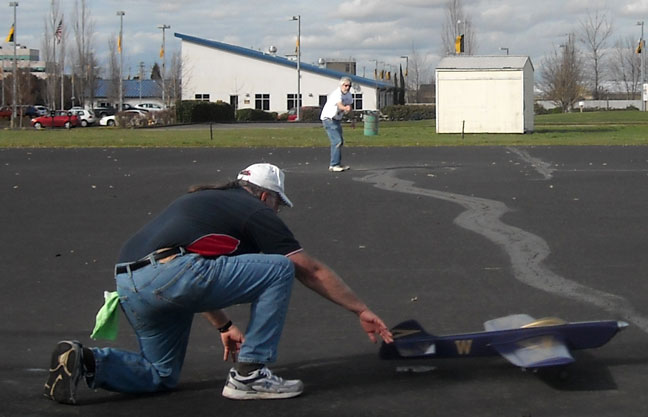 John Thompson used the fun-fly to put in some trimming flights on his Dawg, with Bruce Hunt providing expert guidance. Jim Corbett photo.
Dean Singleton makes a selection from the flying raffle prize table. Jim Corbett photo.
---
This page was upated March 5, 2012