The Roseburg control-line fliers' Church on the Rise flying field has a generous pit area and a warm clubhouse, seen in the background. Perfect for a day of winter flying fun. Flying Lines photo.
As usual, the Roseburg area control-line enthusiasts hosted a delightful day of flying in the second stop on the four-part Oregon Flying Fun series. Weather was cool but almost dead calm, perfect for lots of flying at the Church on the Rise grass field.
Also as usual with the fun-flies, participants brought out an array of unusual airplanes along with some of the usual Sport, Stunt, Carrier and Combat planes.
And, of course, a highlight was the hamburger-hotdog-chili feast cooked up by Chef Mark Schluter, enjoyed by all the fliers around the flying site's firepit, with a warming blaze maintained by Dave Shrum..
Those attending included Jim Corbett, Mark Crouse, Mike Denlis, Mike Hazel, Walter Hicks, Dave La Fever, Bob Lewis, Terry Mitchell, Chris Nicholls, Gene Pape, Mark Schluter, Dave Shrum, John Thompson and Gary Weems, and possibly some others.
Everyone received at least one door prize, drawn from a generous array of engines and kits provided by the Roseburg fliers.
There was a wide array airplanes on hand, ranging from an .010-powered Wee Wun to full-size Precision aerobatics planes -- with biplanes, electric-powered planes, throttled planes and vintage Combat planes included in the mix.
Next up in the Oregon Flying Fun series is No. 3, in Salem, Ore., on March 4, hosted jointly by the Western Oregon Control-Line Flyers and the Eugene Prop Spinners. See Where the Action Is for details.
Oregon Flying Fun No. 2 photo gallery
Gary Weems puts his Cardinal through a Precision Aerobatics pattern. Flying Lines photo.
Vintage Combat planes were on display and all of them made flights. From left, Gene Pape's Demon, Half Fast III and VooDoo, John Thompson's electric Gladiator, Undertaker and Half Fast III. Flying Lines photo.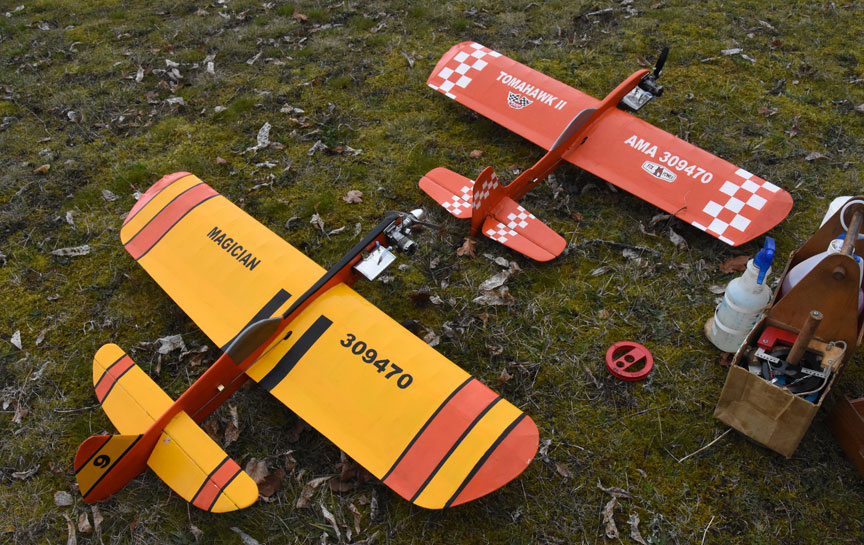 Two attractive profiles by Bob Lewis. Flying Lines photo.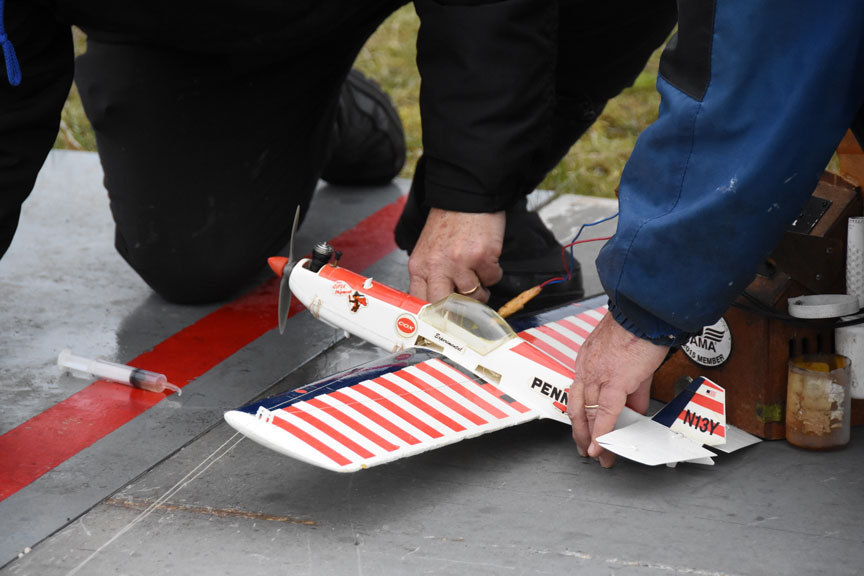 A three-person crew works to get the engine started on Walter Hicks' vintage Cox ready-to-fly Chipmunk ... Flying Lines photo.
... and it did fly! From left, Terry Mitchell and Bob Lewis watch as the Chip takes off with Walter at the handle. Flying Lines photo.
The firepit kept everyone warm between flights. Flying Lines photo.
This page was upated Feb. 5, 2023