Another generous array of prizes for the Oregon Flying Fun No. 2 flying raffle provided by the Roseburg area control-line fliers.. Everyone who flew took home a couple of nice items. Gene Pape photo.
By Gene Pape
As usual at Roseburg, the weather cooperated, kind of. Mike Hazel and I arrived about 10:30. Bob Lewis had already flown and had covered his stuff for some reason or another. We, of course knew it wouldn't rain. Mike and I unloaded our stuff and everyone admired Mike's trick new field table and the collapsible cart I use for getting equipment from the truck to the flying area.
Turnout was a bit lower than usual this year with some people having other obligations while others had weather related issues. It was good to see Dave Crabtree looking much improved after his bout with cancer. As soon as Mike and I got set up, flying commenced in earnest. Everyone who brought models flew at least once. I flew twice, and I think Mike Hazel flew as many flights as everyone else combined.
When the sun started to go away, we all took a break for the Roseburg group provided lunch of chili and chips. Gourmet control-line flier food at it's best! The raffle drawing came right after lunch. As usual, there were plenty of quality prizes to go around including a brand new Ringmaster ready for an engine and tank, an OS .40 that had been originally owned by Don McClave, a vintage American Junior Aircraft Bonanza kit, and much more. There were enough prizes that everyone got at least two.
Flying continued for a while after lunch with a newcomer to the group named Don Jensen watching and getting enthused about starting to fly again after many years away from the sport. The rain held off until Mike and I were headed down the highway, so as usual, the weather gods smiled on the Roseburg fun fly.
Next up, Salem on April 7. See Where the Action Is for details. See you there.
Oregon Flying Fun No. 2 photo gallery
Bob Lewis is one of the most active Roseburg area fliers. Gene Pape photo.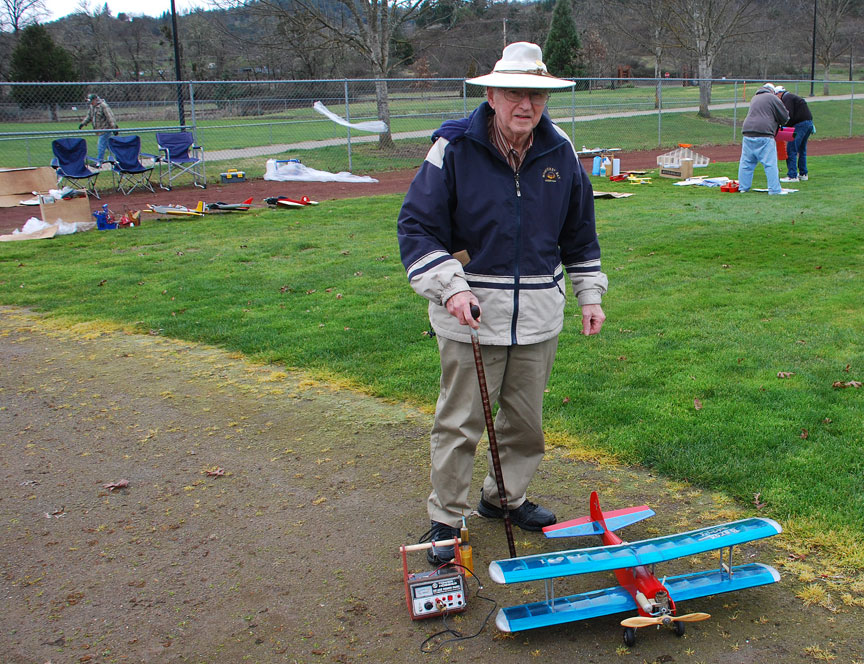 Bill Mix with his biplane. Gene Pape photo.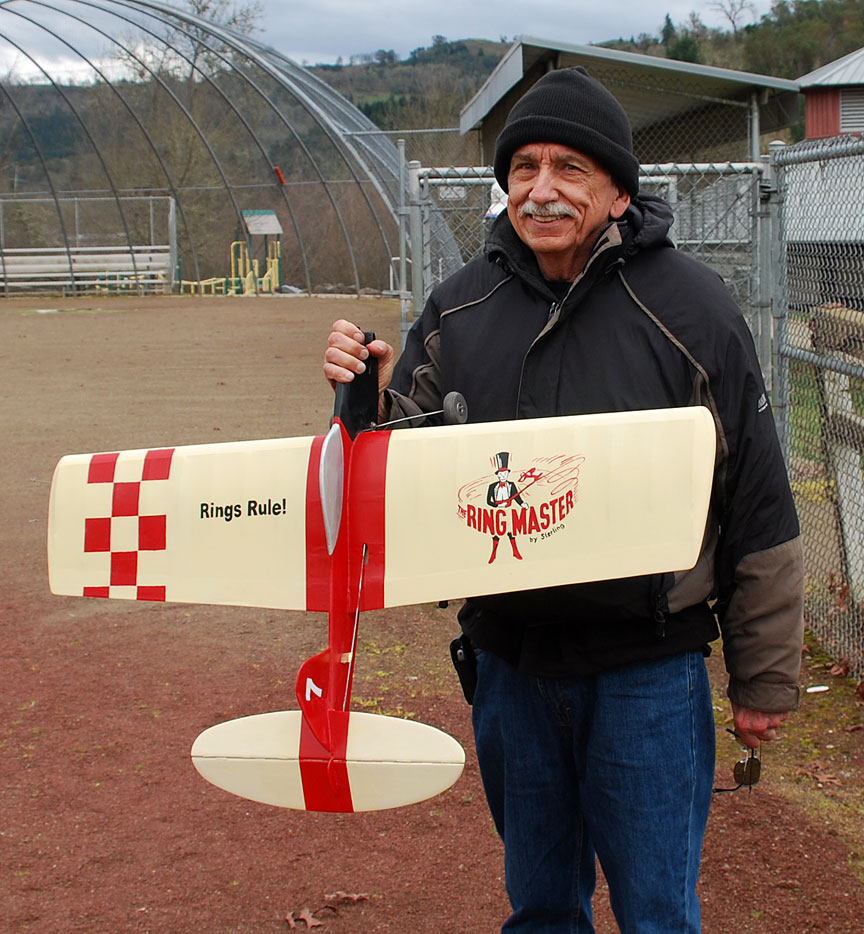 Darrell Hahn won one of the fine prizes offered by the Roseburg group, a Ringmaster built by Bob Lewis. Gene Pape photo.
Mike Hazel of the Salem-based Western Oregon Control-line Flyers did a lot of flying -- here he is with a Sonic Chicken 1/2-A Combat plane. Gene Pape photo.
Mike Denlis at the handle of ...
... his electric stunt plane, 32, built by Floyd Carter. Mike is president of the Eugene Prop Spinners. Gene Pape photos.
Jim Corbett of the Eugene Prop Spinners with his much-flown Flite Streak. Gene Pape photo.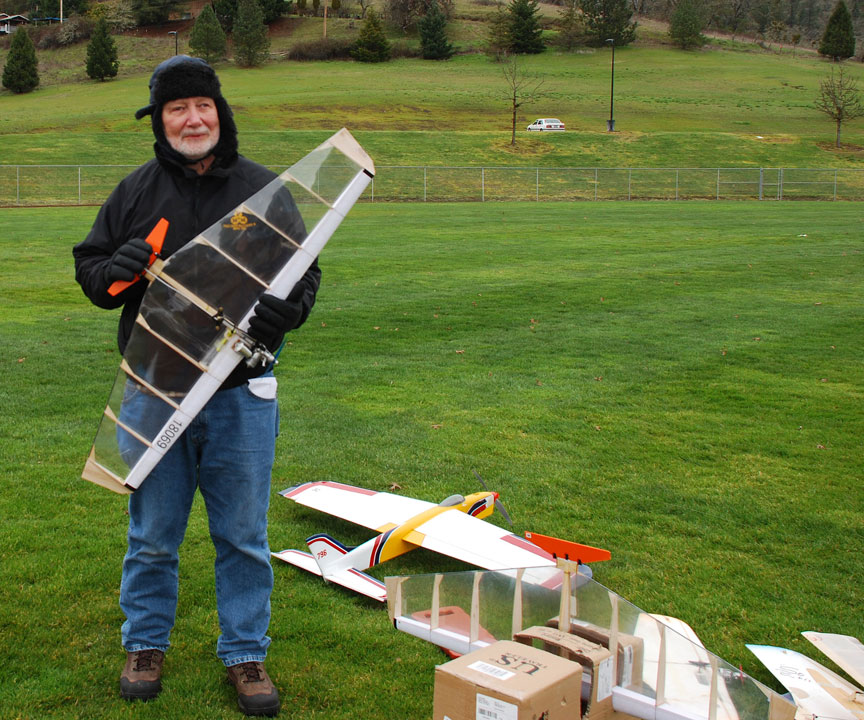 Gene Pape of the Eugene Prop Spinners with a .15-powered FAI Combat plane. Jim Corbett photo.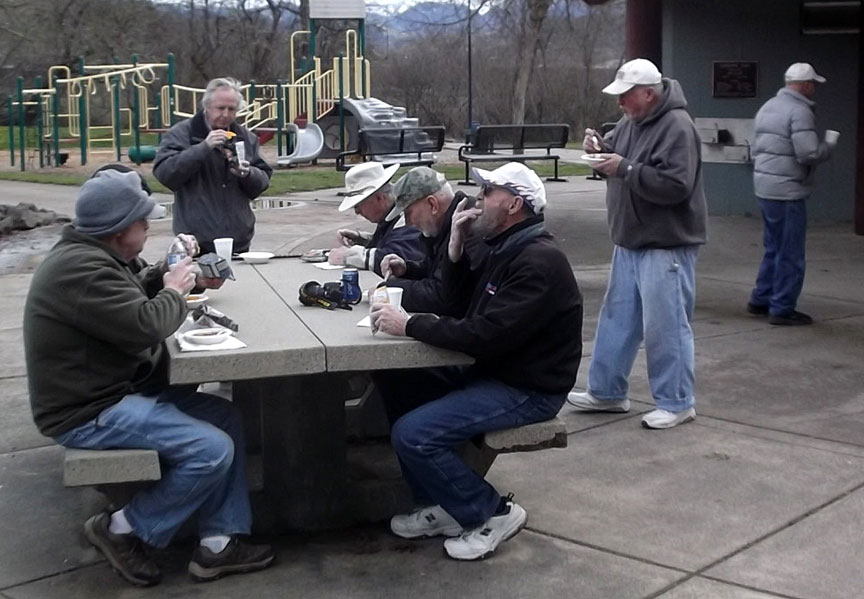 A highlight of the Roseburg fun fly is always the lunch! Jim Corbett photo.