Sunshine and light breezes made for a perfect flying day in Salem for the WOLF Spring Fling Fun Fly. Flying Lines photo.
WOLF Spring Fling opens NW 2021 CL season
Record number of fliers gather for Oregon fun fly
Salem, Ore., March 27, 2021
Control-line fliers from Seattle to Medford gathered for the region's first organized CL event of the year, inaugurating the season in perfect flying weather at Bill Riegel Model Airpark.
At least 27 modelers attended, bringing a wide variety of vintage and contemporary airplanes. A surprising number of biplanes and Navy Carrier planes were added to the usual array of Stunt, Combat and sport planes typical of a CL fun fly. All three circles were used -- the hard surface, the grass area and the cul-de-sac for tiny airplanes. New CL pilot Marcus Schluter successfully soloed.
The sponsoring Western Oregon Control Line Flyers provided the biggest giveaway of merchandise in recent memory, with everyone attending carrying away valuable items from the estate of the late WOLF member Ron Bennett.
Attending were: Craig Bartlett, Floyd Carter, Don Curry, Mike Denlis, Jerry Eichten, Richard Entwhistle, Mike Hazel, Gary Harris, Walter Hicks, Loren Howard, Doug Knoyle, Dave La Fever, Donna Lickley, John Lickley, Lynette Lickley, Steve Lindstedt, Jim McCartney, Kris Millard, Mike Potter, Doug Powers, Gerald Schamp, Marcus Schluter, Mark Schluter, Dave Shrum, Dean Singleton, John Thompson, Bruce Tunberg, Gary Weems.
Spring Fling Fun Fly photos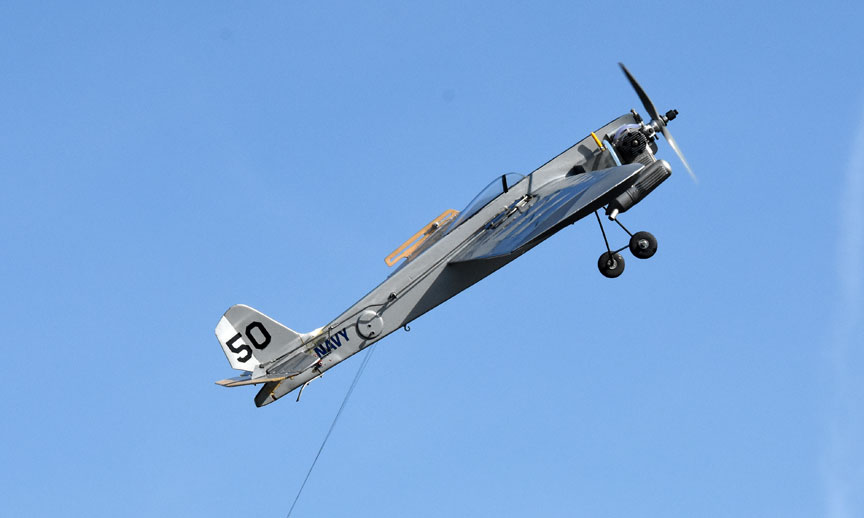 Kris Millard's Northwest Sport 40 Carrier plane makes a slow pass. Flying Lines photo.
Millard concentrates on the Navy Carrier skill of slow flying. Flying Lines photo.
Attendees look through the items given away from the estate of Ron Bennett. Flying Lines photo.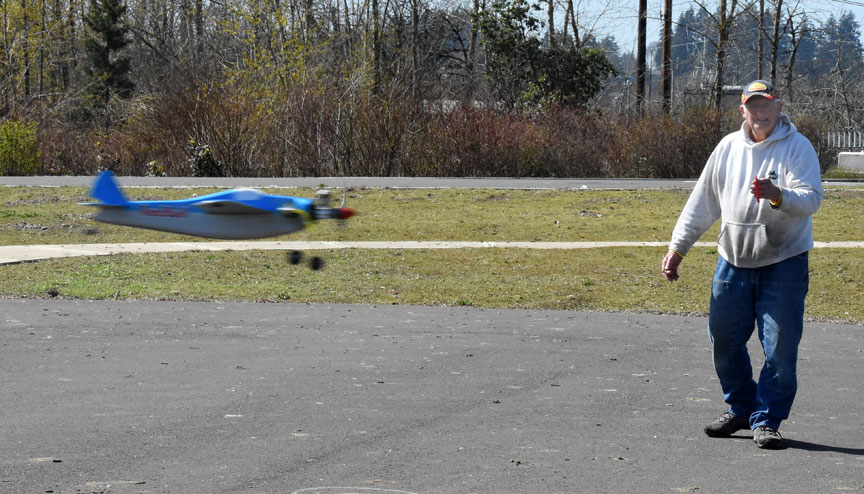 Doug Powers flies a tiny Shoestring. Flying Lines photo.
A closer look at Powers' Shoestring, which was a project built and finished by different people, then given away as a prize at an earlier fun fly. Beautiful finish! Flying Lines photo.
Mike Potter flies his Profile Scale model of a Japanese Kayaba Ka-1 autogyro, powered by a K&B .61. Flying Lines photo.
The autogyro framed by the equipment shed -- a snapshot for the WOLF scrapbook! Flying Lines photo.
Doug Powers fuels the little Red Bull as Don Curry holds. Flying Lines photo.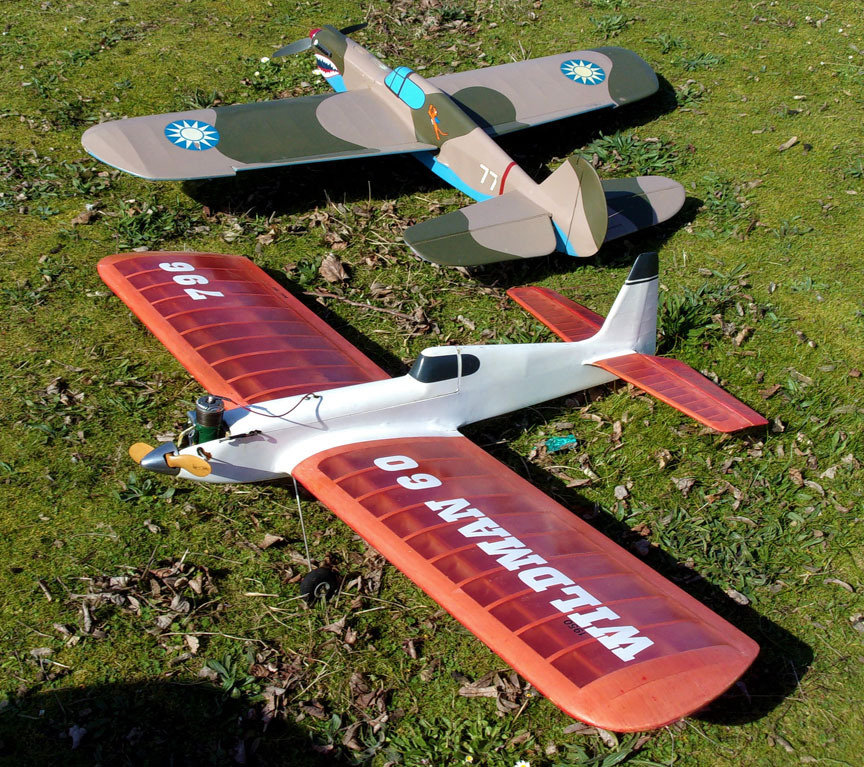 Floyd Carter of Eugene, Ore., always brings interesting airplanes to the flying field. In the foreround is Floyd's Wildman 60, a plane he designed in the spring of 1950 and now available as an Old-Time Stunt kit from RSM Distribution. The plane in the photo was built in 1993 and is powered by an Orwick .64 spark-ignition engine. It is an exact replica of Floyd's 1950 original, including the silk covering. It has earned a number of trophies and awards at the annual Vintage Stunt Championships in Tucson, Ariz. In the background is a P-40 stunter Floyd built from Pat Johnston plans, powered by an AXI electric system. Steve Lindstedt photo.
Speaking of spark ignition, Dave Shrum's fleet was mostly spark-powered. Flying Lines photo.
Among many biplanes on the field was Don Curry's four-stroke-powered 38 Special. Flying Lines photo.
Lots of little planes were on hand. This fleet came with Doug Powers. Flying Lines photo.
Dave La Fever (right) and Gary Weems helped keep the grass circle busy. Flying Lines photo.
Gerald Schamp launches Walter Hicks' warbird biplane. Flying Lines photo.
Mike Potter's Mo-Bipe powered by an Enya .35SS helicopter engine, used for competition in Nostalgia Profile Carrier. Flying Lines photo.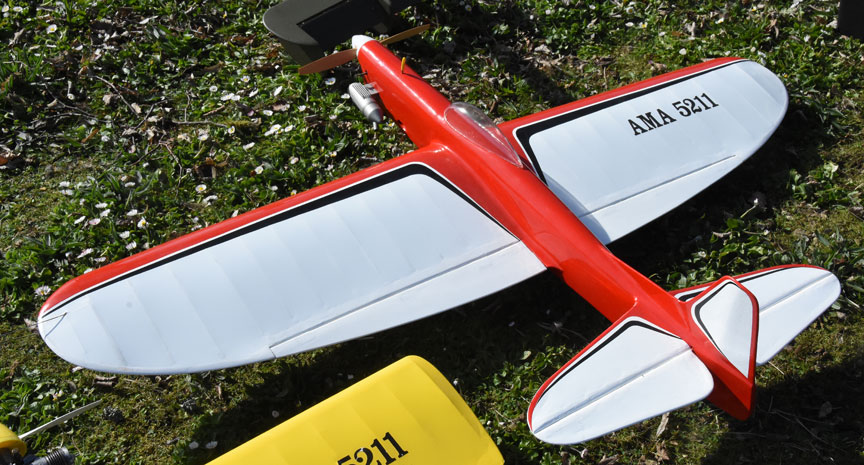 Jim McCartney's Thunderbird made its maiden flight. Flying Lines photo.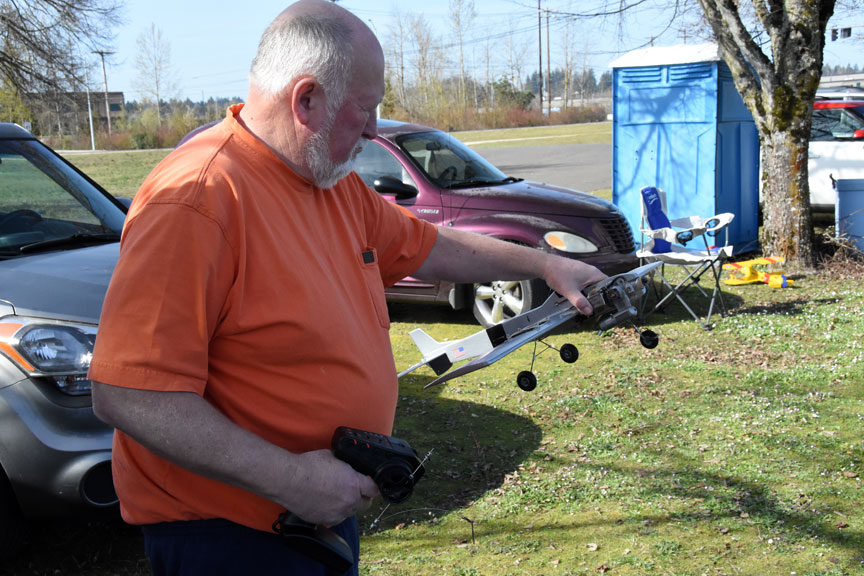 Fun fly organizer Mike Hazel tests the radio-control system on his Cro Magon Air Force Two. The throttled plane uses a single wire, with controls sent from the RC car controller in his right hand. Moving the controller like a CL handle controls the elevator and a trigger operates the throttle. Flying Lines photo.
A number of vintage planes, suitable for restoration, were among the giveaway items. Flying Lines photo.
John Thompson's fleet included a vintage Half Fast III, a Super Ringmaster, and the Scrub J profile stunter. Flying Lines photo.
Garry Harris flew this 80mph Combat plane. Steve Lindstedt photo.
Gary Weems' McCoy .35-powered Buster. Steve Lindstedt photo.
Steve Lindstedt picked up this vintage plane in the giveaway. Note the tank shaped to match the fuselage. Steve Lindstedt photo.
Another vintage plane from the giveway. Steve Lindstedt photo.
---
This page was upated May 17, 2021