Potter is Double Trouble in 2007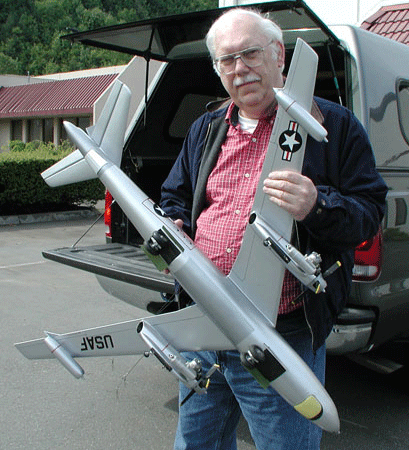 Mike Potter of Auburn, Wash., rose to the challenge issued by Flying Lines in the fall of 2006.
We offered a special award to the best season-long performance in Northwest control-line competition by an entrant using an airplane with more than one engine.
Three fliers entered multi-engine planes in Northwest competition in 2007. Mike Potter entered the Boeing XB47-D in the precision scale competition at the Northwest Regionals in May. He scored two points in the Flying Lines Northwest standings with that entry.
Later in the year, both John Thompson and Joe Just entered twin-engine planes in Profile Stunt, but neither managed to place high enough to record standings points.
Thus, Mike's considerable efforts to build and fly a twin win him the trophy certificate -- which includes a picture of his plane -- and bragging rights as well.
Good performance, Mike!
For more information on the 2007 Twin Engine Challenge concept, see the Round & Round column in Regular Columns.
Photo at right shows Mike, displaying the bottom side of the XB47-D. For more pictures of the XB47-D, see the Favorite Planes July 2007 gallery. Photo provided by Mike Potter.
Photos below show the other two twins entered in 2007 competition.
The plane shown on the ground is John Thompson's Evil Twin (a modified Twin Flite Streak). Flying Lines photo.
The plane in the air is Joe Just's original design twin. Bruce Hunt photo.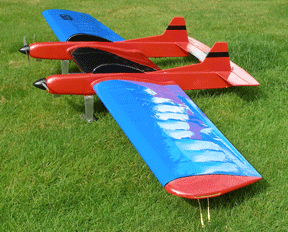 This page was upated Dec. 8, 2007