Chris Cox flies his Crossfire at the 2014 Dick Scobee Memorial. Daniel Johnson photo.
Dick Scobee Memorial stunt contest
Fifth annual
Aug. 16-17, Auburn, Wash.
Sponsored by the Northwest Skyraiders
Eighteen flyers showed up for the fifth annual Dick Scobee Memorial Contest at Dick Scobee Field (Auburn Airport). Friday was a setup day and several fliers arrived early to get some last-minute trimming in and to coax Paul Walker into critiquing their planes. Lots of tip weights and leadout positions being changed.
The airport is in the middle of a resurfacing project for the runway and all of the taxiways and ramps so all of the airplanes usually on the south ramp were cleared out. Along with the planes went the santican and the garbage cans, making the walk a little longer to get some relief but we had the place all to ourselves. The wind was absolutely dead Friday so trimming was OK but flying through wakes was an issue. Flying continued until almost dusk.
Saturday was much better with a light breeze from the north (most of the time) about 10 flyers showed up to compete. Although the classes were small the scores were close and the rounds went fast. Congrats to the flyers that showed up prepared to fly all three of the classes. The contest was CD'd by yours truly and I had plenty of help setting up judging pull testing and running score sheets. Kudos to Skyraider members, Ben Jones, Gary Lensinger, Dave Gardner and Pete Peterson for showing up just to help and socialize.
Saturday night the gang went over to Mike Haverly's for som BBQ Asian style with some beverages and dessert. Mike showed us the ins and outs of making painting masks with his computer and vinyl cutter. We all walked away thinking the same thing " I should get one of those things."
Sunday eight more fliers showed up from Canada and Oregon to fill out the ranks. Unfortunately, we did not have any Beginners this year, maybe next year. Intermediate and Advanced classes were light also with only two fliers per class but Expert (where everybody has migrated to) had nine flyers. Flying for the top spots was competitive as the afternoon winds picked up and those on their game flew through it. In the end, Canadian Alan Rensinger took the top spot with Paul Walker, flying Tom Strom's Impact, coming in second and Chris Cox taking third.
Sunday also brought out the Carrier flyers. Duke Johnson graciously brought the deck up from its home in Puyallup and with the help from a couple of stunt flyers it was set up quickly. Danial Johnson took the honors beating Mr. Potter for the spot. Marc Winz took a stab at Carrier and placed third in the standings.
No crashes, incidents not even a broken prop made the weekend go smooth I think everyone had a good time.

Here are the results. Northwest standings points in parentheses.
OLD-TIME STUNT (2 entries)
1. Mike Haverly, Auburn, Wash. -- 288.5 (2)
2. Tom Brightbill, Oregon City, Ore. -- 194 (1)
Judges: Pete Peterson and Gary Letsinger
CLASSIC STUNT (3 entries)
1. John Leidle, Kirkland, Wash. -- 502.5 (3)
2. Mike Haverly -- 481.5 (2)
3. Tom Brightbill -- 463.5 (1)
Judges: Dave Gardner and Steve Helmick
PROFILE STUNT (5 entries)
1. Paul Walker, Deer Park, Wash. -- 561.5 (5)
2. Tim Wescott, Oregon City, Ore. -- 524 (4)
3. Tom Strom, Olympia, Wash. -- 509.5 (3)
4. Mike Haverly -- 506 (2)
5. Fred Underwood, West Linn, Ore. -- 497
Judges: Pete Peterson and Steve Helmick
BEGINNER PRECISION AEROBATICS (0 entries)

INTERMEDIATE PRECISION AEROBATICS (2 entries)
1. Tom Brightbill -- 435 (2)
2. Marc Winz, Edgewood, Wash. -- 416.5 (1)
Judges: Randy Powell and Tim Wescott
ADVANCED PRECISION AEROBATICS (2 entries)
1. Pete Ferguson, Auburn, Wash. -- 453 (2)
2. Tom Strom -- 451 (1)
Judges: Paul Walker and Steve Helmick
EXPERT PRECISION AEROBATICS (9 entries)
1. Alan Resinger, Delta, B.C. -- 567 (13.5)
2. Paul Walker -- 564 (12)
3. Chris Cox, Delta, B.C. -- 560 (10.5)
4. Mike Haverly --544.5 (9)
5. John Leidle -- 541.5
6. Randy Powell, Port Orchard, Wash. -- 529
7. Tim Wescott -- 525.5
8. Steve Helmick, Renton,Wash. -- 513.5
9. Keith Varley, Vancouver, B.C. -- 496
Judges: Pete Peterson and Bruce Hunt
NORTHWEST SPORT 40 CARRIER (4 entries)
1. Daniel Johnson, Rochester, Wash. --196.2 (4)
2. Mike Potter, Auburn, Wash. -- 194.5 (3)
3. Marc Winz -- 180.3 (2)
4. Doug McSherry -- 3 attempts (1)
Results of this contest are included in Northwest Control-Line Competition Standings.
More Scobee Memorial photos

Alan Resinger launches Chris Cox's Crossfire in Precision Aerobatics. Daniel Johnson photo
Paul Walker (left) and Tim Wescott put in official flights. Daniel Johnson photos.
Tom Brightbill launches Mike Haverly's electric Sultan. Daniel Johnson photo.
Mike Haverly launches Tom Brightbill's Old-Time Stunt plane. Daniel Johnson photo.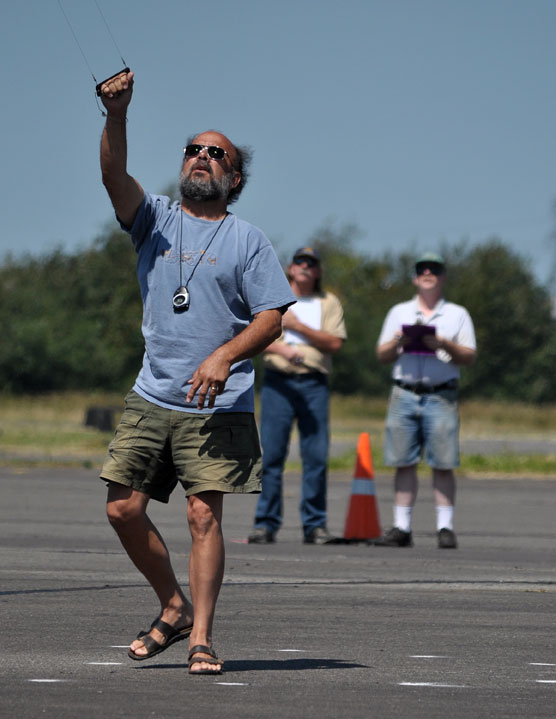 Tom Brightbill at the handle. Daniel Johnson photo.
Duke Johnson (left) and Mike Potter. Dave Gardner photo.
Pete Ferguson (left) and Tom Strom (center) fought it out in Advanced Precision Aerobatics. Dave Gardner photo.
Alan Resinger (right) accepts the award for first place in Expert Precision Aerobatics from Contest Director Pete Ferguson Dave Gardner photo.
---
This page was upated Aug. 20, 2014