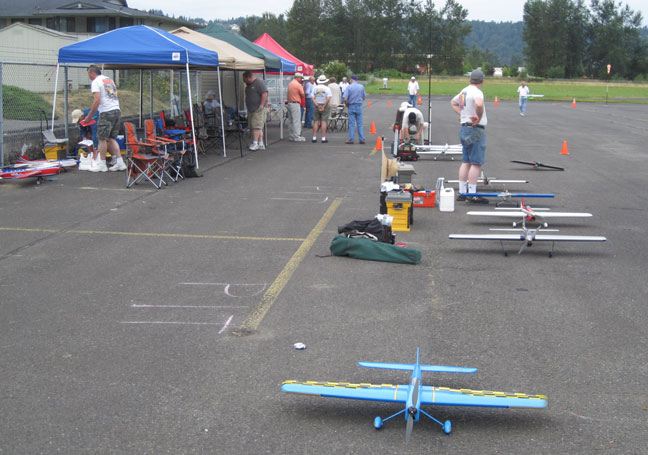 Lineup of planes on Sunday in the pit area at Auburn Airport for the Dick Scobee Memorial. Pete Ferguson photo.
Dick Scobee Memorial stunt contest
Third annual
Aug. 18-19, 2012, Auburn, Wash.
Sponsored by the Northwest Skyraiders
The site was open for the first time for practice flying Friday, Aug. 17, at 9 a.m. Traffic cones were placed around the perimeter of the site. The airport manager came by to looked things over and he liked what he saw. He informed us that 32 tie down spaces have been reserved for full-time flying for the Skyraiders so we were now able to put semipermanent tiedown covers covering both circles and the pit area . This is great news for the club and will be a future time saver. Both circles were available for practice.
Friday was an exceptionally hot day for us in the Northwest with temps in the high 90s. Fortunately the humidity was low so it was bearable. No flyers showed up until the evening when Howard Rush came down to put some time on his Impact.
Saturday turned out to be a beautiful day for flying with variable light winds and temps in the mid 70s. Quite a difference and an improvement from the day before.
Nine flyers showed up for Old-Time Stunt, Northwest Profile and Classic Stunt classes. Pete Ferguson was the contest director and Howard Rush kept the flight order and scorekeeping flowing with his excellent scoring program. Pull testing and pit order was kept by Dave Gardner and Ben Jones, Northwest Skyraiders volunteers.
Bob Emmett showed that he still knew how to put up a competitive flight by placing first with his Jamison.
Classic Stunt had six entries. Pete Peterson and his beautifully finished Caprice took top honors again over Alan Rensinger (Gypsy) and Mike Haverly ( Chizler).
There were five entries in Profile. Bruce Hunt flew his profile to a first place finish with Pete Peterson and his new profile Starfinder and Steve Helmick and his familiar " Kiss" Fancherized Twister taking third.
With the flying wrapped up by 4 p.m., most of the contestants headed over to Mike Haverly's house for a barbecue feast. Everybody got to critique Mike's latest project, trade stories and eat the incredible selection of homemade dishes. Like last year Mike was the master BBQer but we all knew Mieko was putting it all together with her crab dip and open Shushi (no seaweed). She did a wonderful and nobody left hungry.
Sunday was cooler than Saturday and with with temps in the high 60s, low 70s with winds light and variable all day. No one was complaining about the weather. With only two Beginners and three Intermediate entrants we flew both rounds back to back. Tim Strom and dad Tom Strom claimed victory in their respective classes. Jack Mullinix assumed the pit duties and put in a full day of hearding and pull testing.
Precision Aerobatics Advanced and Expert classes were not flown back to back but instead round after round. Advanced had three entries Dane Covey and his E Nobler took the honors for Advanced flying only one round. Steve Helmick took second with his Eagle with yours truly claiming third while having the only casualty of the day by getting the Ampact too close to the ground.
The Expert class had eight entries this year. For both rounds the winds stayed down and the conditions were good with the winds slightly variable. Howard Rush took the first place honors with his Impact with the two Canadians; Chris Cox placing second with his beautiful Crossfire and Alan Rensinger and his equally nice Crossfire placing third. Flying wrapped up around 3 p.m., which gave everyone some time to get home.
Sunday on Circle 2 the carrier deck was setup for the Northwest Sport 40 Carrier event. There were eight entrants for that event which was run by Mike Potter. In the end it was a Johnson family affair with Dad and two juniors taking home the trophies, but not like you'd think. The eldest boy Daniel took first with the younger son Nathan taking second and dad Scott placing third. Our veteran carrier guy Mike Potter didn't seem to mind a bit getting rolled by the Johnson boys. Look out next time!
Many thanks to Dave Gardner, Mike Haverly, Steve Helmick, Pete Peterson, Randy Powell, Bruce Hunt, Paul Walker, John Leidle who took on most of the Judging duties and to Howard Rush who worked behind a laptop both days to keep things in order. I owe him a lot of thanks as I do the judges and others (Rod Claus and Steve Helmick) who helped with the setup and cleanup.
Most everyone had positive comments on the site and the pace of the contest, it went smooth, one crash, no arguments or mishaps. Just a good time and it was nice to have spectators coming around to see what was going on.
Here are the results. Northwest standings points in parentheses.
OLD-TIME STUNT ( 1 entries)
1. Bob Emmett, Sequim, Wash., 163.5 (1)
Judges: Mike Haverly, Pete Peterson

CLASSIC STUNT (7 entries)
1. Pete Peterson, Tacoma, Wash., 532.5 (6)
2. Alan Resinger, Delta, B.C., 508 (5)
3. Mike Haverly, Auburn, Wash., 499.5/502.5 (4)
4. John Leidle, Kirkland, Wash., 502.5/498.5 (3)
5. Bruce Hunt, Lake Stevens, Wash., 499.5
6. Dane Covey, Tacoma, Wash., 452.5
One other entry did not score
Judges: Steve Helmick, Randy Powell

Photo: Pete Peterson's new Profile Stunt plane is another beauty. Pete Ferguson photo.
PROFILE STUNT (5 entries)
1. Bruce Hunt, 498.5 (5)
2. Pete Peterson, 493.5 (4)
3. Steve Helmick, Renton, Wash., 473.5 (3)
4. Dane Covey, 465 (2)
5. Tom Strom, Olympia, Wash., 449
Judges: Dave Gardner, Randy Powell

BEGINNER PRECISION AEROBATICS (2 entries)
1. Tim Strom, Auburn, Wash., 253 (2)
2. Marc Winz, Edgewood, Wash., 210 (1)
Judges: Dave Gardner, Pete Peterson

INTERMEDIATE PRECISION AEROBATICS (2 entries)
1. Tom Strom, 452 (2)
2. Tim Wescott, Oregon City, Ore., 421 (1)
Judges: Mike Haverly, Randy Powell

ADVANCED PRECISION AEROBATICS (3 entries)
1. Dane Covey, 476 (3)
2. Steve Helmick, 467.5 (2)
3. Pete Ferguson, Auburn, Wash., 457.5 (1)
Judges: Bruce Hunt, John Leidle

EXPERT PRECISION AEROBATICS (8 entries)
1. Howard Rush, Bellevue, Wash., 536 (12)
2. Chris Cox, Delta, B.C., 527 (10.5)
3. Alan Resinger, 516 (9)
4. Pete Peterson, 500 (7.5)
5. Mike Haverly, 489.5
6. Keith Varley, Vancouver, B.C., 480.5
7. Bruce Hunt, 470.5
8. Randy Powell, Port Orchard, Wash., 468.5
Judges: John Leidle, Paul Walker

NORTHWEST SPORT 40 CARRIER (8 entries) (incomplete results)
1. Daniel Johnson, Rochester, Wash. (8)
2. Nathan Johnson, Rochester, Wash. (7)
3. Scott Johnson, Rochester, Wash. (6)
4. Lloyd Marohl, Tacoma, Wash. (5)
Results of this contest are included in Northwest Control-Line Competition Standings.
More Scobee Memorial photos

One interesting event at the contest was Bob Emmet's P-40 crash. A vibrating engine, probably caused by loose mounting screws, threw the muffler axial screw then the muffler came apart in pieces and into the prop, causing engine failure inverted Bruce Hunt photo.
Pete Peterson carries Dane Covey's plane. Bruce Hunt photo.
Alan Resinger prepares to start the engine on his Classic Gypsy, with Mike Haverly holding. Bruce Hunt photo.
Left: Howard Rush with is electric Impact, which was on the front row in Nationals appearance judging. Right: Alan Resinger and the Gypsy. Pete Ferguson photos.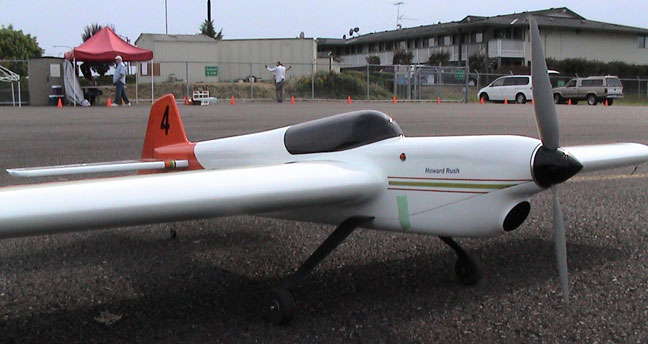 Close-up of Rush's Impact. Bruce Hunt photo.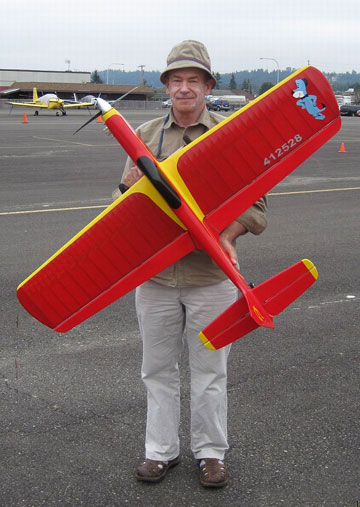 Left: Bruce Hunt with his profile Cardinal. Right: John Leidle. Pete Ferguson photos.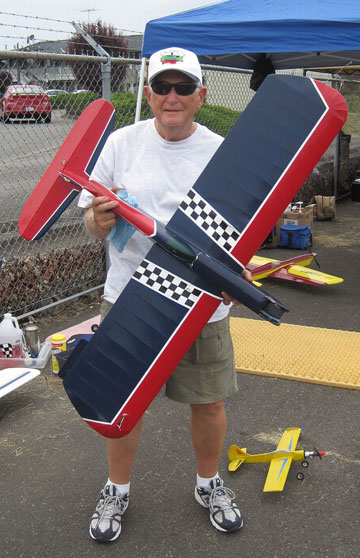 Left: Bob Emmett with Jamison Special. Right: Chris Cox with Crossfire. Pete Ferguson photos.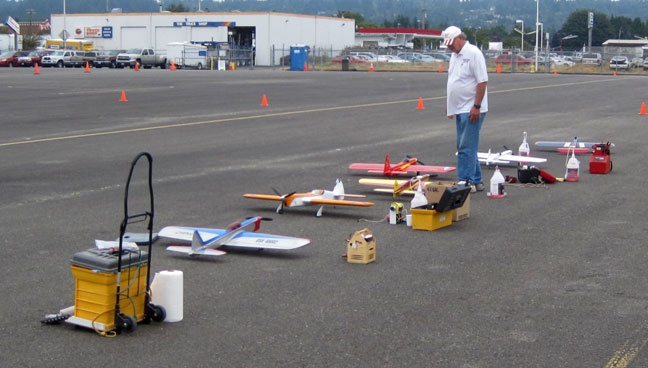 Pete Peterson contemplates his Caprice in the Classic Stunt pits on Saturday. Pete Ferguson photo.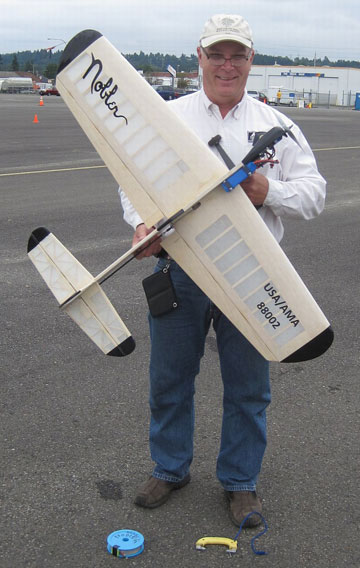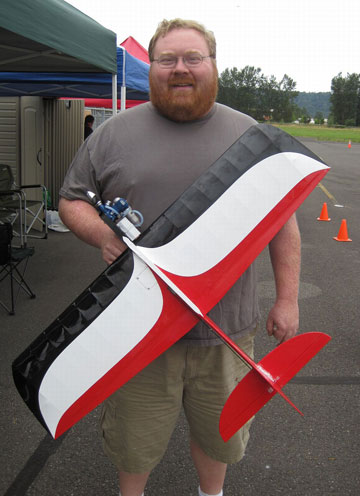 Left: Dane Covey with electric profile Nobler. Right: Mike Winz with Flite Streak. Pete Ferguson photos.
Ooops. Pete Ferguson photo.
Left: Keith Varley and E-Sultan. Right: Pete Ferguson and Ampact. Pete Ferguson photos.
Planes waiting on the sidelines. Pete Ferguson photo.
Randy Powell awaits action in the pits. Pete Ferguson photo.
Navy Carrier fliers get ready. Pete Ferguson photo.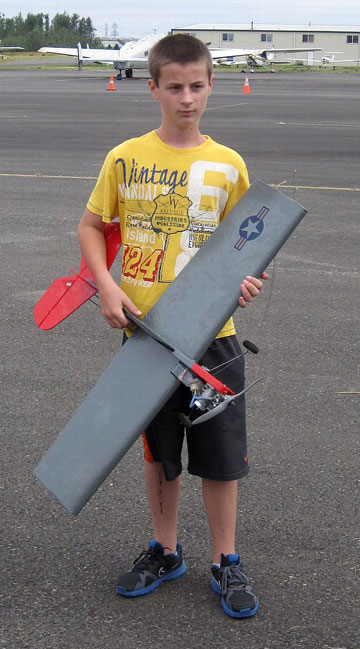 The Johnson family was well represented in Navy Carrier. At left is Daniel and at right is Nathan. Pete Ferguson photo.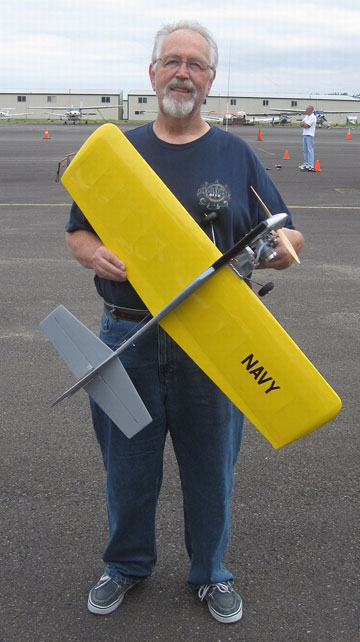 Left: Scott Johnson. Right: Darrell Rupnow. Pete Ferguson photos.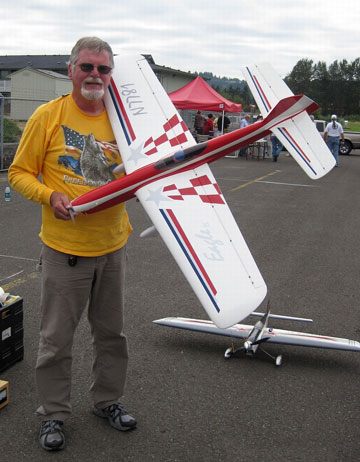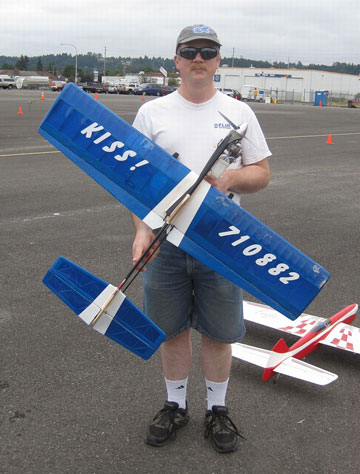 Left: Steve Helmick and Eagle. Right: The KISS profile, built by Mike Haverly, certainly gets around. Used for a long time by Steve Helmick, it's displayed here by Tim Wescott. Pete Ferguson photos.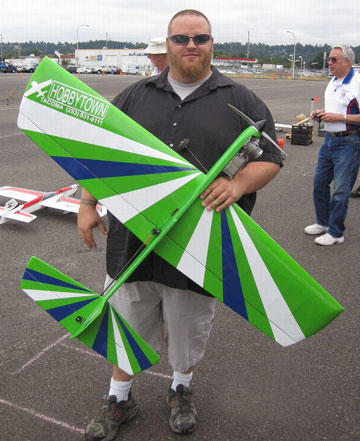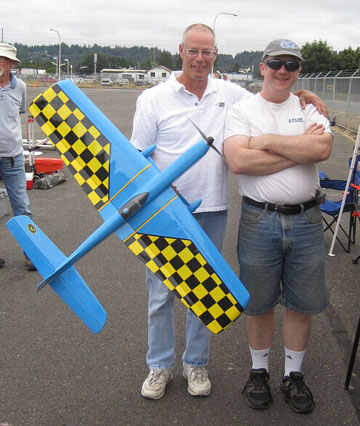 Left: Tim Strom. Right: Tom Strom with electric Vector 40 and Tim Wescott. Pete Ferguson photos.
Left: Bill Darkow. Right: Doug Oertli. Pete Ferguson photos.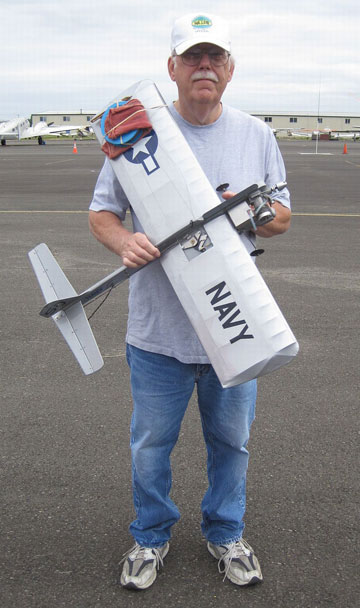 Left: Lloyd Marohl. Right: Mike Potter. Pete Ferguson photos.
---
This page was upated Sept. 16, 2012