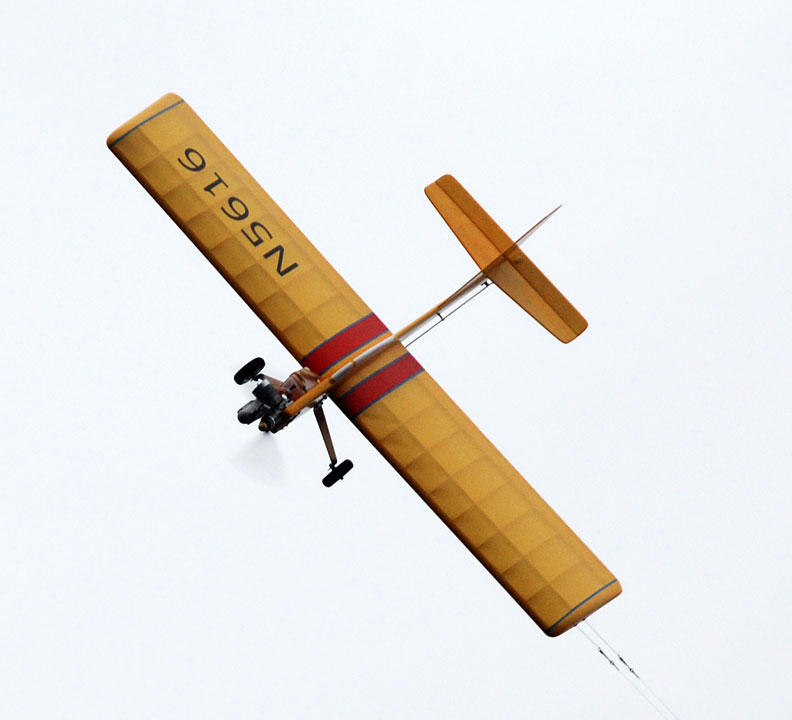 Dave Royer's Skyray flies at the fourth stop in the Oregon Flying Fun series, in McMinnville, Ore. Flying Lines photo.
Oregon Flying Fun 4
Flying fun series winds up with good turnout in McMinnville
April 1, 2017, McMinnville, Ore.
Weather had not been kind to control-line fliers in the 2017 Oregon Flying Fun series, but it cleared up for the fourth installment, as the fliers returned to the Evergreen Aviation & Space Museum grounds for the first time in two years. It was cloudy with a little drizzle early, but the weather improved steadily all day. Flying went on right past the door-prize hand out at 2:30 p.m. There was never more than a slight breeze, so CL modelers were able to entertain thegtrickle of spectators from among the museum visitors with a full range of types of flying. Sport, Stunt, Combat and Carrier planes were flown on one asphalt circle and one grass circle.
Organizers were able to carve out a pavement circle in the parking lot that worked around parked airplanes and concrete planters.
The event was hosted by The Evergreen Aero Modelers, and the club provided a very nice array of door prizes for all the participants.
Signing up to fly were: Mike Denlis, Richard Entwhistle, Mike Hazel, Bob Lewis, Gene Pape, Doug Powers, Dave Royer, Dave Shrum, John Thompson and Bruce Tunberg.
"Many thanks are extended to The Evergreen Aviation Modelers including Dave Bibbee for museum liason and field prep duties, and Dave Beal for a generous contribution to the prize table," organizer Jerry Eichten said. "Others on hand include TEAM president Jeff Jones and TEAM members Cecil Mead, Bill Lawrence and, Bill Heveron."
Earlier stops in the Oregon Flying Fun series were in Portland, Salem and Roseburg. See the Flying Lines home page for links to articles on those events.
Oregon Flying Fun 4 photos
Some of the planes lined up in the pits with some of the museum's airplanes in the background. Flying Lines photo.
Dave Shrum flies his vintage Skylark replica. Flying Lines photo.
Doug Powers launches for Dave Royer. Flying Lines photo.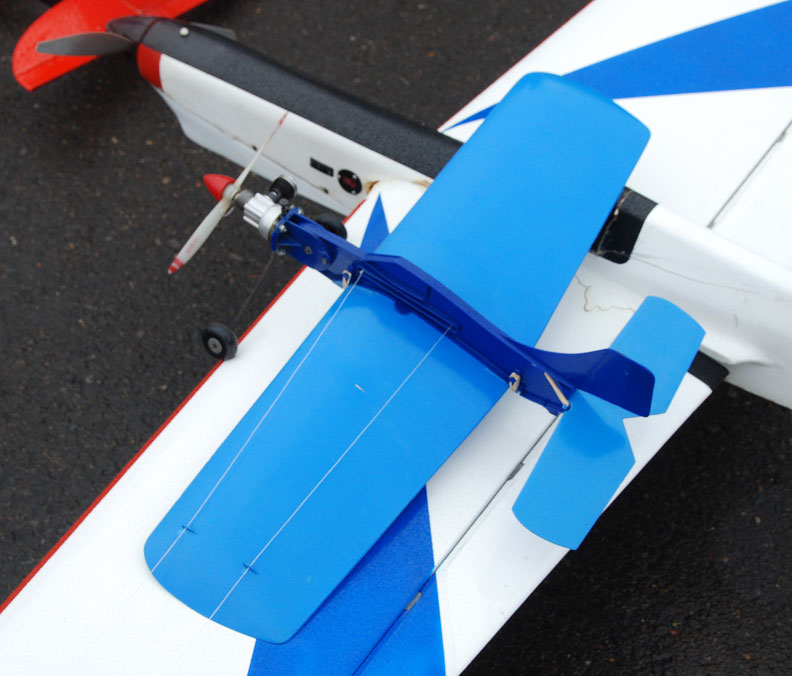 The big and small: Mike Denlis's Cox TDD-4 sits atop his full-size Magnum stunter. Flying Lines photo.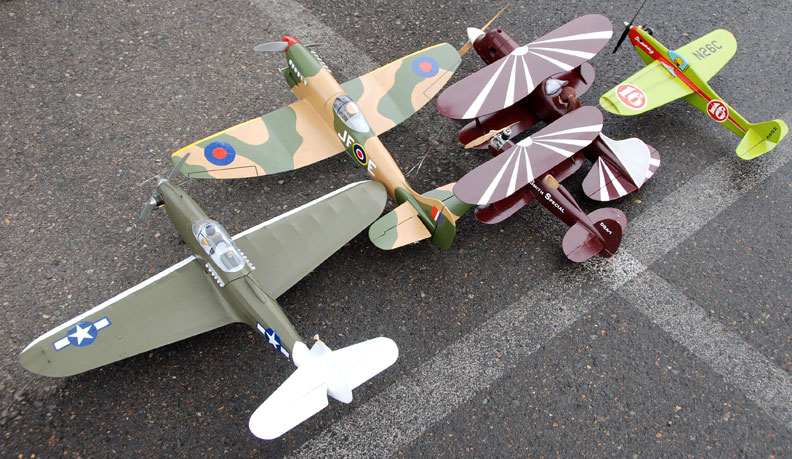 A display of really small airplanes brought by the Roseburg, Ore., fliers. Flying Lines photo.
Jerry Eichten's Ukey stunt trainer. Flying Lines photo.

Three of Dave Shrum's planes await action. From left, the Skylark, the Smoothie, and the Boxcar Chief. Flying Lines photo.
Two of John Thompson's planes on the sidelines: At left, the Scrub J; at right, the Don McClave-built Blackbird. Flying Lines photo.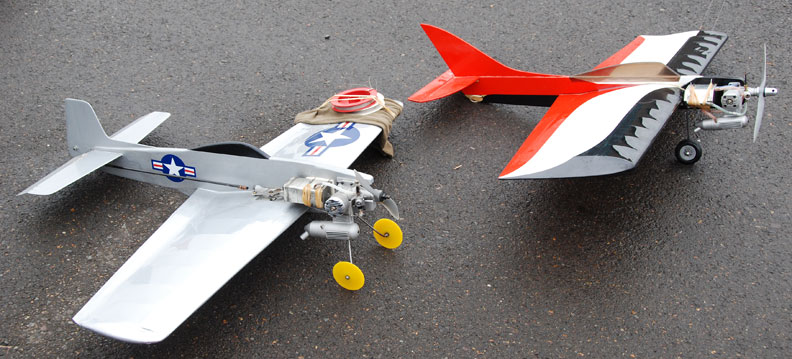 Mike Hazel brought his Northwest Sport 40 Carrier plane (left) and an ARF Flite Streak. Flying Lines photo.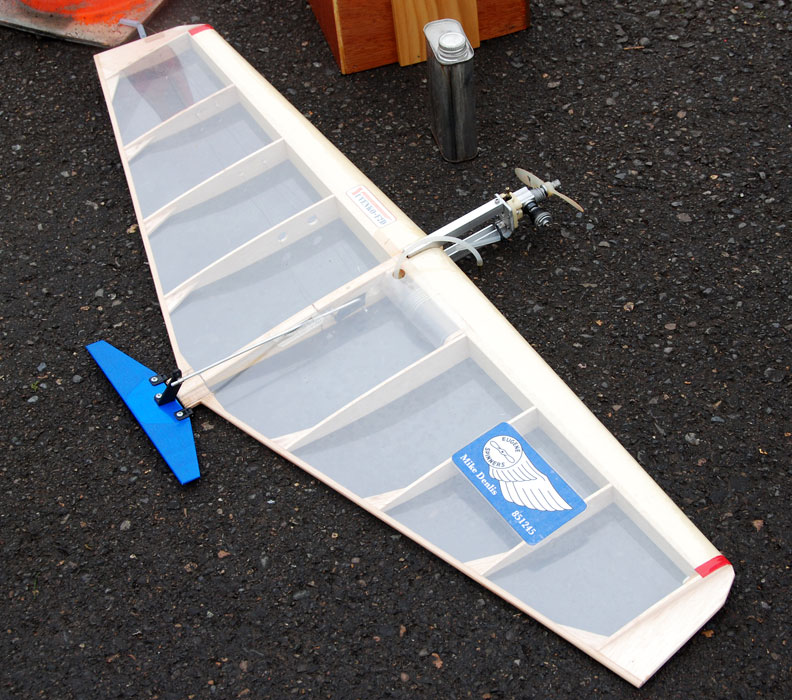 Mike Denlis' Ukrainian-built high-performance 1/12-A Combat plane, with motor mount extended to allow low-performance flying with a reed-valve engine. Flying Lines photo.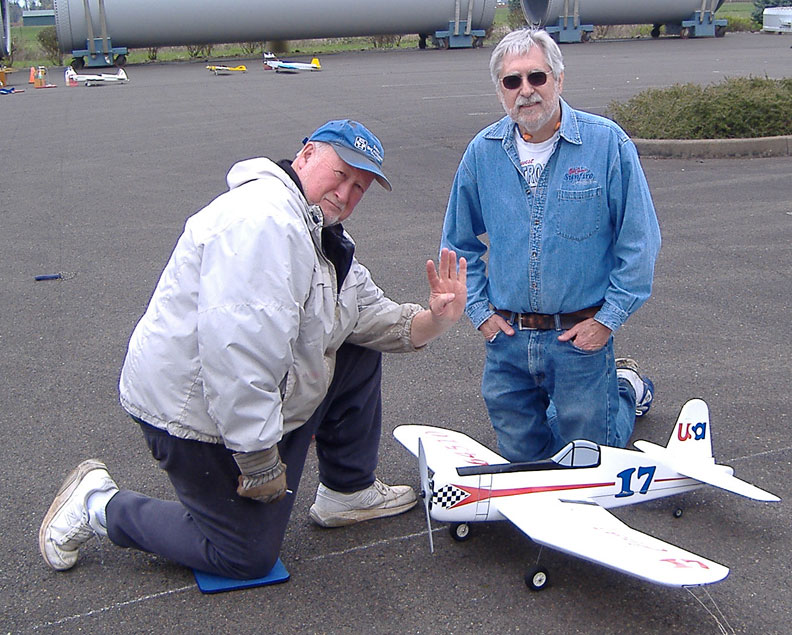 Mike Hazel flashes the "4" sign to indicate that his Corsair is powered by a Saito four-stroke engine; John Thompson waits to launch. Bob Lewis photo.
---
This page was upated April 3, 2017